Special size for Long-Arm Machines - M Bobbin Cases. Easy to use! Just drop a Mega Genie Magic Bobbin Washer into your bobbin case, replace the bobbin, and you're good to go! Eliminates the backlash and "birds' nests" on the underside of the quilt when changing directions at high speed. SAVES TIME, with less stopping and starting! Pkg. of 12. Tough and long-lasting.
Specifications
12 Mega-Size Magic Bobbin Winders. Teflon washers that eliminate backlash & 'bird's nests' on the underside of your quilt. Special size for all Long-Arm machines with M bobbin cases.
Just drop a Magic Bobbin Washer into the bobbin case. Replace bobbin and insert into the machine.
Magic Bobbin Washers
More Videos on Magic Bobbin Washers
Other Images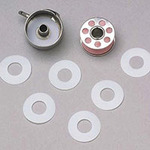 Special size for Long-Arm Machines - M Bobbin. These slick space-age washers eliminate the backlash in the bobbin when changing directions at high speed. Backlash creates "birds' nests" in free-motion quilting and embroidery. Just drop a Mega Genie Magic Bobbin Washer in the bobbin case, replace the bobbin and you're good to go! Fits all domestic machines. Package of 12. Tough and long-lasting. Model: 6943A