ETA by end of 2021! Steam ironing system with display and steamer for perfect ironing results and convenience.
4 Bar Steam Pressure

Honeycomb Soleplate

1-2-Lift-System

In-Board fan with Two Speed Settings

Auto-Off

Premium Ironing Table

Handheld Steamer Attachment

Steamer Attachment
Get rid of unsightly creases and wrinkles in your jacket, blazer, evening gown or curtains with the steamer. It weighs only half as much as the iron but uses the same steam pressure and steam quantity.
The brush attachment raises the textile fibres and maintains a distance to the garment.
The steamer can also be used when the FashionMaster is folded up to save space.
Ironing Table Cover
Particularly robust Miele ironing board cover is distinguished by its heat-resistance and durability. The cover absorbs moisture perfectly and can be washed up to 40°C.
Honeycomb Structure Soleplate
Achieves best ironing results combined with gentle fabric care. Unlike conventional irons, steam is distributed quickly and evenly along the channels between the hexagons across the entire soleplate.
This creates a film of steam which allows the hand iron to glide effortlessly, but at the same time effectively, over the textile.
Steam
With up to 4 bar steam pressure and constant steam volume of 100 g/min, you can achieve professional ironing results with FashionMaster. The dry steam penetrates even the thickest material and consequently reduces ironing time.
You decide whether to work with bursts of steam or continuous steam by pressing the steam button on the iron.
Inflation Function
For everything that is to be smoothed but not flattened, the FashionMaster ironing board offers a blower function. The fan creates an air pocket between the garment and the ironing table so that frills, cashmere, etc. keep their shape.
This also helps to prevent seam impressions.
Suction Function
The extraction function built into the ironing board ensures deep penetration of the clothing with steam and reduces the formation of condensate.
Another effect is the textiles are secured on the ironing board and remain fixed in position during ironing.
Non-Stick Soleplate
For extra gentle care, use the attachable anti-stick soleplate, which can be used directly on fashionable adornments like sequins and prints.
It protects dark textiles from shiny spots with its Teflon coating without the necessity of ironing the textiles inside out.
CoolDown Function
Safety is a priority for Miele: consequently, movement sensors and monitoring of controls ensure that the iron switches off automatically if it is not used for about three minutes. It switches on again automatically when it is moved.
AutoOff Function
The entire appliance switches off automatically if the iron or steamer is not used for approximately 15 minutes. No need to worry whether you remembered to switch the iron off.
Time-Saving
There is a substantial advantage with the Miele rotary ironer: you can save 30% to 50% time, depending on the laundry, compared to a conventional steam iron. Valuable time which you can use for the better things in life.
Water Container
The user-friendly, flat design of the water container allows refilling even under low taps. The 1.25 litre capacity allows you to iron for approximately one hour non-stop.
Ironing Multi-Layered Items
Save physical effort and time. With the FashionMaster, multi-layered and bulky items now only need to be ironed on one side, not on both.
The large quantities of steam and high steam pressure mean that even thicker materials such as denim only have to be ironed on one side whilst still being smoothed perfectly.
Storage Compartments
There are two accessory compartments: the iron and cable holders are stored under the iron rest. The second compartment is in the appliance base. The connection cable, non-stick soleplate, steamer and other accessories are stored there.
When the FashionMaster is folded together, you do not see cables, the iron, etc., but instead its strikingly elegant design.
1-2-Lift System
Two steps, zero effort. With the patented 1-2 lift system, the complete appliance consisting of iron, steam generator and ironing board is set up in very simple steps.
Unlock and let it slide into a horizontal position - almost like magic. FashionMaster not only smooths your laundry, but it also takes the strain off your back.
Infinite Height Adjustment
With convenient and infinite height adjustments, you can set the ironing board exactly to your individual working height. Supported by a built-in gas-pressure stay, you can set a comfortable working height of 83 to 102 cm.
Rollers
Mobile and nimble: The FashionMaster stands firmly without requiring additional support even when folded-up, and can be positioned anywhere in your home.
With its soft castors, the FashionMaster can be moved effortlessly and follows you wherever you go. It takes door thresholds, carpet edges and even the odd step or two in its stride.
Comfort Zone
Measuring 120 x 40 cm, the ironing board even provides sufficient space for long trouser legs. It's designed for you to iron the entire front of a blouse or shirt in a single process without having to re-position the yoke.
Automatic Descaling
Once you have selected the water hardness before the first use, the appliance automatically determines the required descaling cycle and reminds you in a timely manner. The descaling process is started simply at the touch of a button.
The display asks you to add a suitable descaler and then starts automatically.
Automatic Rinsing
Mineral residue left behind by the evaporation process must be regularly removed by rinsing the steam generator to ensure consistent performance.
The FashionMaster calculates rinse intervals automatically based on the volume of water evaporated. When it is time to do so, rinsing takes place immediately after you switch on the FashionMaster.
The only matter to take care of is to empty the residual water container.
Guided First Use
Prior to the first use of the FashionMaster, the appliance will guide you through the most important settings. You only select the language for the appliance information and set the water hardness.
The appliance now automatically selects the optimum descaling cycle. This maintains your FashionMaster in the best possible manner and ensures a long service life.

Miele B 3847 Fashionmaster tested by men. Today the men once again test the achievements of the girls the Miele B 3847 Fashionmaster steam ironing station. They are not very enthusiastic about the Miele steam ironing station, which is probably due to ironing.

Review.com Hands-On with the Miele FashionMaster B3312 Ironing System

See More Videos on Miele Fashion Master Ironing System

Miele Fashion Master Website
US Warranty 1 year limited warranty on defects in materials and workmanship.
Non-US Warranty: 30 days parts and labor
Specifications
Operating Instructions Miele B3847 Fashion Master Steam Ironing System
Guarantee for Miele B3847 Fashion Master Steam Ironing System
Design
Appliance color: Lotus white

Iron color: Anthracite/Lotus white

Ironing board color: Anthracite

Display: Single line


Perfect ironing results

Chrome-plated aluminum honeycomb soleplate

Steam Pressure in Bar: 4.0

Vertical Steam

Steam Pulse

Continuous Steam

Steamer

Active Ironing Table (Inflation and Suction Function)

2-Stage Fan

Non-stick Soleplate

Time-Saving Ironing

Water container volume in gallons: 0.33

Removable Water Container

Ironing Multi-layered Items

User Convenience

All-in-one/1-2 Lift system

Infinitely variable height adjustment with gas pressure stay, in inches: 33-40

Selection of water hardness

Automatic fan switch-on/off

Fan Memory Function

Prompted Descaling

Automatic Rinsing

Storage compartment for iron

Storage compartment for power cord

Safety

Cool Down function

Auto Off function

Unit Data

Weight in Lbs.: 66

Dimensions (Folded): 19"x50"x15"

Dimensions (Set Up): 19"x38"x58"

Dimensions (Packaging): 54"x18"x20"

Connection Cable: 98"

Hand Iron

Rated Loads

Rated Voltage: 120v

Fuse Rating: 15A

Rated Load: 1.7kW

Nominal Rating: 1700W

Product details - B 3847 FashionMaster

Design
Iron color
Anthracite/lotus white
Ironing board cover color
Anthracite
Perfect ironing results
Honeycomb soleplate
•
Steam pressure in bar
4.0
Steam quantity in g/min
100
Vertical steam
•
Steam starting from temperature level
2
Steam burst
•
Continuous steam
•
Steamer
•
Lift function
•
Second blower power level
•
Non-stick soleplate
•
Time-saving ironing
Water container volume in l
1.25
Removable water container
•
Permanently refillable water container
•
Ironing multi-layered items
•
Control panel
All-in-one
•
1-2-Lift-System
•
Infinitely variable height adjustment with gas lift mechanism in mm and in
830-1.020
Castors gentle on the floor
•
Ironing board with Comfort Zone
•
Automatic blower On/Off
•
Sprachflexibilität
•
Guided descaling
•
Guided first-time use
•
Automatic descaling
•
Auto-Off function
•
Storage compartment for iron
•
Storage compartment for mains lead and accessories
•
Safety
CoolDown function
•
Auto-Off function
•
Technical data
Dimensions (width) in in. (mm)
18 5/8 (470)
Dimensions (height) in in.(mm)
38 1/4 (970)
Dimensions (depth) in in.(mm)
58 3/8 (1,480)
Dimensions (width), folded up in in.(mm)
18 5/8 (470)
Dimensions (height), folded up in in.(mm)
50 1/2 (1,280)
Dimensions (depth), folded up in in.(mm)
14 5/8 (370)
Iron surface area in mm² and in²
1200 x 400
Standard accessories
Non-stick soleplate
•
Steamer
•
Premium ironing table cover
•
Steam hose holder
•
Main connection wire holder
•
Test strips for determining water hardness
•
Descaling tablets

Included Accessories
Non-stick soleplate

Steamer

Premium Ironing Table Cover (Particularly Heat Resistant)

Steam Hose Holder

Main Connection Cable Holder

Test strips for testing water hardness

Descaling Tablets

Steamer Brush Attachment
Other Images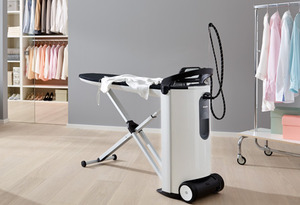 Exclusive to Miele: 1-2 lift system: Two steps, zero effort! Ready to start in seconds thanks to the patented 1-2 lift system.
Steam: More than just hot air: 4 bar steam pressure and 3.5 oz/min constant steam for professional ironing results.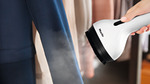 Handheld Garment Steamer Accessory Included. Steamer Very handy: Hanging clothes such as dresses, jackets or curtains are gently smoothed and freshened-up.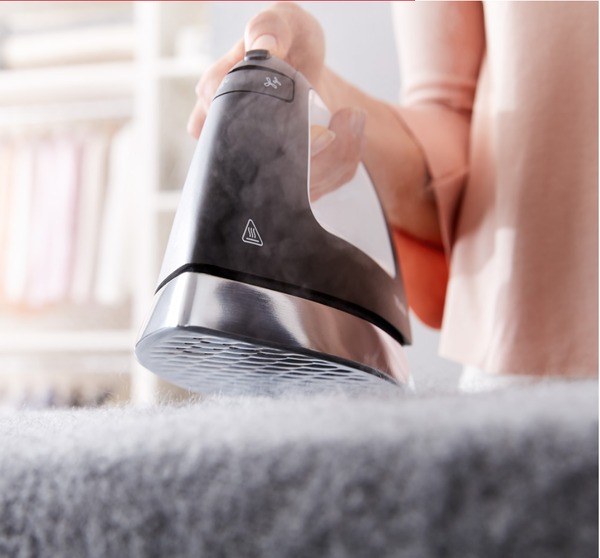 Particularly robust Miele ironing board cover: it is distinguished by its heat-resistance and durability. The cover absorbs moisture perfectly and can be washed up to 40°C.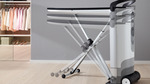 Variable height adjustment Simply ergonomic: the built-in pneumatic spring brings the iron table to the perfect working height. (32.6 - 215.6 in)

Active ironing table Best ironing results: Inflation and suction function ensures best use of steam and ideal positioning of clothing.

Particularly robust Miele ironing board cover: it is distinguished by its heat-resistance and durability. The cover absorbs moisture perfectly and can be washed up to 40°C.