Alternative to batting for use in purses bags and beyond gives great stability and body, yet remains lightweight and cushiony.

Why use ByAnnie's Soft and Stable®?

Great lasting body and stability

Lightweight

Maintains shape

Gives a professional finish to your project

Easy to sew

Fabric can be quilted to ByAnnie's Soft and Stable® or just sewn around the edges of the pieces — no need to quilt every 2 to 4" as with batting

Soft and comfortable

Washer and dryer safe

Notes from Annie:

I am often complimented on the professional appearance of my bags and purses. Though I'd love to say that they look good because I'm such an excellent seamstress, I really can't take all the credit. Using the proper tools and supplies makes all the difference between a project that looks store-bought and professional versus one that looks homemade.

ByAnnie's Soft and Stable® is by far the most important element used in any of my purses, bags, or other projects. Using ByAnnie's Soft and Stable® in place of batting or other fusible interfacings gives my project a firm foundation. The bag isn't slouchy or wrinkly. Yet, because ByAnnie's Soft and Stable® is so lightweight, the purse (when it's empty anyway!) weighs hardly anything.

I love using ByAnnie's Soft and Stable® in handles, too— that soft, cushiony feeling is so nice for shoulder straps or handles.

The other advantage to using ByAnnie's Soft and Stable® is that I do not have to quilt the fabric to the batting/foundation unless I want to. I often choose to quilt the fabric to add a decorative element to the finished piece, but it is not an absolute necessity.

For instance, when I designed the Serenity Shoulder Bag , I wanted all of the focus to be on the texturized flap. Had I used batting in the bag, I'd have had to quilt the fabric in the body of the bag. Not only would those quilting lines detract from the finished appearance of the bag, but the bag would be slouchy when put together.

With ByAnnie's Soft and Stable®, I am able to attach the fabric pieces used for the body of the bag to the ByAnnie's Soft and Stable® by sewing just around the edges. No quilting lines! When I'm done, my bag stands up beautifully, supporting that gorgeous textured flap.


That extra support is especially nice when you are using wooden fashion handles, such as I used on the On the Town 2.0 handbag . Even though I've attached some relatively heavy handles, the bag holds it shape and stands up beautifully.

If I do choose to quilt the fabric to ByAnnie's Soft and Stable®, that's easy, too. I just layer the lining fabric (face down), the ByAnnie's Soft and Stable®, and the main fabric (face up). Pin the layers and you're ready to stitch. The slight texture of the fabric finish on the Soft and Stable® slightly grabs the fabric pieces, so there is little shifting of layers as you sew.

Sometimes, I skip the fabric layer on the bottom and just sew the main fabric to the ByAnnie's Soft and Stable®. Again, because ByAnnie's Soft and Stable® has fabric on BOTH sides, I don't have to worry about the foam catching on my feed dogs. Everything moves easily through the machine.


In addition to using ByAnnie's Soft and Stable®, there are several tools that make all the difference in making a professional-looking project easily:

I wouldn't be without my trusty stiletto or wooden pressing tool when it comes to making any kind of purse, bag, garment, home dec project, or quilt. Anytime I am attaching a binding, I depend on my stiletto to hold things in place. The pressing tool will press seams quicker than running to the ironing board and its point turns out corners perfectly every time.

Many of my patterns require you to draw lines on the project pieces to aid in aligning handles, borders, pockets, and so forth. I love using the Clover Chaco Liner Pen Style chalk markers for marking these lines. They are quick and easy to use and, best of all, they are very temporary. Usually all I need to remove the line is the air created by the movement of the needle in and out of the fabric as I sew. The line is so easy to see, but it disappears as I sew! How easy is that?

I hope that you'll give ByAnnie's Soft and Stable® a try in your next bag or purse, too.

Want to continue on?

"I wanted to tell you that I really like the Soft and Stable®. I highly recommend it. My purse turned out beautiful. Thank you for your recommendations." Deb T.

"Thanks for introducing me to this wonderful, wonderful product. Makes me want to re-write all the patterns ditching the batting and fusible interfacings!" Margaret Travis www.eazypeazyquilts.com







Other Images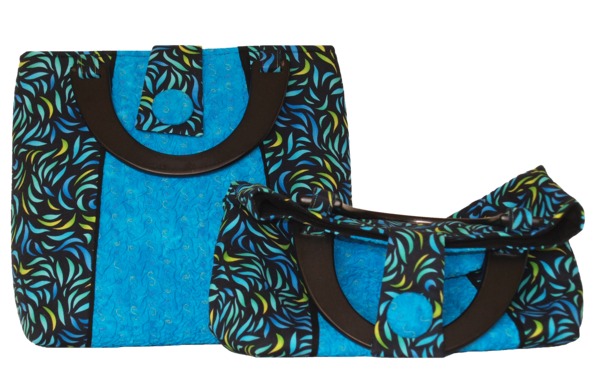 ByAnnie's Soft and Stable® is a terrific product which I developed to use in place of batting or other stabilizers in purses, bags, totes, home dec items, and more. See the difference that Soft and Stable® makes in the picture below. The droopy handbag on the right is made with batting. The handbag on the left stands up tall and holds its shape, even with the heavy wooden handles which are attached.
Sandra G, Medford OR
Had a great experience. Will order again when I have a need!