Bundle & Save
Get additional savings when you purchase any of these items along with this product.

* Synchrony Bank Sewing & More Fixed Payments 0% No Interest Financing with approved credit!
Click HERE to Apply Online for Synchrony Bank Sewing and More Credit Card Approval to use for Online Checkout or in AllBrands stores
Bernina and Bernette Machine Warranties
"AllBrands is a Bernina and Bernette Authorized Dealer and Service Center for any repairs including warranty parts and labor. We give unlimited technical support by email, fax and phone. We service machines in our stores. Mass merchants do not have tech service or repair departments for your equipment. They are unable to help you directly, only referring any operational, mechanical or electronic questions back to the manufacturer instead of taking care of problems themselves. Manufacturers and customers should expect that any problems will be taken care of by the dealer or merchant who sold you the equipment, not just by referring your requests back to the manufacturer." John Douthat, Owner & Tech
The affordable sewing machine for beginners – compact and easy to use
Large accessory box

Manual thread cutter

Semi-automatic needle threader

Simple knobs

Stable presser foot shank and bobbin rods

Swiss design

Semi-automatic threader – The quick and easy way to thread your needle
The semi-automatic threader of the Bernette 33 takes all the hassle out of threading your needle. Complicated threading is a thing of the past as the threader simply catches hold of the thread and pulls it through the eye of the needle. This means the Bernette 33 is ready to go in seconds - and you can get started on your creative sewing project.

2-step foot lift - For sewing several layers of fabric
However thick or thin your chosen fabric – the Bernette 33 ensures perfect stitch quality. It manages even thick or heavy layers of fabric with ease, as the 2-step foot lift provides extra space under the presser foot. Simply raise the foot lift of the Bernette 33 – and even thick layers of denim or linen can be placed effortlessly under the presser foot. Thanks to its excellent piercing power, you can sew through several layers of fabric with ease. The pressure of the presser foot can be adjusted to suit any textile – which means that even sewing projects requiring tricky fabrics can be managed to perfection with the Bernette 33.

Simple knobs for all sewing settings
The two non-slip knobs make it easy to adjust the stitch type and length. The 4-step buttonhole function can also be adjusted as you sew, with a simple turn of the knob.

Numerous convenient extras ensure even more sewing enjoyment
As well as being simple to operate, the Bernette 33 offers an easily accessible reverse lever, ample space and an accessory box for storing your sewing utensils so that they are always to hand.

Download the User Manual here (.PDF)

Download the Bernette B33 Mastery Workbook Here (.pdf)

Bernette Sew & Go, b33, b35, and B05 Mastery Workbook

Bernette All Sewing Model Comparison (.PDF)

View Bernette B33 Tutorial Videos Here:


US Warranty 25 years head, 5 years electronics, 1 years labor
Non-US Warranty: 30 days parts and labor
Included Accessories
Foot control

Bobbins (3x)

Seam ripper (buttonhole opener)

Needle set

Zigzag foot

Buttonhole foot with slide

Blindstitch foot

Zipper foot

Button-sew-on foot

Other Images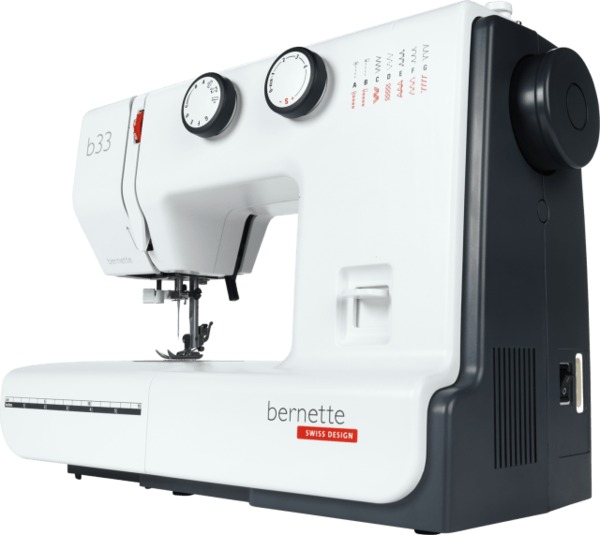 Bernette B33 15-Stitch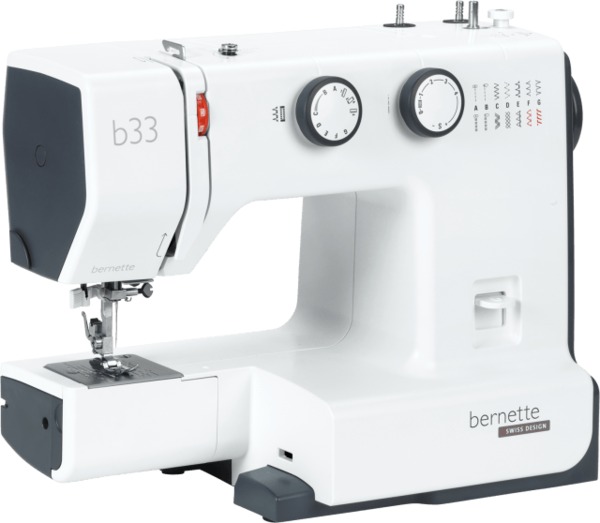 Lightweight Mechanical Sewing Machine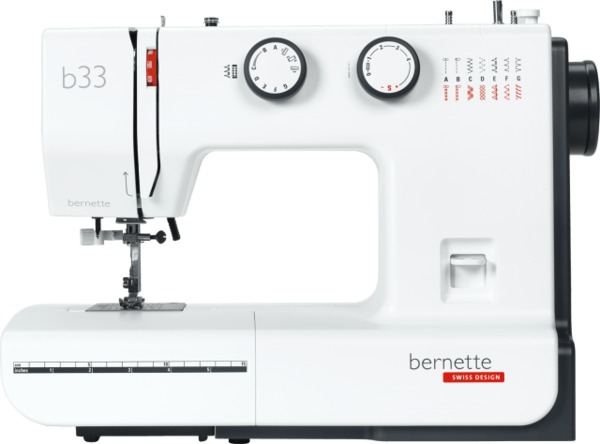 4 Step Buttonhole & Thread Cutter, Auto Threader, Swiss Design, 5mm ZZ, 5 Feet, 15.8Lbs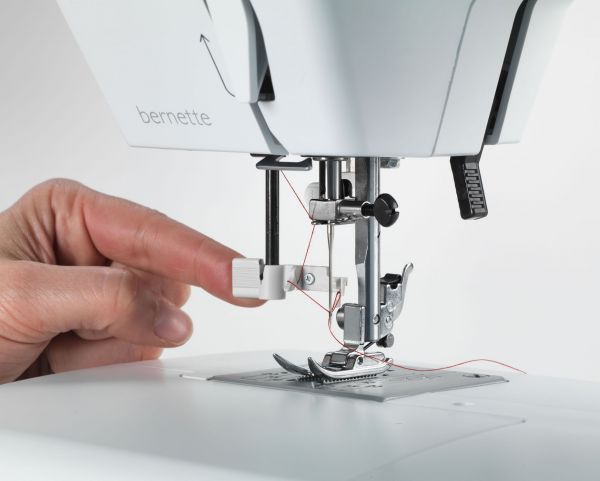 Semi-Automatic Threader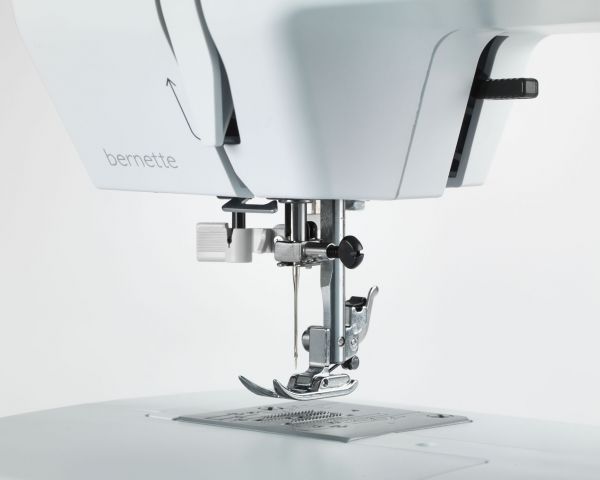 2-Step Foot Lift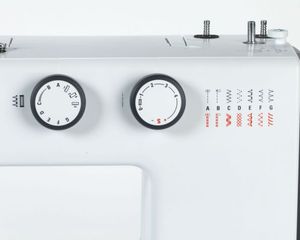 Easy Dials.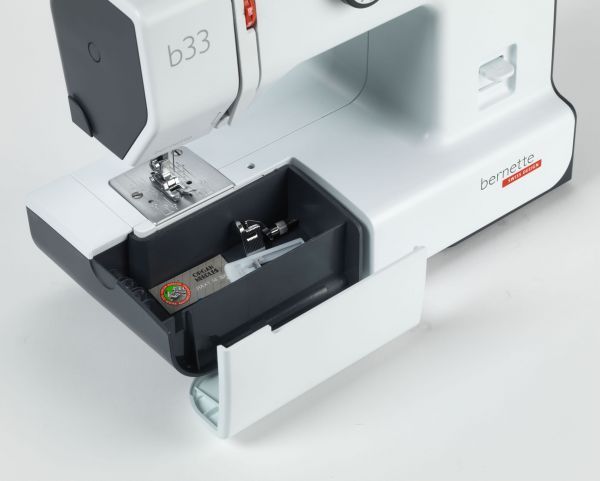 Large Accessory Tray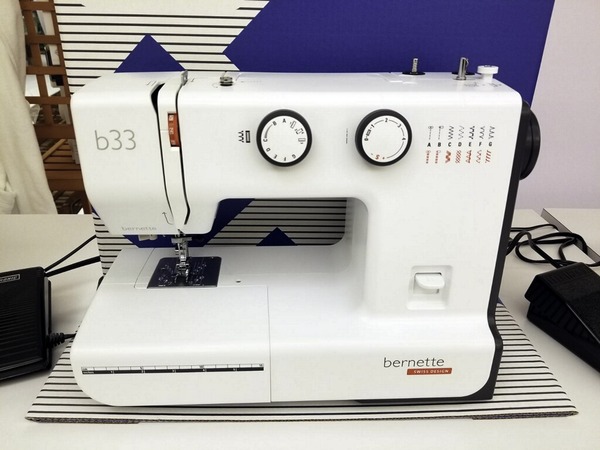 Featured at the Bernina Dealer Convention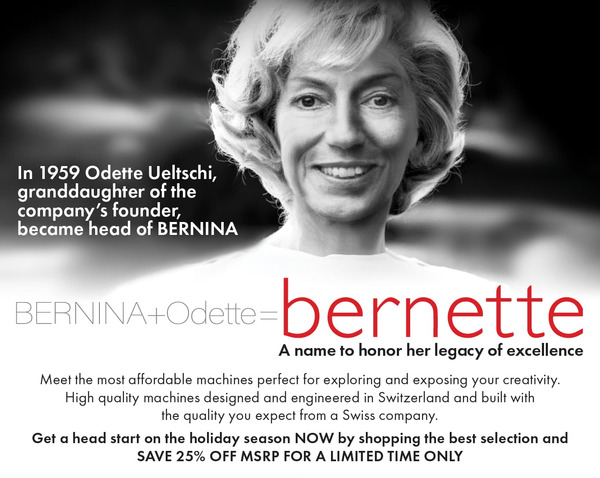 In 1959, Odette Ueltschi took over as head of BERNINA. Her legacy is reflected in the name of the bernette line of machines, which combines the first half of the brand name and the second half of Odette's name.

Since the 1980s, BERNINA has been turning out quality machines at an excellent cost as part of their bernette line.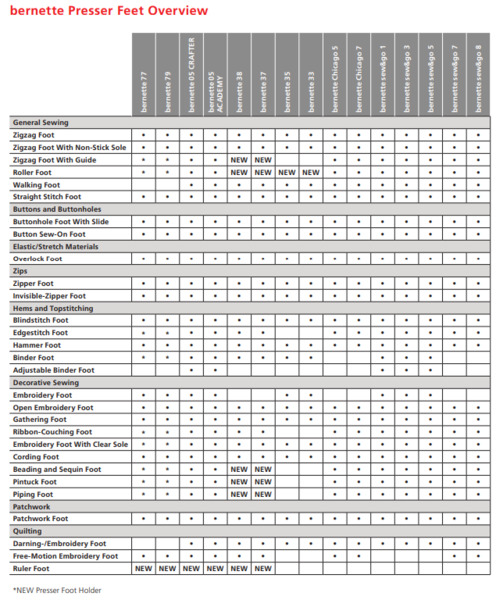 Bernette Compatible Presser foot Overview