* Synchrony Bank Sewing & More Fixed Payments 0% No Interest Financing with approved credit! Click HERE to Apply Online for Synchrony Bank Credit Approval"AllBrands is a Bernina Authorized Dealer and Service Center for any repairs including warranty parts and labor. We give unlimited technical support by email, fax and phone. We service machines in our stores. Mass merchants do not have tech service or repair departments for your equipment. They are unable to help you directly, only referring any operational, mechanical or electronic questions back to the manufacturer instead of taking care of problems themselves. Manufacturers and customers should expect that any problems will be taken care of by the dealer or merchant who sold you the equipment, not just by referring your requests back to the manufacturer." John Douthat, Owner & Tech
It's finally here—the bernette 64 AIRLOCK. The overlocker with an air threader. The looper threads are threaded in no time by the air threader – it's never been so easy. The b64 AIRLOCK has even more to offer: the freearm makes it easy to sew sleeves and cuffs. You will love the large work surface to the right of the needle and the slide-on table. 5 LEDs ensure the working area is brightly lit. The presser foot can be lowered and temporarily raised using the bernette Free Hand System, so that your hands remain free to guide the fabric. With 16 different stitches to choose from and a sewing speed of up to 1300 stitches per minute, you will finish your project in no time!
Do you love DIY and want to give your clothes a professional look? Then you need the bernette 64 AIRLOCK with air threader. It's easy to use and has all the features you need. Experience stitch quality at the highest level!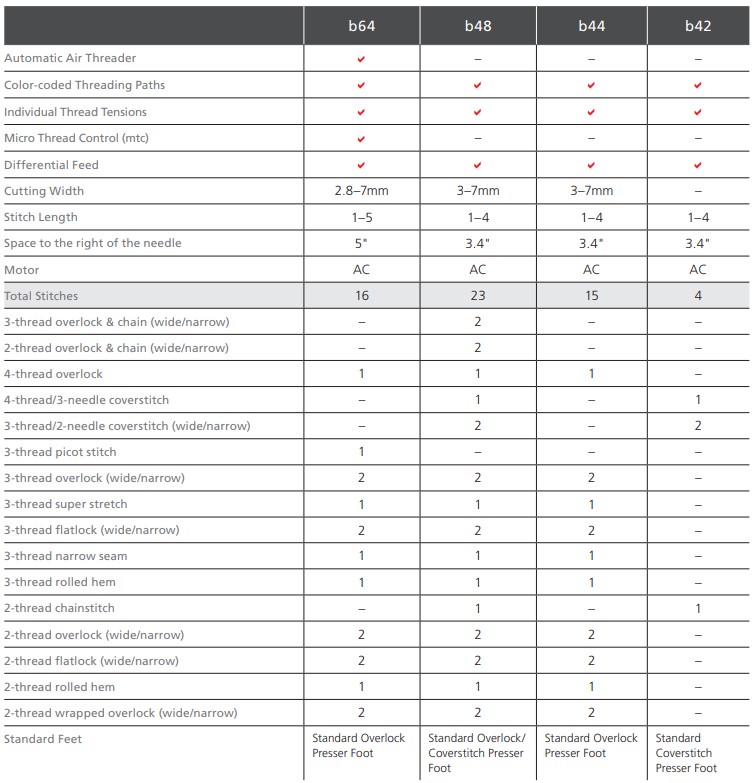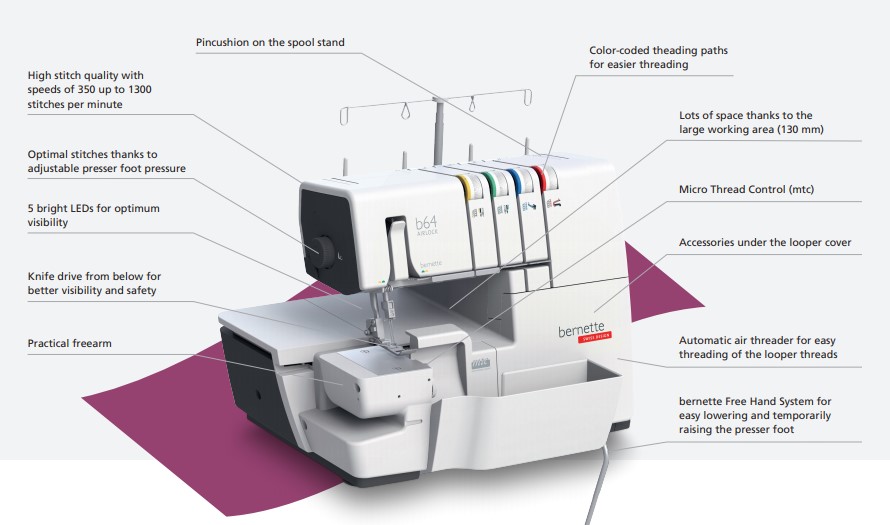 Click here to view the Bernette b64 AIRLOCK Brochure (.pdf)
US Warranty 5 year limited warranty on defects in materials and workmanship.
Extended US Warranty: Extended Warranty Available
Non-US Warranty: 30 days parts and labor
Specifications
Stitches:
16 stitch patterns

4-thread overlock

3-thread overlock (wide/narrow)

3-thread super-stretch stitch

3-thread flatlock (wide/narrow)

3-thread narrow seam

3-thread rolled hem

3-thread picot stitch

2-thread overlock (wide/narrow)

2-thread flatlock (wide/narrow)

2-thread rolled hem

2-thread wrapped overlock (wide/narrow)

Comfort Features:

Automatic air threader for looper threads

Freearm

Color-coded threading paths

Thread tension release when presser foot raised

Stitch length adjustable while sewing

Accessories under the looper cover

Sewing light 5: LEDs

Safety switch activated when cover is open

Micro Thread Control (mtc)

Free Hand System (FHS) including knee lifter

Technical Data:

Space to the right of the needle: 130 mm or 5"

Manual thread cutter

Overlock stitch width: 5-7 mm

7-step presser foot adjustment

Rolled hem lever under the stitch plate

Maximum sewing speed (stitches per minute): 1300

Specifications:

Speed (stitches/minute) 1,300

Sewing light 5 LEDs

Sewing space to the right of the needle 5 "

Looper threader Air threader

Number of stitches 16

Needle threader Manual

Micro thread control (mtc) ✓

Width overlock stitches 3 - 7 mm

2, 3 and 4-thread overlock stitches ✓

Thread cutter Manual
Included Accessories
Standard Accessories:
Standard overlock presser foot

Quick Reference Guide

Foot Control / Power Cord

Knee Lifter / Free Hand System

Slide-on Table

Cut-offs Bin

Knife Cover Insert

Freearm Cover

Accessories Box

Overlocker Oil

Replacement Knife

Spool Stabilizers (4)

Spool Caps (4)

Spool Nets (4)

Screwdriver

Threading Wire

Premium Dust Cover

Decorative Thread Guide

Additional Accessories (in Threader Cover):

Needle Set ELx705 CF

Hexagon Screwdriver, hex, l.5 mm

Brush

Tweezers

Needle Threader/Inserter

Upper Looper Converter
Other Images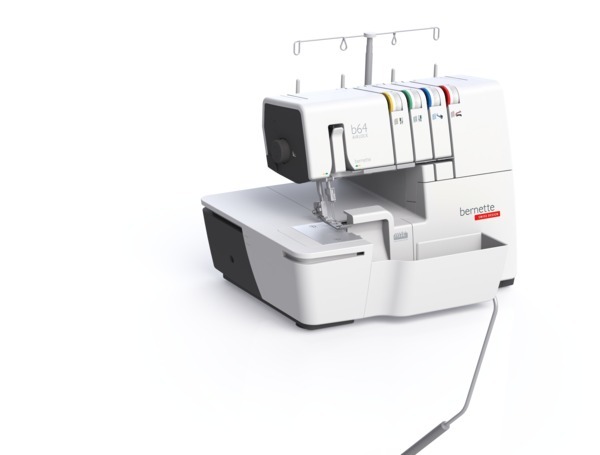 Bernette B64 Airlock 2/3/4 Thread Freearm Jet Air Serger, Micro Thread Control, Color Coded, Knee Lift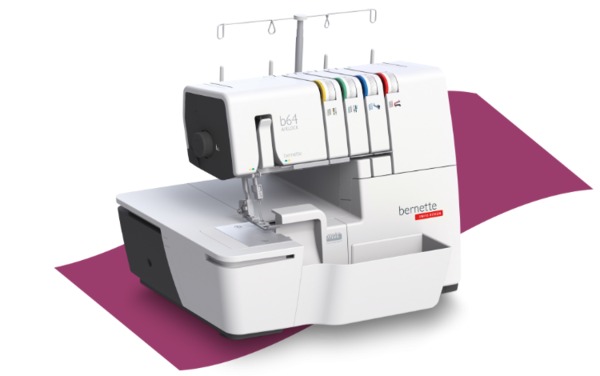 The new bernette 64 AIRLOCK The overlocker with an air threader to automatically thread the loopers. It's never been so easy to get started. With 16 different stitches to choose from and a sewing speed up to 1300 stitches per minute, you will finish your project in no time!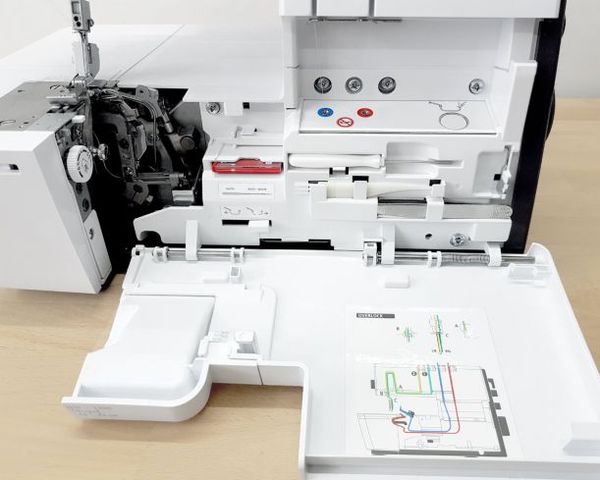 Automatic air threader Threading the looper has never been easier and quicker thanks to the color-coded threading paths. Thread each looper separately or both together with one simple push.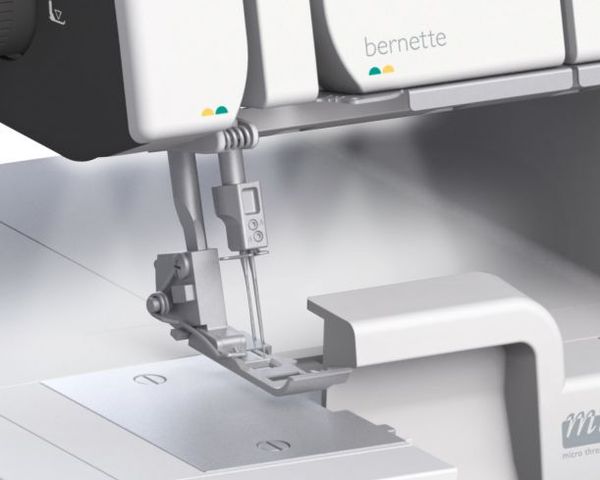 Lots of space thanks to the large working area 5" (130 mm)> The 130 mm space right of the needle gives overlocking another dimension. The large working area is ideal for leading and catching heavy sewing projects behind the needle and gives you the space for all tasks in the needle and looper area: changing the presser foot, attaching upper looper converter and much more.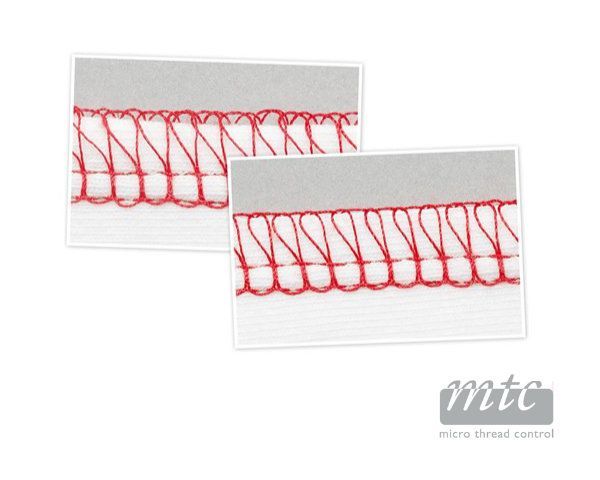 Micro Thread Control (mtc) Used for the first time on a bernette machine, the patended mtc Micro Thread Control (mtc) saves you significant time and effort while ensuring consistent high-quality stitches, since you need only set thread tension once – even if you alter the cutting width and fabric thickness!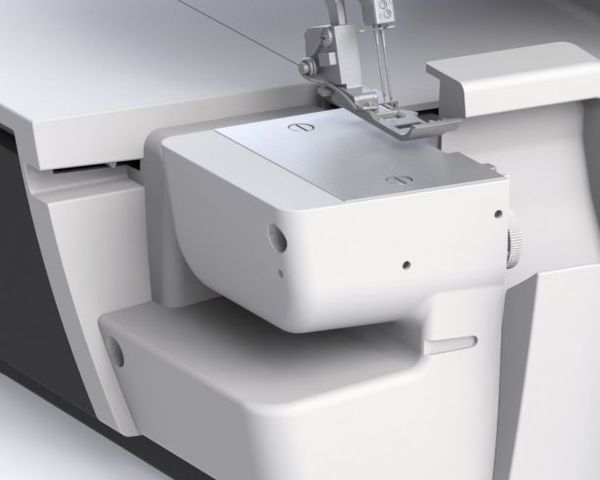 Integrated freearm Sewing tubular projects such as cuffs, legs and necklines will be easy thanks to the integrated freearm.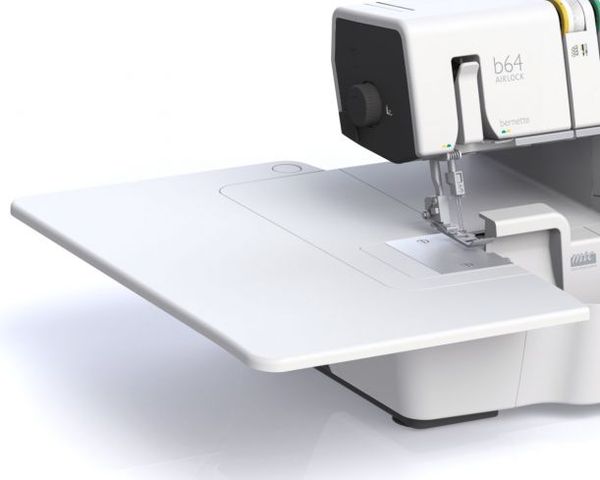 Super-large slide-on table The easy-to-attach and included slide-on table makes sewing and fabric guiding even more comfortable, especially for large sewing projects. The fabric will glide smoothly over the rounded shaped table.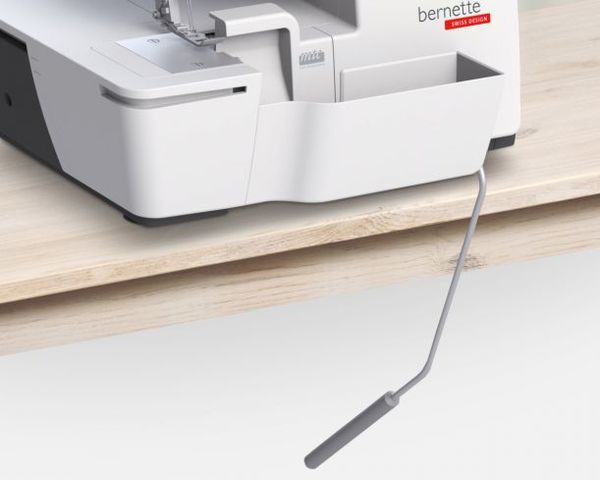 Free Hand System (FHS) With the included knee lifter, your hands remain free to comfortably position the fabric under the presser foot. Furthermore, you can easily lift the presser foot with your knee by pushing the lifter to the right.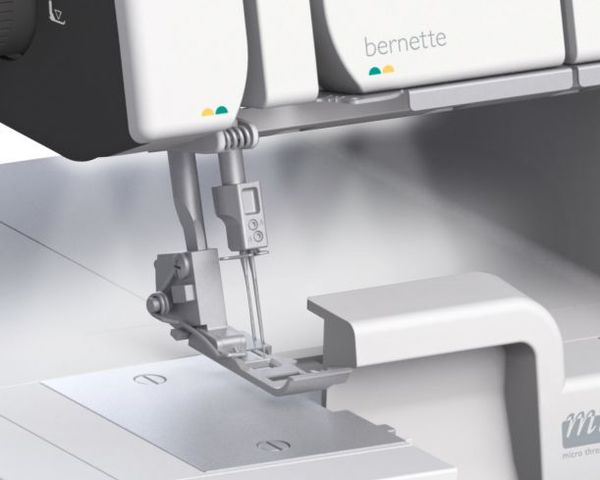 5 LEDs in the needle and working area The well-lit workspace of the bernette 64 AIRLOCK eases sewing as well as threading of loopers and needles. The 5 LED lights faciliate precise and accurate work.

Stitch Overview bernette 64 AIRLOCK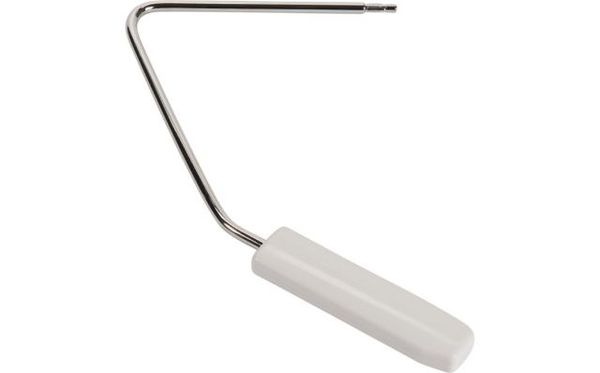 Knee lifter The knee-operated lifter lets you raise the presser foot and keeps your hands free.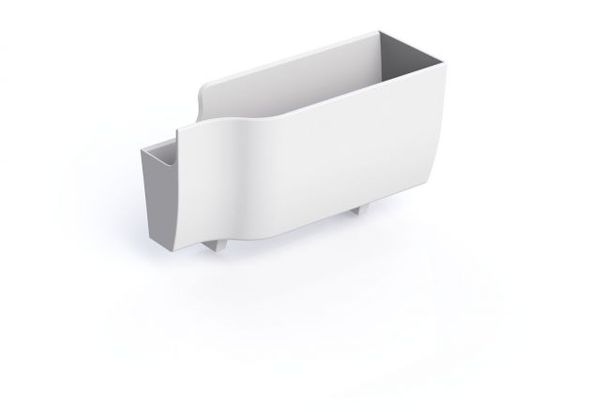 Cut-offs bin The cut-off bin ensures your workspace remains tidy.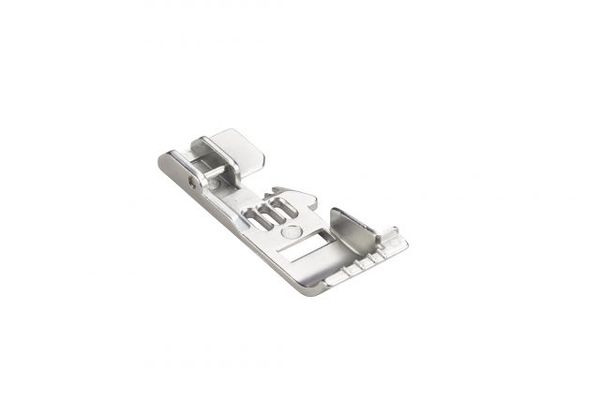 Standard presser foot overlocker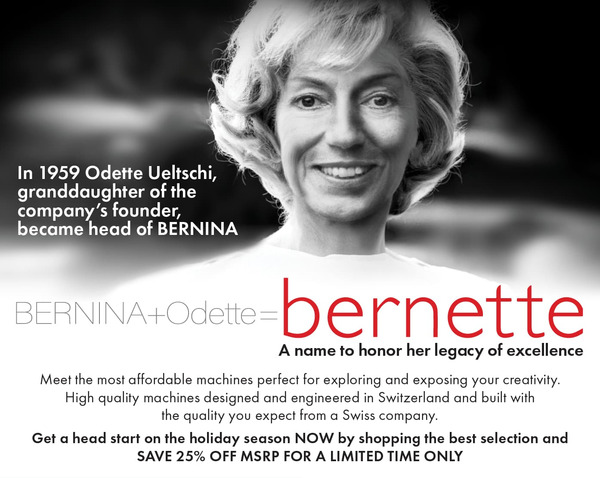 In 1959, Odette Ueltschi took over as head of BERNINA. Her legacy is reflected in the name of the bernette line of machines, which combines the first half of the brand name and the second half of Odette's name.

Since the 1980s, BERNINA has been turning out quality machines at an excellent cost as part of their bernette line.
Bundle & Save
Get additional savings when you purchase any of these items along with this product.