* Synchrony Bank Sewing & More Fixed Payments 0% No Interest Financing with approved credit!
Click HERE to Apply Online for Synchrony Bank Sewing and More Credit Card Approval to use for Online Checkout or in AllBrands stores
Bernina and Bernette Machine Warranties
"AllBrands is a Bernina and Bernette Authorized Dealer and Service Center for any repairs including warranty parts and labor. We give unlimited technical support by email, fax and phone. We service machines in our stores. Mass merchants do not have tech service or repair departments for your equipment. They are unable to help you directly, only referring any operational, mechanical or electronic questions back to the manufacturer instead of taking care of problems themselves. Manufacturers and customers should expect that any problems will be taken care of by the dealer or merchant who sold you the equipment, not just by referring your requests back to the manufacturer." John Douthat, Owner & Tech
2-step presser foot lift

Adjustable stitch length and width

Automatic buttonhole

Includes 7 presser feet (soles)

Total of 23 utility and decorative stitches plus buttonhole

Automatic buttonhole – sew professional buttonholes quickly and easily
With the Bernette 35, it is quick and easy to include buttonholes in your sewing project. You don't have to lift the needle or change the setting on your machine. Your sewing machine will sew all four steps of the buttonhole automatically.

Many convenient extras – making sewing even more fun
In addition to the 1-step buttonhole function and the 23 utility and decorative stitches, the Bernette 35 also has a manual needle threader and a manual thread cutter. These functions make your sewing faster and more efficient. The accessory box of your Bernette 35 provides plenty of storage space for sewing utensils, such as bobbins, cleaning brushes, presser feet and threads.

Seven presser feet (soles) included – The right presser foot for any application
With your Bernette 35 you get seven presser feet soles and a stable presser foot shank. You can select the appropriate presser foot for whatever you want to sew. For example, you can choose the zigzag foot for zigzag stitches, the relevant satin foot for your satin stitches and the buttonhole foot for your buttonholes. With the appropriate feet, you can accomplish your sewing projects quickly and with excellent stitch quality.

2-step presser foot lift for sewing thick layers of fabric
The 2-step presser foot lift offers the advantage of making it possible to sew several layers of fabric with ease. This is especially useful if you need to sew thicker or quilted fabrics or several layers of denim. The high piercing power of the Bernette 35 allows you to work on a wide range of materials, from fine materials through to heavy textiles.



Download the User Manual Here (.PDF)

Download the B35 Mastery Workbook Here (.PDF)

Bernette Sew & Go, b33, b35, and B05 Mastery Workbook

Bernette All Sewing Model Comparison (.PDF)
US Warranty 25 years head, 5 years electronics, 1 years labor
Non-US Warranty: 30 days parts and labor
Specifications
Stitch Width: 5mm
Hook system: Front loading
Buttonhole: 1-step
Utility Stitches: 14
Patterns: 23 plus buttonhole
Sewing speed: 860 stitches/minute

View Bernette B35 Tutorial Videos Here:

Included Accessories
Bobbins (4x)

Seam ripper (buttonhole opener)

Screwdriver (large)

Screwdriver (small)

Needle assortment

Zigzag foot

Hemmer foot

Zipper foot

Satin stitch foot

Button-sew-on foot

Blindstitch foot

Buttonhole foot with slide

Foot control
Other Images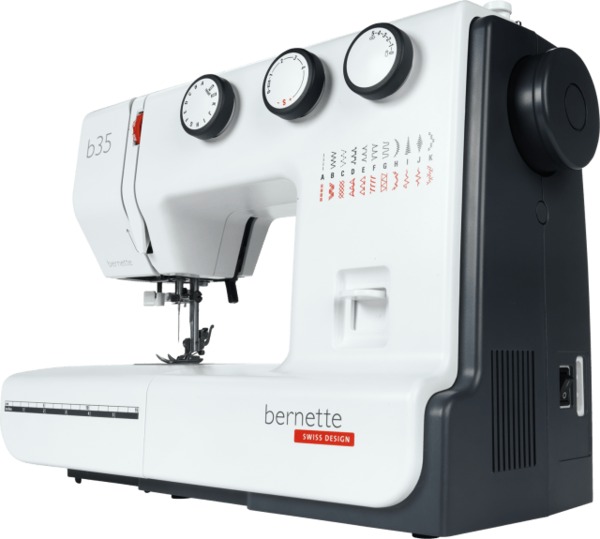 Bernette B35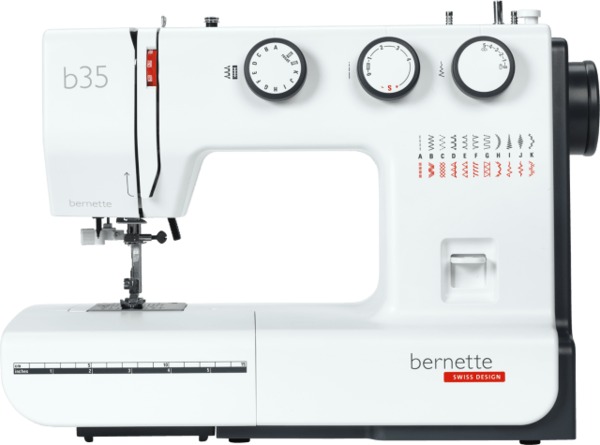 23-Stitch Mechanical Sewing Machine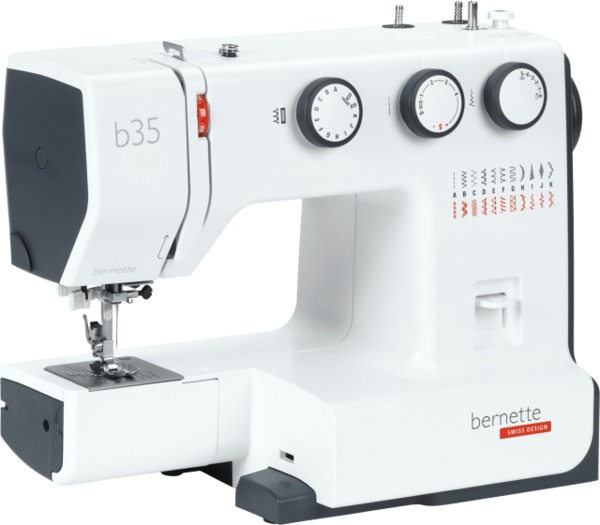 Buttonhole, Needle Threader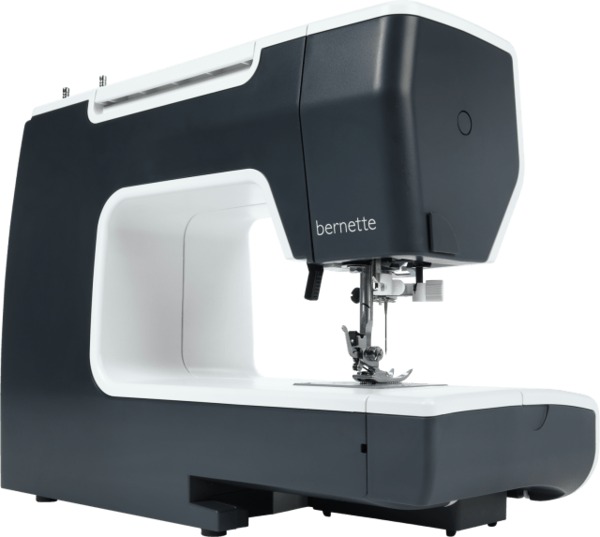 Rear View.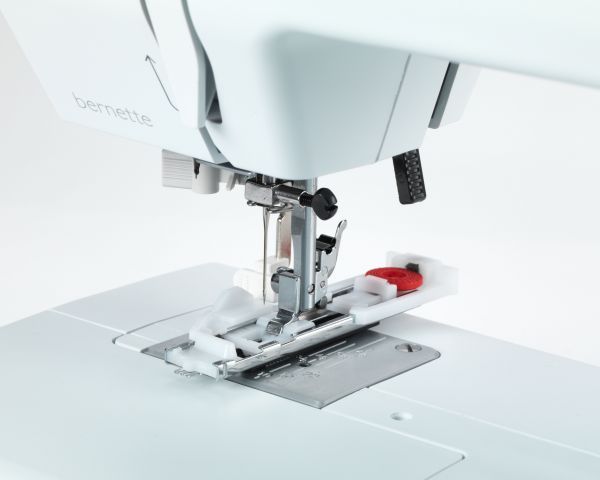 Automatic Buttonhole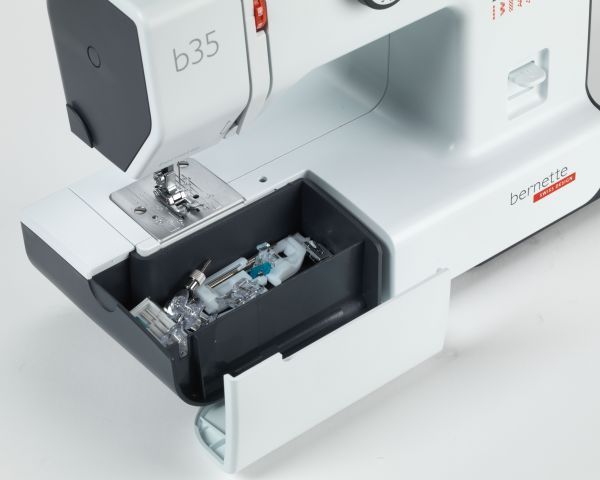 Accessory Tray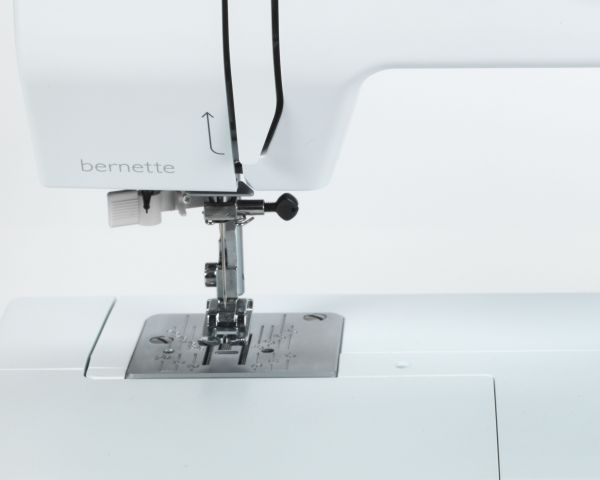 Seven Presser Feet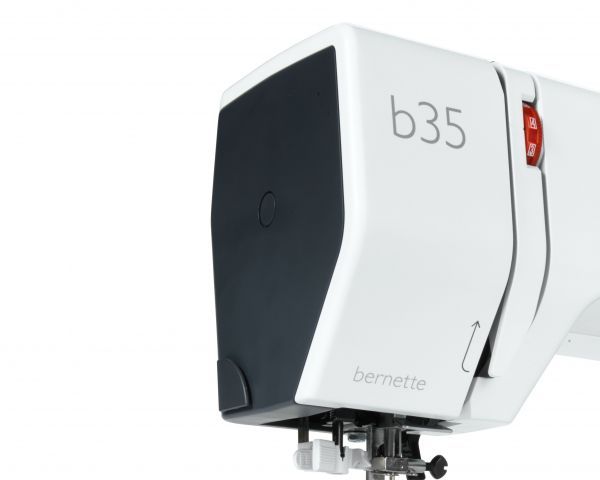 2-Step Presser Foot Lift

23 Stitch Panel Display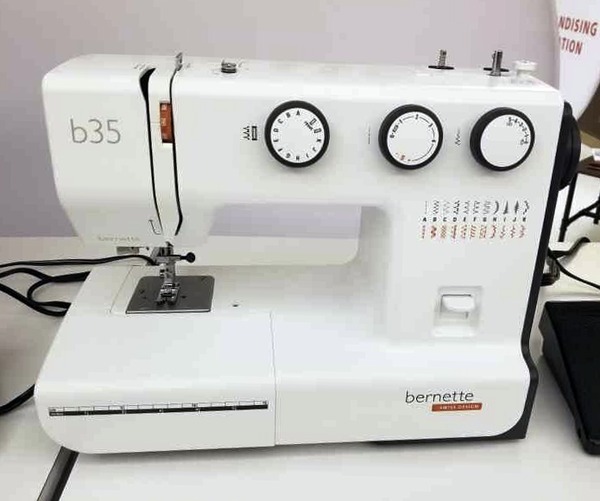 Featured at the Bernina Dealer Convention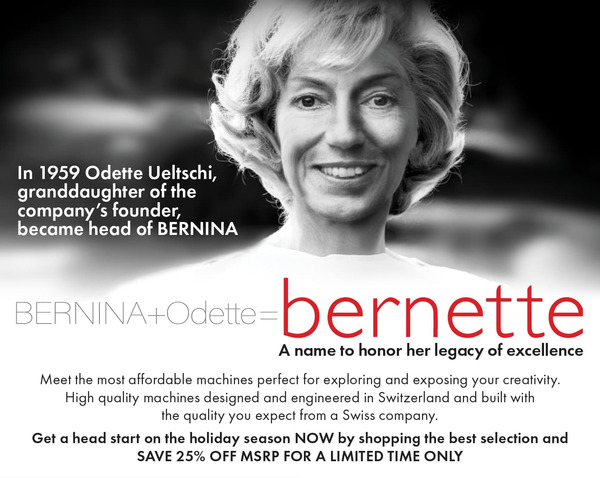 In 1959, Odette Ueltschi took over as head of BERNINA. Her legacy is reflected in the name of the bernette line of machines, which combines the first half of the brand name and the second half of Odette's name.

Since the 1980s, BERNINA has been turning out quality machines at an excellent cost as part of their bernette line.

Bernina Financing Available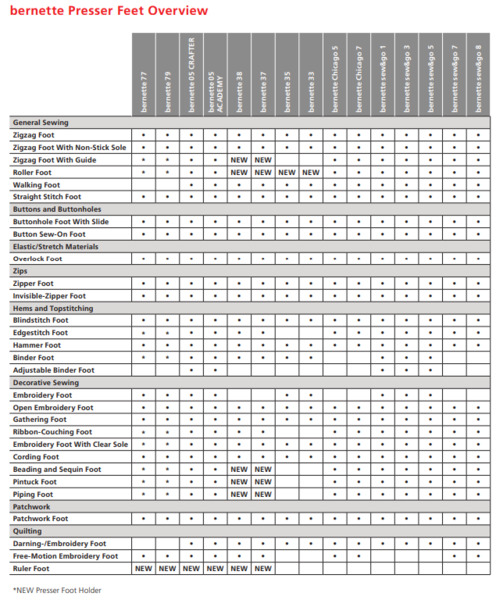 Bernette Compatible Presser foot Overview
Dorota K, Stone Mountain GA
Thank you for a great service

D Lalanas, Ohio
Have used AllBrands in the past and once again was NOT disappointed by service. Will continue to purchase all sewing equipment and related items from them. Only wish I lived closer to take advantage of in house services (classes, etc). Thanks again!


Bundle & Save
Get additional savings when you purchase any of these items along with this product.