Bundle & Save
Get additional savings when you purchase any of these items along with this product.


In Stock!
* Synchrony Bank Sewing & More Fixed Payments 0% No Interest Financing with approved credit!
Click HERE to Apply Online for Synchrony Bank Sewing and More Credit Card Approval to use for Online Checkout or in AllBrands stores
Bernina and Bernette Machine Warranties
"AllBrands is a Bernina and Bernette Authorized Dealer and Service Center for any repairs including warranty parts and labor. We give unlimited technical support by email, fax and phone. We service machines in our stores. Mass merchants do not have tech service or repair departments for your equipment. They are unable to help you directly, only referring any operational, mechanical or electronic questions back to the manufacturer instead of taking care of problems themselves. Manufacturers and customers should expect that any problems will be taken care of by the dealer or merchant who sold you the equipment, not just by referring your requests back to the manufacturer." John Douthat, Owner & Tech
25% Off MSRP! The computerized embroidery machine to raise your creativity to the next level,
* Synchrony Bank Sewing & More Fixed Payments 0% No Interest Financing with approved credit! Click HERE to Apply Online for Synchrony Bank Sewing and More Credit Card Approval to use for Online Checkout or in AllBrands stores
"We were able to sample the Bernette B79 machines. They are a beautifully soft mat finish with sleek soft black details. We were happy to see that Bernette has integrated the BERNINA navigation system, and touch screen! A few other of our favorite features are the large 6"x 10" embroidery area, included Toolbox Editing Software, and the sizing of the machine. It has a 9" arm, but is not too large to move around your sewing room, or even to classes. The integrated dual feed o B79 is the icing on the cake! There is no other machine like it in this price range. Combine with our financing for a super affordable, super high tech Swiss Designed Sewing Quilting and Embroidery Machine!"
Barbara Chatelain Product Development Department - Allbrands.com
The computerized embroidery machine to raise your creativity to the next level
The b70 DECO is a real specialist. As a pure embroidery machine, it offers everything for decorating or personalizing clothing or accessories. With over 200 embroidery designs installed the right motif is at your fingertips – and you can directly edit it on the touch screen. Want something truly yours? Upload and save your own embroidery motifs via USB flash drive. Raise your creativity to the next level with the embroidery software modules Lettering and Editing of BERNINA Toolbox.
US Warranty 10 years on parts, 2 years on electrical, 1 year on labor
Extended US Warranty: Extended Warranty Available
Non-US Warranty: 30 days parts and labor
Specifications
Features:
Hook system - Drop-In
Embroidery area - 6 x 10 in
Embroidery designs - 208
Embroidery speed (stitches/minute) - 850


bernette 70 DECO
Electronic
Embroidery speed (stitches/minute) 850
Embroidery designs 208
Embroidery area 260 x 160mm
Hook system Drop-In

Machine Dimensions: 19 x 12.5 x 7.5 inches
Embroidery Speed: 850 stiches/minute
Embroidery Area: 10.2 x 6.3 inches
Space Right of Needle: 9 inches

Included Accessories
Embroidery Foot

Embroidery Hoop S B70 / B79 - 2 x 3 in

Embroidery Hoop M B70 / B79 - 5 x 7 in

Embroidery Hoop L B70 / B79 - 6 x 10 in

Hopper Embroidery Foot

Touchscreen Pen

DC Motor


Downloadable Manual

Included Accessories:

Embroidery hoop large (160 x 260 mm)
Embroidery hoop medium (120 x 180 mm)
Embroidery hoop small (50 x 70 mm)
Hopper embroidery foot
Embroidery foot
Bobbin (3x)
Spool net
Brush/ Seam ripper
Spool disc large
Spool disc middle (1x)
Spool disc small (2x)
Screwdriver
Dust cover
Lubricator
Second spool pin
Selection of needles
Power cable
Felt disc
Other Images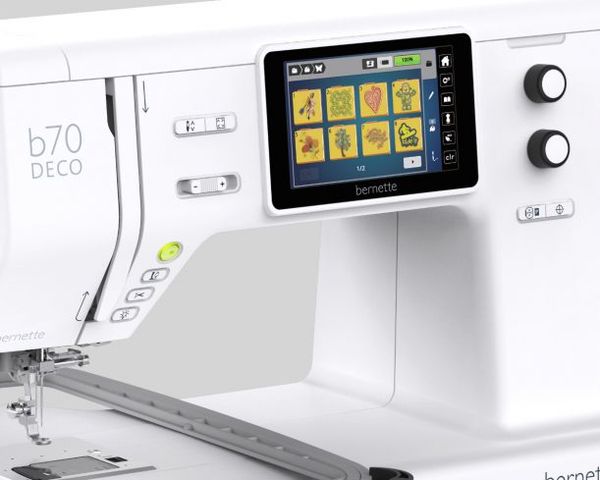 Easy to use with touchscreen and multi-function knobs Find the right embroidery design, edit and position it via drag & drop by using the 5-inch color touch screen, which is optimally positioned in the center of the machine. Finetune the size and position of your embroidery motif via the multi-function knobs. Access the embroidery tutorials for tips on how to operate your machine and embroidery module.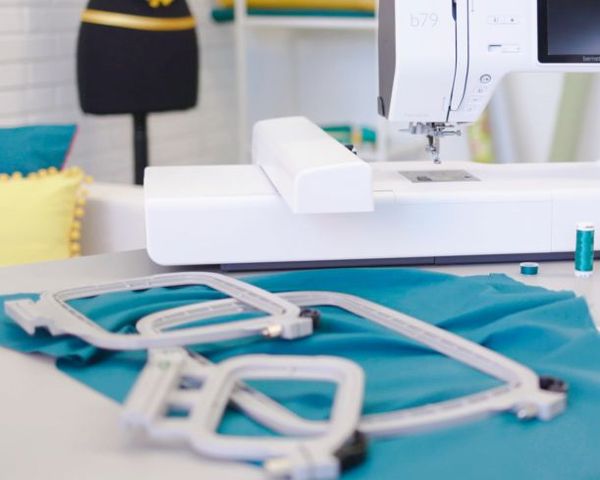 Embroidery module with three different-sized hoops and hoop detection With three hoops included, it is easy to find the right hoop for each size of your embroidery designs. You can embroider motifs with up to 260 x 160 mm without re-hooping. The hoops are easy to open and close with a quick release system . The automatic hoop detection ensures that you see the defined embroidery area of each hoop on the touch screen, so you can optimally adapt your embroidery design.
Creative possibilities with embroidery designs With 208 embroidery designs and 7 embroidery alphabets installed, a wide selection of motifs is at your fingertips. The motifs can be edited on the touch screen, so you can easily rotate, flip, or combine design elements. Want something truly yours? Upload your own embroidery motifs or motifs you edited and combined in your BERNINA Toolbox software via USB flash drive. The b79 is compatible with most embroidery design formats – no need to convert files in a software program anymore.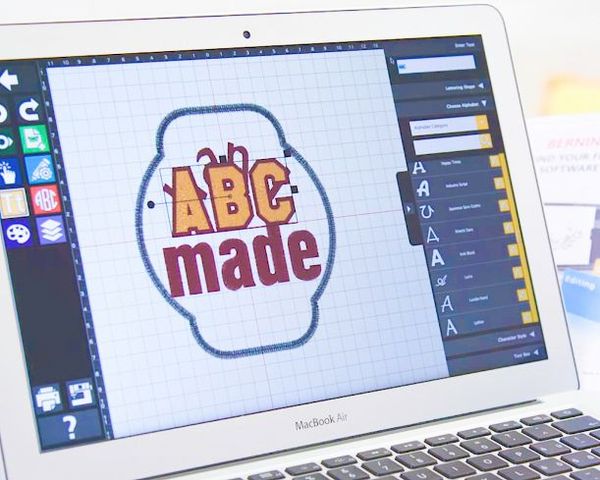 BERNINA Toolbox, the easy-to-use embroidery software Go creative with the Lettering and Editing modules and 300 additional embroidery designs and 100 additional fonts included. Each module has a large selection of embroidery motifs to download from the BERNINA Cloud. You can even edit the embroidery motifs directly in the cloud, using your tablet or laptop.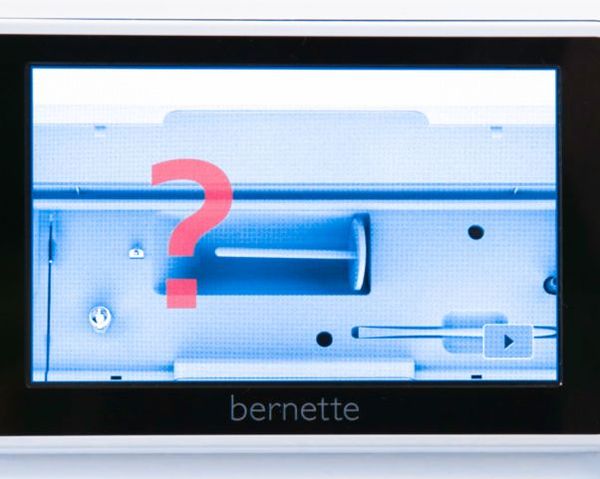 Convenient upper and lower thread sensors The upper or lower thread sensors ensure that your machine immediately stops to embroider, when one of your bobbins runs empty. You can continue embroidering your motif seamlessly as soon as the bobbin is filled up again.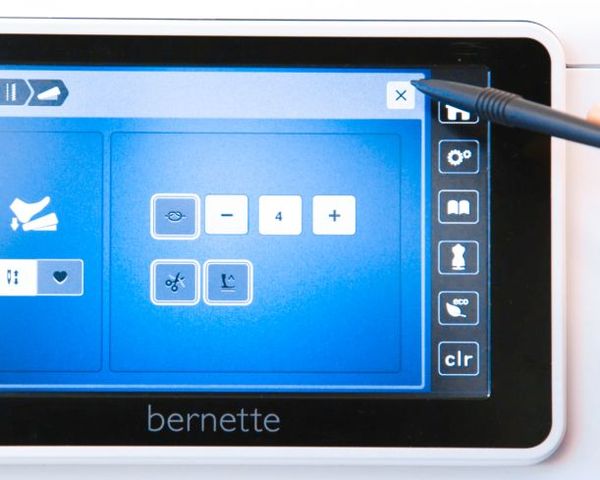 Adjusting the presser foot pressure and thread tension to suit the material When embroidering, the right thread tension is essential. For some materials, such as lightweight or thin fabrics, it's good to individually adjust the presser foot pressure and the thread tension. Your bernette 70 DECO offers these practical features. Voluminous projects can be challenging, but with the included hopper embroidery foot the stitches turn out beautifully.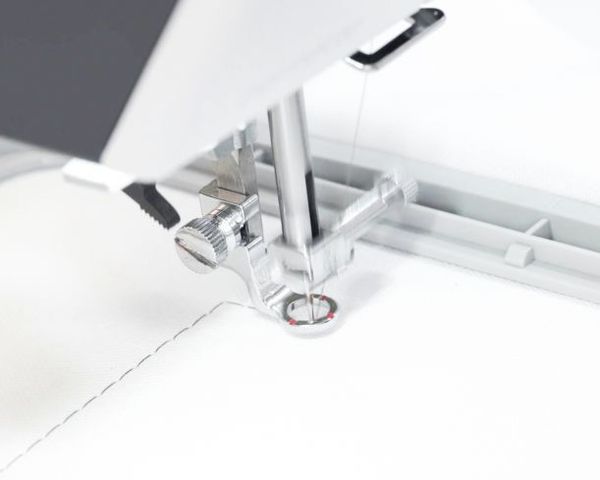 Embroidery made easy The basting stitches ensure your fabric doesn't slip from the stabilizer. You no longer have to cut off the threads when you change color or trim them between jump stitches. All the threads are cut off automatically while you embroider.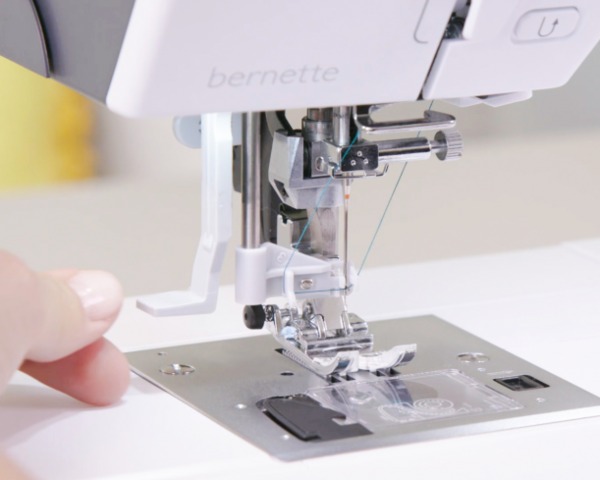 Even more convenience With the semi-automatic needle threader threading is a breeze – the presser foot is automatically lowered to the correct position and the additional thread cutter holds the thread in place.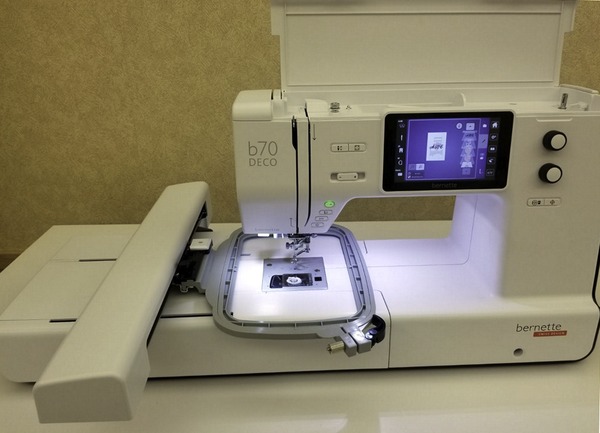 Introduced at the 2019 Bernina Dealer Convention.
In 1959, Odette Ueltschi took over as head of BERNINA. Her legacy is reflected in the name of the bernette line of machines, which combines the first half of the brand name and the second half of Odette's name.

Since the 1980s, BERNINA has been turning out quality machines at an excellent cost as part of their bernette line.

Bernina Financing Available
Trena H , Ft Worth TX
I had a wonderful surprise this morning when fedex delivered my new machine. Thank you so much. It is working great. Now I have to learn how to use it. Thanks again. Trena H

Christine R, Smith NV
As shown above, I am very happy with the selection and definitely the price

Betty L, Webster MA
I wish a manual was included,as I can't print out anything. Otherwise everything was fine. Betty