*Financing Available*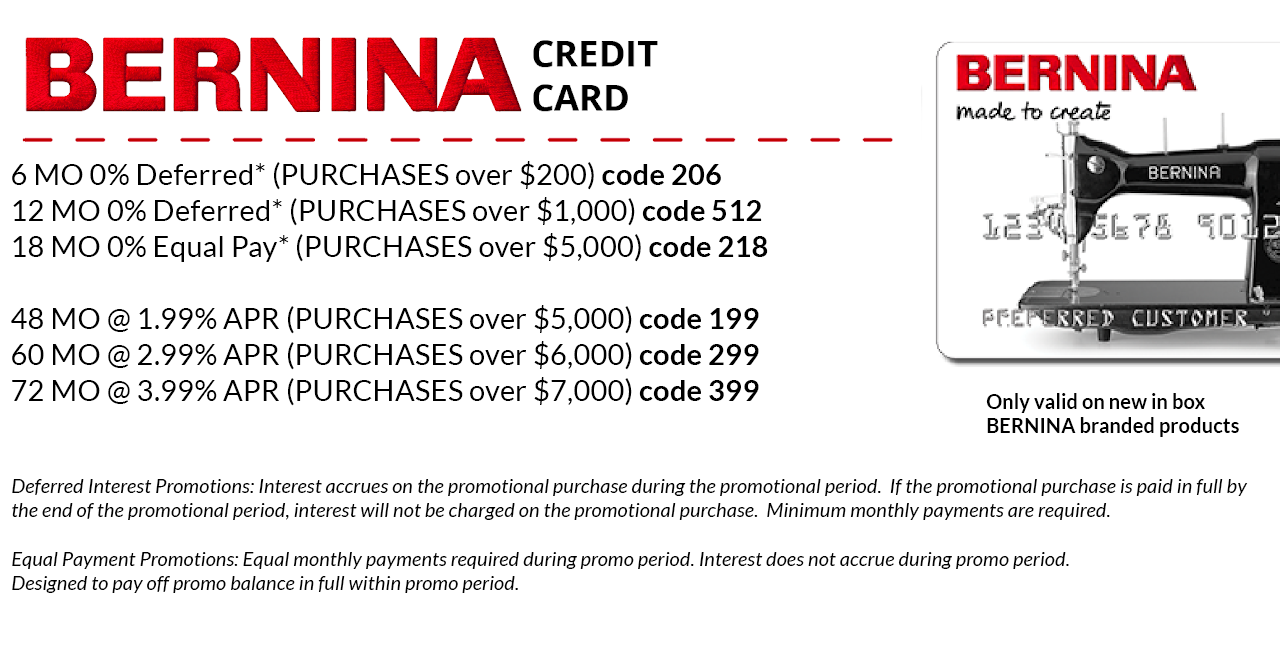 Click HERE to Apply Online.
Click here to download Bernina's app. View products, promotions, and new Accessory/Foot Organizer!
Download Bernina ARTlink 9 here
The B 535, the entry-level 5 Series machine, comes with multi-function knobs, 8.5" freearm space right of the needle, a 5.5 mm stitch width and 6 mm stitch length and a 4.3" color touchscreen. Additionally, it has 11 needle positions, 4 built-in embroidery alphabets, 50 built-in embroidery designs, 300 stitch patterns
Manufacturer's US warranty 25 years head, 5 years electronics, 1 years labor
Non-US Warranty: To view the warranty for this combo, please view specific warranty information on the individual product pages.
Specifications
Use 1,048 beautiful stitch patterns and five sewing alphabets to individualize your favourite projects.
Features:


BERNINA Hook System to sew perfect stitches faster and quieter

More space – 8.5" to the right of the needle for creative freedom

Jumbo bobbin with 70% extra thread capacity to sew longer without interruption

Large centrally located 4.3" touchscreen for easy navigation

5.5 mm stitch width

300 stitch patterns

BERNINA Stitch Regulator (BSR) optional

5 alphabets & 12 buttonholes

Technically Speaking: BERNINA 535, 480, 475 Top
Tension Not Releasing
Recently we were made aware of an intermittent issue with top tensions not releasing after a thread cut, thus causing
tension issues and bird nesting.
When an operator selects the auto thread
cutter and does not wait until the cutting
process is complete, lifts the presser foot
by hand or by FHS, there is a sporadic
chance the top tension is not releasing.
We have also seen the hour glass icon
spinning.
With machines that have an automatic
presser foot lifter the timing between cutter and lifter action is governed by the
FW, therefore we do not see such issues.
For right now we can provide this solution.
If such issues appear, please let the consumer know to slow down and let the
machine cut the thread first before the
presser foot is lifted.
Lowering and then raising the presser
foot bar should release the top tension
disks. This may take 2-3 times to release.
If the hourglass appears it maybe required to reboot the machine.

Is Your BERNINA Embroidery Module STILL IN THE BOX?!?! We are excited to announce all new BERNINA branded videos have been added to the existing Embroidery Essentials online course. Click here to learn more about this course: https://sewing-mastery.teachable.com/...​

This promotional price is set to expire at the end of the month
Included Accessories
B 535
5 Presser Feet:
 Reverse Pattern Foot #1
 Overlock Foot #2
 Buttonhole Foot #3A
 Zipper Foot #4
 Open Embroidery Foot #20

Additional Accessories:
 Instruction Manual
 Power Cord
 BERNINA Foot Control
 Free Hand System
 Slide-on Table (no guide)
 Soft Cover
 Accessory Wardrobe (magnetic and attachable)
 1 Pkg. Asst. Needles
 Height Compensation Tool
 Seam Guide Right
 Touch Screen Pen
 Oiler
 5 Bobbins (total)
 Seam Ripper
 Lint Brush
 2 Foam Pads
 3 Spool Caps

B 535 EMBROIDERY Module:
1 Presser Foot:
 Drop-shaped Embroidery Foot #26
2 Embroidery Hoops
 Large Oval Hoop and Template
 Medium Hoop and Template
Additional Embroidery Accessories
 2 Template Holder Clips
 Thread Net
 1 pkg Asst. Embroidery N