Whether you're working with woven or sheer fabrics, correctly choose which stabilizer you need and learn how to best use it with this resourceful pocket-sized book, Pocket Guide to Stabilizers. Containing over 50 pages of helpful information on types of fabrics, stabilizers, how to properly hoop each fabric, and so much more, you won't want to start another project without this guide. Take it with you to the store so you get the right stabilizer every time, resulting in a finished product you'll love!

The best and most convenient guide to stabilizers you'll ever have, Pocket Guide to Stabilizers will help you fully understand all the options for the many different types of stabilizers and which ones to use on every kind of fabric. From tear away and cut away stabilizers to working with woven, sheer, knit, and napped fabrics, you won't want to start another project without this must-have pocket guide. Take it with you to the store so you get the right stabilizer every time, resulting in finished products you'll love! Author, owner of Sue O'Very Designs, and Aurifil thread designer, Sue O'Very is also a columnist for Designs in Machine Embroidery magazine and owns an online store that specializes in machine embroidery patterns.



The best and most convenient guide to stabilizers you'll ever have!

The ultimate resource for deciding what stabilizer to buy, from tear-away to heat-away to specialty, and how to use them properly

Fabric profiles for knit, woven, napped, sheer, non-woven, lace fabrics, and more

Compact and portable at only 4" x 6", you can easily take it to the craft store or stash it with your supplies and materials

Perfect for beginners to learn everything you need to know to determine exactly which stabilizer you need for any given project

Excellent reference for seasoned embroiderers, sewers, and quilters, whether you're stitching by hand or machine

Unbiased summaries of the benefits of each product will help you save money by choosing exactly the right stabilizer the first time
Specifications
What's inside:
An introduction on what you should know before you start

A helpful section on the basic types of materials

Detailed insight on each of the five stabilizer types: tear-away, cut-away, wash-away, heat-away, and specialty

Lists of popular brands, product names, and tips for use

A handy stabilizer cheat sheet

Additional resources for further inspiration, information, and products

And more!

Sue O'Very-Pruitt is the owner of Sue O'Very Designs, focusing on In-the-Hoop, sewing, and overlocker projects. She brings fast, fun, and inspirational ideas to sewing enthusiasts worldwide. She is a BERINA Ambassador, BluePrint Instructor, DIME and CME columnist, Aurifil designer, Daylight Company Ambassador, blogger, and artist. Sue resides in Tampa, FL.
Other Images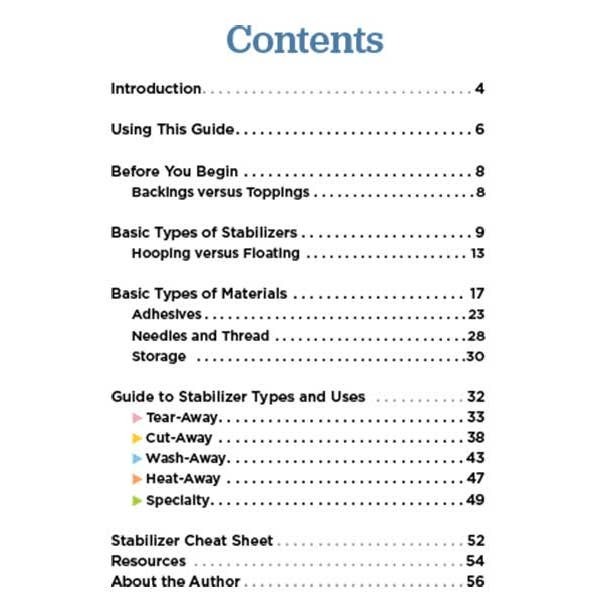 The best and most convenient guide to stabilizers you'll ever have!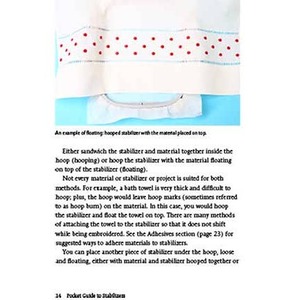 The ultimate resource for deciding what stabilizer to buy, from tear-away to heat-away to specialty, and how to use them properly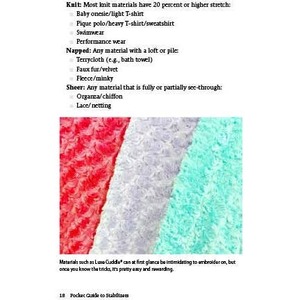 Fabric profiles for knit, woven, napped, sheer, non-woven, lace fabrics, and more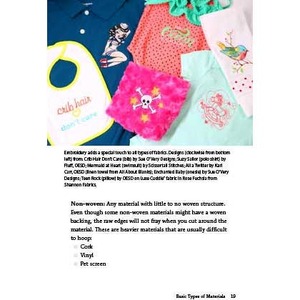 Compact and portable at only 4" x 6", you can easily take it to the craft store or stash it with your supplies and materials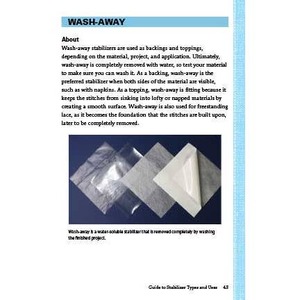 Perfect for beginners to learn everything you need to know to determine exactly which stabilizer you need for any given project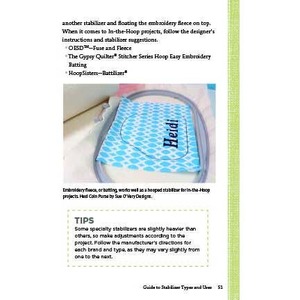 Excellent reference for seasoned embroiderers, sewers, and quilters, whether you're stitching by hand or machine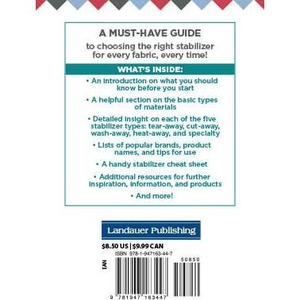 Unbiased summaries of the benefits of each product will help you save money by choosing exactly the right stabilizer the first time