The essential tool for effortless garment care.
The Rowenta Accessteam steam iron is the perfect solution for all your garment care needs, with powerful steam and smart design features that make ironing easier every day. This high-performance iron comes equipped with a stainless steel soleplate featuring advanced Microsteam technology, with over 300 micro-holes to ensure maximum steam coverage and high-quality engineering designed to last for years to come.

Tired of dealing with heavy irons ? Of course you are! They hurt your wrist and make ironing a a distasteful chore!

The DW2360 1700 Watt AccessSteam Iron by Rowenta is specially designed for ease and efficiency at the same time. This lightweight iron has microsteam stainless-steel soleplate with 300 microholes which allows perfect steam distribution.

The temperature and amount of steam for a fabric is automatically determined by the auto-steam thermostat. The precision tip makes the most difficult to reach areas accessible and the vertical steam helps to remove the wrinkles from hanging garments to drapes.

This 1700 Watt Iron includes an anti-drip system to help prevent spitting or leaking at low heat settings, a self-clean system that flushes out loose mineral deposits for long-lasting performance and clean steam , and 3 way smart automatic shut off for safety—the iron turns off automatically if left unused after 8 minutes in the upright position, or after 30 seconds in the horizontal position or tipped over.

• Microsteam stainless-steel soleplate has 300 microholes for perfect steam distribution.
• Precision tip reaches difficult areas like collars, seams and around buttons.
• Auto-Steam thermostat that automatically determines the appropriate amount of steam and temperature of the fabric
• Vertical steam removes wrinkles from hanging garments and drapes.
• Built-in Anti-Calc system removes impurities, ensuring long-lasting, clean steam.
• Anti Drip system to prevent water leakage when the iron has not reached it's optimal temperature.
• Auto shutoff after 8 minutes if left vertical, after 30 seconds, if left horizontal or tipped over.
• Self-cleaning system to prolong the life the iron.
• 1700 watts

The Rowenta Accessteam Iron is the essential, high-performance tool for effortless garment care. It's the perfect solution for all your garment care needs, with powerful steam and smart design features that will make ironing easier every day.

It's equipped with a stainless steel soleplate featuring advanced microsteam technology, with over 300 micro-holes to ensure maximum steam coverage and high-quality engineering
1700 watts of power for exceptional steam distribution
The high-quality stainless steel soleplate ensures durable performance and effortless gliding
Anti-scale setting helps maintain steam performance and ironing results over time
Steaming of delicate and large garments is made easy with the vertical steam feature
Vertical steam helps smooth out creases from suits and other hanging garments—even curtains
The iron is automatically put on standby mode, auto shut-off when left unattended to prevent energy waste and risk of burning
8 minutes of non-use on heel
30 seconds if horizontal or knocked over
To restart, just move the iron gently
Comes equipped with an easy refill system with a water level window and opening
The well-crafted design includes a precision tip to let you smooth out wrinkles everywhere
Cord is 7.9 feet long
Extended US Warranty: Extended Warranty Available
Specifications
THE ROWENTA ACCESSTEAM STEAM IRON: MAXIMUM STEAM AND HIGH QUALITY
With maximum steam distribution and high-quality engineering that's built to last, the Rowenta Accessteam steam iron was designed to make garment care easier day after day. The stainless steel soleplate comes equipped with advanced Microsteam technology, providing ultimate steam coverage with over 300 micro-holes, for maximum efficiency and an exceptional glide. High-quality stainless steel and a durable design ensure long-lasting performance, with enough steam power to tackle even the most stubborn creases. Vertical steaming is made effortless, to cover a wide range of garments including suits, delicates, and even curtains. A variety of advanced features—including easy refills, a precision tip for hard-to-reach areas, and more—come together for a dependable and long-lasting steam iron package.
The 300 microholes allows perfect steam distribution

The Auto-steam thermostat adjusts itself and sets itself on to the appropriate amount of steam and temperature in accordance with the fabric

The hard water makes ironing harder as it leads to accumulation of loose mineral deposits on the inner surface of the soleplate which in turn compromises the steam output, but with the built in anti-calc system this iron takes care of the calc and gives you long lasting clean steam for perfect ironing.

The anti-drip system prevents the water leakage when the iron has not reached its optimal temperature and the auto shut off helps to automatically shut off the iron after 8 minutes if it is left vertical, 30 seconds if horizontal or tripped over.

Soleplate Technology MICROSTEAM 300 STAINLESS STEEL
Glideability of soleplate *****
Durability of soleplate / scratch resistance *****
Continuous steam diffusion Tip, side and heart
Comfort Handle
Anti-drip Double anti-drip
Auto-Off
Power cord length 2.4 m
Power cord length (ft) 7,9
Anti scale function Integrated anti-scale and Anti-scale setting
Colours BLACK & ORANGE KIA



Other Images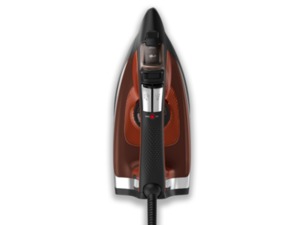 Rowenta DW2360 Access Steam Iron, Microsteam Soleplate, Auto-Steam Thermostat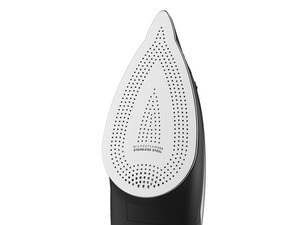 The Rowenta Accessteam steam iron is the perfect solution for all your garment care needs, with powerful steam and smart design features that make ironing easier every day. This high-performance iron comes equipped with a stainless steel soleplate featuring advanced Microsteam technology, with over 300 micro-holes to ensure maximum steam coverage and high-quality engineering designed to last for years to come.
Conny1027, Rockaway, NJ
This iron has completely exceeded my expectations! Being a mother of 4 there are many times that everyone is our house needs something ironed at the same time, and this iron has allowed me to iron in a quick and easy manner with perfectly unwrinkled clothes. I would reccomend this iron to my friends and family in a heartbeat! I was given this product at no cost in exchange for my honest and unbiased review, but I have to say I am blown away by the results and ironing is no longer a chore! For anyone out there with similar needs to myself, get this product!! You will not be dissapointed!


Bundle & Save
Get additional savings when you purchase any of these items along with this product.