Bundle & Save
Get additional savings when you purchase any of these items along with this product.
Compare Reliable Verve 100SR (same as Singer Pfaff 580) 110V Steam Rotary Presses to Miele HM1680 220V Steam Rotary Press for $1000 More, All of them Made in Europe!
Free Shipping by Commercial Freight Truck is only to a Commercial Address with an Unloading Dock.
Delivery to a Residential Address with a Lift Gate on the back of the truck is $100 More. JMD
PROFESSIONAL RESULTS:
The Verve 100SR rotary steam press is a modern take on the mangle from the past. Commercial rotary design and easy-to-use controls make it an ideal tool for those with a passion for pressing. Best in class and value with variable steam function. Press the old-fashioned way - with the ease of modern technology.
COMPLETE PRESSING SOLUTION:
Large sheets can be cumbersome and clumsy to press with a regular iron. The Verve 100SR takes the hassle out of pressing large items while saving precious time. The 33" open end roller can be fed from both sides. It will accommodate a wide variety of clothing as well. The steam function makes quick work of large tasks.
FEATURES:
• Three steam settings
• Variable speed control
• Open end roller - dual end feed
• Folds easily for compact storage
• 5 temperature settings
• 1800W heating element
• Safety release lever
• Acoustic hard water indicator
• Spare descaling cartridge included
Rotary Cylinder Press Arm is Open at Both Ends for Easy Insertion and Removal of Garments, Folds up on Roller Casters for Storage, Takes Up The Same Storage Space As A Chair! Weighs 85 Pounds, 1.3L 2.74 Pint Water Reservoir Tank Lasts 4 Hours, 1800 Watts, 5 Temperature Settings, 3 Steam Settings, Continuous Feed 33" Wide Roller, 1.4-6.8 RPM. Same as Pfaff Singer 580 Press in Europe but 110V instead of 220V operation.
Important Choice! Miele B990 Dry Press and Reliable Verve 100SR steam rotary presses only come in 110V versions. If you need 220V please select Miele HM16-80 33" Wide Rotary Steam Ironing Press with Continuous Feed with 220V only.
Advantage over Miele HM16-80 Rotary Steam Press is that the Reliable Verve 100SR uses 16-20 Amp 120V power supply outlet for Household Operation instead of 220V Laundry Room Power Supply Requirement for the Miele HM1680 steam press. Reliable Verve 100SR 110 volt machines are designed for United States and Canadian 110V Use Only
.
With the Reliable Verve 100SR Rotary Steam Press you can experience the ultimate in ironing comfort as you perfectly press garments, bedding, and tablecloths from a seated position—in half the time of traditional ironing. Simply lay your fabric in the board and press the foot pedal. Immediately the 33"-wide rotary steam iron presses the fabric while steam powerfully eliminates even the most stubborn creases. Choose from any of the five temperature settings and three steam settings for perfect fabric control. Once you're finished perfectly pressing your items, simple fold the rotary steam press and roll it out of the way.
Reliable Verve 100SR Rotary Steam Press
Roll Through Extra-Large Ironing Projects. Everyday household tasks are made easier with the new Reliable Verve 100SR.
Experience the ultimate in ironing comfort as you perfectly press garments, bedding, and tablecloths from a seated position—in half the time of traditional ironing. Simply lay your fabric in the board and press the foot pedal. Immediately the 33" wide roller begins to move and press the fabric while steam powerfully penetrates to eliminate even the most stubborn creases.
Additional Features & Benefits
1800 Watts. Delivers more steam
Five Temperature Settings
Linen, Cotton, Wool, Silk, Synthetic
Three Steam Settings
Low, Medium, High, plus Continuous and Burst of Steam buttons! No need to dampen anything before you iron!
Soft, Flexible Roller
Button-Down Shirts pose no problem.
Two Open Heating Shoe Ends
Allows you to iron all of the conventionally challenging ironing spots like cuffs and waistbands. Tubular pieces like t-shirts and skirts are manageable too!
Freshen High-Pile Fabrics like a Wool Sweater
Turn on continuous steam and pull the item over the steam slot. One pass is all that is needed to raise the fibers. Freshen a variety of fabrics including wool, velvet, corduroy and towels.
Use Tap Water or Distilled Water
If tap water is used, please use in conjunction with the included Lime Descaling Granulate.
Burst of Steam
Press the Burst of Steam button for on-demand steam at your fingertips
Continuous Steam Button
When this button is activated, constant steam is generated, even without the foot controller.
Auto Off
If the foot pedal is left untouched for 8 minutes, the heater and steam generator are automatically turned off.
Convenient Wheels
Allow you to move to any room
Iron Comfortably While Sitting Down
No more tired legs or back.
Complete Roller Control
You control the roller speed, steam and ironing pressure
Washable Ironing Pad
Keeps surface clean, allowing fabrics to flow smoothly
1.3L (2.74 Pints) Water Tank
Fill up the water tank and you can iron for up to four hours! The indicator level on the control panel alerts you when water is low.

Dimensions in Working Position
36.5" Length x 13" Width x 41" Height

Dimensions in Folded Position
20.5" Length x 17.75 Width x 39.5" Height

Weight 39kg or 86 pounds

Its longer 33.5" 850mm roller, meaning a larger pressing surface, makes it particularly convenient for pressing larger laundry items such as towels, tablecloths and bed linen. Of course it can handle more complex pieces in your wardrobe too, such as shirts, blouses, and perfectly pressed trousers




US Warranty 90 days on labor, parts/adjustments, 1 year repair on defects in material/workmanship excluding wear and tear components
Extended US Warranty: Extended Warranty Available
Non-US Warranty: 30 days parts and labor
Specifications
Reliable Verve 100SR Rotary Steam Press - Pressing Linens. The Verve 100SR rotary steam press is a modern take on the Mangle from the past. Made with precision craftsmanship and commercial grade machining in the Czech Republic the Reliable Verve has firm roots in the centuries old art of pressing. Easy-to-use controls are designed to safely assist beginners and skilled operators alike. This is truly the best in class with a value second to none with variable steam and temperature settings all at a voltage of 120. No need to arrange any electrical work. Plug and go!
Electrical:
120V
Element:
1800W
Roller Size:
33" (84cm)
Maximum Temperature:
500°F (260°C)
Water Tank:
5.5 cups (1.3L)
Ironing Speed:
240 to 680 RPM
Temperature Control:
Digital
Automatic Shut-off:
Standard
Automatic Wake-up:
Standard
Net Weight:
85 lb (35.5 kg)
Shipping Weight:
101lb (46kg)
Product Dimensions:
36.5"x13"x41"
Shipping Dimensions:
43"x20.5"x25" (wood crate)
Country Of Origin:
Czech Republic
Electrical Approval:
cETLus
Warranty:
Limited 1 year
Information Sheet on Reliable Verve 100SR Rotary Steam Press
Instruction Manual on Reliable Verve 100SR Rotary Steam Press
List of Spare Parts for Reliable Verve 100SR, Singer and Pfaff 580 Rotary Steam Presses
Service Manual for Reliable Verve 100SR, Singer and Pfaff 580 Rotary Steam Presses
TECHNICAL SPECIFICATIONS
Dimension, Working Position: 36.5" W x 13" D x 41" H

Dimension, Folded Down Position: 20.47" W x 17.75" D x 39.40" H

Weight 39kg or 86 pounds

Weight: 85 lbs

Roller Size: 33"

Water Tank Capacity: 2.74 pints

Excess Temperature Fuse: 421/500 F
(steam generator / heating shoe)

Nominal Voltage (60 Hz): 120V

Power Consumption ( max.): 1800 KW

Fuse ( home wiring ) 421/500 F at least: 16 A

Ironing Speed (rpm): 1.4 - 6.8


33" Soft-Sided Roller

Tablecloths and sheets are done in no time, garments are a snap

Open Roller

Easy access to the heating element and roller from either side

Complete Roller Control

Speed is easily adjusted

Five Temperature Settings

Safely press fine silk to heavy wool

Perfect Steam Control

Control of the amount of steam emitted, even if it's none!

Burst of Steam

Stubborn wrinkles will disappear

Continuous Steam

Quickly freshen velvets and sweaters

Washable Ironing Pad

Keeps surface clean, allowing fabrics to flow smoothly

Easy to Move

Rolling castors make the unit easy to roll out of the way when finished

Folds for Storage

Rotating roller unit allows storage in a small square foot area

1800 Watts

Water Tank holds 1.3L

Do you remember the Original Mangle press from the 50's? Reliable Verve 100SR Rotary Steam Press now with Steam, has adopted the same exclusive and original features of open on both ends of roller and bottom instead of top ironing shoe placement as Ironrite had before they were discontinued decades ago in the last century.
Original Mangle Press by Ironrite Ironer Co. of Detroit, Mi.


Parts List for the Reliable Verve 100SR Rotary Steam Iron
1 Ironing roller
2 Heating shoe with steam slot
3 Operator's console control buttons
4 Filler opening with lime descaling cartridge
5 Support plate
6 Manual release lever
7 Free heating shoe ends
8 Bolt for unfolding
9 Water tank
10 Drain plug
11 Collecting table
12 Foot pedal
13 Power button
14 Heat Setting buttons with red LEDs
15 Continuous Steam button with blue LED
16 Demand Steam button with blue LED
17 Steam Setting buttons with blue LEDs
18 Power On button with green LED
19 Remaining Water button with blue LED
20 Descaling Granulate Used button with blue LED
21 Locking lever for unfolding
22 Identifi cation plate
23 Power cable
24 Cable hook
25 Spare lime descaling cartridge

Reliable Corporation ("Reliable") warrants to original purchaser of its products that every product sold by Reliable (a "Reliable Product") is free from defects in material and workmanship for a period of one year from the date of purchase, if properly used and maintained. Subject to the conditions and limitations set forth below, Reliable will either repair or replace any part of a Reliable Product that proves defective by reason of improper workmanship or materials. If the defective Reliable Product is no longer available and cannot be repaired effectively or replaced with an identical model, Reliable shall replace the defective
Reliable Product with a current Reliable Product of equal or greater value. Repaired parts or replacement products will be provided by Reliable on an exchange basis, and will be either new or refurbished to be functionally equivalent to new. If Reliable is unable to repair or replace a Reliable Product, it will refund the current value of that Reliable Product at the time the warranty claim is made.

This limited warranty does not cover any damage to a Reliable Product that results from improper installation, accident, abuse, misuse, natural disaster, insufficient or excessive electrical supply, abnormal mechanical or environmental conditions, wear and tear resulting from normal use of the product, or
any unauthorized disassembly, repair, or modification. This limited warranty does not extend to any indirect, consequential or incidental damages that may be suffered by a user or from the use of a Reliable Product, including without limitation, any liability for third party claims for damage, and is limited to the amount paid by the original purchaser Reliable Product with respect to which this limited warranty protection applies. This limited warranty does not apply with respect to products that have been altered or which are missing serial numbers or for products not purchased directly from Reliable or a dealer authorized by us to sell Reliable Products.

This limited warranty is the only warranty that applies to any Reliable Product, supersedes any and all terms that may be contained in any other document or purchase order and may not be altered or amended except expressly in writing by Reliable. To obtain a repair or replacement under the terms of this warranty, please contact our customer service group at 1-800-268-1649 or at [email protected]. You will be required to submit an original receipt via fax or
e-mail. The receipt must reflect that you are the original purchaser, the product was bought directly from us or from an authorized Reliable dealer and that the warranty claim is being made within the warranty period. You will be issued a return authorization number (RA#) and asked to ship the defective product
together with proof of purchase and RA#, prepaid insured to the following address: Reliable Corporation, 5-100 Wingold Avenue, Toronto, ON M6B 4K7. Freight collect shipments will be refused. The risk of loss or damage in transit will be borne by the customer. Once Reliable receives the defective product, it
will initiate the repair or replacement process. If you have any questions regarding these warranties, you may write to:
Reliable Corporation
100 Wingold Avenue, Unit 5
Toronto, Ontario
Canada M6B 4K7
www.reliablecorporation.com
Other Images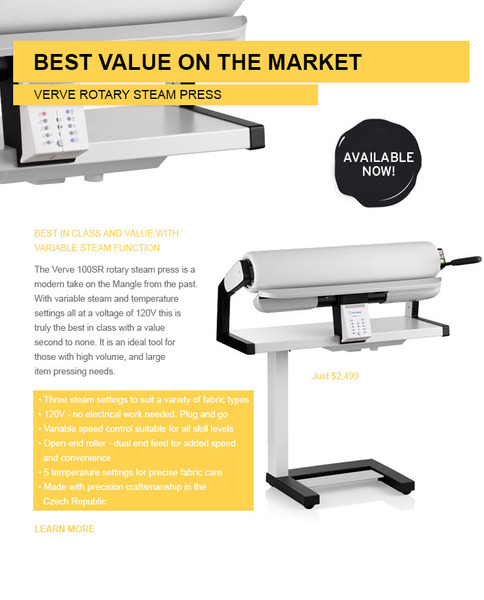 Available Now - The Verve 100SR Rotary Steam Press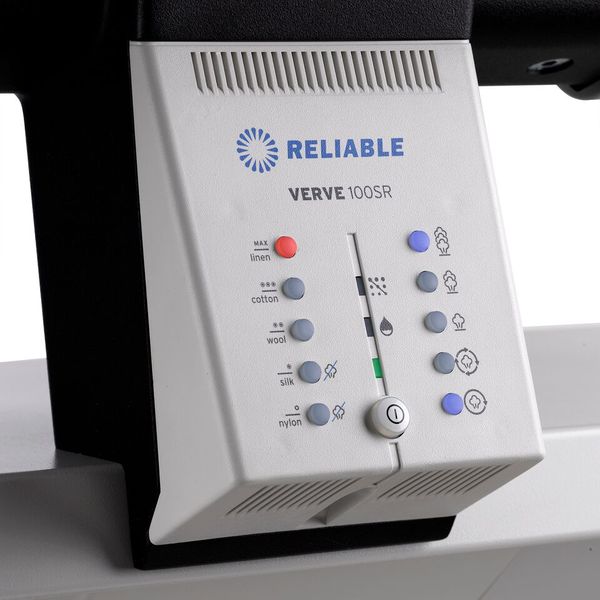 FULL STEAM CONTROL: The Verve 100SR features 3 optional steam settings and 5 temperature settings allowing for precise control.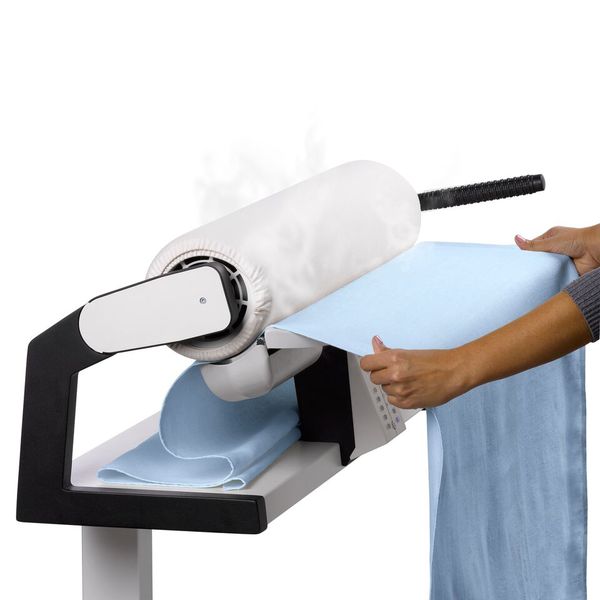 WIDE ITEM PRESSING: Large and difficult items to press like tablecloths or bedding are no trouble for the Verve 100SR. The long roller accommodates larger fabrics with ease.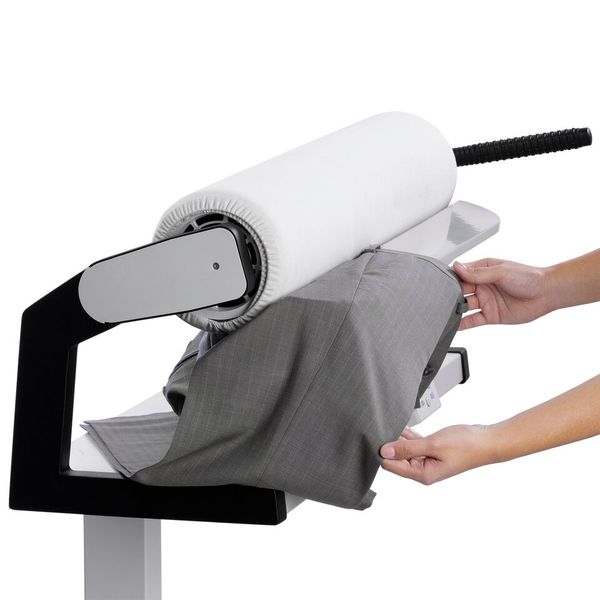 PANTS PRESSING With the Verve 100SR clothes look great in no-time, making this rotary steam press an excellent companion for pants and denim.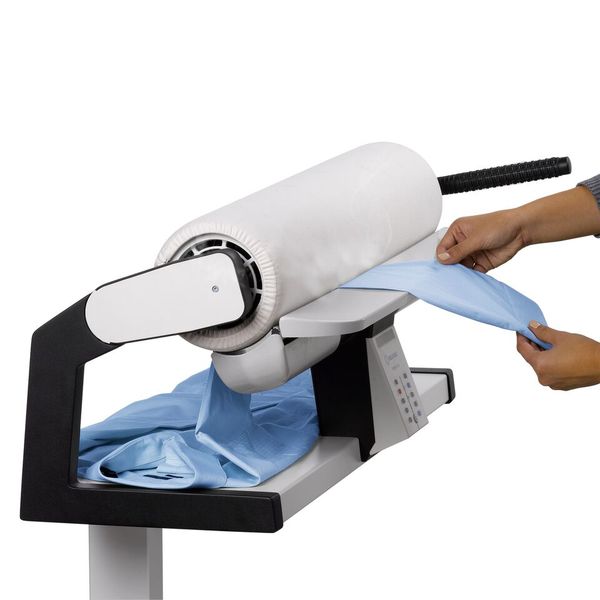 SHIRT PRESSING: The Verve 100SR allows you to achieve a crisp and professional finish to shirts, right inside your home.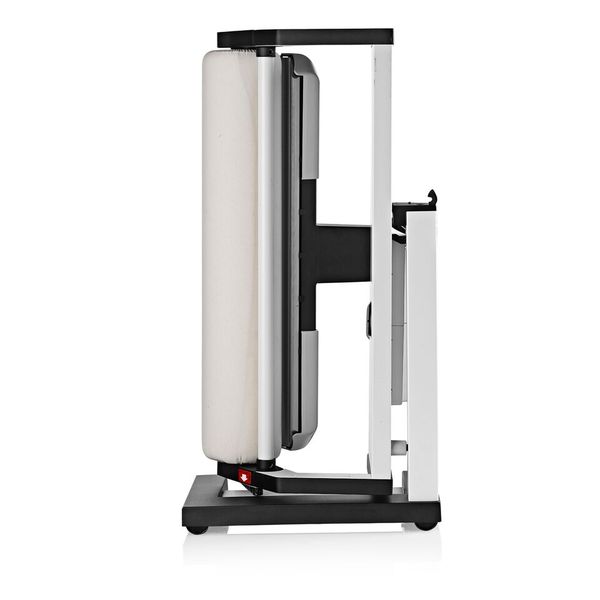 Easy Storage. When folded, the Reliable Rotary Steam Press doesn't take up any more room than a chair! Unfold in one easy step, and it's ready to iron.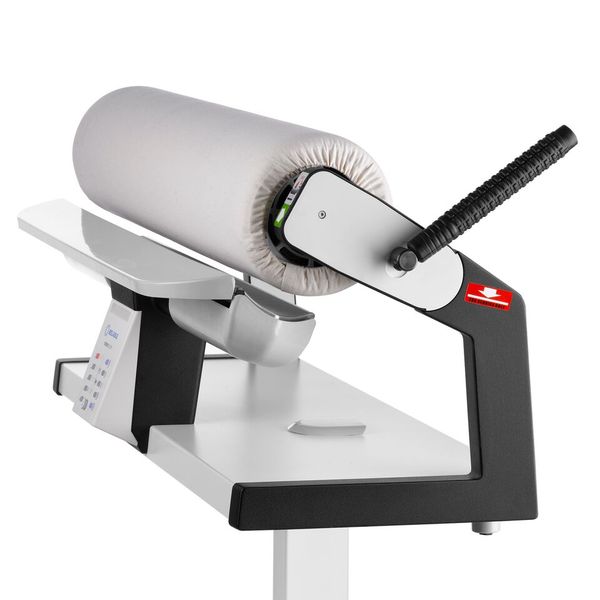 View from Right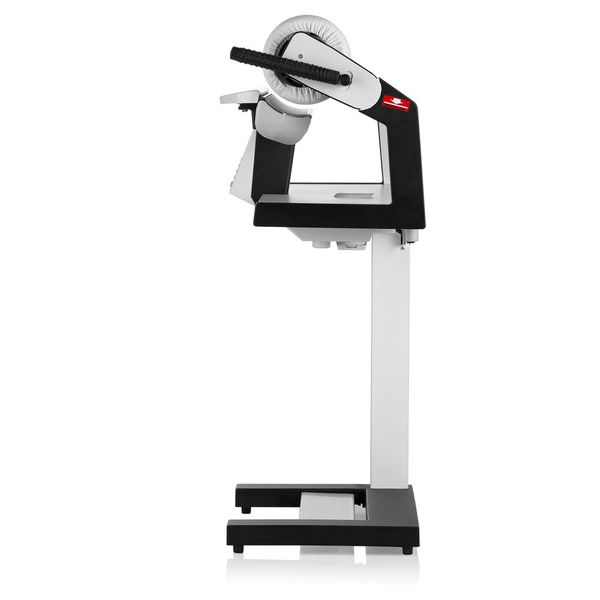 Full View from Right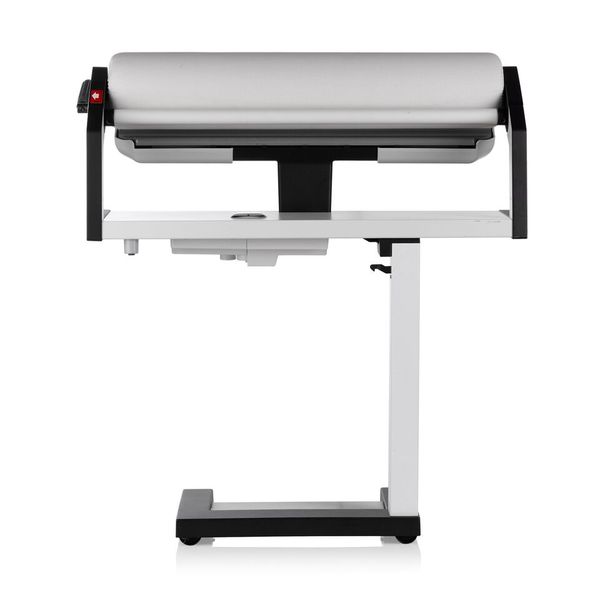 View from Back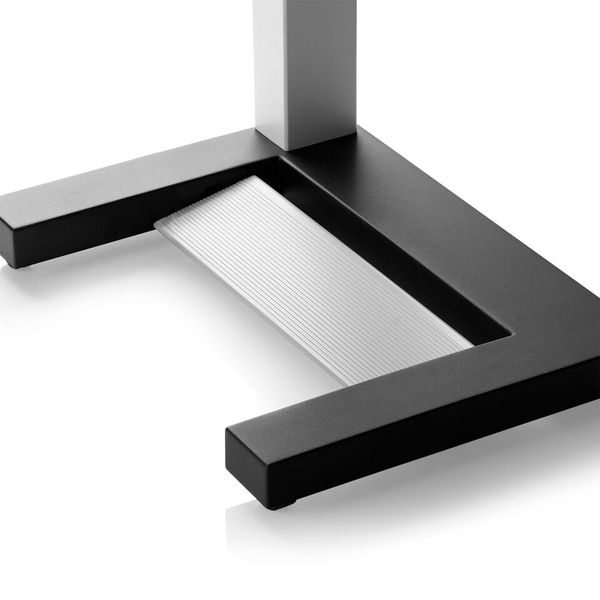 Foot Pedal Drive at Bottom of Stand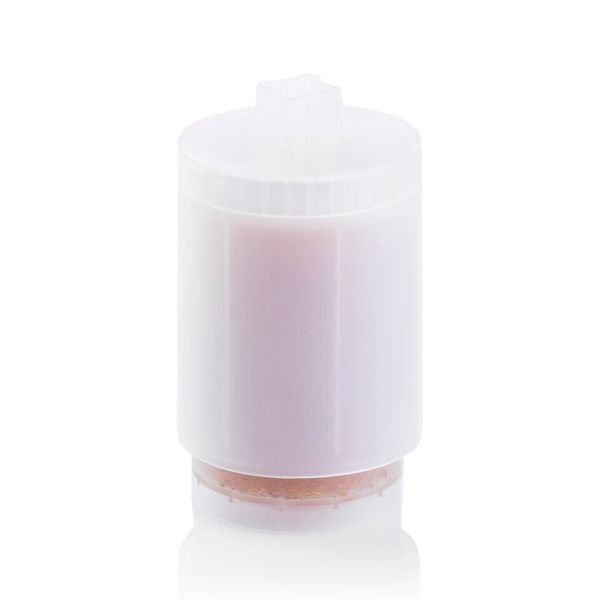 Verve 100SR Rotary Press Water Descaling Cartridge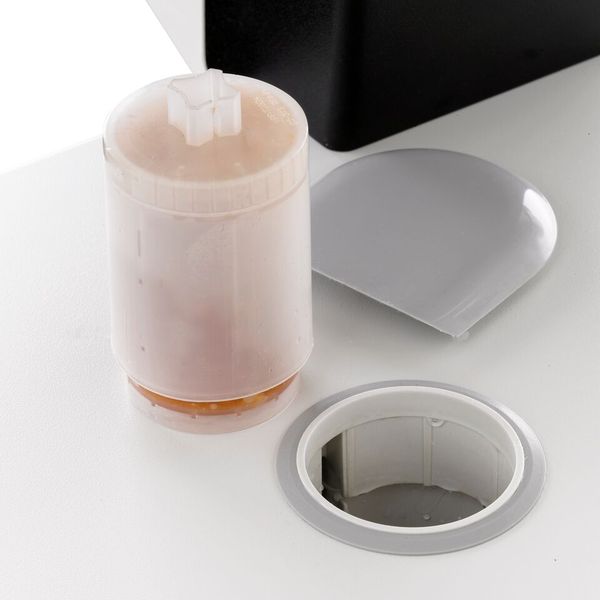 Verve 100SR Rotary Press Water Filter Resevoir