for Grace Q Zone Hoop Frame and Grace Q Zone Queen Quilting Frames Only, not any other brand/model of frame, Cutie requires a changeover to the Continuum Bottom Plate first!

Upgrade to the G-Series Carriage! The dual Sure-Track system enhances motion makes quilting easier.

Note: It is recommended that a Grace Speed Control be purchased with the G-series carriage if one is not already owned. If you do decide to purchase a speed control, remember to check the sewing machine compatibility list, to make sure the Speed Control will work with your machine.

Quick Overview:
• Solid metal construction
• Smooth gliding on a plastic track
• Precise and accurate movement for small, intricate stitching
• Soft comfort grip handles
• Slots for additional quilting accessories and notions
• Base clamps to hold your sewing machine in place
US Warranty 1 year limited warranty on defects in materials and workmanship.
Non-US Warranty: 30 days parts and labor
Specifications
Product Description
Upgrade to the Professional Series Carriage! The smooth, enhanced motion makes quilting easier.

Note:It is recommended that a Grace Speed Control be purchased with the carriage upgrade if one is not already owned. If you do decide to purchase a speed control, remember to check the sewing machine compatibility list, to make sure the Speed Control will work with your machine.

Brand: Grace
Manufactured by: The Grace Company
Category: Quilting Accessories
Model: G-Series-2
SKU: G-Series-2
Condition: New
UPC: 636343171772

The following discontinued frames are not compatible with the G-Series Carriages (top and/or bottom):
Bernina Frame
Imperial Frame
Mini Pinni
Original GMQ
Original Little Gracie
Original Start Right
Sturdylite
If it is being put on an SR2 frame, you will need the G-Series Bottom Carriage as well.
Other Images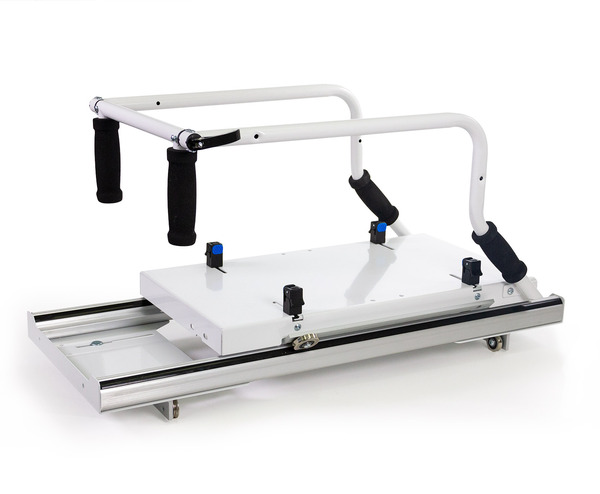 New Style Handles on Grace 01-11781 Top Plate Carriage Platform, with Front and Back Handles Required for Domestic Home Sewing **Dual-Track Bottom Carriage Platform not included

The Cutie was not designed to hold the G-Series Top Carriage. The Cutie Bottom Carriage has taller stops for the carriage tracks. The G-Series Top Carriage can bottom out when hitting those or cause bumps while quilting.
Maria T, Bethesda MD
Love it, wish I knew about your company years ago! Customer service/ chat was spot on. Thank you !