Brother WiFi machines FREE Download: Design Database Transfers from computer, or ArtSpira App (
Artspira information from Brother USA
) to digitize hand drawings on mobile device screen directly to machine embroider.
*Financing Available** Synchrony Bank Fixed Payment No Interest Financing with approved credit! Click HERE to Apply Online for Synchrony Bank Credit Approval
Brother Premium Warranty 2 years parts and labor, 6 years electronic parts, 25 years metal casting..
Good news! The NS1250Es are in stock and beginning to ship! The NS1850D should be shipping soon and we have NS2850Ds in stock. Brother 10/21/22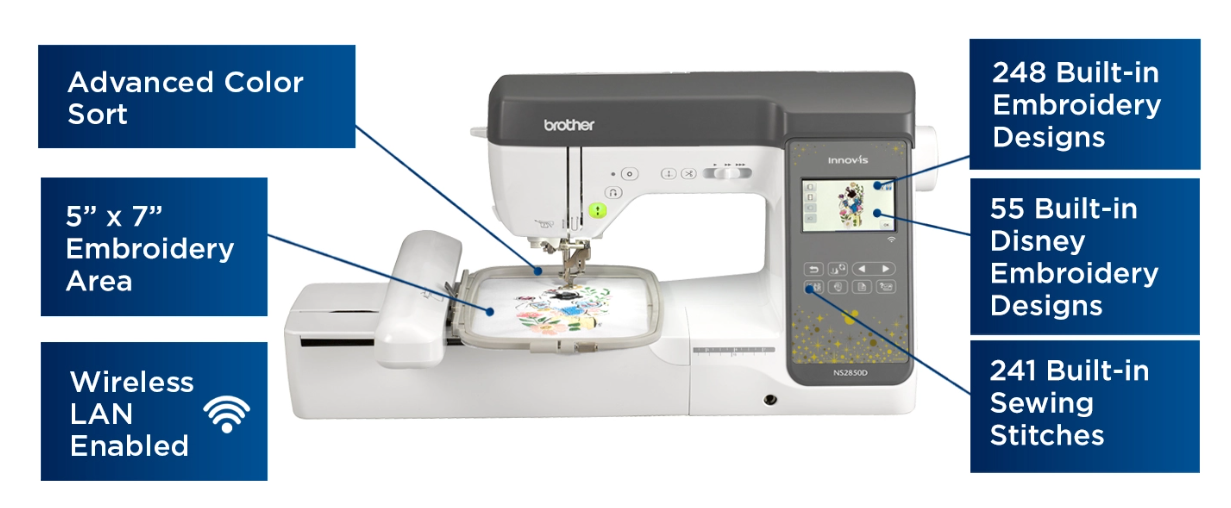 Built In Disney and ability to Download Added Designs from Brother iBroidery.com website
* Synchrony Bank Sewing & More Fixed Payments 0% No Interest Financing with approved credit! Click HERE to Apply Online for Synchrony Bank Credit Approval
Brother Premium Warranty 2 years parts and labor, 6 years electronic parts, 25 years metal casting..
"AllBrands is a Brother Authorized Dealer and ASC Authorized Service Center for any repairs including warranty parts and labor. We give unlimited technical support by email, fax and phone. We service machines in our stores and/or refer to nearest ASC centers nationwide. Mass merchants do not have tech service or repair departments for your equipment. They are unable to help you directly, only referring any operational, mechanical or electronic questions back to the manufacturer instead of taking care of problems themselves. Manufacturers and customers should expect that any problems will be taken care of by the dealer or merchant who sold you the equipment, not just by referring your requests back to the manufacturer." John Douthat, Owner & Tech
Optimizing Embroidery
With 13 built-in embroidery fonts, 55 built-in Disney embroidery designs, and over 200 built-in embroidery designs, the Innov-ís NS2850D is the ideal machine for your next project. Additional embroidery designs include colorful motif patterns, youthful appliqués, and alphabet and frame patterns.
Wireless LAN Capability
Send files from your PC to your machine via the free downloadable software Design Database Transfer1 (no USB required), so you can send and then stitch! This unique quality allows for easy data
management for all your designs. You can also create and send designs through PE-DESIGN 112 for even more flexibility.
Advanced Color Sort and Jump Stitch Trimming
Use the Advanced Color Sort, which adjusts the order in which multi-color embroidery designs are stitched, reducing color changes and making it more efficient. In addition, the practical Jump Stitch Trimming function automatically trims any excess thread jumps within the color.
Artspira Mobile App1
Download designs or make your own embroidery designs by drawing on your mobile device. Draw line-art inspired designs up to 5" x 7". View your completed drawing on the Stitch Simulator so you can see how your design will look when stitched out. The Artspira mobile app lets you share your creations on many social media platforms as well.
My Custom Stitch
Create and save unique stitches for even more personalization.
Generous Workspace
Generous 5" x 7" embroidery area, a 3.7" LCD display, and compatibility with the 4" x 7" Brother magnetic frame2.
LCD Display
See your designs on the sharp 3.7" LCD display, which allows for easy on-screen editing, including letter editing and combining designs.
Built-in Disney Designs
Enjoy 55 built-in Disney designs that include Mickey and Minnie Mouse, characters from Toy Story, and of course, a few royal princesses as well.
Please
click here to visit the Brother Solutions Center to view/download the update to Version 1.60
. Once at the site, select your Operating System.
Create Your Own Line Designs with the Brother NS2850D
THE ALLBRANDS SHOW | Halloween Projects using the NEW! Brother Artspira App and the NS2850D
US Warranty 25 Years Head, 6 Years Electrical, 2 Years Parts, 2 Years Labor
Extended US Warranty: Extended Warranty Available
Non-US Warranty: 30 days parts and labor
Specifications
Basic Features
Accessory Storage

Adjustable Presser Foot Pressure

Automatic Thread Cutter

Built-in Languages

Built-In Memory

Feed Dog Points: 7

LCD Display Size (Diagonal): 3.7"

LCD Type: Color

Lighting Type: LED

Needle Position Key (Up/Down)

Needle Threading System

Presser Foot Leveling

Quick Set Bobbin

Realistic Preview

Start/Stop Button

Thread Sensor: Upper Thread Sensor, Bobbin Sensor

UL/CSA Listed

UL/CSA Listed Voltage: 120V

USB

Wireless LAN

Embroidery Features

Adjustable Embroidery Speed Settings

Built-in Embroidery Designs: 248

Built-in Disney Designs: 55

Built-in Embroidery Fonts: 13

Maximum Embroidery Area: 5" x 7"

Advanced Color Sort

Jump Stitch Trimming

Sewing Features

Built-in Lettering Fonts: 5

Built-in Sewing Stitches: 241

Buttonhole Styles: 10

Knee Lifter

Maximum Sewing Speed (Stitches Per Minute): 850

My Custom Stitch Feature

Footprint: 17.6" x 9.8" x 11.8"

Weight: 20.5 lbs.
Included Accessories
Zigzag Foot "J" (on Machine)

Monogramming Foot "N"

Overcasting Foot "G"

Zipper Foot "I"

Blind Stitch Foot "R"

Button Fitting Foot "M"

Buttonhole Foot "A"

Embroidery Foot "Q"

Quilting Foot

Open Toe Foot

Non-Stick Foot

Stitch Guide Foot "P"

Adjustable Zipper/Piping Foot

Needle Set

Twin Needle

Bobbin (4) (One on Machine)

Seam Ripper

Scissors

Cleaning Brush

Eyelet Punch

Screwdriver (Large, Small)

Disc-Shaped Screwdriver

Bobbin Center Pin and Instruction Sheet

Horizontal Spool Pin

Spool Caps (Large, Medium (2, One on Machine), Small)

Thread Spool Insert (Mini King Thread Spool)

Spool Net

Knee Lifter

Standard Bobbin Case (Green Marking on The Screw) (On Machine)

Alternate Bobbin Case (No Color on The Screw)

Foot Controller

Embroidery Frame Set (Extra-Large, Multi-Position), 12" × 5"

Embroidery Frame Set (Large), 7" × 5"

Embroidery Bobbin Thread (60 Weight, White)

Accessory Bag

Hard Case

Grid Sheet Set

Operation Manual

Quick Reference Guide

Embroidery Design Guide

Premium Warranty 2 Years Parts and Labor, 6 Years Electronic Parts, 25 Year Head
Other Images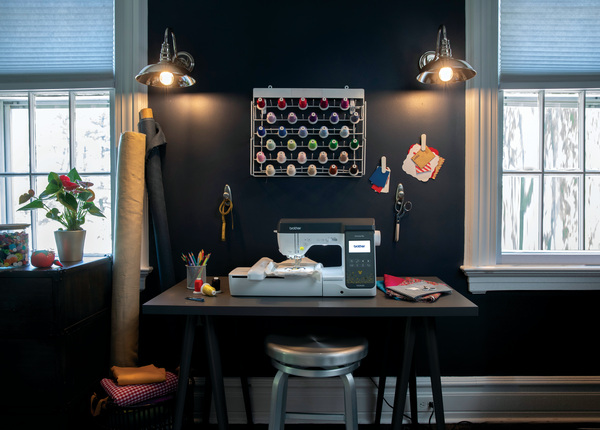 NS2850D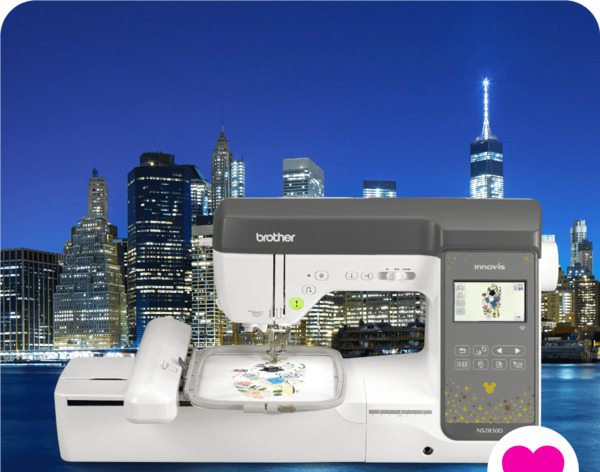 Meet NS2850D:
Likes: Creativity. Interests include Disney, Star Wars and Marvel. I pack light when traveling.

Why Choose Me:
• Wireless LAN enabled
• Connects to Artspira Mobile App* Coming Soon
• Includes 55 built-in Disney embroidery designs + compatibility with Brother iBroidery platform†
• 5" x 7" embroidery area
•Plus so many more advanced features to love