*Fits Heads without Embroidery Unit Attached for up to: Brother Quattro NV6000D NV6700D NV6750, Babylock Ellismo BLSO, Bernina 8 Series 820 830 880, 7 Series 730 770 780 790, Janome 15000 11000/SE, MC12000, MC9900, MC8900, Horizon 7700, Elna 9500 & 9020, Viking Epic Diamond & Sapphire , Pfaff Vision & Expression, Singer Quantum XL6000, Juki TL98Q, Brother PQ1500S, Janome 1600P, etc.
27"L x 17"H x 14"D (Interior)
25"L x 16"H (Front Access)
23"L x 10"D (Top Access)
Inside Dimensions: 27"L x 17"H X 14"D
Please make sure to measure your machine to ensure it will fit, and be sure to leave "wiggle" room for unknown protrusions.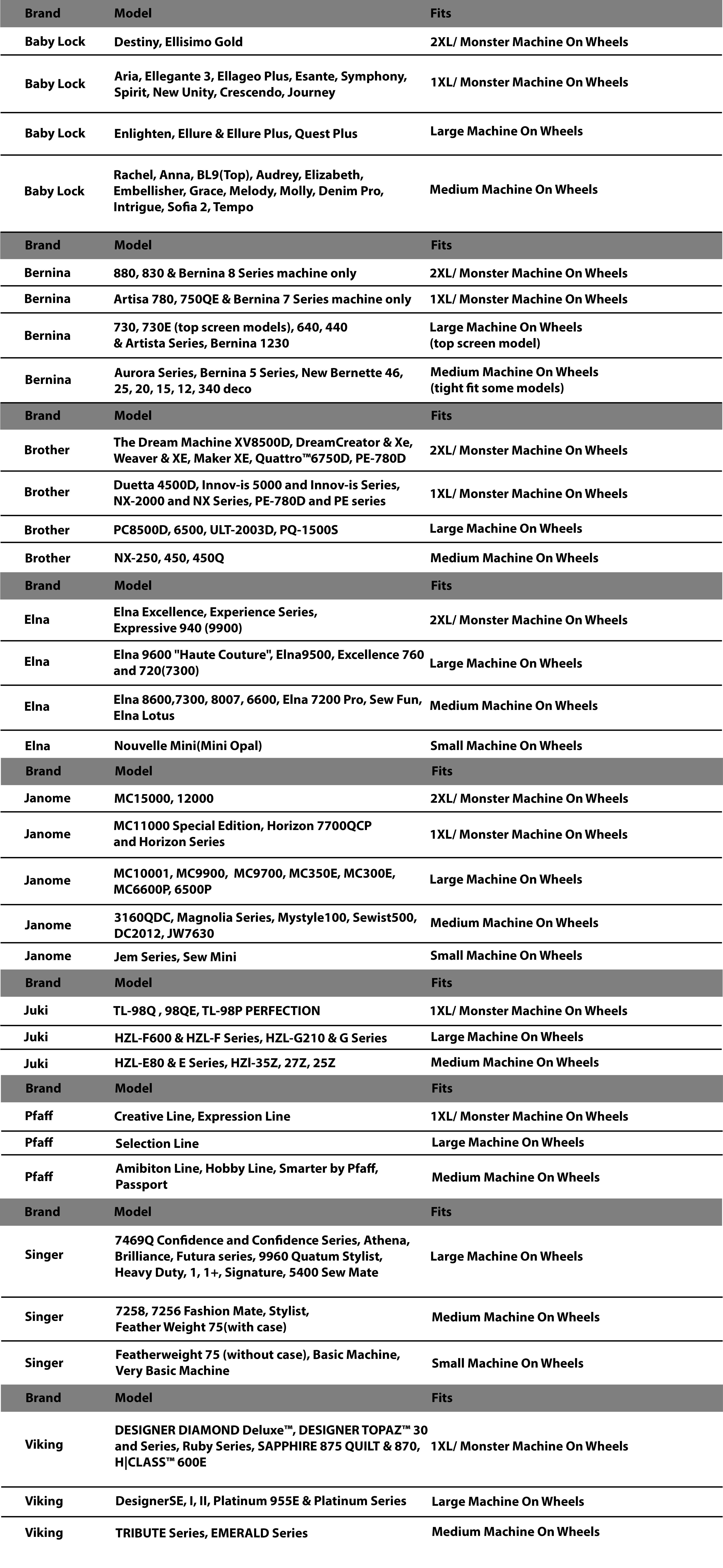 Click Here to View the Tutto Sizing Guide
(.PDF)
Updated 2016
The Monster Machine On Wheels Case, an innovative transportation system from Tutto!
Manufactured from balistic nylon and features a fiberglass frame two inside straps for security & mesh pockets for storage.
27" L x 16.25" H x 14" D
Top access 23" L x 10" D, or side load 25" L x 16" D.
Stacks up to 150 lbs and weighs only 11 lbs empty.
US Warranty 1 year limited warranty on defects in materials and workmanship.
Non-US Warranty: 30 days parts and labor
Specifications
The Monster machine On Wheels Case! Innovative transportation system from Tutto.

Manufactured from balistic nylon and features a fiberglass frame, two inside straps for security & mesh pockets for storage. 27"L x 16.25"H x 14"D. Folds to 3" for storage.

Top access: 23"L x 10"D or side load: 25"L x 16"D.

Stacks up to 150 lbs and weighs only 11 lbs empty. **FREIGHT INTENSIVE** Billable transportation charges for freight intensive items will be the greater of the dimensional weight compared to the actual weight. In addition to transportation charges, freight carriers may assess an additional oversize charge per package. - Babylock Ellisimo Gold, Bernina 830, 880 & 8-Series, Brother NV6750D, PE780D, Elna Excellence, Elna Esperience Series, Janome MC12000, MC15000
Rita M, Tucson AZ
Was a bit disappointed with having the product backordered, But you were able to send an have it arrived before the class I needed it for. Very pleased.

Penny P, Kenyon MN
Great product. Fast service

Eileen R, Elma NY
I left a message on a Saturday and customer service called back on Monday. Very happy with that. Lady I spoke with was very helpful and able to answer my questions. Satisfied customer!

Nancy M, North Venice FL
Thanks again for the input. I've been very happy with the things I've ordered from Allbrands and your service!

kathryn B, Orinda CA
On your website, I appreciate the information about the dimensions, pictures of the product, the color choices (which you had many), the example machines that could fit, and the customer reviews. Thank you also for the coupon, with which I was able to shave a little off the prices....helpful.

Margaret R, Oswego NY
Fast shipping....exactly as described....lower price... wouldn't purchase at the prices asked by other merchants..... The roller bag is great, you should advertise that this bag will hold the much larger machines...I have a Viking EPIC and it wouldn't fit it any other size bag. I believe some of the other brands are also very wide now & won't fit in the average bag. Thank You for you great service.

Elaine, Arizona
I have shopped at allbrands many times and am always satisfied with the experience. When this recent purchase took a bit longer than expected to arrive, an email brought a speedy response and resolution. I often recommend allbrands and will continue to shop there. Thanks

Michiko, California
I am happy with the bag.

Kathy, Florida
the only issue I had was that the bag smelled of smoke. I aired it outside and sprayed with Febreeze and it went away.

Paula, Maryland
Very happy with my purchase. Great price, great service!

Polly, Virginia
I was very satisfied and will use allbrands.com again. Thanks

Judith, Texas
I appreciate the timely manner in which these items were shipped. THANK YOU.

Firelei, California
I received excellent friendly help on the phone when I ordered my bags. They were shipped way earlier than I was told and that was a wonderful surprise. I had trouble navigating your website to find how to purchase the embroidery arm bag...awkward since you could only purchase it if you first purchased the large machine case....just difficult to get to the websites. Most 0f the time your search works fairly well, The large case appears to have a weakness...the expandable side arms are plastic and not metal and look like they may not stand up well. And the carry handle is essentially supported by a zipper and is expected to handle a lot of weight - the machine alone weighs 45 lbs. We all know that zippers fail. But the bags are nice and roomy and I am grateful to have them at the price you offered!

Rita, Ohio
This was my first experience with you..it won't be my last....everything was great.