Brother has changed to manufacturing, sewing in, including and servicing all embroidery only and sewing machines combinations using Organ HAX130EBBR embroidery needles exclusively. We are no longer recommending any other needle system for these machines. Not just HAx130EBBR for the PR and Babylock multi needle machines as have been our recommendation in the past. John Douthat.
Size 11 Organ HAx130EBBR or HAX130EB Needles recommended for all embroidery because the smaller needle is better for dense embroidery. Size 14 only for thicker, dense fabrics
These Chrome Coated Needles also For Brother PR600, PR650, PR655, PR1000, PR1000E, Babylock Professional EMP6, BMP8, BMP9, ENT10, BNT10 Multi Needle Embroidery Machines
HAx130EBBR for Babylock (EMP6, BMP8, BMP9, ENT10) and Brother (PR600, PR-600C, PR620, PR650, PR-1000) Flat Shank- Light Ball Point, Reinforced Blade, Oversized Eye.
Organ now has an embroidery needle in 5 different sizes for the new Brother PR600, PR620, PR650 6-Needle Embroidery Machines which are the same as Babylock EMP6 BMP8 embroidery professional machines.
In co-operation with The Brother Group of Nagoya, Japan; Organ Needles has developed needle type HAx130EBBR in size 75 (11) for the Brother domestic embroidery machine PR600 PR620, PR650, PR1000(also works for Baby Lock EMP6 and BMP6, BMP8, BMP 9, ENT10, BNT10).
Larger eye (suitable for the use of extra thick embroidery yarn).

Larger scarf for better creation of the loop and for prevention of skipped stitches. The blade is double swaged.

The needle has a Chromium finish.

Especially hardened for high performance sewing. Extremely tight tolerances in the eye section.

Only the use of HAx130 EBBR offers high performance and excellent needle efficiency when using the Brother PR600-PR1000/E. When auto-threading the reliability of HAx130 EBBR is indispensable.

These needles were developed for use in the Brother Professional 6 Needle Machines (PR600, PR 600 II, PR620, PR650, PR655/E) and the Babylock Professional 6 Needle Embroidery Machines (EMP6, BMP8, BMP9, BNT10). They also work in the new Brother PR1000 and Baby Lock ENT10 machines. Although they are flat shank needles, they are built to industrial standards with a reinforced blade, oversize eye and a light ball point. Both Brother and Babylock recommend using these needles to insure that your embroidery machine works correctly.
Specifications
The HAx130EBBR is intended for new BROTHER PR and Babylock embroidery machines in which the machine automatically threads the needles. The HAx130EBBR is made to a higher level of accuracy (tighter dimensional variations) due to the precision needs of the machine for automatic threading of the needles.
You can use the HAx130EBBR in all embroidery machines even though the level of dimensional tolerances is not necessary for other machines. Organ Needle Company
Other Images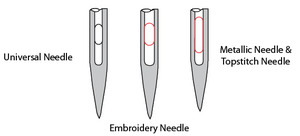 The most popular needle, the Universal, has an eye that is 40% the width of the blade. Really! There are three other needles with larger eyes, the Embroidery and even more pronounced is the elongated eye of the Metallic and Topstitch needles. Now what does a larger eye mean? There is less friction on the thread as it passes through the eye. Ever sew with a thread that breaks or tends to shred? Guess what, use a needle with a larger eye. If you have old thread or maybe a poor quality thread, use a needle with a larger eye. The thread and needle work hard and fast. Help them out when you can with a larger eye.
Michael B, Columbus OH
This is a product I've purchased before so I knew what I wanted and how to order it. Was quick and easy.

Elizabeth, Florida
As always great service:) Thanks!

Barbara, Maryland
Thank you for your quick shipment of my order. I had it in just a few days. I have always been pleased with the items I have ordered from Albrands and continue to recommend your company to others.

Kathleen, California
Thank you, I have purchased a few things from your site and have been exstreamly pleased with everything.