Clover's Pom-Pom Maker Set contains 4 different sized Pom-Pom Makers to create Pom-Pom's that are 1-3/8", 1-3/4", 2-1/2", and 3-3/8" approximately.
What is it?
A pom-pom is the very epitome of cute. And I'm not just talking about the bobble on the pointy end of a ski cap. It's much more than an accent for funny hats sporting snowflake and dear head designs. Much more than that, these beautiful little gems become valued accents to any quilting, fashion, jewelry, home decor or craft project. They really do add that "something special" to your creative designs. But how hard are they to make? Easy if you have unending patience, perfect eyesight and four hands. You'll also need a bevy of homemade tools and templates using everything from cardboard toilet paper rolls to kitchen forks to the fingers on your hand. That's just the beginning of what you'll need if you plan to follow the on-line instructions. Oh, by the way, there's a lot of personal technique required so there's still no guarantee that you'll be able to make two or more that will be even close to the same size, shape and fullness should you need them to be. Measuring, wrapping, holding, tying, cutting, trimming, more holding and more tying. All very labor intensive and fraught with potential for failure with every turn of the yarn. Bottom line, it's not so easy making pom-poms that are durable and consistent in size and shape. Wanna' spend more time creating and less time trying to figure out what went wrong? Thought so. Clover has the perfect set of tools to allow you to make the perfect pom-pom or set of pom-poms the first time, every time. And get this, you can even create multi-color pom-poms. Here's how.
What does it do?
The Clover Pom-Pom Maker Set enables you to make perfect pom-poms every time. Just like the original makers. But there's more. Each of the pom-pom makers in the set has easy to see bench marks evenly spaced on the hemispherical rings. By using them to measure color bandwidths we can now accurately and uniformly lay down multiple colors of yarn to achieve truly unique multi-color pom-poms. We can do random or we can do deliberate. Up to you. It's a whole new creative ability. Make perfect multi-color pom-poms in four sizes, extra small (1 3/8"), small (1 5/8"), medium (2 1/2") and large (3 3/8"). And it couldn't be easier. Wrap the appropriate colors, singly or in combination, around the half-moon arms, cut the fiber loops along the grove, tie the restraining cord tightly around the device and remove the pom-pom from the maker. Trim and fluff it up. We're done unless to you need eleventeen more.
How do I share it?
This is a great "before and after" opportunity. Make duplicates of a few projects. A bag, scarf, pillow, hat, etc. Now put complimentary pom-poms on one set leaving the other original. Put them on display so everyone can see the amazing difference these little accessory gems can make. Top it off with in store demonstrations showing how easy they are to make. They will be a hit and everyone will want to play.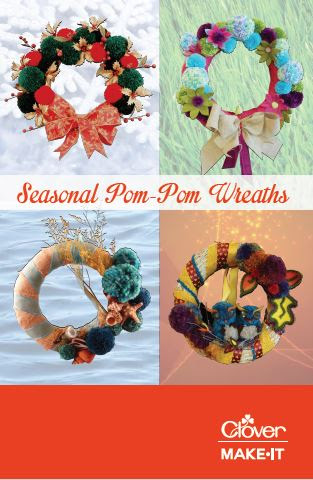 Click here to download a free project sheet
(.PDF)