* Synchrony Bank Sewing & More Fixed Payments 0% No Interest Financing with approved credit! Click HERE to Apply Online for Synchrony Bank Sewing and More Credit Card Approval to use for Online Checkout or in AllBrands stores "AllBrands is a Brother Authorized Dealer and ASC Authorized Service Center for any repairs including warranty parts and labor. We give unlimited technical support by email, fax and phone. We service machines in our stores and/or refer to nearest ASC centers nationwide. Mass merchants do not have tech service or repair departments for your equipment. They are unable to help you directly, only referring any operational, mechanical or electronic questions back to the manufacturer instead of taking care of problems themselves. Manufacturers and customers should expect that any problems will be taken care of by the dealer or merchant who sold you the equipment, not just by referring your requests back to the manufacturer." John Douthat, Owner & Tech
Bring your creativity to life! The Brother SE600 2-in-1 sewing and 4x4 embroidery machine allows you to embroider and sew with ease. View your embroidery designs in full color on the large, 3.7" Sew Smart color LCD touch screen display, and preview your design edits on the screen, before stitching. Expanded embroidery design editing features include the ability to change individual thread colors, place lettering in an arc, move designs on the touch screen display with the touch of a finger, and much more.
Main Features:
4" x 4" embroidery field, with an included 4" x 4" hoop, embroidery arm and embroidery foot

Large, 3.2" Sew Smart color LCD touch screen display allows you to view your embroidery designs in full color before stitching

80 embroidery designs

Import your own .pes embroidery design files using the built-in USB port, for virtually unlimited embroidery design options. *USB stick not included

103 built-in sewing stitches, including beautiful decorative stitches and 10 styles of one-step, auto-sized buttonholes

Expanded 6.4" w x 4.1" h needle-to-arm workspace provides more room for quilts and bulkier sewing projects

Includes 7 versatile sewing feet, with buttonhole, overcasting, monogramming, zipper, spring action zigzag, blind stitch and button sewing feet, plus regular zigzag foot on the machine.

See Reviews on Brother SE600


US Warranty 25 Years Mechanical Parts, 2 Years Electrical Parts, 1 Year Service Labor on defects in material or workmanship.
Extended US Warranty: Extended Warranty Available
Non-US Warranty: 30 days parts and labor
Specifications
Brother SE600 User's Guide Instruction Book Operating Manual, One Page Quick Reference Manual, Embroidery Designs Pattern List Guide, Included Accessories, Optional Accessories Catalog
Basic Features :
Accessory Storage Yes
Adjustable Screen Brightness No
Automatic Thread Cutter Yes
Built-in Languages No
Included Accessory Feet Buttonhole Foot, Zipper Foot, Overcasting Foot, Blindstich Foot, Monogramming Foot, Zigzag Foot, Embroidery Foot, Button Sewing Foot
LCD Display Size (W" x H") 3.2" x 1.8"
Lighting Type LED
Memory Card Reader No
Needle Position Key (Up/Down) Yes
Needle Threading System Automatic
Presser Foot Leveling No
Quick Set Bobbin Yes
Realistic Preview Yes
Screensaver No
Specialty Feet Included Yes
Start/Stop Button Yes
Thread Sensor None
Thread Sensor On/Off No
UL/CSA Listed Yes
UL/CSA Listed Voltage 110v
Wide Table Included No
Embroidering :
Appliqué Creator Function No
Automatic Feed Thread Cutting Yes
Built-In Designs 80
Curved Text on Screen Editing Yes
Speed Adjustment Yes
Sewing:
Automatic Height Adjustment (AHA) No
Built-In Stitch Selections (Stitches) 103
Button Hole Styles 10
Independent Bobbin Winding Motor Yes
Knee Lifter No
Maximum Sewing Speed (Stitches Per Minute) 710
Media Type USB No
My Custom Stitch Feature No
Pivot Function No
Quick Reference Stitch Guides No
Reinforcement/reverse Stitches Yes
Sideways Sewing No
Speed Control Yes
Included Accessories
Accessory pouch, bobbins (4), seam ripper, needle set, ball point needle, twin needle, cleaning brush, eyelet punch, screwdriver, spool caps (3), 3 pcs pre-wound bobbin with Embroidery thread, extra spool pin, power cord and operation manual
Carton Contents:
Accessory pouch with 7 feet, bobbins (4), seam ripper, needle set, ball point needle, twin needle, cleaning brush, eyelet punch, screwdriver, spool caps (3), 3 pcs pre-wound bobbin with Embroidery thread, extra spool pin, power cord and operation manual
USB Cable Not Included because machine has a USB Port.
NEW Brother accessories online catalog by machine model numbers
*Warranty 1/2/25 Year Limited Warranty
Other Images
SE600 Combination Sewing and 4x4 Embroidery Machine For embroidery: Embroidery arm 4"x4" embroidery hoop Embroidery foot 3 bobbins pre-wound with embroidery bobbin thread For sewing: 7 Sewing feet: Spring action zigzag (on machine), buttonhole, zipper, button sewing, blind stitch, overcasting, monogramming feet Twin needle, darning plate Tools and supplies: Bobbins (2), bobbin clips (3), 6-piece needle set, disk-shaped screwdriver, 4 spool caps, spool net, scissors, cleaning brush, power cord Foot controller Machine dust cover English/Spanish operation manual and quick start guide 25 year limited warranty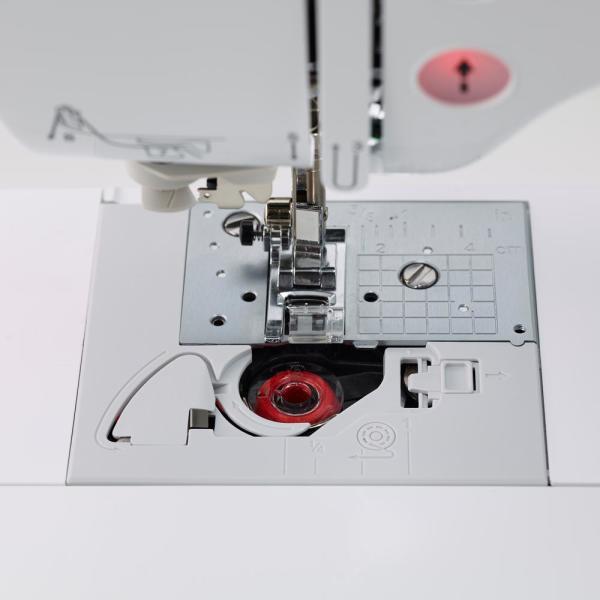 Quick-set drop-in top bobbin The exclusive Brother jam-resistant Quick-set drop-in top bobbin helps ensure your bobbin stays in place, and helps provide the level of reliable, even stitch quality you need.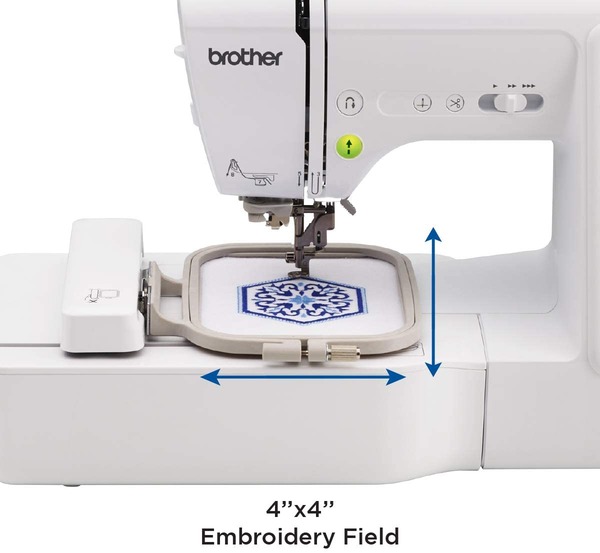 4"x4" Embroidery field Embroider designs up to 4"x4", the most popular embroidery design size. The built-in alignment feature helps you align designs when re-hooping, which is useful when positioning multiple designs on your project.
Large, COLOR LCD touch screen display screen The large, 3.2" Sew Smart color LCD touch screen display allows you to view your embroidery designs in full color. Easily change individual embroidery thread colors using the built-in color palette, and then preview before stitching.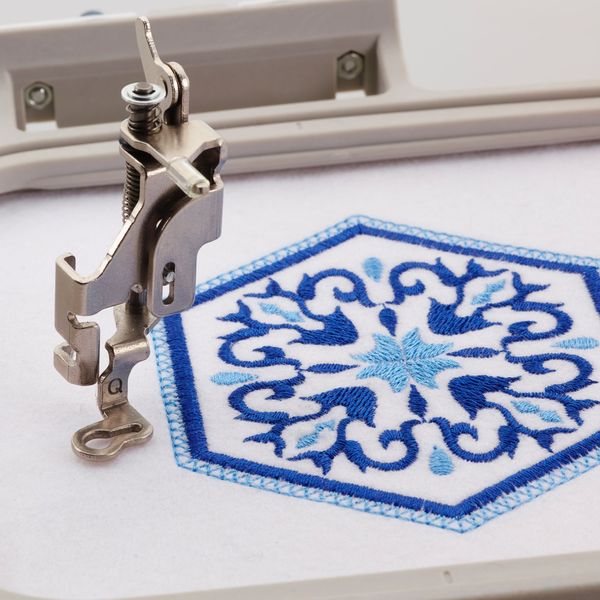 80 Embroidery designs Choose from an amazing selection of 80 high quality embroidery designs, including decorative alphabet, borders, floral, kids and holiday designs. Scroll down on this page to view projects created with a few of these designs.
USB port to import designs Import your own .pes embroidery design files using the built-in USB port, for virtually unlimited embroidery design options. Visit iBroidery.com for 1000's of designs, including licensed designs, exclusively for Brother customers. USB stick not included. Additional purchase required for iBroidery.com designs.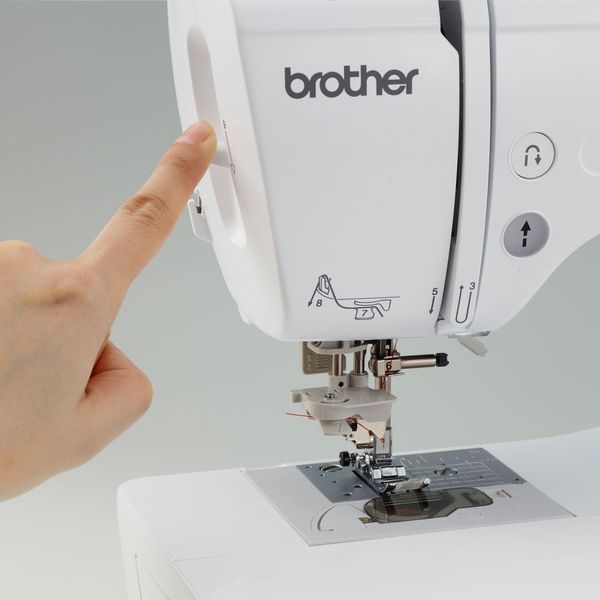 Automatic needle threader The automatic needle threader takes care of threading the needle for you, with just a touch of a lever. A real eye saver, and especially useful when embroidering designs that require multiple thread changes.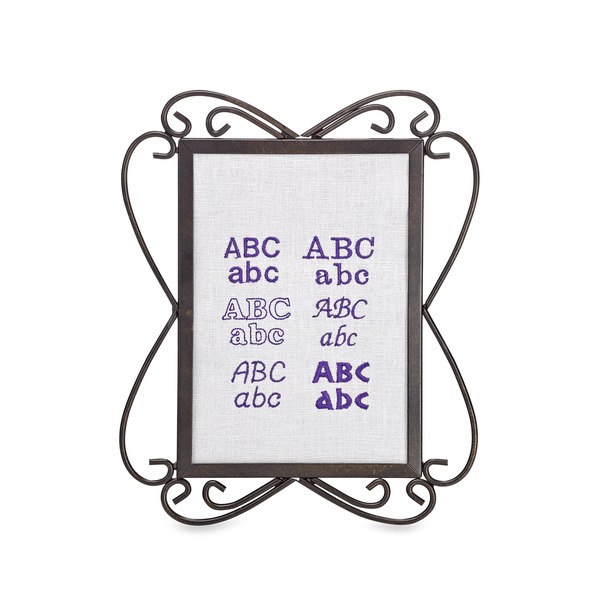 6 Embroidery lettering fonts Personalize your creations with the selection of 6 built-in embroidery lettering fonts. Select from captial, lower case, numeric and symbol characters. Each of the fonts is available in small, medium and large sizes, to suit your project.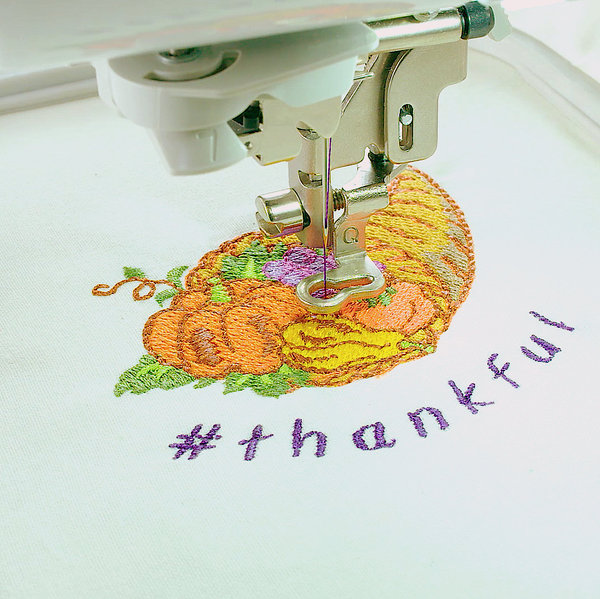 Embroidery lettering editing Adjust the 6 built-in embroidery lettering fonts in multiple ways: Align text at an angle or in curves, place text on multiple lines, increase and decrease the spacing between letters, and more.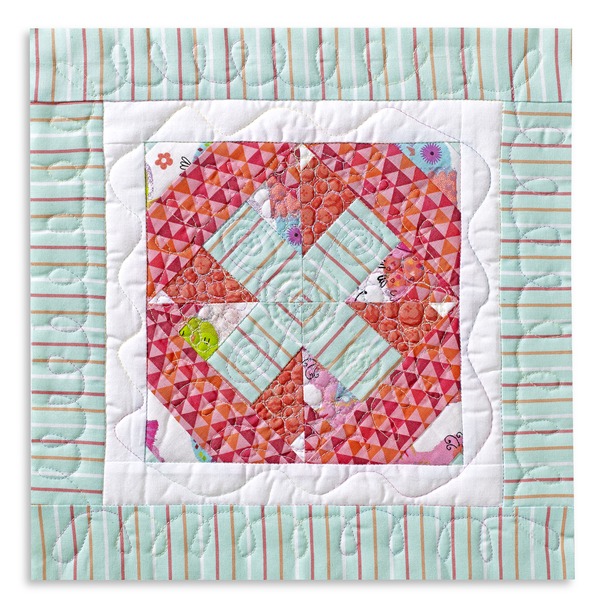 Drop feed for free-motion sewing The drop feed feature allows you to use the needle to literally draw your own designs free-hand with thread! This feature is great for quilters and makers looking to expand the creative options of sewing.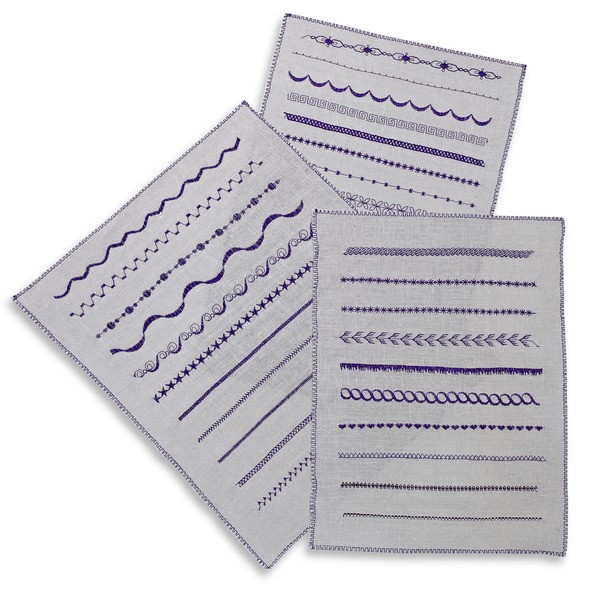 103 built-in sewing stitches In addition to utility stitches for everyday sewing, this machine include a beautiful array of decorative stitches for customizing your creations. The high quality decorative stitches include greek key, decorative scrolls, scallops, waves, feather, stars and hearts.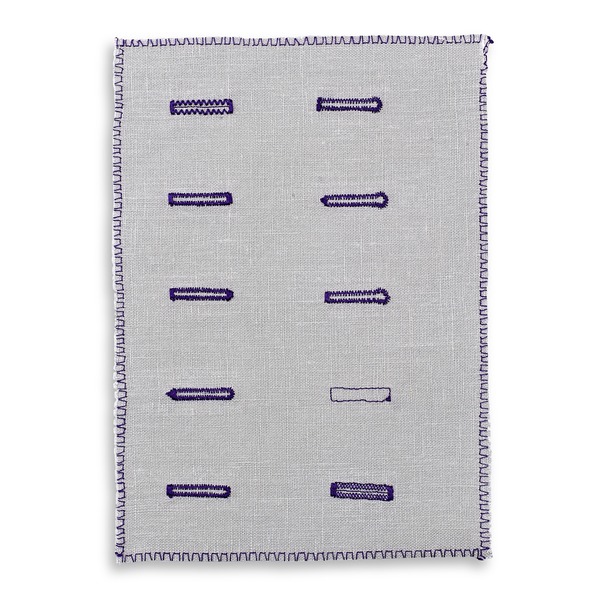 8 styles of auto-sized buttonholes Select the buttonhole style that suits your project, and use the one-step buttonhole feature that creates buttonholes that are sized to perfectly fit your buttons.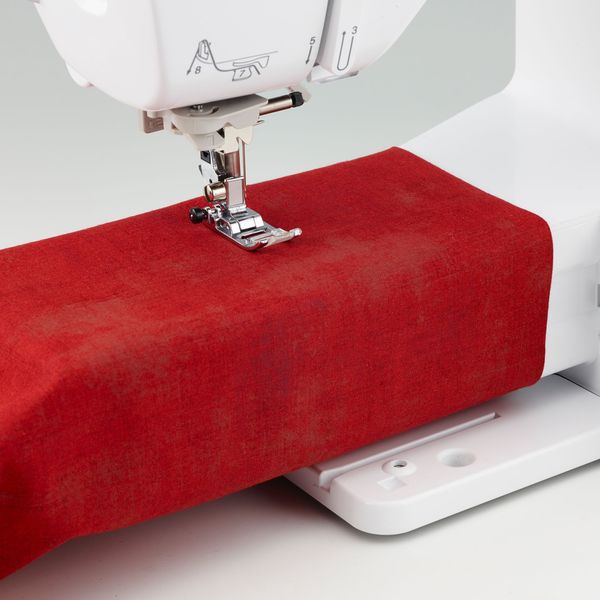 Free arm for cuffs and sleeves Sewing cuffs, sleeves, childrens' clothing and other smaller cylindrical projects is easy with the convertible free arm.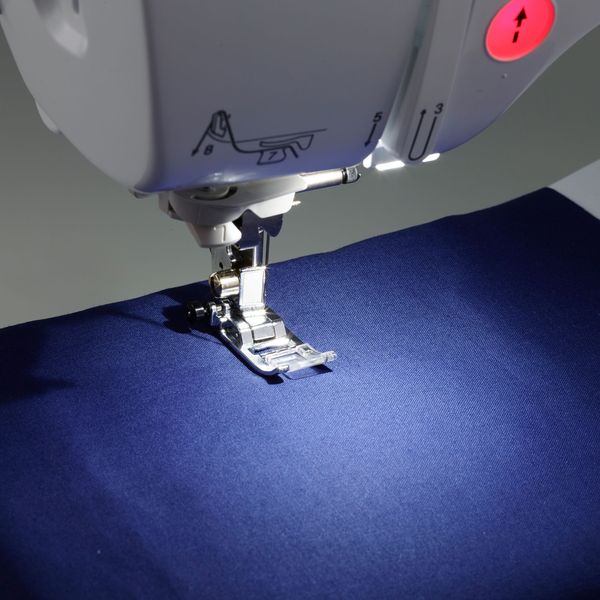 Super bright LED-lit work area The super bright LED lighting illuminates the area around the needle, which is extremely useful when embroidering designs, free-motion quilting, and when sewing on darker fabrics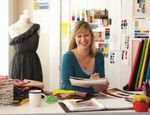 We value our customers and stand behind our products. All Brother machines come with free online and phone technical support for the life of the product. Toll-free tech support helpline: 1-877-BROTHER (1-877-276-8437) Online support: at www.brother.com Connect with the Brother Sews social community to be the first to know about promotions, giveaways, news product information, tips and tricks and more. www.Facebook.com/BrotherSews www.Twitter.com/BrotherSews www.YouTube.com/BrotherSews www.Pinterest.com/BrotherSews
Bundle & Save
Get additional savings when you purchase any of these items along with this product.