"Last year I purchased a Kangaroo Joey sewing center from All Brands and I am absolutely pleased with it and the difference it has made in the ease of working on large free motion quilting projects." Toni C
Kangaroo Kabinets K8811 White Ash Kangaroo with 3 Position Air Lift Platform and matching Joey White 3 Drawer Caddy Combo
Chair not included
The Kangaroo can hop right into any sewing room and fit perfectly. The Kangaroo has a three-position airlift that holds most sewing machines comfortably and moves effortlessly up and down. The wide room in front of the lift allows the sewer to sit comfortably in the correct center needle sewing position. The Kangaroo comes with a quilt leaf on the back of the cabinet that folds up or down and will help to expand your work area preventing large quilts or large pieces of fabric from falling on the floor behind the cabinet. An adjustable shelf for machine storage and a large pull out drawer for all your notions round out the features of this hopping cabinet. Need more storage? The Joey storage unit adds three drawers of storage space yet is small enough to store in the Kangaroo's pouch.
The Kangaroo is offered in Beech, Teak, and Ash White melamine to complement any décor. Adopt one of our Kangaroos today!
Click Here to View the Kangaroo Cabinet Kangaroo and Joey Assembly Instruction Manual
(.PDF)
See Lynn and Valerie from Arrow Cabinets talk about this cabinet at the Houston Virtual Quilt Festival below!
US Warranty 1 year limited warranty on defects in materials and workmanship.
Non-US Warranty: 30 days parts and labor
Specifications
Color: White Ash

Closed Dimensions: 55"w x 21"l x 29-1/2"t

Open Dimensions: 40-1/2"w x 21"l x 29-1/2"t

Sewing Machines no larger than: 22 1/8" w x 11 1/8" d

Kangaroo Cabinet Assembly Instructions:


Joey Caddy Assembly Instructions:


AirLift:




Arrow and Kangaroo Sewing Machine Cabinet Selection. How to Choose!


Please review our Freight LTL Shipping Policies Ships Ground Freight only.* For delivery please select options. "Lift Gate" which means a goods lifting platform installed at the rear of the delivery truck that facilitates the unloading of cargo from truck bed to the ground. Most shipments will require a lift gate, if there is not a loading dock, or fork lift available for delivery.
Other Images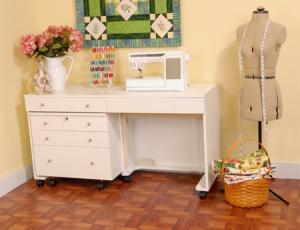 Kangaroo II White Ash K8811 Sewing Cabinet +Joey K7811 3-Drawer Caddy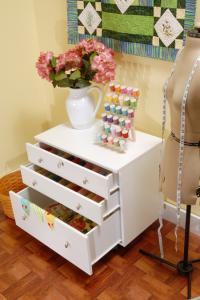 Includes Kangaroo Kabinets K7811 Joey 3-Drawer White Storage Caddy Unit +Casters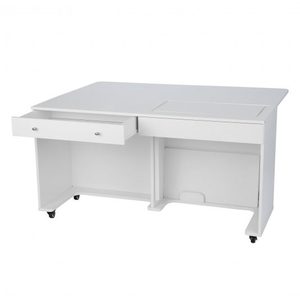 Taking on big projects this year? The Kangaroo Cabinet's ingenuitive use of space is exactly what you need! With a removable cover on the dual hydraulic lift, easily transform your Kangaroo into a flat, flush work surface. Additionally, a cleverly hidden quilt leaf, as well as a removable supplementary cover for the large left drawer, allows you to maximize every inch of the Kangaroo's surface. Whether you prefer free arm or flat bed positioning, the Kangaroo Cabinet's ergonomic design will keep you comfortable while you continue to do what you love.
Toni C, Scotia NY
Last year I purchased a Kangaroo Joey sewing center from All Brands and I am absolutely pleased with it and the difference it has made in the ease of working on large free motion quilting projects. Toni C

Margo, Texas
I love love love my new sewing tables and they got here so FAST! Thanks!