Bundle & Save
Get additional savings when you purchase any of these items along with this product.


ETA 30 Days! 3 3/8" Cutting Length, Bent Soft Black Handle, AU6 Japanese Stainless Steel Blades, The shear handles are ergonomically designed to place the hand in correct alignment for ease of cutting and are made of Santoprene®, a soft thermal rubber, that is chemically bonded to the blades to prevent contamination.

The blades are made of AU6 Japanese stainless steel with Vanadium giving them a Rockwell of 54 to 58 HRC.
US Warranty 90 Days labor on defects in materials and workmanship.
Non-US Warranty: 30 days parts and labor
Specifications
Product Details
This is the KAI 5220L - 8 1/2 in Left-Handed Scissor. Left-handers love the feel of these scissors. Ergonomic grips allow for easy cutting without discomfort to your thumb. This is the best fabric scissor made for left handed users. Large handle grip and standard blade length. This differs from the True Left scissors, in that the blades are not reversed, but is made to fit comfortably in your left hand. (A right handed scissor with a left handed grip for fatigue-free cutting!) WEIGHT: 3.9 OUNCES
KAI 8 1/2 inch lefty dressmaking shears
For difficult to cut materials

Food safe for cutting up poultry, meats, and vegetables(FDA approved dyes in handles)

All fabrics, sewing, and trimming operations

Household use (shears are dishwasher safe)

Meets most hobby and craft needs

Gardening and floral arrangements

Typically last 2-3 times longer than other brands of Shears
Other Images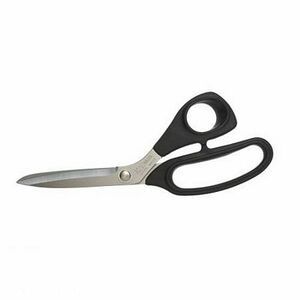 Product Details This is the KAI 5220L - 8 1/2 in Left-Handed Scissor. Left-handers love the feel of these scissors. Ergonomic grips allow for easy cutting without discomfort to your thumb. This is the best fabric scissor made for left handed users. Large handle grip and standard blade length. This differs from the True Left scissors, in that the blades are not reversed, but is made to fit comfortably in your left hand. (A right handed scissor with a left handed grip for fatigue-free cutting!) WEIGHT: 3.9 OUNCES