Fix It Right The First Time! Sales, Service, and Repair. AllBrands Industrial Sewing Machines: Brother, Juki, Pfaff, Singer, Consew, TacSew, TechSew, Reliable, Artisan, Gemsy, Highlead, Rex, Yamata, Ricoma.
AllBrands wants to help you insure that you have the best stitch quality on your sewing, quilting, embroidery, serger or blind stitch machines. and that they are well adjusted and running smoothly!
Joe Armstrong is our Industrial Sales and Service Independent Controctor Technician at AllBrands. Joe has over 35 years experience. The last 15 years were with the largest Juki automatic equipment distributor in the USA and Mexico. He has returned to Louisiana to leave his mark in the sewing, embroidery, quilting and serger machine sales and service business. If you need new or replacement equipment, or on site set up, sew off and training, you can reach him on his cell phone at 318 792 1320 or email or at
[email protected]
Allbrands.com has over 100 years combined 4 factory trained mechanics experience in servicing sewing, serger, quilting, blindstitch and embroidery machines. We now have professional repair services available for your machine. Review our simple 3 step process below to get started! Or, Click HERE to Email Attn: [email protected] or general mailbox Attn: [email protected] if you have any questions or want to send pictures, prior to placing your order
US Warranty 90 Days labor on defects in materials and workmanship.
Non-US Warranty: 30 days parts and labor
Specifications
Carry In Shop or On Site Repairs, New machine Set Up Installation, Sew Off on your materials and applications, and machine training are available for hourly charges in our store, or at minimum $299 or hourly, plus trip charges at your site in Louisiana, East Texas, and Mississippi. We can provide local service withing a 300 mile radius of New Orleans, La.
Ship in Service Plan for industrial sewing, embroidery, quilting, serger and blindstitch machines.
Here is how the program works.
Step 1.
Purchase the 299.99 dollar minimum charge repair service. We will email you an Authorization Number to put on the outside of the head box or machine crate for easy identification.
Step 2.
Ship your machine insured to Allbrands.com, Attn: Service Department, 20415 Highland Road, Baton Rouge, La. 70817. Pack in original carton with all styrofoam and double boxed, or wrap in 5-10" of heavy bubble wrap and double boxed. Include your bobbin case, bobbin, power cord, thread, needles and fabric samples, hooped fabric with stabilizer, copies of any prior repair tickets, printouts of our email communication, order confirmation, and any written documents regarding the sewing problems you are having with your machine.
Step 3.
We will service and ship your repaired machine back insured. If mechanical adjustments or parts are needed, our mechanic will email or call you for approval of estimates above our $299 dollar minimum service charge. Our minimum charge includes removing any outside covers, cleaning, oiling, replacing covers, and balancing thread tension in sew off. Our average repair bill is $250 dollars including at least one mechanical or electronic adjustment.
If your machine cannot be repaired or you do not want to pay for any additional mechanical and electronic adjustments or parts required, we will send you a store credit for the 199 dollars to be used for any online purchase, including a replacement. The $299 minimum charge prepaid will either be used to return your machine to you un-repaired, or to be credited to our mechanics for their work in dis-assembly, re-assembly, and estimating the cost of repairing your machine.
Click HERE to Email Attn:

[email protected]

or Attn:

[email protected]

if you have any questions prior to placing your order
Click HERE for You Tube Videos on Industrial Sewing Machine Repair


Sewing Machine Lubricants
Preventive Maintenance, General recommendation. Always use service manual where available.
The proper maintenance of an Industrial sewing machine is important for several reasons. A. It will increase the overall life of the sewing machine. B. It will keep the sewing machine running at its maximum performance rate. C. It will maintain the integrity of the stitch which guarantees the quality of the product that is being sewn. D. Last but not least it will keep the operator happy. And we all know what that means.
1. Oil all bushings in the casting of the machine. Usually by means of an access hole. If the machine is relying on a wicking system all of the wicks need to be inspected and placed in the proper position to maintain oil flow. Also check the oil level if reservoirs are present.
2. Keep machines clean of material particles which can act as an abrasive to machine parts. Blow out machine and spray clean parts with WD-40 or similar product. Note: WD-40 does not take the place of oil but will keep the machine clean and rust free. Always oil machines after cleaning and take care to use a minimal amount. Usually one drop of oil is needed in each hole per 8 hrs of sewing time. It is further recommended that manual machines need one drop of oil to the hook assembly after each bobbin change. For machines with an automatic or enclosed oiling system, the oil pump, screen and hoses should be inspected monthly to be sure proper lubrication is taking place.
3. Maintenance related to the sewing machine motor or stand. Check motor belt tension, clean pulleys of any thread or debris that may be found in belt guards. Clean motor and or motor filter that allow motors to breath properly. Check for loose wires and or connections that can cause shorts or electrical shock including lights.
4. Maintenance that will ensure proper stitch formation and machine performance. Check adjustment on take up spring. Clean residue from tension disk. Inspect thread guides, screws etc. for burrs. Replace needle per 8 hrs of actual sew time or routinely at the beginning of the week. The cost of a needle is not worth the problems that occur when a needle is defective. Check feed dog and or throat plate hole for burrs. Take off feed dog and sand the bottom part of the hole. Check the middle foot on a walking foot machine to be sure no burrs or on the bottom side of the hole. Also adjust bobbin case basket opener and inspect throat plate. No sharp points should be on the throat plate where the basket tab goes into the throat that keeps the bobbin case in its standard position for sewing.
5. These adjustments and inspections should be done by a qualified technician about every 3 to 6 months. However the operator should be responsible for the oiling and cleaning that is to be done on a daily basis. It is important that a check list be made for the operator so she fully understands the proper procedure for checking and oiling the machines.
Note: by no means is this a comprehensive guide to maintaining all sewing machines but it is a good start to understanding and making a beginning of a reliable sewing machine preventive maintenance program.
Written by Joe Armstrong: sewing machine technician with 35 yrs experience in the sewn product industry.
Other Images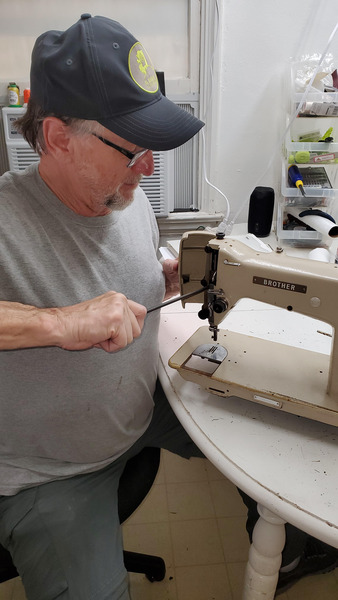 AllBrands Industrial Sewing Machine Sales Service Parts, Repairs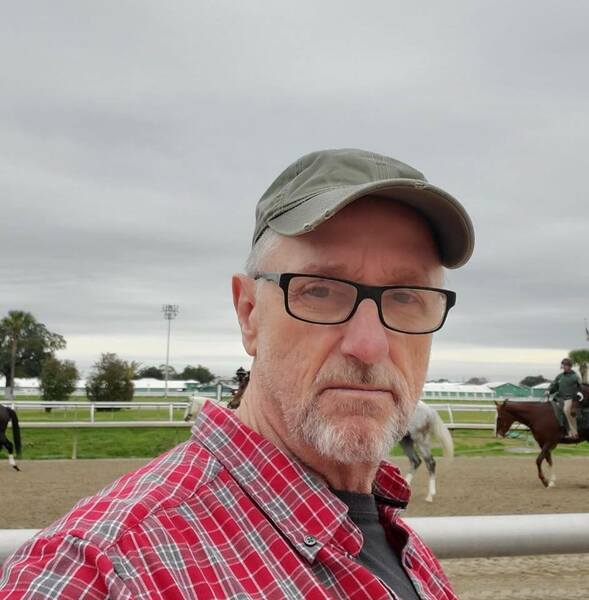 Joe Armstrong
I started working on sewing Machines for my father in 1975. I remember that because Universal came out with the bicentennial machine in 1976. I was trained by Joe Moeise. One of my mentors, he was a good man! 3 years later I went to work for Wembley Industries the world's largest necktie manufacturing company in New Orleans. I knew then I was in this for the long haul. Todd Drummond was our head mechanic and took me under his wing! 3 years later I moved on to a company called Flex Con. It stands for flexible containers. Each one of these moves I knew I was learning valuable information so that was the plan. To learn as much as I could from each job and move on. My father said the hell with the gold watch!! So I kept moving!! Next stop was Hamco baby bibb company. Much more valuable information. Then I was hired in as head mechanic for Takata airbag company I'm Greenwood MS. Almost my dream job. Robotics and single cell manufacturing was taking hold. Oh what fun and many sleepless nights. I dreamed about sewing machines when I slept and fixed more of them there I think. We were ramping up airbag lines only to be shipped to Mexico. But my break came when a technician from M.J.Foley Co. was installing some programmable tackers and I was told to stick with his every move. He was impressed with my knowledge and went back to Michigan and told Mr. Foley that I would make.a good technician for them. So off to Michigan I went. My moves were more luck than strategy but this was the move I was looking for. For the next 15 years I traveled as a technical support specialist and outside service tech. Trained many technicians and installed sewing machines primarily for the automotive industry and furniture industry. Made many trips to Mexico and a few to Canada. Made lifelong friends that I love dearly. Many thanks to all of you. I have been blessed and lucky. I still love sewing machines now as much as I did back then!!
How long does the service take?

Allbrands.com is located at 20415 Highland Road, Baton Rouge, Louisiana 70817. You will need to allow for shipping time from your place of business to ours. Return shipping from AllBrands warehouse takes 5-7 business days shipping time in the USA 48 states.

After we receive your machine, we will diagnose the problem to see if it goes beyond a basic tune up requirement (cleaning, oiling, balancing tensions, and sew off) and advise you. We stock most repair and replacement parts. Over 90% of sewing machine repairs do not require parts, only adjustments that have probably never been made correctly. If your repair requires a part to be ordered that we do not have in stock, this will add several days or weeks to the normal 24 hour turnaround time it takes in the shop for tune ups, mechanical and electronic adjustments.


What types of machines do you service?

We service All Brands of industrial sewing, embroidery, quilting, serger and blindstitch machines. You will need to determine if it is cost effective to send in your machine for repair, or purchase a new machine with a manufacturer warranty. Once you purchase the service and we receive your machine, we will update you on your repair if additional adjustments and/or parts are needed.


How will I know if my machine can be repaired?

When you place your order, please add a description of your problem. We will not process and nor charge for the order if our experience suggests that it would cost more than the replacement value of the machine.