What is IN THE HOOP?
Our Phone Wallets are perfect for times when you don't want to carry a big purse.

There are 3 pockets for credit or debit cards and your ID.

A zippered compartment on the front holds change or folded money.

Your phone goes in a pocket on the back side.

The phone and cards are secured by a tab with a snap.

There are no raw edges inside this design.
Other Images
2 sizes of phone wallets are included. The 'Original' size holds an iPhone 5S in a slim case or otter box and similar sized phones. The 'Taller' size holds phones that are wider and taller. It's impossible for us to test all phones, but most phones will fit in either of the phone wallets in this set. The photo below shows an iPhone 5S in the pocket.
Here's another look at the back pocket with the phone inside.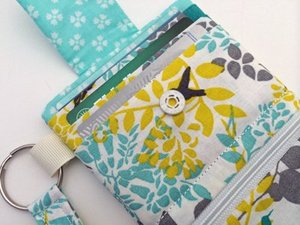 Your credit & debit cards are easily accessible.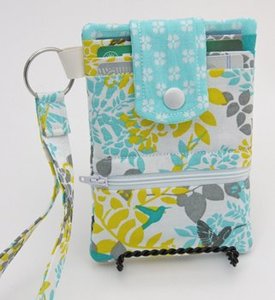 The original size wallet measures approximately 4"w x 6"h The taller size wallet is about 4.25"w x 6.75"h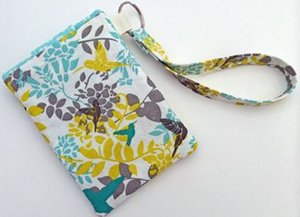 Here's a look at the back side.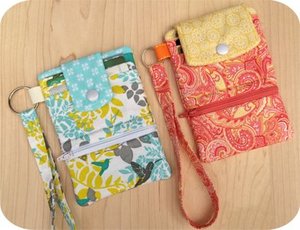 Our Phone Wallets are made in a 5x7 hoop. The tab is made first in a 4x4 hoop, then it's machine stitched by a sewing machine to the back pocket pieces. This requires a 5" seam to be sewn. The completed back pocket piece is added to the wallet while it is being stitched in the hoop. You have the option of making either size with a narrow tab closure or with a wide tab closure and a side loop for a wristlet strap.
You can also make the either size with top loops for a cross body or shoulder strap style using the narrow tab closure.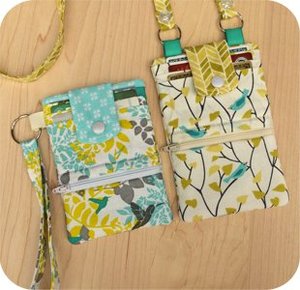 Here's a side by side comparison of both included sizes.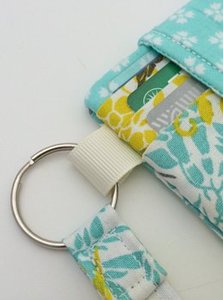 Close up of details.