What is IN THE HOOP?


Our chalkboard mats will keep kids busy and make great gifts.
They're made completely 'in your hoop'.
This set contain mats for a 5x7, 6x10, 7x12, 8x12, and 9x14 hoop.
Other Images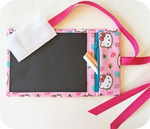 There's a zippered pocket on the 6x10, 7x12, 8x12, and 9x14 size to store chalk.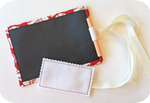 The 5x7 size uses elastic to hold a piece of chalk.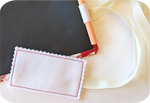 All sizes have an attached eraser that is stitched on 'in the hoop'.

Use fun themed fabrics. Kids love them! The mats tie with ribbon that is added and stitched in as it's being made.
GPC: Arts & Entertainment › Hobbies & Creative Arts › Crafts & Hobbies › Fibercraft & Textile Arts › Fibercraft Patterns › Cross-Stitch & Embroidery Patterns
Recommended Accessories