Bundle & Save
Get additional savings when you purchase any of these items along with this product.
Secure your Kaffe Special Edition with a $500 deposit by calling your nearest AllBrands store or click here to place a deposit online and pick up your machine in store.
.
*Financing Available*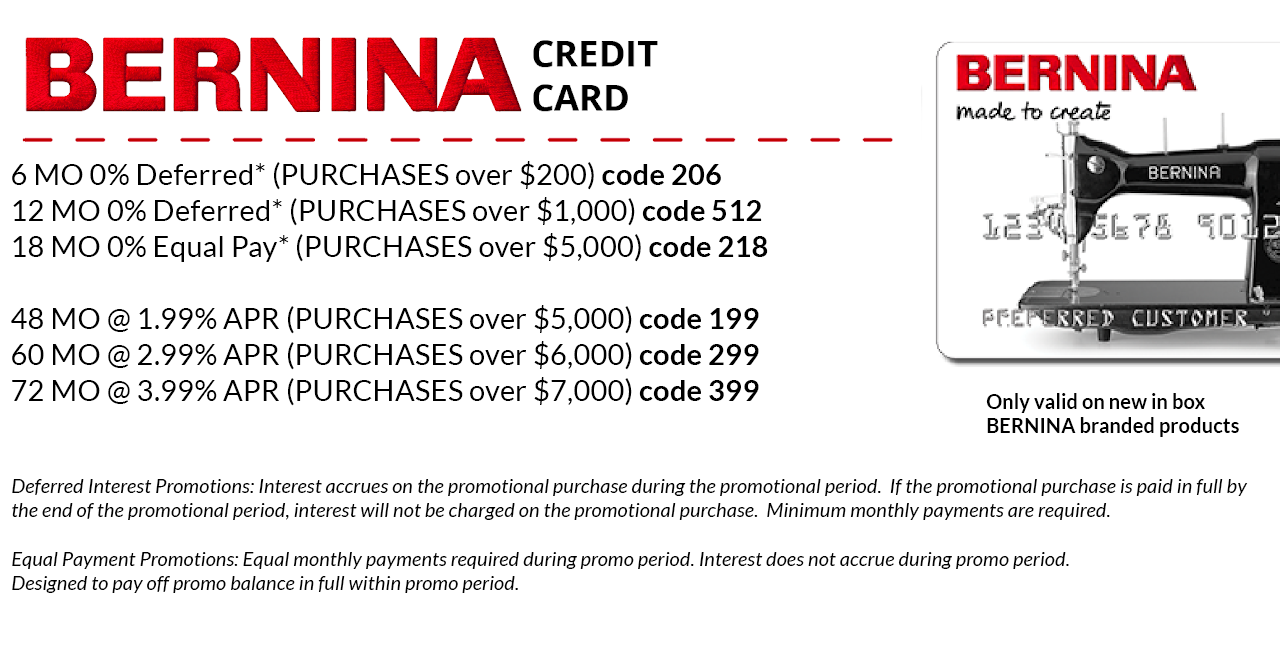 Click HERE to Apply Online.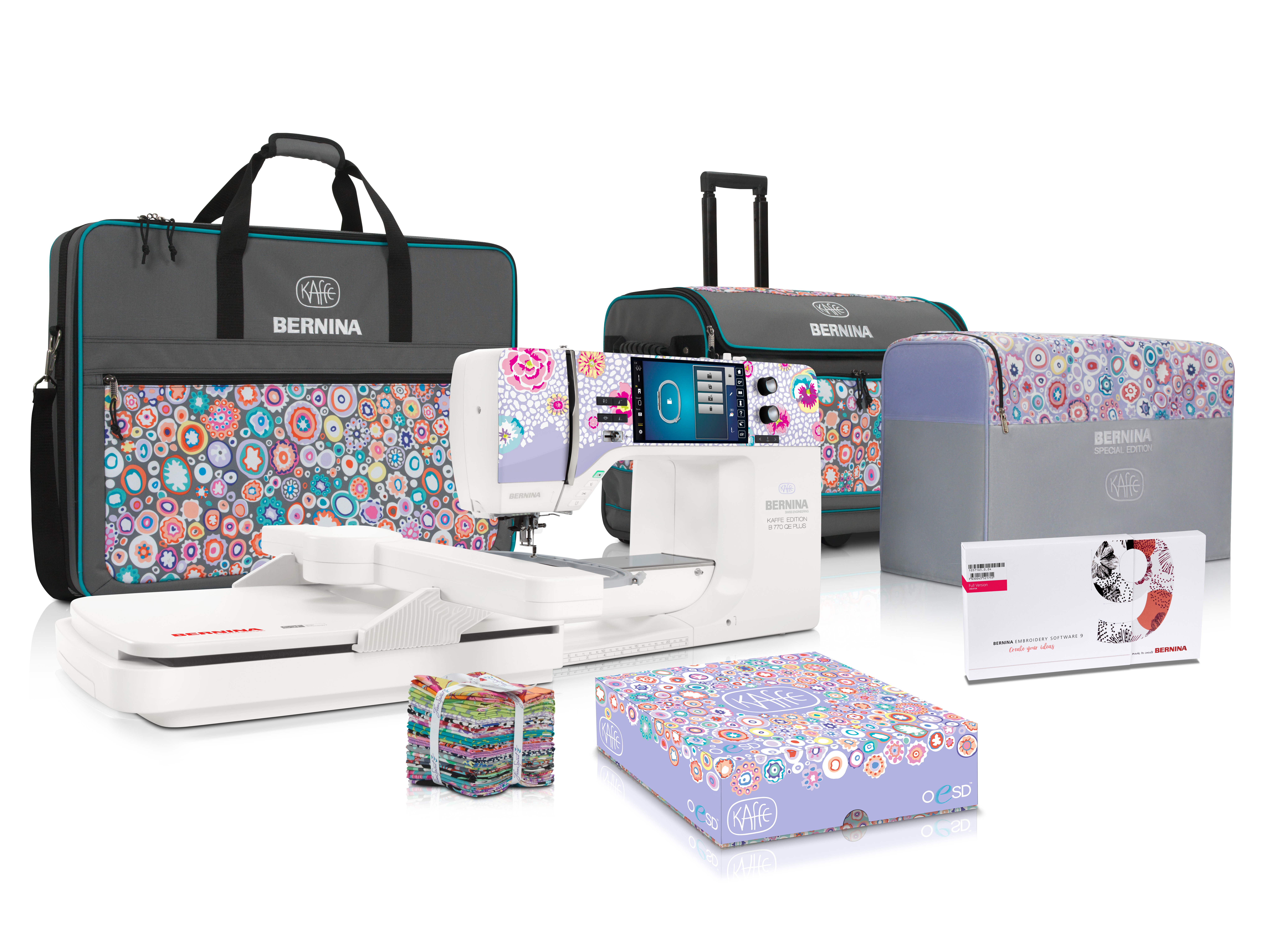 Click here to download Bernina's app. View products, promotions, and new Accessory/Foot Organizer!
Kaffe Cross-Stitch Tips & Tricks
Download Bernina ARTlink 9 Software Free Trial Click Here
Finest stitches at any speed
Achieve perfect, equal-length stitches

Perfect results no matter which speed

Perfection comes standard

The BERNINA Stitch Regulator (BSR) guarantees precise stitch quality and perfect results at any speed during free-motion quilting.



What quilters want

A total of 74 quilting stitches

Easy-to-use BSR 3 Mode

2 or 4 stitches per inch

With the BSR 3 Mode, you will be able to set your stitch length to 2 or 4 stitches per inch for easy quilt basting. Also, take a look at the many decorative stitches which are exclusive to the Kaffe Fassett edition and were hand-drawn by him!



KickStart function for your ease

Relax your foot for more comfort

Easily control the start/stop function

Perfect when quilting for long periods of time

The KickStart function allows quilting in a continuous sewing mode without having to keep constant pressure on the foot control. The function can easily be activated or deactivated on the touch screen.



Quilting in the hoop

Create quilt patterns through embroidery

26 additional Kaffe quilting designs

Eight embroidery fonts

Browse through the unique, built-in design collection, complete with beautifully patterned quilt blocks and continuous line quilting designs all done in embroidery. The B 770 QE PLUS Kaffe Edition includes eight embroidery fonts, 339 embroidery designs with 64 designs inspired by Kaffe Fassett.

A screen beyond imagination

Extra large 7" color touch screen

Easy navigation with large symbols

Centrally & optimally located

The extra large touch screen allows you to operate the machine comfortably. Get direct tips and tricks or have short built-in tutorials show you important work steps.

Pinpoint Placement and Lock function


Place your embroidery design exactly

Lock your designs during positioning

Professionally positioned designs

Place your embroidery design on the fabric exactly where you want it quickly and precisely. The new Lock function will help maintain the size of the design while you position it.



Group/Ungroup and rearrange designs

Group or ungroup designs

Rearrange designs

Both functions can be combined

Combine embroidery designs to edit all at one time with the Group feature. Break apart designs to edit individually using the Ungroup feature. Change the stitch out sequence of design layers. Use Rearrange in combination with Group and Ungroup for further editing possibilities.

Advanced embroidery module
The optional BERNINA Smart Drive Technology (SDT) module elevates your embroidery experience with enhanced stitch quality, smoother and quieter movement and up to 55% higher embroidery speed.

Sew silk & leather like a pro

Handle special materials with ease

Enjoy superb fabric feed

Optimum visibility while sewing

The innovative BERNINA Dual Feed is easily engaged when needed and tucks completely out of the way when it's not.



Quiet & precise

Ideally suited for decorative stitches

Sew & embroider for longer periods of time

More time for your creativity

The BERNINA Hook sews high-precision stitches up to 9 mm in width with speeds up to 1,000 stitches per minute. The bobbin holds 70% more thread than standard bobbins.



Kaffe Fassett Needlepoint designs

Multi-hooped needlepoint designs

Designs by Kaffe Fassett

Cat in a Ruff, Peony and White Dahlia

Kaffe Fassett is a passionate designer of needlepoint and provided three of his gorgeous needlepoint designs for the B 770 QE PLUS Kaffe Edition: Cat in a Ruff, Peony and White Dahlia.


Extended US Warranty: Extended Warranty Available
Specifications
Exclusive design by Kaffe Fassett

Inspired by the Guinea Flower fabric

With bright florals sprinkles

The faceplate is designed in an exclusive lavender-and-white patterned background with a mix of bright florals. The design was inspired by the popular Guinea Flower fabric print by Kaffe Fassett.

Hook system: BERNINA Hook
Maximum sewing speed (stitches per minute): 1000
Sewing space to the right of the needle: 10"
Color touch screen: 7" / 18 cm
BSR 3 mode (basting)
Exclusive machine design by Kaffe Fassett
Triple Stitch
Exclusive decorative stitches, inspired by Kaffe Fassett's designs: 31
Exclusive Kaffe Fassett embroidery designs: 64
Large Embroidery Module (SDT): optional
Pinpoint Placement (incl. Lock Function)
WordArt

This promotional price is set to expire at the end of the month
Included Accessories
Bernina 770 QE PLUS Kaffe Edition
Embroidery Module with Smart Drive Technology (SDT)
2 Foam pads
Selection of needles
Soft cover with pockets
3 spool discs
Angular Torx wrench
Screwdriver red
Screwdriver Torx, gray
Seam ripper
Height compensation tool
Brush
Power cable
Foot control
Bobbins (Set of 5)
Seam guide, right
Bernina Stitch Regulator (BSR)
Reverse Pattern Foot #1C
Reverse Pattern Foot #1D
Free gifts worth over $3,600*
Embroidery Module Bag in Kaffe design

Trolley in Kaffe design

Dust Cover in Kaffe design

Kaffe Fassett fabrics (15 half yard cuts)

OESD Embroidery Bundle with

5 New Kaffe Fassett Collections

4 OESD Stabilizers

12 Spools of Isacord thread

Big Book of Embroidery

5 packs of embroidery needles

OESD TearAway Tape

EmbroideryOnline Gift Card

BERNINA Embroidery Software 9 Creator
Other Images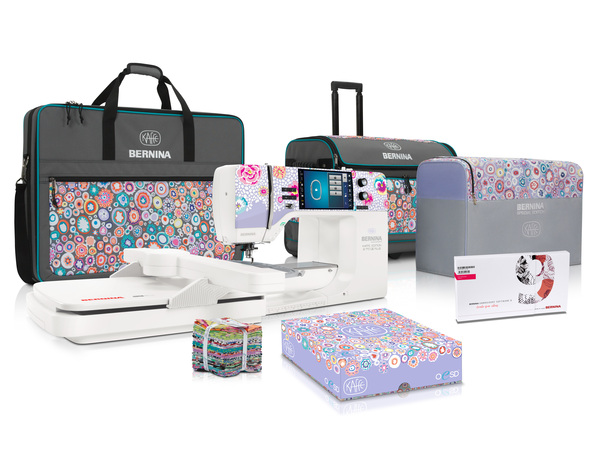 B 770 QE PLUS Kaffe Edition with Embroidery Module Bundle Package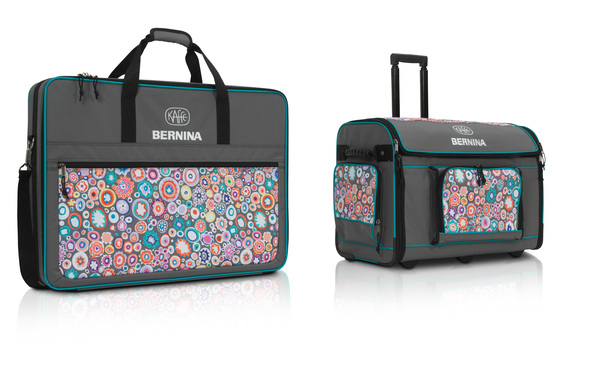 Kaffe Edition XL Machine Suitcase and XL Module Suitcase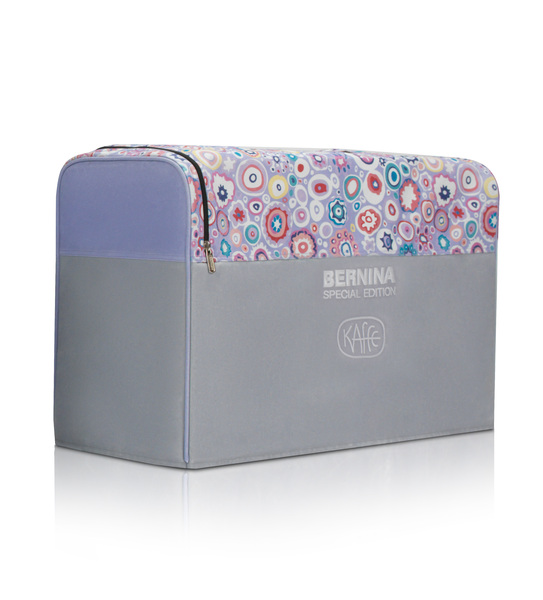 Kaffe Edition XL Machine Dust Cover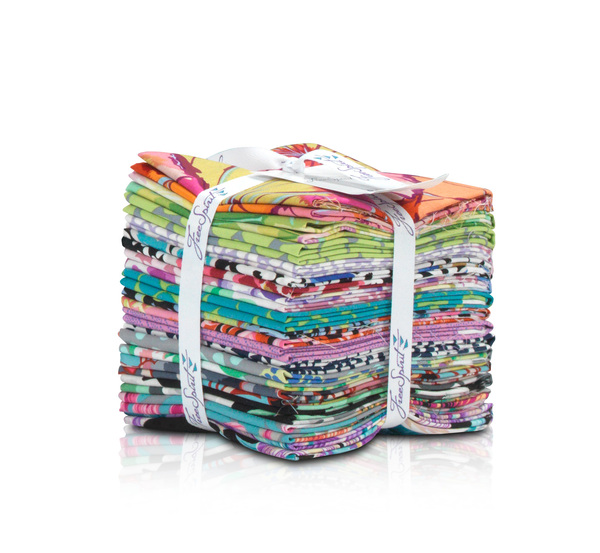 Kaffe Edition Fabric Bundle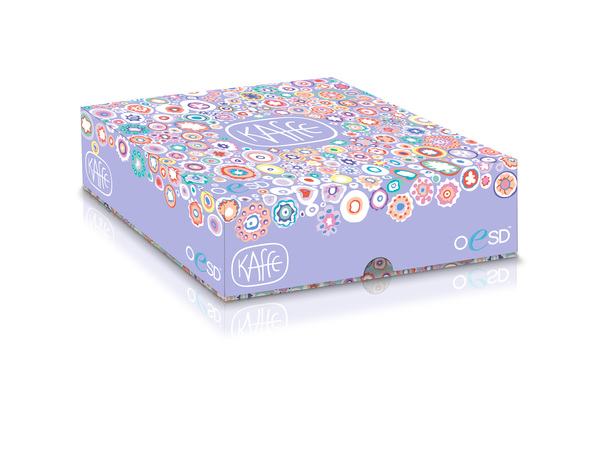 Kaffe Edition Embroidery Bundle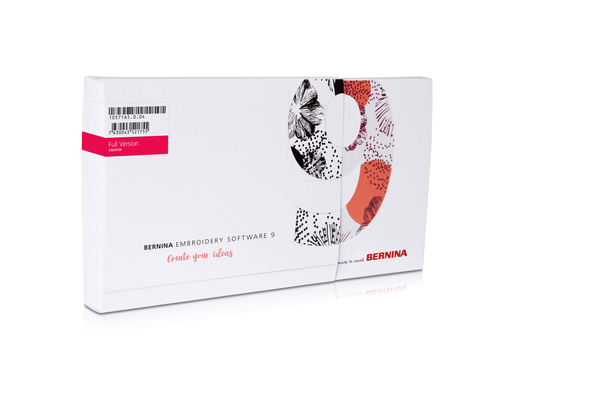 Embroidery Software 9 Creator Product Image Angled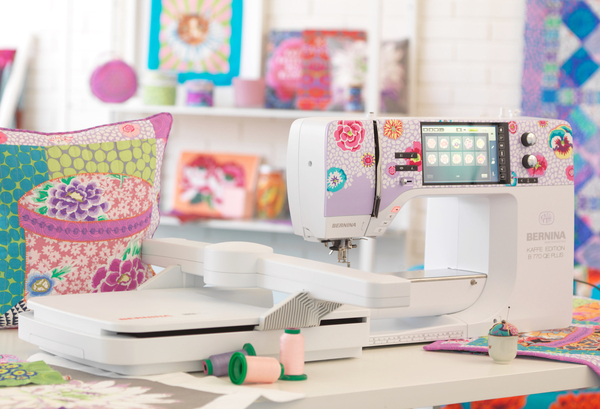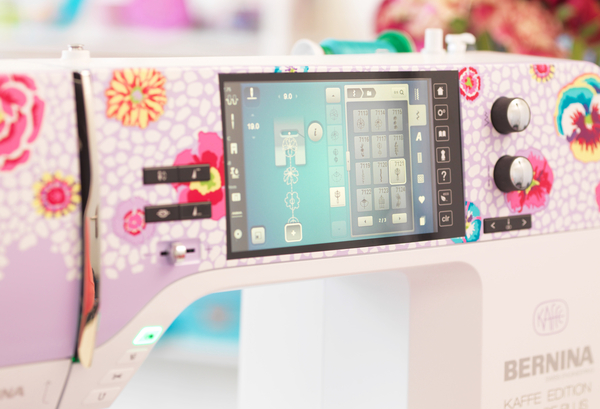 What quilters need
• Many new quilting stitches
• Easy-to-use BSR 3 Mode
• 2 or 4 stitches per inch
With the BSR 3 Mode, you will be able to set your stitch length to 2 or 4 stitches per inch for easy quilt basting. Furthermore, the B 770 QE PLUS offers a total of 74 quilting stitches.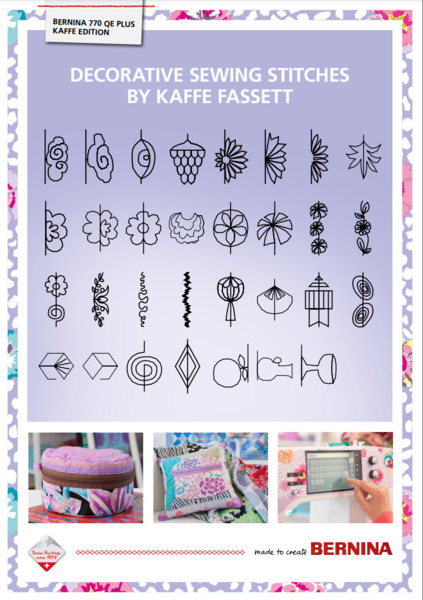 B770QE PLUS E Kaffe Edition stitches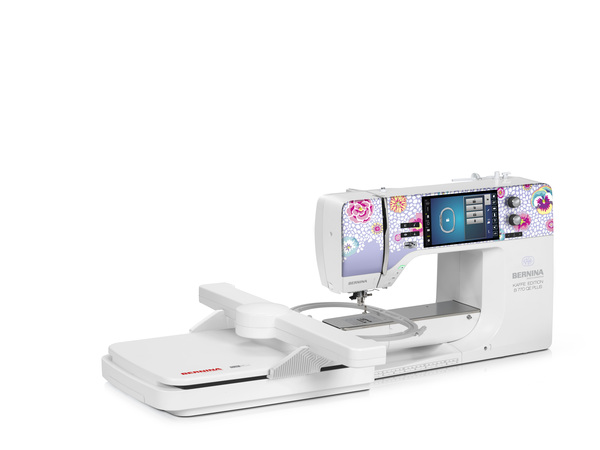 B 700 QE PLUS Kaffe Edition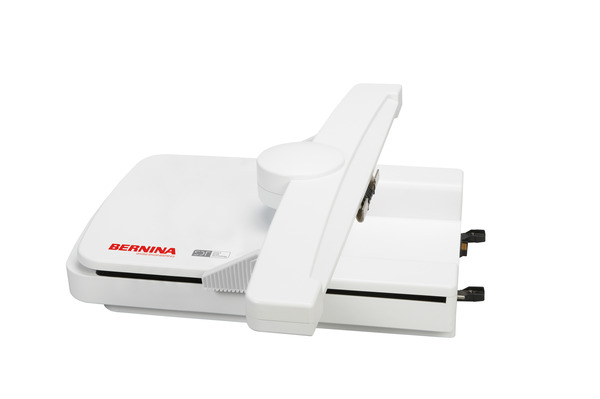 Series 7 Embroidery Module