Taitexma Metal Bed TH160 Home Knitting Machine, Manual Patterning.

with TR160 Ribbing Attachment
Easy operation and fast knitting speed makes the user finish the panel swiftly. Suitable for home-based basic knitter.
* Synchrony Bank Sewing & More Fixed Payments 0% No Interest Financing with approved credit! Click HERE to Apply Online for Synchrony Bank Credit Approval
Similar to Silver Reed SK160 6.5mm gauge manual knitting machine and SR860 6.5mm gauge ribbers, neither of which are being made. Taitexma TR160 6mm gauge ribbers are NOT interchangeable with Silver Reed SR860 6.5mm gauge ribbers that are no longer available.
Styled after Brother KH-230/KR-230 Bulky but it is a true 6 mm mid-gauge knitting machine. Get yours ordered today!
Review of Taitexma TH160/TR260 by Dayana Knits, MACHINE KNITTING ADVENTURE! MY NEW TAITEXMA TH-160
US Warranty 90 Days labor on defects in materials and workmanship.
Non-US Warranty: 30 days parts and labor
Specifications
With a 6mm needle pitch, the TH160 is designed to work with all the yarns typically used by hand knitters. By knitting yarns that fall in the top range for a standard gauge machine and in the lower range for a chunky machine, this machine can deliver the best of both worlds.
1.Gauge: 6mm(4G)
2.Number of needles: 164 pcs
Instruction Manual

4 replacement needles

Tools

Weights

These are the tools packed in the accessory box.

1x2 transfer tool

1x3 transfer tool

2x3 transfer tool

2 claw weights

Ravel cord

Oil bottle

Table clamps

Row Counter

2 color yarn antenna

Instruction Book Operating Manual (information on setting up the machine and mechanical operation. information on knitting a garment)



Normal stitches: 60 stitches wide x 150 rows

Maximum stitches: 160 stitches wide x 1624 rows

Weight: 15.5 kgs net weight

Stitch types include built-in stockinet and stripes, with manual fair isle, tuck, slip, punch lace, weaving, and motif stitches

[Product Name]TH160/TR160 Home Knitting Machine
[Product Attribute]
1.Model: TH-160 main body; TR-160 Ribbing Attachment
2.Gauge: 6mm(4G)
3.Number of needles: 164 pcs
3.Type: Plain Knitting Model
[Products Introduce]
Easy operation and fast knittng speed makes user finish the panel swiftly.
Suitable for home-based basic knitter.
Included Accessories
The main bed machine includes cast on combs, claw weights, latch tool, transfer tools, spare needles, needle pusher, cast-on thread, oil, wax, and tapestry needle.

Ribbers come with table clamps, knitter ribber connecting carriage arm assembly, weights, and cast on combs.
Other Images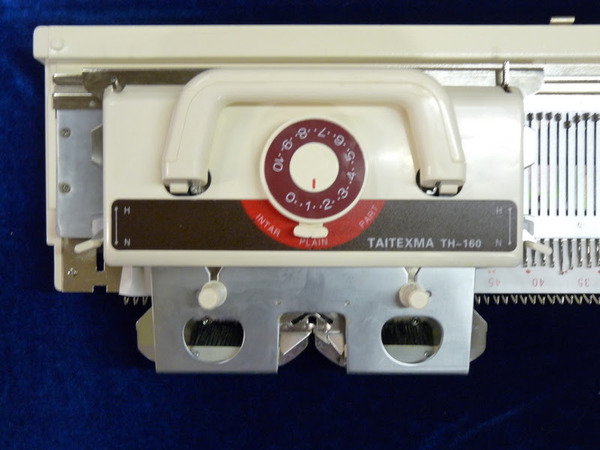 Carriage Included with Taitexma TH160 160 Needle 6mm Mid Gauge Knitting Machine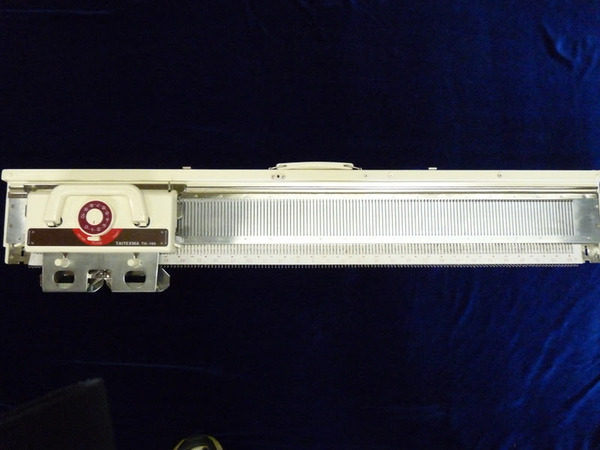 Metal Bed with 160 Needles.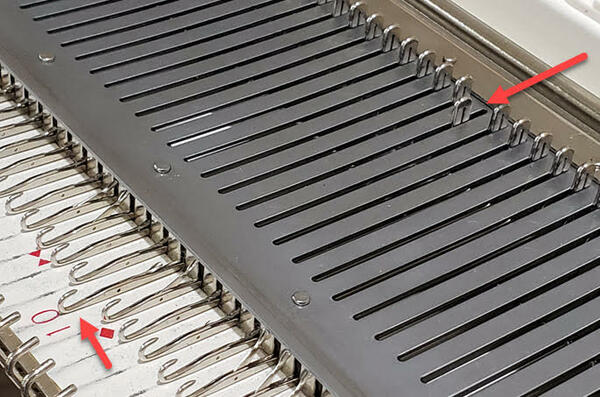 We recently ran into an issue and I thought I'd share our solution with you. 2 knitters reported that they had to manually push back needle #10 on the main bed. I discovered that the #10 needle needs to be shorter than the others. Sometimes, it can bump into the bracket that supports the tension mast. I hope you don't run into this problem, but I thought I'd share what we discovered. With a regular length needle inserted, you can see the issue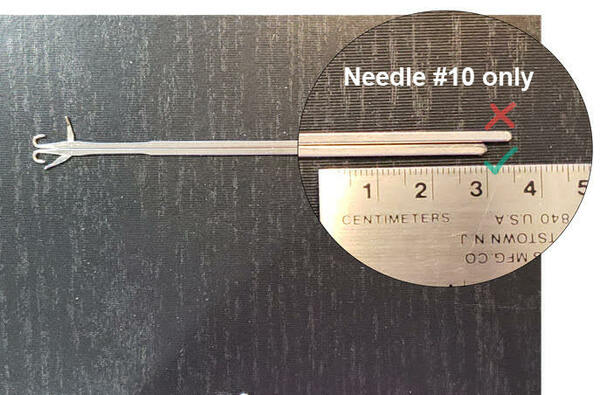 Compare the "regular" length and the shorter version called a surrender needle. This has actually not been an issue in all the years I've been bringing in the 160's. The only reason that I actually became aware of the situation is that a couple of machines from the last batch had a regular length needle installed where what TAITEXMA refers to as the surrender needle goes. That needle is directly opposite the brace for the yarn tension unit. The only fix would be a total redesign of the machine. The back case would need to be elongated and the brace moved farther back. TAITEXMA is going to send me some extra surrender needles in the next shipment. Now that I am aware of the issue I can check the machines before they are shipped out. Taitexma
As to the quality of Taitexma machines the facts speak for themselves. Not one Taitexma machine sold in the U.S. this year (2012) has been returned for a needed repair. The Rhode Island School of Design has been offering knitting machine classes for many years utilizing many different makes and models. They purchased 6 TH-860 standard gauge punchcard machines and 6 TR-850 ribbing attachments last year. They are evidently quite satisfied by both the quality and performance of these machines as they recently placed an order for 10 more units with ribbing attachments. ~Distributor of Taitexma Knitting Machines