* Synchrony Bank Sewing & More Fixed Payments 0% No Interest Financing with approved credit! Click HERE to Apply Online for Synchrony Bank Sewing and More Credit Card Approval to use for Online Checkout or in AllBrands stores
"I have had this machine for 3 years now and it has gone through some different fabrics from lace to leather and it has never missed a beat, I sew on it every day. Extremely user friendly and love how quickly it is to change, thread, feet, and stitch design. I have several different machines and I just absolutely love this one..." Singer Online Customer
Personalize projects with 600 built-in stitches and applications, including built-in lettering. Extension table and hard cover included. Mirror Imaging and Stitch Elongation providing even more creative possibilities
The Quantum Stylist 9960 sewing machine is the perfect tool for the budding designer. Give every piece a personal touch with five stunning fonts and 600 built-in stitches and applications. Mix stitches and lettering to create unique stitch sequences for endless possibilities of customized projects. Many stitches can be mirror imaged and elongated for even more creative options. Use the Needle Up/Down feature for easy pivoting like sewing on a pocket, topstitching, free-motion quilting, applique and more. Set the maximum sewing speed of the machine where you want it with the Speed Control – faster for long seams like those on curtain panels, or slower for more intricate projects – you're always in control. The Top Drop-in Bobbin is easy to thread and easy to see, so you won't run out of thread in the middle of a seam. When you're done.
-600 Built-in Stitch functions and applications including Alphanumeric Stitches
-13 Fully Automatic Buttonholes
-Programmable Needle Up/Down
-1-Touch Electronic Automatic Thread Cutter
-Stitch Editing Capabilities to customize any project
-Large LCD Screen
-Extension Table for large projects
-Class 15J Bobbins
-25 Needle Positions for precise top stitching
-Extra-High Presser Foot Lifter for thick fabrics
-Drop Feed for free motion sewing
-Heavy Duty Metal Frame for skip-free sewing
AllBrands is a Singer Authorized Dealer and Authorized Service Center for any repairs including warranty parts, electrical and labor. We give unlimited technical support by email, fax and phone. We service machines in our stores and/or refer to your nearest Authorized Factory Service and Warranty Centers nationwide. Mass merchants do not have tech service or repair departments for your equipment. They are unable to help you directly, only referring any operational, mechanical or electronic questions back to the manufacturer instead of taking care of the problems themselves. Manufacturers and customers should expect that any problems you have will be taken care of by the dealer or merchant who sold you the equipment, not by just referring your questions back to the manufacturer.
Quantum Stylist™ 9960 Sewing Machine
Singer 9960 Reviews.
US Warranty 25 years on parts, 5 years on electrical, 1 year on labor
Extended US Warranty: Extended Warranty Available
Non-US Warranty: 30 days parts and labor
Specifications
The SINGER 9960 Quantum Stylist sewing machine has everything you need and more! Its 600 Built-In Stitches and applications include 5 Alphanumeric Fonts and 13 Fully Automatic 1-Step Buttonholes with Exclusive Buttonhole Underplate, Mirror Imaging and Stitch Elongation options give you the freedom to customize your projects. Start up is a breeze with Quick and Easy Threading, Automatic Stitch Length and Width, Stitch Editing Capabilities, a Start/Stop Button and Direct Button Stitch Selection. The SINGER 9960 Quantum Stylist sewing machine features a One-Touch Automatic Thread Trimmer that automatically trims the upper and lower thread leaving your machine ready to start the next seam. Packed with features, this machine truly has it all.
Included Accessories
$350 included accessories:
Included Presser Feet: All-Purpose, Zipper, Button Sewing, Satin Stitch, Buttonhole with Underplate, Open Toe, Blind Hem, Overcasting, Narrow Hem, Cording, Straight Stitch/Quilting, Darning & Embroidery, Even Feed/Walking
*
Included Accessories:
Extra Wide Extension Table, Needles, Bobbins (4), Seam Ripper/Brush, Spool Pin with Felt Disc, Screwdrivers (2), Spool Caps (2), Seam Guide, Quilting Bar
$350 included accessories
Presser Feet

Even Feed / Walking Foot

Darning & Embroidery Foot

Straight-Stitch Foot

Cording Foot

Special Purpose (Satin) Foot

Button Sewing Foot

Open Toe Foot

Needles: Yes

Bobbins: Yes

Buttonhole Opener/Brush: Yes

Lint Brush: Yes

Seam Guide: Yes

Quilting Guide: Yes

Oil: No

Screwdriver (large): Yes

Screwdriver (small): Yes

Screwdriver (special):No

Spool Cap (large): Yes

Spool Cap (small): Yes

Spool Cap (mini): No

Aux Spool Pin: Yes

Twin Needle: No

Dust Cover: No



Other Images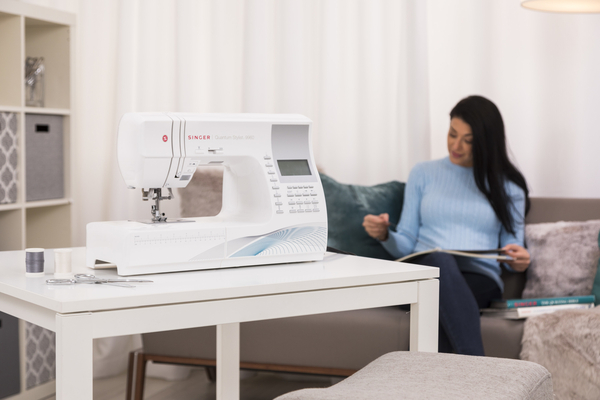 Singer 9960 600 Stitch Quantum Stylist Computer Sewing Machine, Ext Table, 13 Buttonholes, 5 Fonts, Threader & Trim, 25 Needle Positions, Drop Feed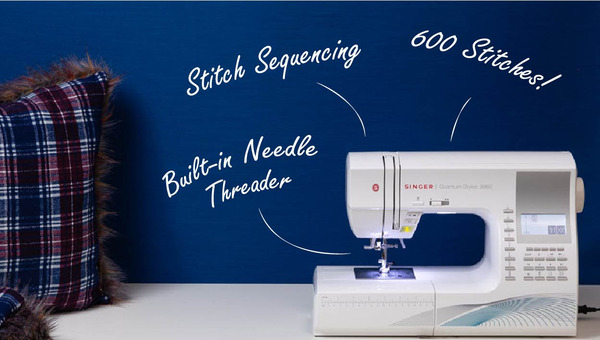 Personalize projects with 600 built-in stitches, including built-in lettering.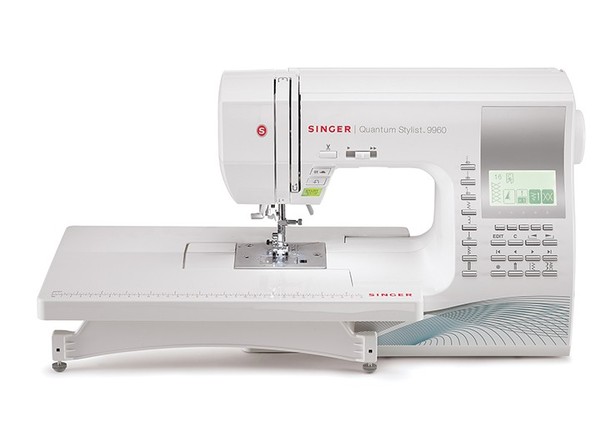 Extension Table for Sewing Large Projects. Extension Table Included The included extension table provides a larger working area, an essential for quilting or when working with a larger project.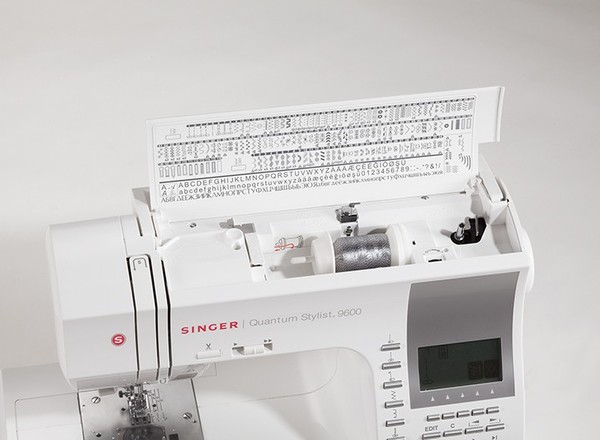 Top Lid Stitch Display with Horizontal Spool Pin and Bobbin Winder underneath.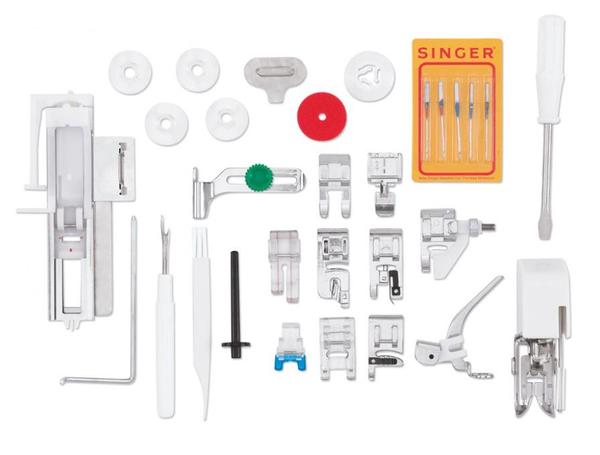 All-Purpose Foot (on machine), Zipper Foot, Button Sewing Foot, Satin Stitch Foot, Buttonhole Foot and Underplate, Open Toe Foot, Blind Hem Foot, Overcasting Foot, Narrow Hem Foot, Cording Foot, Straight Stitch Foot, Darning & Freehand Embroidery Foot, Even Feed / Walking Foot, Adjustable Bias Binder Foot, Single Welt Cording Foot, Braiding Foot with Guide, Clear Piping Foot, Stitch in the Ditch Foot, Fancy Trim Foot, Extra Wide Extension Table, Pack of Needles, Bobbins (Class 15J), Seam Ripper, Lint Brush, Auxiliary Spool Pin, Spool Pin Felt, Screwdrivers, Spool Caps, Seam Guide, Quilting Bar, Clearance Plate, Instruction Manual, Power Cord, Foot Control, and Shank for Presser Feet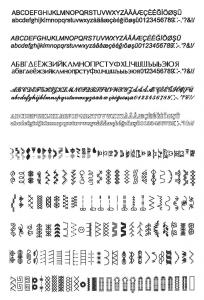 A Sampling of the 600 Built-In Stitch Functions including 5 Alphabet Lettering Fonts (Straight Block, Slant Block, Greek, Script, and Athletic Block) and 16 Eyelet, Bartack, Mending, Keyhole, Bound, Oblong, Jacket and Shirt Buttonholes.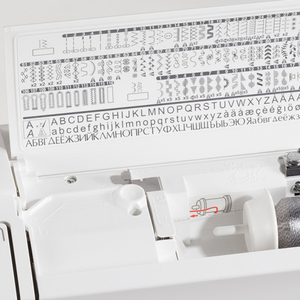 600+ Stitch Applications Fulfill your creative dreams with a large selection of stitches including basic, decorative and stretch stitches for clothing construction, quilting, home décor and crafting.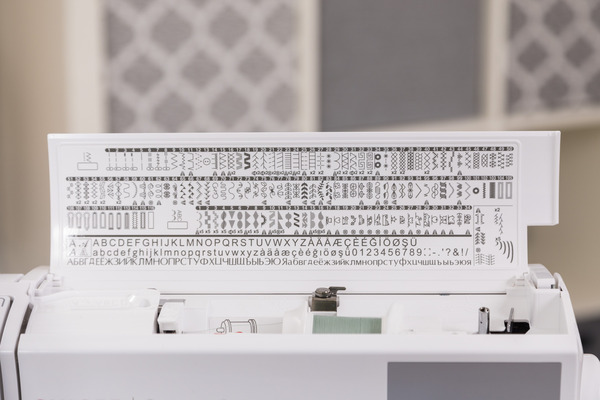 9960-Quantum_Stylist_Stitch_Guide (1)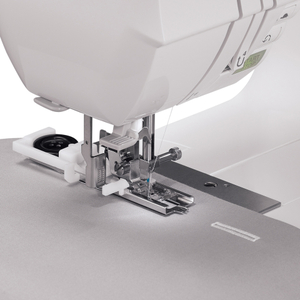 13 Built-In 1-Step Buttonholes with Exclusive Buttonhole Underplate Buttonhole sewing is a simple 1-step process providing reliable results every time. The sides of the buttonholes are sewn in the same direction to prevent gaps in stitching or fabric distortion.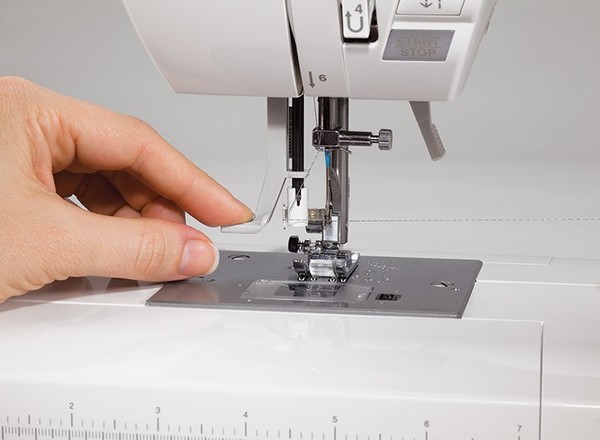 Automatic Needle Threader. Sewing's biggest timesaver! This feature makes threading the eye of the needle quick and easy.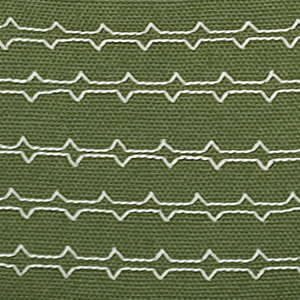 Mirror Imaging With just a touch of a button select stitches can be mirror imaged, adding even more stitch variety.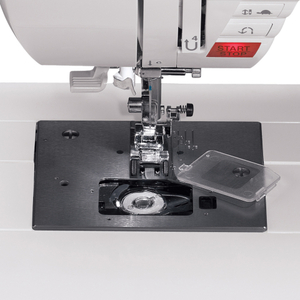 Top Drop-In Bobbin System The bobbin loads from the top, so it is easy to insert the bobbin. The clear cover makes it easy to monitor the bobbin thread supply.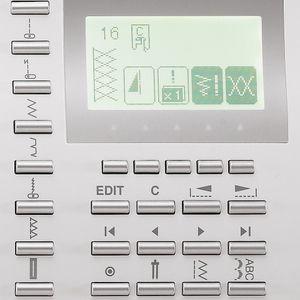 Large Back-Lit LCD Screen with Brightness Control Provides clear and easy viewing of stitch functions including stitch length, stitch width, tension settings, recommended presser foot, needle up/down position and more! Easily adjust the screen brightness.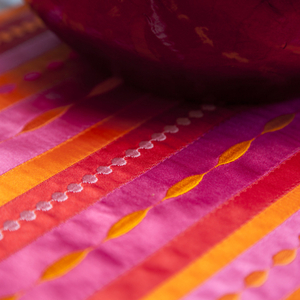 Stitch Elongation Select the elongation button and a variety of stitches can be made two to five times longer.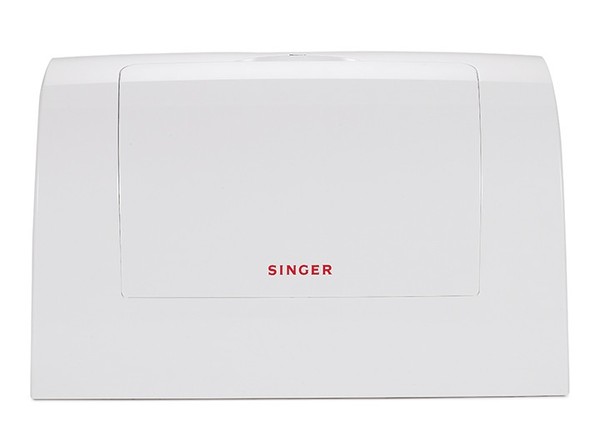 Hard Cover Case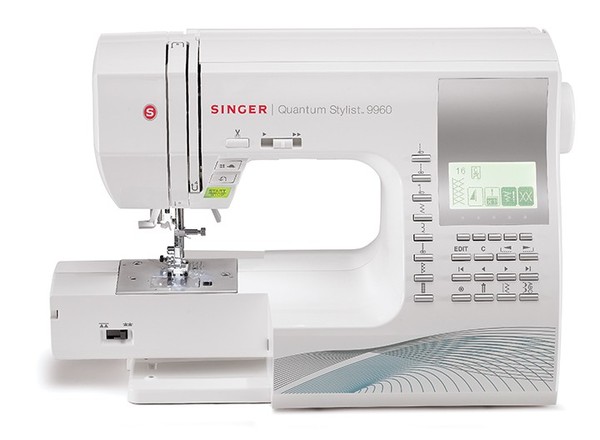 Open Free Arm for cuffs, sleeves, pantlegs and pockets.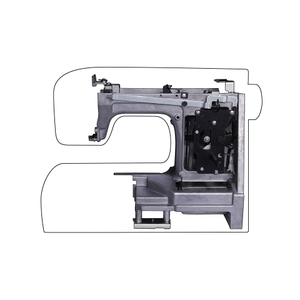 Heavy Duty Metal Frame The interior mechanisms are aluminum for skip-free sewing and overall durability.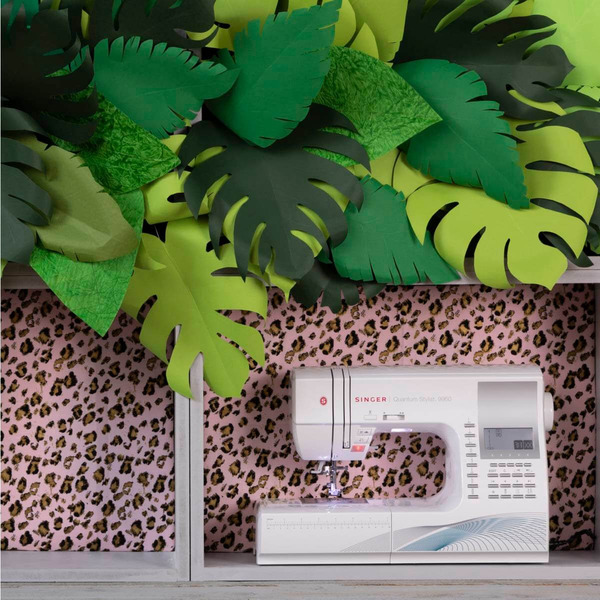 Quantum Stylist™ 9960 Computerized Sewing Machine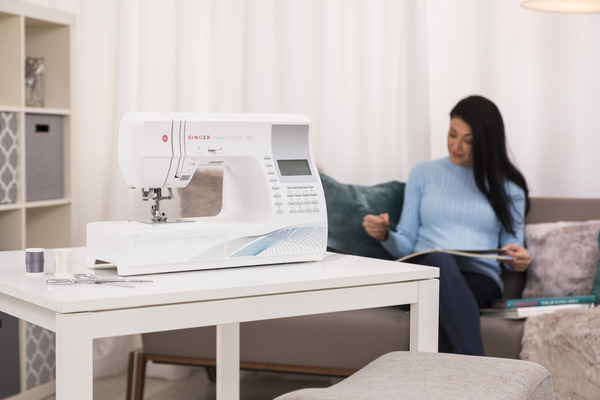 9960-Quantum_Stylist_Lifestyle_Woman_Reading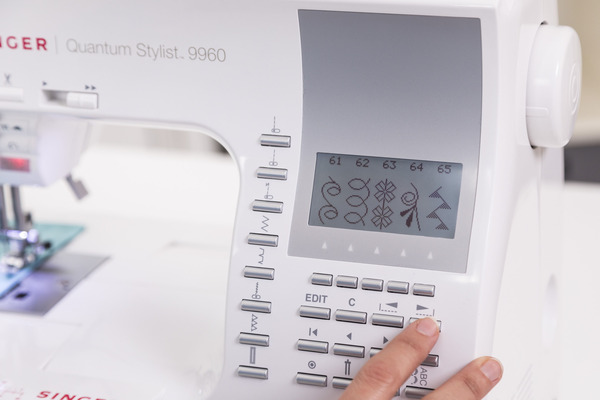 9960-Quantum_Stylist_Screen_In_Use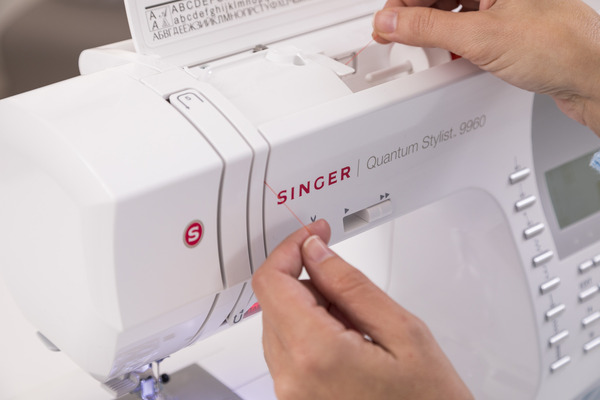 9960-Quantum_Stylist_Threading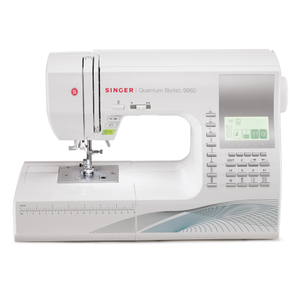 Specifications Model # - 9960 Description - Electronic Sewing Machine Product - Sewing Machine Bobbin Class - Class 15Transparent Needles - 2020 & 2045 Lightbulb - LED UPC - 037431884411 Dimensions - 17"L x 8.25"W x 12"H Weight - 18.2 lbs Warranty - 25-Year Limited
Bundle & Save
Get additional savings when you purchase any of these items along with this product.