Enjoy these 13 puffy fonts. Elevate your embroidery project with these high quality puffy fonts that are ready to add to your Embroidery Tool Shed software.
Includes these fonts:
All Star Puffy

Arial Puffy

Athletic Puffy

Brush Puffy

Chaos Puffy

Greek Arial Puffy

Greek Hero Puffy

Greek Puffy

Kaufman Puffy

Kids Puffy

Old English Puffy

Tiffany Puffy

Varsity Puffy

This font collection is only for use in our FREE Embroidery Tool Shed software.
Specifications
If you own Word Art in Stitches you already own these fonts and do not need to purchase.
Other Images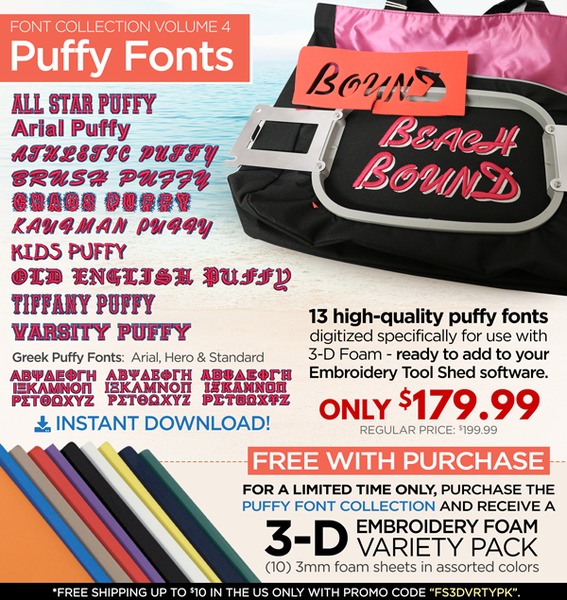 Elevate your embroidery projects with these 13 high-quality puffy fonts - digitized specifically for use with 3-D Foam - that are ready to add to your Embroidery Tool Shed software.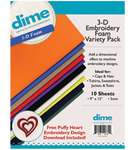 Add 3-Dimensional embroidery designs to hats, clothing, accessories and home decor. 3-D Foam Variety Pack includes (10) 3mm foam sheets in assorted colors including Navy Blue, Yellow, White, Black, Purple, Red, Tan, Royal Blue, Orange & Green - a value of $27.99 available for Optional purchase.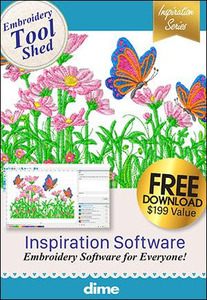 The Puffy Font Collection works exclusively within the Embroidery Tool Shed software. Embroidery Tool Shed is a free powerful embroidery editing software suite that comes with your purchase. Inside the Tool Shed you will also have access to all of DIME ground-breaking embroidery software. Demo any title you wish and buy when you are ready.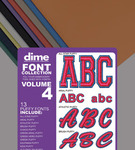 Puffy Font Collection: $199.99 $179.99 Shipping: $10.00 FREE!* YOUR PRICE: ONLY $179.99