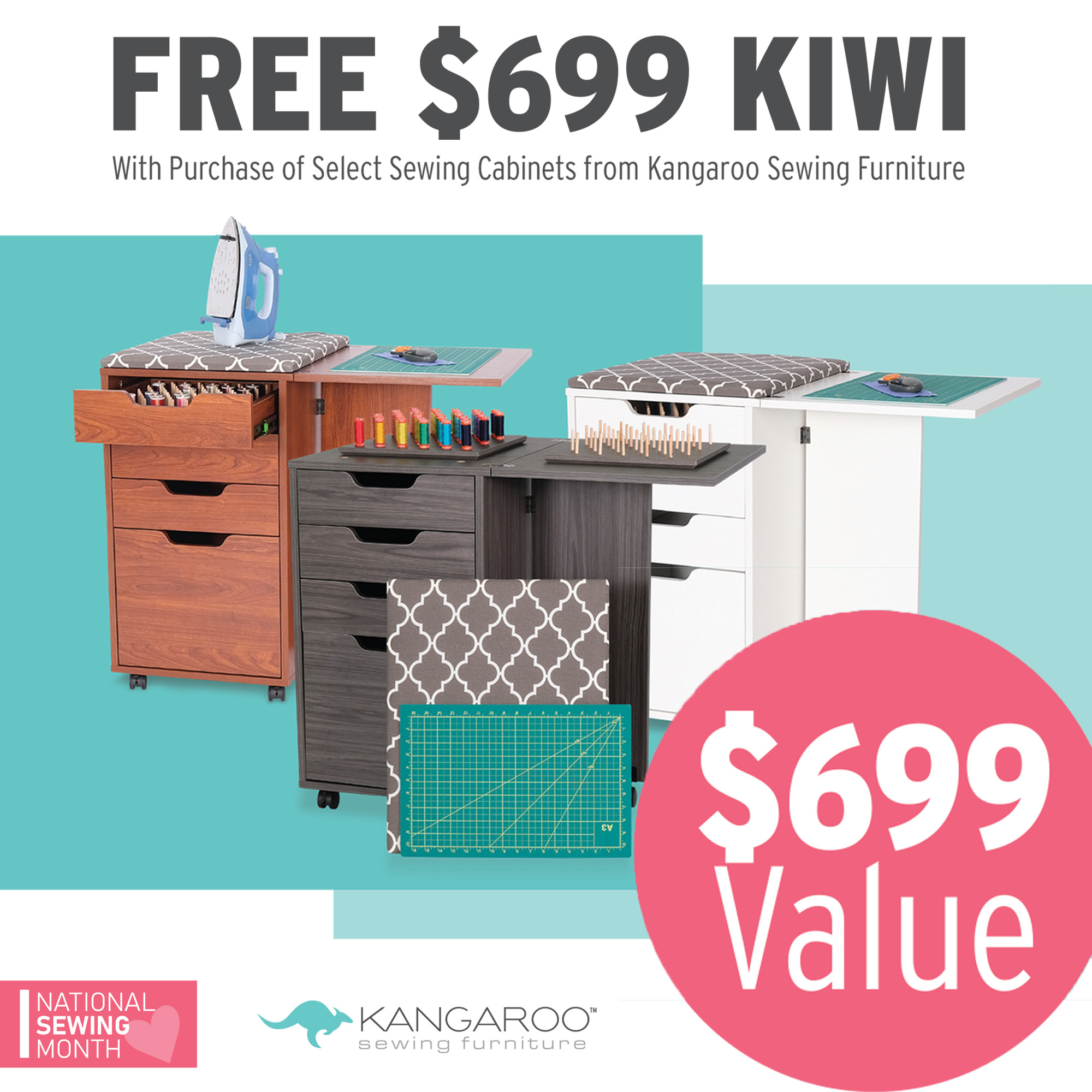 *Ships Ready To Assemble for less freight cost and no damage in transit.
Now with soft-closing drawers!
Sew in comfort with the addition of luxury.
New cabinets in this color will now feature all-teak tops.
Arrow has discontinued production on tan top cabinets to make room for their most luxurious, aesthetically pleasing cabinets yet!
RTA means shipped Ready To Assemble for less package size freight cost and possible damage in transit.
Chair not included
Do you sometimes feel like you need space the size of a continent for your sewing needs? Our Aussie may not be the size of the Australian continent, but it is close! Our Aussie boasts an amazing 31.5 square feet of sewing space, when fully opened with quilt leaf and rolling caddy extended the Aussie is 99 1/2" wide by 80 1/2" deep. Don't let these measurements scare you, when the quilt leaf is folded down and the rolling caddy is tucked under the Aussie measures 99 ½" wide x 22" deep.
With so much surface area the Aussie is ideal for quilting or large sewing projects. The large surface space also means you have plenty of room for multiple sewing machines or sergers.
The rolling caddy can be placed in 2 separate locations on the cabinet and it tucks neatly away when not in use.
The lift mechanism moves your sewing machine up and down in 3 separate positions and is adjustable for all heights of machines.
The wide room in front of the lift allows the sewer to sit comfortably in the correct center needle sewing position.
The quilt leaf extension on the back of the cabinet comes with your Aussie and helps to expand your work area preventing large quilts from falling on the floor behind the cabinet.
Lastly your Aussie features numerous drawers and trays for storage of all your sewing notions and boomerangs. When your sewing is complete safely conceal and secure all your sewing notions and equipment by closing both doors and turning the key to lock them shut.
The Aussie II (K8605) has a beveled edge, so no lip is needed on the custom insert.
The Aussie is offered in Beech, Teak, and Ash White melamine to complement any décor. Adopt one of our Aussies today!
Click Here to View the Kangaroo Cabinet Aussie Assembly Instruction Manual
(.PDF)
US Warranty 1 year limited warranty on defects in materials and workmanship.
Non-US Warranty: 30 days parts and labor
Specifications
Aussie II Cabinet informational sheet
Color: Teak Finish

Closed Dimensions: 49-¾"w x 22"l x 30"t

Open Dimensions: 99 ½"w x 45 ½"l x 29"t

Sewing Machines no larger then: 22 1/8" w x 11 1/8" d

Aussie Assembly Instructional Video:


AirLift:




Arrow and Kangaroo Sewing Machine Cabinet Selection. How to Choose!


Please review our Freight LTL Shipping Policies Ships Ground Freight only.* For delivery please select options. "Lift Gate" which means a goods lifting platform installed at the rear of the delivery truck that facilitates the unloading of cargo from truck bed to the ground. Most shipments will require a lift gate, if there is not a loading dock, or fork lift available for delivery.


Other Images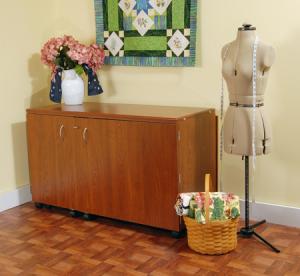 Cabinet closed up for storage with machine on platform inside.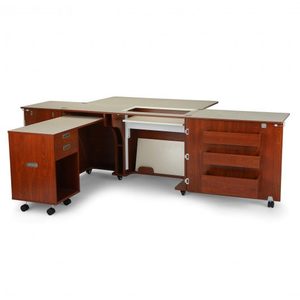 Do you sometimes feel like you need space the size of a continent for your project? Then our Aussie II Cabinet is the perfect solution for you! The cabinet, quilt leaf and rolling caddy included offers 31 ½ square feet of space allowing you to easily take on large quilting or sewing projects.
Candy, Illinois
Talk about speedy delivery...I received my cabinet days before it was scheduled to ship! I received excellent customer service. Prices are great! This is my first experience with your company and I would certainly recommend you to anyone!

Patricia, Florida
Great transaction. Sewing cabinet is worth the money. It takes two hours to assemble the entire cabinetand rolling carta but I am very happy with it. Thanks,Pat