Bundle & Save
Get additional savings when you purchase any of these items along with this product.
*Financing Available*
*Up to 60 Months Bernina Credit Card Fixed Payment No Interest Financing with approved credit! Click HERE to Apply Online.
here
The B 500 is an embroidery only machine that offers embroiderers Pinpoint Placement, Undo/Redo, Group/Ungroup and the Re-arrange design stitch order feature. Additionally, it has 8.5" freearm space right of the needle. Other embroidery features available on the B 500 include: a new Color Wheel and access to a Creative Embroidery Consultant.
Is Your BERNINA Embroidery Module STILL IN THE BOX?!?!
We are excited to announce all new BERNINA branded videos have been added to the existing Embroidery Essentials online course. Click here to learn more about this course: https://sewing-mastery.teachable.com/...​
What do wildly-talented cosplayers love about the B 500? Everything. It's faster than their looming deadlines. It's powerful enough for crazy materials. And its embroidery capabilities are absolutely amazing. Cosplayers loves this machine and so will you!
US Warranty 90 Days labor on defects in materials and workmanship.
Non-US Warranty: 30 days parts and labor
Specifications
For a perfect start to embroidery:
More space for bigger embroidery projects

Jumbo bobbin to embroider longer

Edit embroidery designs via touch screen

Position your design exactly where you want

Achieve finest embroidery results

Included Accessories
B 500 EMBROIDERY ONLY:
1 Presser Foot:
 Drop-shaped Embroidery Foot #26
2 Embroidery Hoops
 Large Oval Hoop and Template
 Medium Hoop and Template
Additional Accessories
 2 Template Holder Clips
 Thread Net
 1 pkg Asst. Embroidery Needles
 USB Connecting Cable
 Instruction Manual
 Power Cord
 Soft Cover
 Small Screwdriver
 Touch Screen Pen
 Oiler
 5 Bobbins (total)
 Seam Ripper
 Lint Brush
 2 Foam Pads
 3 Spool Caps
Other Images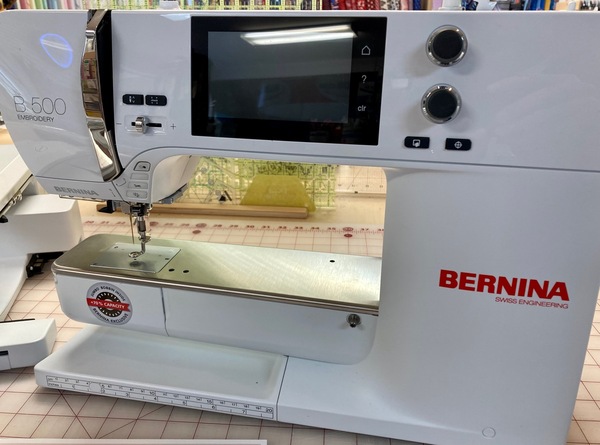 B 500 machine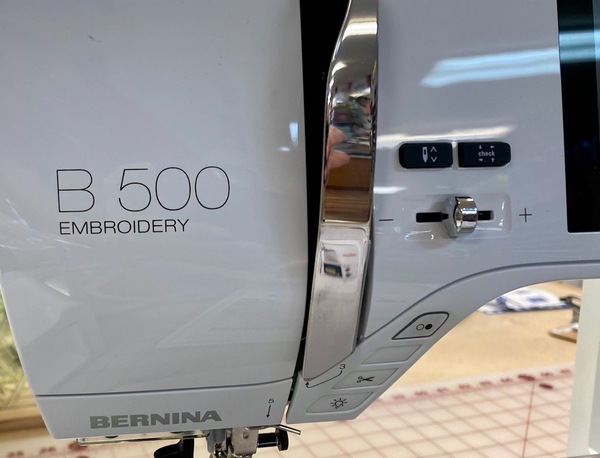 B 500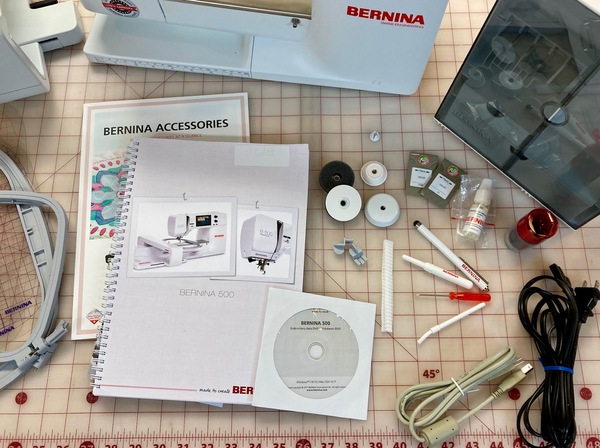 Included accessories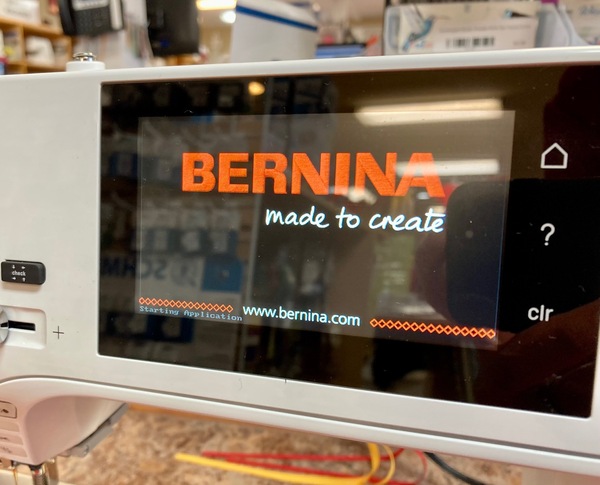 B 500 screen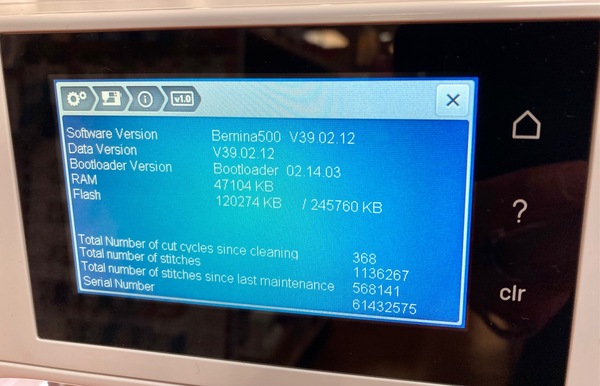 Stitch count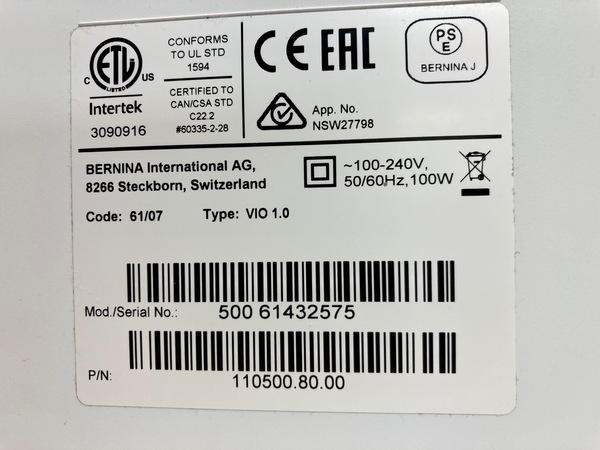 Mod./Serial No.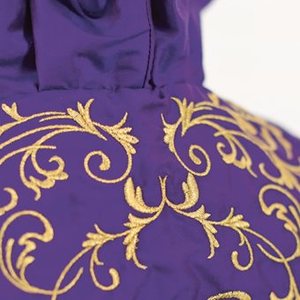 Edit your designs with ease. Simply undo & redo steps. Edit designs as a group or break apart. Customize the stitch-out sequence. With the Enhanced Editing Functions you can realize your ideas directly on screen and use your creativity to create new designs.
Automatic features save time. No manual thread cutting. Press a button to lift the foot. Press a button to cut your thread. The automatic thread cutter operates three steps in one: cuts the thread, lifts the needle and raises the presser foot.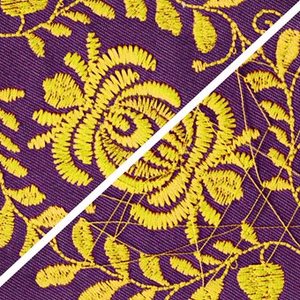 Perfection is the new standard. Manage thread cuts with ease. No manual trimming on top side. Achieve perfect embroidery results. The Thread Away Mode pulls the threads down to the underside for clean embroidery results on the top.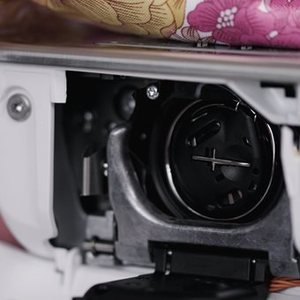 Finest embroidery results for you. Perfect stitches, fast & quiet. Jumbo bobbin to embroider longer. Frontload the bobbin with new thread. The BERNINA Hook keeps the stitches consistent and precise with a maximum speed of 1,000 stitches per minute.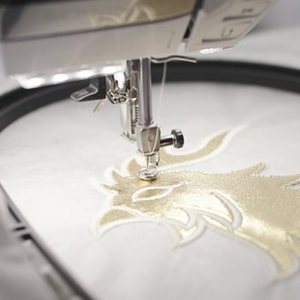 Easy design positioning. Position designs easily and precisely. No need to use the template anymore. Perfect results in short times. Use Pinpoint Placement to position your design precisely: select two points and match them with the markings on the hooped fabric.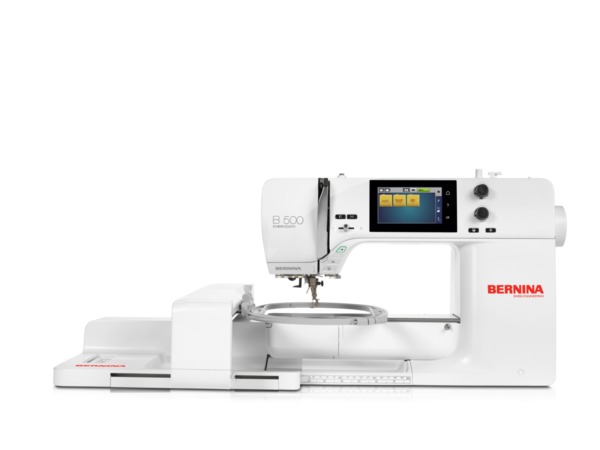 Bernina Trade In B500E Next Generation Embroidery Only Machine with Module, Luggage, 110/240V

Bernina Financing Available