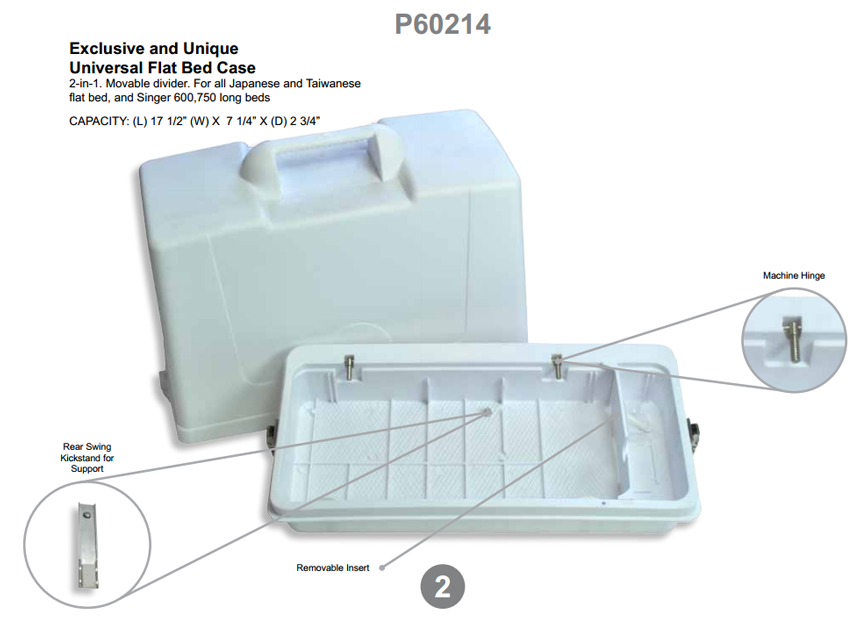 *Remove the plastic insert on the right to make space for longer bed 16 5/8" x 7" Singer Class 15, 15-66, 15-88, 15-89, 15-90, 15-91, 15-99 (this not Singer 99K), 201, 301, Slant O Matic 401 401A 403 403A 404, 500 500A 503 503A , or Touch & Sew 600 to 649, 700 to 758 sewing machines. This case has a removable insert to the right that will accommodate these longer bed Singer sewing machines.
*Note: Longer bed Singer, Touch & Sew, etc. machines require removal of the plastic insert shown, but you lose the notions storage area to the right for these longer bed machines. To determine fit, measure the bed of your machine. If it is approximately 7" x 16 5/8" and the hinge holes along the back side are spaced about 9 3/4" center to center, then it will fit this case. Fits all Japanese and Taiwanese Flat Beds & All Singer Long Bed Sewing Machines.
*Note: Kick Stand prevents the case from turning over when lifting the machine back on it's hinges for inspection, cleaning or lubrication.
*Note. The gap between two pins to hold a machine onto a flatbed cabinet or carrying case is 9 9/16" inches or 24.3cm from center of left hinge pin hole to center of right hinge pin hole.
Hard White Plastic Case is sturdier than traditional wood flatbed cases, or plastic cases with plastic latches.


Does not fit old square corner flatbed, all metal Sears Kenmore, White Rotary, Westinghouse or Domestic sewing machines from 1940's to 1970's that had off standard distance between hinge pins sockets on back of machines.

Please Note: Case bottom can be used with 16.5x7" flatbed, longer 9" arm space right of needle, portable walking foot sewing machines: Alphasew PW400 and Yamata FS388 on AllBrands.com


State of the art design: Sharp looking, rich beige color

Buckle hook: Enforcement design, It wont break.

Comfortable handle: One Piece, easy to grip, durable, will handle heavy machines

Closed Base: No holes on the bottom, never worry about leaks
`Machine Sitting Cushion, to reduce vibration
Specifications
Actual Dimensions width 7" x 17 3/9" length and 9-3/4" from pin to pin.
Exclusive and Unique

Universal Flat Bed Case

2-in-1. Movable divider. For all Japanese and Taiwanese
flat bed, and Singer 600,750 long beds

CAPACITY: (L) 17 1/2" (W) X 7 1/4" X (D) 2 3/4"

Rear Swing Kickstand for Support

Removable Insert

Machine Hinges

OUTSIDE dimensions: 18W X 9D X 16H
Sandra, Illinois
I just loved your website.

Patricia, New Jersey
This case will fit a 15-30 and other series 15 singer machines. However, you can't have the grub screw opening "sit" all the way down on the provided pins as in a traditional cabinet. You sort of position the opening about half-way on the pin, then tighten. If you do this, when you put the machine down, it will sit fully seated on the rests inside the edges. If you slide the opening all the way down on the pin like a traditional cabinet, the machine will not meet the rest area and will fall all the way inside the base. I have tested the machine inside this case with electrical on, and it seems sturdy enough so it is an OK solution - certainly better than paying tons of money for a traditional bentwood case. To make this product better, the pins really need to be thicker and longer, so that positioning is easier of the machine. The depth of the case is just a smidgen too wide to really fit the 15 series well, but if you carefully position on the pins as I describe, it is useable.

Tracy S, Email
Dear John, Thank you so very much for looking into the case for me. I was surprised to receive an initial response from Annette on Sunday. I see you also carry the needles I need for my grandmothers machine. I suppose the kick stand function would be similar with both cases, so it comes down to how much I wish to spend. I will be ordering one or the other from your company. I've seen your company mentioned on sewing patternreview.com many times, always positively. It's nice to find out all the positive remarks are true. Tracy S.

Martha, Wisconsin
Thanks for the great service. The case is very sturdy and good quality. I would recommend your site to others and I will use it again.

Michael, Virginia
My purchase experience has always been excellent with Allbrands. Sewing products are typically my interest. I always check the Allbrands website first. Thank you

Final Touch Decorating, Minnetonka, MN
Your company is A-ONE I have ordered several times and have always been extremely pleased. The prices are outstanding and sometimes even free-shipping is included which is wonderful. Every transaction is smooth and effortless. Thank you!

Ed S., Wrightsville Beach, NC
I am very pleased with every aspect of the experience! How refreshing to find a company that meets and exceeds my expectations. Selection, quality, price, being kept informed, free shipping, excellent product and follow-up will keep me coming back the next time I need to shop on-line for something. Many thanks! PS: Because of the way you do business,I will be telling my friends. Ed