With a slightly rounded point, for trouble-free sewing of numerous types of materials. 1 unit = 1 Magazine (30 Plastic Packs of 10 Needles, 300 Needles in total).
Schmetz Universal Needles are made for the majority of fabrics, woven and knitted alike. The point is slightly rounded for knits, but sharp enough to pierce wovens.
Designed for versatility and a long life, the Schmetz Universal Machine Needle is a valuable addition to your sewing kit. general-purpose needles that are suitable for all kinds of woven or knit materials. You can use these universal machine needles with all household sewing machine brands. Available in a variety of sizes, each sold separately. Always select needle sizes based on the weight of your fabric.
New announcement from Schmetz below! You will know they are chrome needles because it will be listed on the package. Coming late 2021!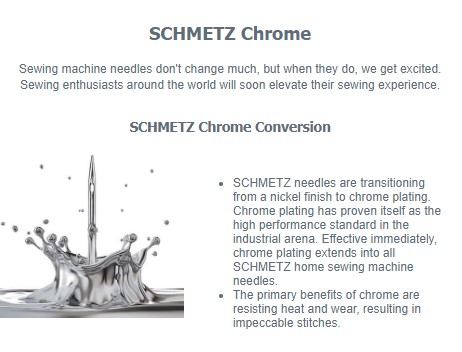 GPC: Home & Garden › Household Appliance Accessories › Sewing Machine Accessories › Sewing Machine Needles