Another Printable Water Soluble! Works just the same as Fabri-Solvy only it has a self-stick back, which is accessed by removing a release sheet. It's like magic for turned applique Stitch it, turn it, and stick it. It holds items in place for hoopless and reversible embroidery. Ideal for accurate placement of loose items when making scarves or thread collages. Photocopy designs onto it, then peel off the release sheet and stick the design in place for Hand Embroidery, Applique, Punchneedle, Machine and Hand Quilting. With no paper component, it washes away quickly and completely every time! For photocopying convenience, it also comes in 8-1/2" x 11" sheets.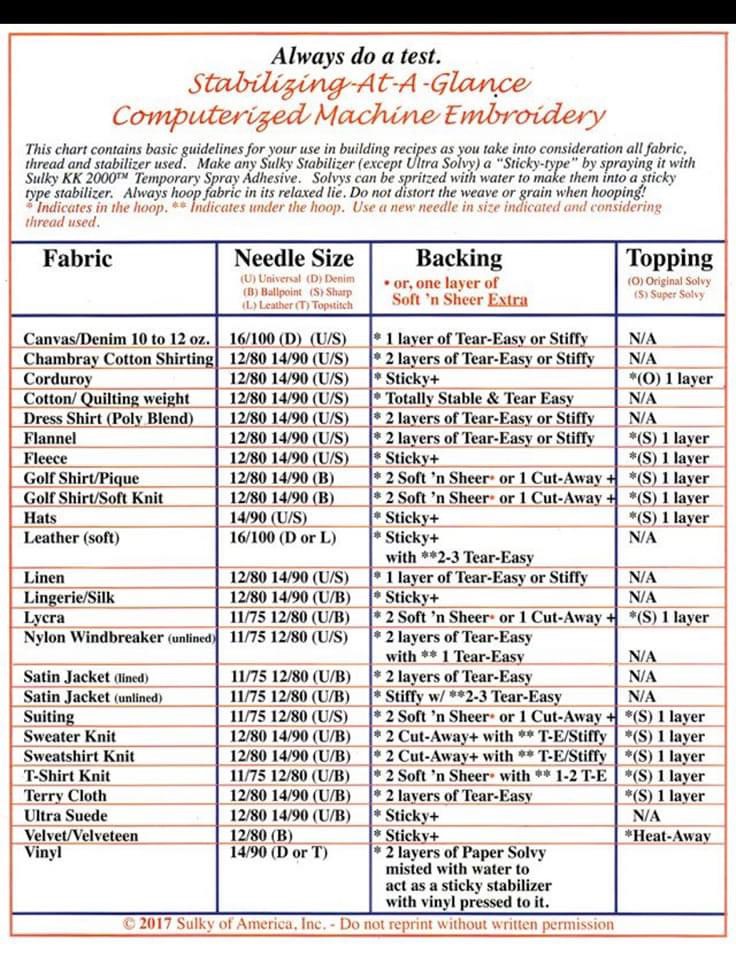 Sulky Sticky Fabric-Solvy stabilizer combines the convenience of pressure-sensitive adhesive with the flexibility of a water soluble stabilizer. It is a printable temporary self-adhesive, fabric-like stabilizer that is ideal for getting your hand embroidery, punchneedle, cross stitch, quilting or other patterns onto your project fabric. Sticky Fabri-Solvy can also be used as a topper or backing which looks, feels and behaves like fabric during embroidery or when used as a design pattern. Perfect for any reversible project since when it's rinsed away, no stabilizer remains on either side. Packaged in a re-useable clamshell storage container to keep your stabilizer fresh and usable for years. All Sulky stabilizers are acid and lead free. Make your own, liquid brush-on stabilizer and save money over bottle brands! Click on the Helpful Hints tab for instructions on how to make your own, liquid brush-on stabilizer and save money over bottle brands!
Backing or Topping: Topping
Brand: Sticky Fabri-Solvy
Color Name: White
Color Number: 8
Hand Weight: Medium
Permanent or Temporary: Temporary
Removal Method: Wash-Away
Width: 8"
Yardage: 6
Specifications
This Unique product has the firmness and feel of fabric allowing a multitude of possible applications. With its non-woven strength and quality, it is perfect for computer embroidery, cut-work, lace making and appliqu . It has the firmness of fabric but it washes away, placing no stress on your beautiful thread work. Featuring a self-stick back activated by removing a release sheet. 8" x 6 Yd Roll