*Fits Grace Frames Pinnacle, GMQ Pro and Little Gracie II. Will not work with older models Grace Frames GMQ and Little Gracie, without the Pro and II suffix in model number.
The Grace Pattern Perfect- Plastic Edition adapts onto the tabletop of your GMQ-Pro, Little Gracie II, or Pinnacle Machine Quilting Frames.
Combine and repeat patterns in interesting ways to create unique designs on your quilt.

The Grace Pattern Perfect—An exciting new way to quilt perfect patterns with ease!

The Grace Pattern Perfect adapts onto the carriage assembly and table top of your Grace Machine Quilter.

The stylus attachment follows the grooves, guiding you through the different patterns and designs on the template.

Achieve proficiency doing perfect, repeatable patterns with very little practice!

Combine and repeat patterns in interesting ways to create unique designs on your quilt!

Does not work on new Grace Sturdy Lite, Start Right or D'Lite frames

Grace Plastic Perfect Videos
Included Accessories
Template Stylus Attachment

Two Template sets with four unique Patterns each
for crib & queen sizes)

Excellent instructions for assembly including directions
and diagrams for different pattern combinations
Other Images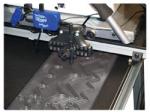 Added Stability: Non skid mat prevents unintentional shifting of templates on the table surface.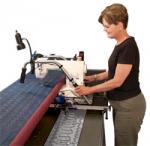 Easy to use: Easy to follow panels guide your carriage almost effortlessly through one of eight patterns, for a perfect patterns the first time and each time you use it.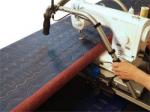 New Stylus: Extra long reinforced plastic stylus that glides smoothly in the pattern channels. The stylus can be indexed in 1/2" increments enabling you to space and offset your pattern on your quilt

Unique Design: Discover a wide variety of combinable and repeatable patterns with these new unique designs!

Everything you need: All materials and hardware are included for you in a light-weight toteable package!
Pamela W, Gastonia NC
Pleasantly surprised to have both shipments arrive earlier than expected. Had one issue that required Customer Service report (manufacturer sent incorrect component), but Kim with Customer Service took care of the issue immediately. I would highly recommend Allbrands.com to family and friends.

Dalton, Texas
Customer Service Very Helpful. Thanks

Gordon, Washington
Product presentation, selection and price were the same on all of the other websites. I have dealt with your company before and was very satisfied with my experiences. That is what made the difference.

Linda, Colorado
Once again, awesome service all the way around!

Mary, Alabama
It is really easy to order from Allbrands. All products are of top quality and reliable. This is my 1st stop when buying sewing and quilting supplies and equipment.