Featured as Money's Best awarded bernette b77 number one computerized machine by Money Magazine on money.com, February, 2021.
* Synchrony Bank Sewing & More Fixed Payments 0% No Interest Financing with approved credit!
Click HERE to Apply Online for Synchrony Bank Sewing and More Credit Card Approval to use for Online Checkout or in AllBrands stores
Bernina and Bernette Machine Warranties
"AllBrands is a Bernina and Bernette Authorized Dealer and Service Center for any repairs including warranty parts and labor. We give unlimited technical support by email, fax and phone. We service machines in our stores. Mass merchants do not have tech service or repair departments for your equipment. They are unable to help you directly, only referring any operational, mechanical or electronic questions back to the manufacturer instead of taking care of problems themselves. Manufacturers and customers should expect that any problems will be taken care of by the dealer or merchant who sold you the equipment, not just by referring your requests back to the manufacturer." John Douthat, Owner & Tech
The affordable sewing machine with lots of extras
* Synchrony Bank Sewing & More Fixed Payments 0% No Interest Financing with approved credit! Click HERE to Apply Online for Synchrony Bank Sewing and More Credit Card Approval to use for Online Checkout or in AllBrands stores
"We were able to sample the Bernette B79 machines. They are a beautifully soft mat finish with sleek soft black details. We were happy to see that Bernette has integrated the BERNINA navigation system, and touch screen! A few other of our favorite features are the large 6"x 10" embroidery area, included Toolbox Editing Software, and the sizing of the machine. It has a 9" arm, but is not too large to move around your sewing room, or even to classes. The integrated dual feed is the icing on the cake! There is no other machine like it in this price range. Combine with our financing for a super affordable, super high tech Swiss Designed Sewing Quilting and Embroidery Machine!"
Barbara Chatelain Product Development Department - Allbrands.com
The affordable sewing machine with lots of extras
The b77 focuses exclusively on sewing and quilting . Get creative and sew your own clothes, quilts, or accessories. Discover new stitches and sewing techniques with this easy-to-use computerized sewing machine. Sew a delicate chiffon dress or a fine leather clutch. No worries, with the b77 it's simple to work with all kinds of materials . Even quilt several layers with an impressive stitch quality. Enjoy the countless creative possibilities of the b77 and get inspired for your next make!
US Warranty 25 years head, 5 years electronics, 1 years labor
Extended US Warranty: Extended Warranty Available
Non-US Warranty: 30 days parts and labor
Specifications
Stitch width 7 mm

Hook system Drop-In

Sewing space right of the needle 230 mm/ 9 inches

Stitch patterns 500

Buttonholes incl. eyelets 17 (1-step)

Sewing speed (stitches/minute) 1000

Electronic Sewing speed (stitches/minute) 1000
Sewing space right of the needle 230 mm
Buttonholes incl. eyelets 17 (1-step)
Stitch patterns 500
Stitch width 7 mm
Hook system Drop-In

Included Accessories
Bobbin (3x)

Spool net

Selection of needles

Brush/ Seam ripper

Spool disc large

Spool disc middle (1x)

Spool disc small

Dust cover

Slide-on table

Felt disc

Second spool pin

Seam guide

Lubricator

Power cable

DC Motor

Screwdriver

Foot control

Free Hand System

Technically Speaking: Updating the bernette 77
The b70 and the b79 both use the BERNINA standard updating process utilizing
a USB drive to transfer the data, but the
b77 does not have a USB port. The update process instead is driven by a separate software program, and the FW is
loaded by means of a special programming cable. We are actually having to reflash the electronic chip.
We are not anticipating any major FW
release for this model, however if you
wish we can make the cable available
under part # 5020209902

Other Images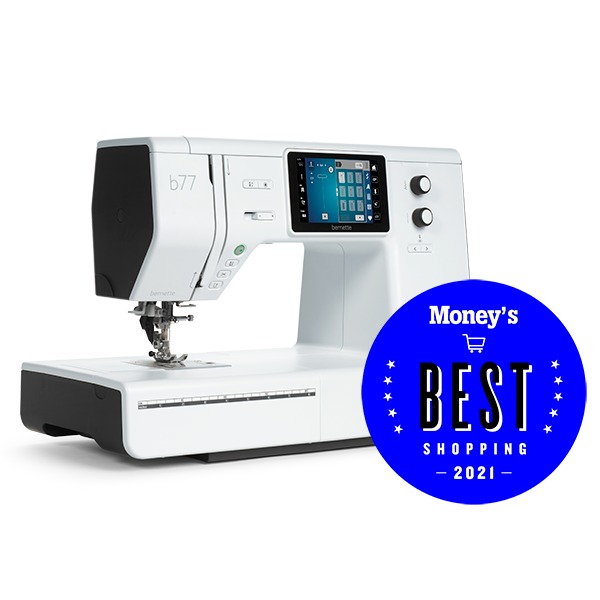 The b77 picked as top computerized sewing machine according to Money.com. "Sleekly designed and easy to use, the B77 by Bernette (part of the Bernina family of sewing machines) is hailed by some reviewers as the best machine they've ever sewn on." 2. Best Overall (Computerized): B77 Bernette Sewing Machine Sewing-Machine Courtesy of Amazon Type: Computerized │ Weight: 22 Pounds │ Max speed: 1,000 SPM │ Stitches Included: 500 Sleekly designed and easy to use, the B77 by Bernette (part of the Bernina family of sewing machines) is hailed by some reviewers as the best machine they've ever sewn on. The Swiss-designed B77 can do nearly everything with the touch of a button — from needle threading, to thread cutting, to reinforcing the end stitches without having to reverse sew. Most importantly, it produces impeccable and even stitching in any type of fabric, from thick folds of denim to slippery, stretchy knits. The 5″ color touchscreen is extremely easy to navigate, and lets you pick from 17 different types of buttonholes and an astounding 500 stitches — subdivided in folders for easier access, including unique ones like animal and plant shapes. The screen even gives you an advanced look at what the stitch will look once you make it. That is, you can adjust the size of the stitch and see on the screen what it will look like. It will also recommend the right presser foot for the fabric, making it great for beginning sewing enthusiasts. Four bright LED lights (most machines have one or two) completely illuminate the workspace, letting you work late into the night if you want to. Unsurprisingly, the B77 is also really fast, reaching 1,000 stitches per minute. As to the drawbacks, Bernette provides a much shorter warranty than other machines — two years on electronic parts; 10 years for the mechanical parts.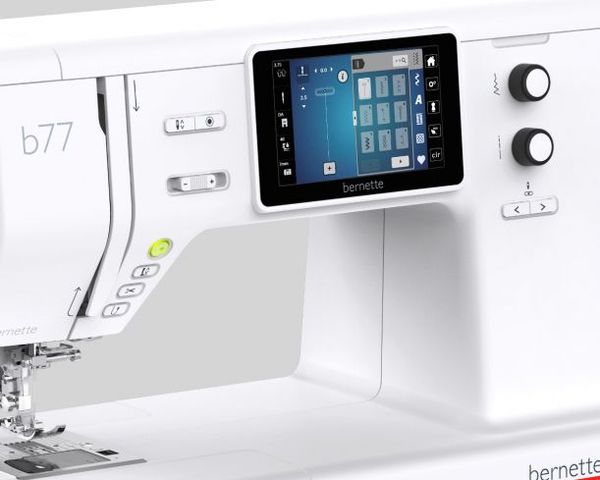 Easy and quick navigation with touchscreen and multi-function knobs

Find and personalize the right stitch and optimize the thread tension by using the 5-inch color touch screen, which is optimally positioned in the center of the machine. Or quickly change the stich length or width via the multi-function knobs, even while sewing. Access the creative consultant for advice on the best stitch for your chosen fabric.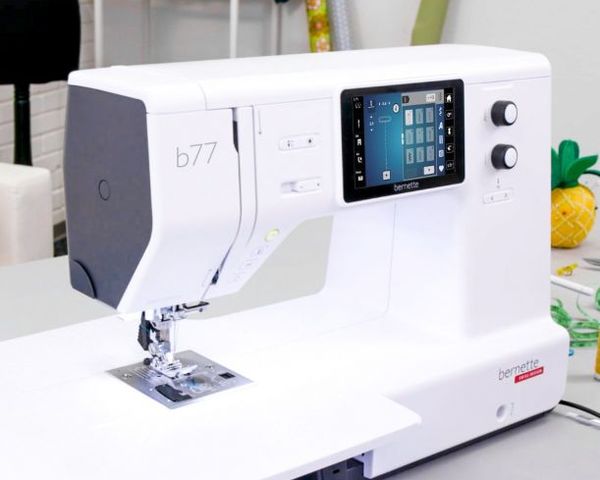 Bright and spacious for fast and accurate sewing

You won't be left in the dark with the four bright LEDs lighting up the sewing area, which offers you 230 mm of space right of the needle. The slide-on freearm extension table gives you extra space and comfort for large sewing or quilting projects.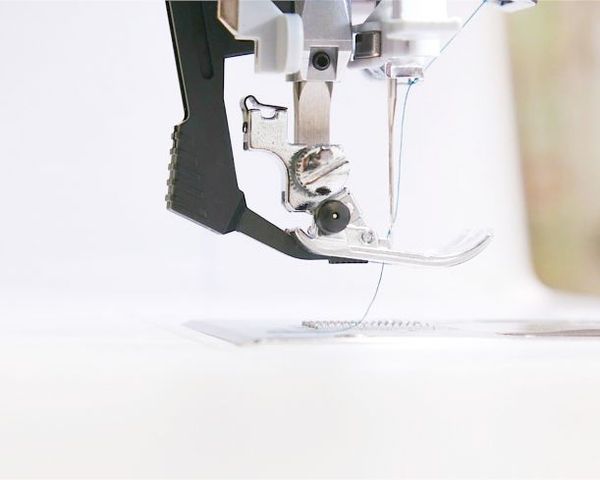 Dual Feed for even fabric feed

The easy-to-engage, integrated Dual Feed makes sure that all kinds of materials are evenly fed from above and below. It's excellent for sewing several layers or smooth and fine materials – no more slipping of layers or puckering of seams.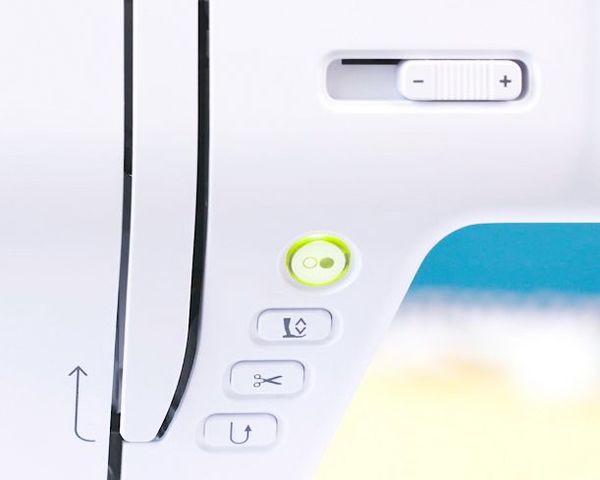 Tie-off function and automatic thread cutter

With the automatic tie-off function you no longer have to stitch backwards to prevent the seam from unravelling. Simply press the tie-off button at the end of the seam. Next, the automatic thread cutter button, the threads are cut, and your seam is finished! You want it even faster? Program these functions for your foot control with back-kick function – tap your heel once, the seam is automatically finished, and the threads cut off!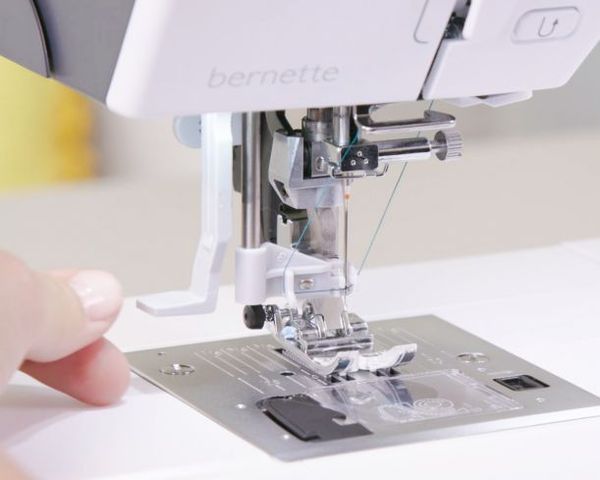 More convenient sewing With the semi-automatic needle threader threading is a breeze – the presser foot is automatically lowered to the correct position and the additional thread cutter holds the thread in place for you. The knee lever for raising or lowering the presser foot will make your sewing even more comfortable, as your hands are free to guide the fabric.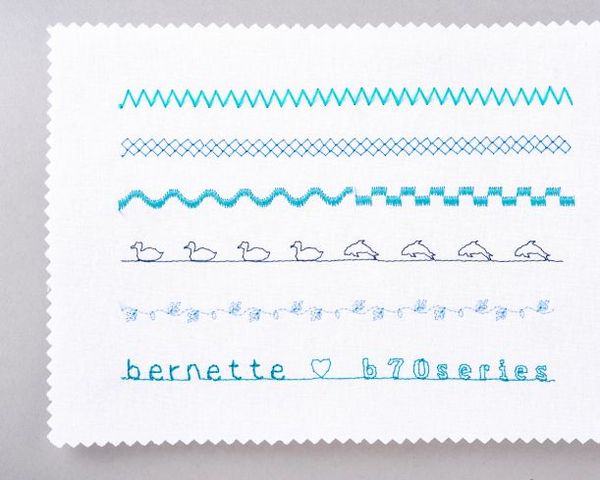 Decorative and quilting stitches for magical embellishments

Of course, you can hem and zigzag stitch with the b77, sew stretchy t-shirt fabrics and even choose between 17 buttonholes. But there is much more than just the utility stitches: create truly exiting embellishments with 133 decorative and 35 quilting stitches. Your individual stitch settings are temporarily saved, and you can store them in your personal memory for future projects.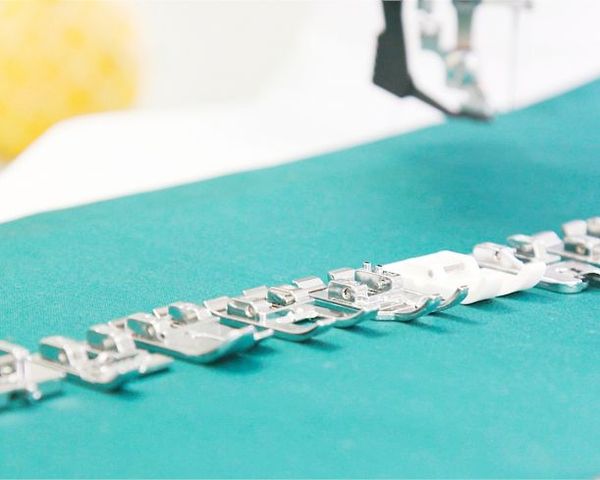 The right presser foot for any application Eight presser foot soles are included with your bernette 77. You can select the appropriate presser foot according to fabric or project. For example, you can choose the zigzag foot for zigzag stitches, the embroidery foot for your decorative stitches and the automatic buttonhole foot with slide for your buttonholes. With the appropriate foot, you can accomplish your sewing project quickly and with excellent stitch quality. The convenient presser foot recommendation indicates the best presser foot for the chosen stitch.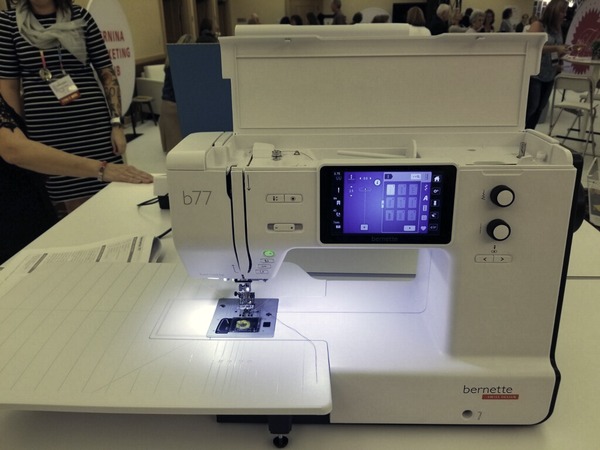 Introduced at the 2019 Bernina Dealer Convention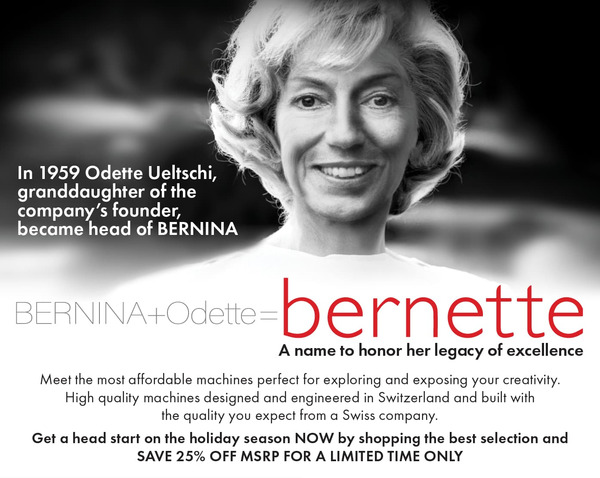 In 1959, Odette Ueltschi took over as head of BERNINA. Her legacy is reflected in the name of the bernette line of machines, which combines the first half of the brand name and the second half of Odette's name.

Since the 1980s, BERNINA has been turning out quality machines at an excellent cost as part of their bernette line.

Bernina Financing Available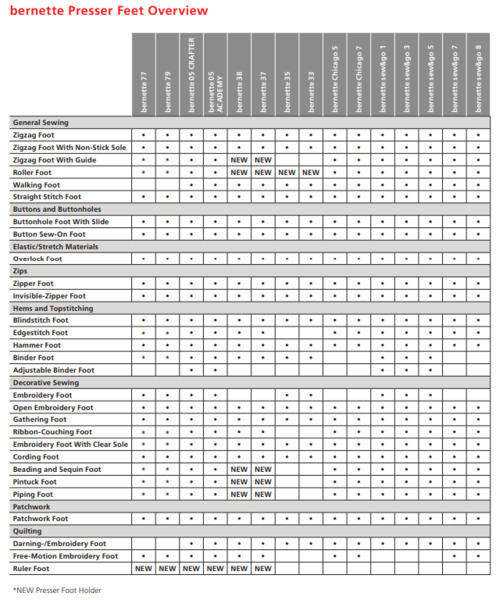 Bernette Compatible Presser foot Overview