Juki J-350QVP machine shown not included in this frame and electronics upgrade.
* Synchrony Bank Sewing & More Fixed Payments 0% No Interest Financing with approved credit!
Click HERE to Apply Online for Synchrony Bank Sewing and More Credit Card Approval to use for Online Checkout or in AllBrands stores
Click here to access the Juki warranty registration form
The Miyabi J-350QVP easily converts from a sitdown to a 5ft, 7ft, 10ft, and 12ft frame.
As a reflection of JUKI's Japanese heritage, the J-350QVP was named Miyabi meaning "Elegance."
Stand up Juki 10' frame that is made by The Grace Company.
Information Below Applies Only to QVP Frame Model, not to Sit Down Model. Handles are not included and not needed for free motion quilting where you are moving the fabric under the needle.
"Just took the Long Arm quilting class at Allbrands and it was awesome. The teacher Kay was so great and full of knowledge. Once you take the class you can rent the machine by the hour to quilt your own quilts!! Sign up, you won't regret it!!" Lisa M
Direct drive motor with metal gears without any belts makes the machine more responsive and quieter. Specifically the motor is built into the head on the main shaft and the lower shaft is turned by a gear, there is no belt noise.
It has 18x10" or 180 square inches of arm space, compared to 118" for Tin Lizzie 18x6", 144" for Handiquilter Avante 18x8", and 144" for Tin Lizzie 24x6" heads. That's 25% more arm space more than 18x8 or 24x6 arms.
Grace All Metal 10 foot 120" frame (expandable to 12 foot 144" frame with optional extension kit)

Compatible with $5000 Grace Quilt Motion, Grace $2000 Creative Touch Pad Upgrade, Robotic Quilting Systems.

Optional Set ups in 5' 60" Crip, 7' Queen, 10' 120" King 10'

Batting Rail Included

Quick Release system for Rails, including those with ratchets or tensioners.

Adjustable quilt frame leg Height up to 7" difference

Optional 2ft Extension to do 7" or 84" and 12' or 144"

Attaching fabric to a Grace Quilting Frame Video:

US Warranty 5 Years Mechanical, 2 Years Electrical, 90 Days Adjustments on defects in material or workmanship.
Non-US Warranty: 30 days parts and labor
Included Accessories
Information Below Applies Only to QVP Frame Model, not to QVP-S Sit Down Model. Handles are not included and not needed for free motion quilting where you are moving the fabric under the needle. What looks like handles are used to hold the LED lights over the sewing area.
Laser Stylus mounted on front handles (or optional rear handles)

3 Wire Safety Power Cord for 110V Plug In

Exclusive screwdriver A9110-700-000 for needle set screw, removing needle plate, etc

Screwdriver A9103-102-000 Flat Blade

Cleaning brush A9137-956-000

Aluminum M Bobbins (4pcs.) 5 Bobbins (1 in machine) D9117-141-E00

Oiler with Oil for Rotary Hook A9102-062-BA0

Needles (134R #18) 10 Needles Size 18, 134R (same as 135x5) MDP-5AAB110T

Spool cap for cylinder spools, when not using cones A1150-090-000

Thread stand components for quilting and bobbin thread supply

Needle Eye Guard Assembly components

Accessory Bag 229-32800

Instruction Manual Book 401-25781

Instruction Manual CD 401-25782

Needle Eye protection safety cover components

Presser bar lifting lever components

Thread guide pin

Masking seal

Optional Rear Handles are $99.99. Optional 2' Extension Assembly to make the 5' frame into a 7' frame, or a 10' Frame into a 12' Frame is which can ship without any extra freight charge. We are adding these options to Recommended Accessories so they can be added to your order. Shipping on these optional accessories

Packaging:

5 boxes, 4 for frame and 1 for machine head
Box contents Weight Length Width depth
1 Legs 64 lbs 45" 41" 6"
2 Frame 53 lbs 64" 26 ½" 5"
3 Rails 79 lbs 66" 17" 5"
4 Stitch regulator and carriage 22 lbs 32" 15" 14"


Most of the parts are already attached on the frame which will cut the assembly by half.

The legs come with the ratchets and feet attached and they are made with 2" steel tubing.

The L brackets are reversible so no or right.

The height needs to be determined and adjusted before assembly.

The frame as is can be set up in either 5' or optional 7' or 10' size. With the optional 2' extension rails which are extra, it can be set up as either a 7' or 12' size.

In the case of the TL98Q, Tl2000Qi or TL2010Q, the idler bar is removed and the hand wheel is moved to the idler rail position. The adjustable height mechanism is now used. A special carriage and regulator is available for these machines.

The ratchets are reversible and easily replaceable with an Allen screw on the inside. You can tighten the fabric either with the ratchet lever on or off.
Machine and carriage:
The machine has to be laid on its back to attach the sewing machine wheels. Leave these screws lose to help align the sewing machine wheels better when put onto the carriage.
Other Images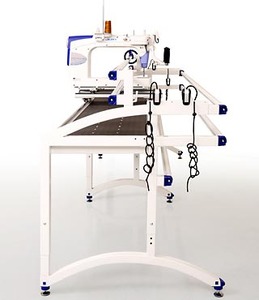 Solid Steel Heavy Duty Frame 10' or 5' Set Up Quick Release Bar System Adjustable Height Optional 2' Extension Four Stitching Modes To Choose From Cruise, Precise, Manual, and Baste. **This listing is ONLY for the 10' frame**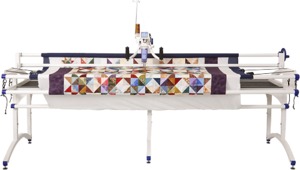 Large Quilting DesignLarge Quilting Design. 18" long x 10" high large workspace ensuring excellent quilting, handling and performance. Ideal for quilting your creative designs.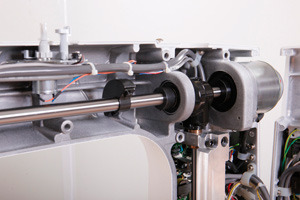 Direct Drive Technology: Direct drive motor allows for smooth, efficient operation while quilting. Low maintenance with hook oiling when needed. Industrial direct drive motor technology made in Japan.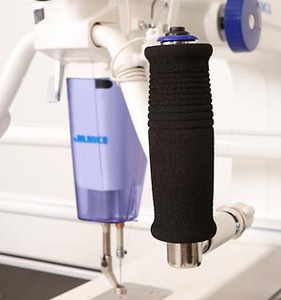 Adjustable Front Handle Bars Front Handle bars with padded hand grips can be adjusted to suit your personal needs. Adjust your handles horizontally, vertically or anywhere in between! This feature gives you a customized position for comfortable quilting from start to finish. Push Button Handle Bar Controls Start or stop the machine with your right handle bar. Control the needle up or down position with the left handle bar. Gliding the TL-2200QVP over large work is a breeze. **This listing is ONLY for the 10' frame**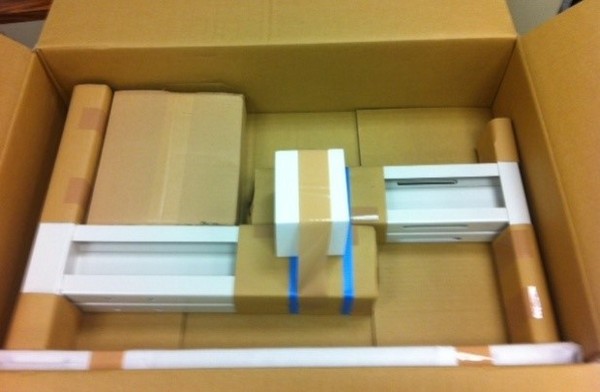 Box containing Additional parts Please note that inside stand Box 11157567 for J-350 QVP , there is a small box containing these additional parts.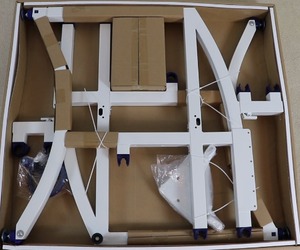 Bottom parts for frame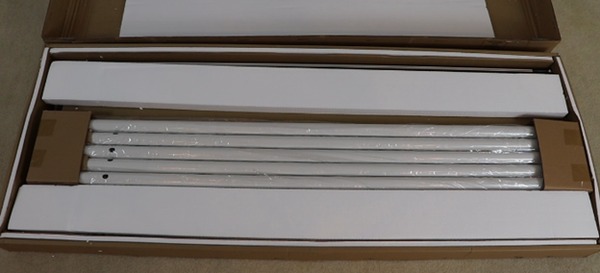 Rails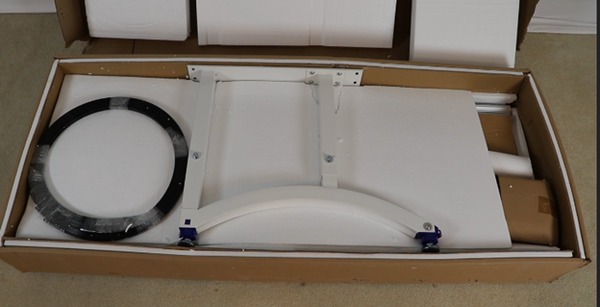 5FT Extension to make 10ft setup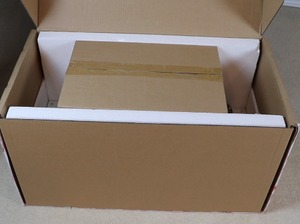 Carriage Handles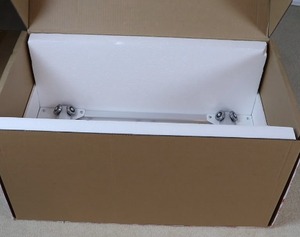 Machine Platform Undercarriage.
MIYABI(Stand up or sit down) Warranty of electronic components including the Sure Stitch module, LCD screen, and handle bars. When under warranty the consumer may and should call Grace Tech Support. They will trouble shoot and provide replacement parts as needed, shipping directly to the customer.
Not under warranty... The consumer should be contacting you the selling dealer and you may order replacement parts from JUKI Parts Dept. Dealers may not purchase JUKI items from Grace directly.