Same Type as Singer 611, 621.01 Carrying Case… Durable, impact-resistant plastic case for storing most sewing and overlock machines; Compatible with all brands of free-arm sewing and overlock machines; Dust-free environment and protection for your machine while it's not in use; Safety "sure-lock" metal latches for added protection; Lightweight for easy carrying; Durable impact-resistant plastic; CAPACITY: 18" (L) X 8-1/2" (W) X 14" (H)  .SINGER SEWING CO 621.01 UNIVERSAL SEWING MACHINE C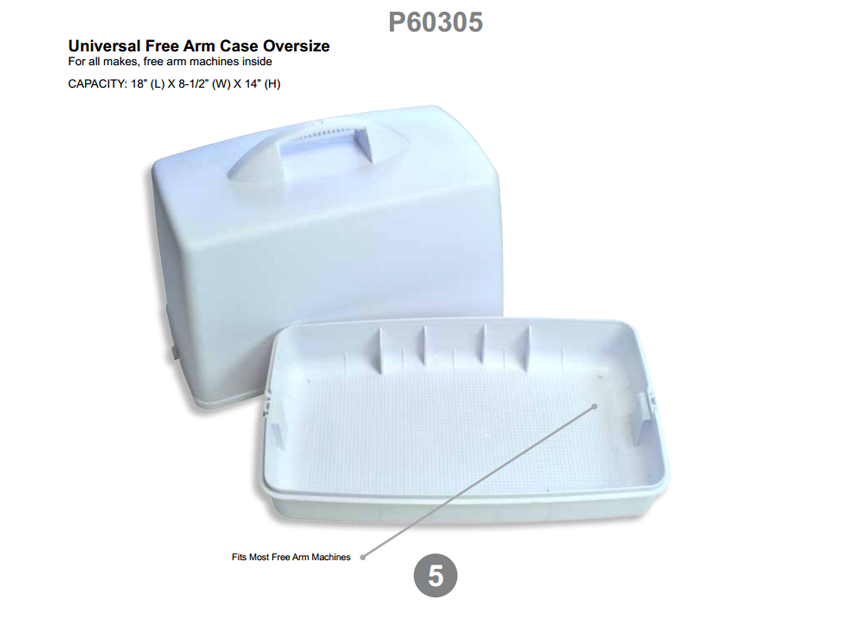 Compatible with most brands of full size free-arm sewing machines and SMALL overlock machines
Will not fit Brother-made embroidery only machines

Provides protection when sewing machine is not in use

Safety "sure-lock" metal latches for added protection

Durable impact resistant plastic

Lightweight for carrying

Attractive snow-white color

Dust free storage

Fits Most Brands Of Free Arm Sewing Machines, or Fits Most Brands Of Overlock Machines

Made in the U.S.A

Dimensions:

Interior: 18" x 8" x 11 1/4"

Singer 611 Carrying Case.Durable impact-resistant plastic case for storing most sewing and overlock machines; Compatible with most all brands and models of free-arm sewing and overlock machines; Dust-free environment.
Manufacturer's US warranty 30 days replacement if defective.
Non-US Warranty: 30 days parts and labor
Specifications
Universal Free Arm Case Oversize
For all makes, free arm machines inside
CAPACITY: 18" (L) X 8-1/2" (W) X 14" (H) Make Sure Your Machine Fits before ordering
Morris, Ohio
Delivered the next day, great service, thanks.

Martha, Florida
So far, so good shopping with Allbrands. I don't go anywhere else now for sewing equipment.

James B., Philadelphia, PA
Great website, fast shipping. I could not have been happier with your service. Thank you.