The machine can be used for the hemming process of the sleeves and bottoms of T-shirts and for the covering process for sportswear and knitwear. It is not a specific-purpose model, but a basic one which can be used for a broader range of processes independently.
The Juki MF-7500 series state-of-the-art machine has been designed through a thorough ongoing study of seam quality. The machine is provided as standard with a great diversity of easily adjusted features to increase applicable types of sewing products. The well-balanced design of the machine achieves low-vibration and low-noise operation even under high-speed mode.
More
Juki MF-7523
Features:
Seams can be adjusted depending on the application or material by changing the thread path or adjusting the thread tension controller, to produce soft and low-tensed seams for inner wear or to produce high-grade well-tensed seams for outer wear.



The optimized thread take-up mechanism and top covering thread path route contribute to an increased stability of top covering stitches. In addition, the machine is capable of performing sewing with a low tension applied to the thread to offer improved responsiveness to the sewing thread.



A differential-feed adjustment mechanism with a micro-adjustment mechanism to provide a constant differential-feed ratio. The differential-feed amount can be easily adjusted to the best suited value for the material to be used.



A feed dog inclination adjustment mechanism to work effectively at securing the material being sewn in place with increased reliability and thereby preventing uneven material feed and puckering.



A micro-lifter to keep the presser foot in a slightly raised position during sewing to prevent slippage and deformation.

JUKI MF7523... 3-Needle, 4 -Thread, Top & Bottom Coverstitch. With Micro-adjust Differential Feed... For 3 needle operations on knit shirts, underwear, sports and leisure wear... Sewing Speed max. 6,500 rpmStitch Length: 1.2-3.6 mm (up to 4.4mm)Stitch length controlled by dialStitch/Seam type 406EFa...


This machine comes in two table mount options:

Semi-submerged: The machine 's needleplate sits about 5-6 inches above the table top (Comes Standard)

Fully-submerged: The machine 's needleplate sits flush with the table (+$200.00 upon special request)

US Warranty 1 year parts, 90 days labor on defects in materials and workmanship.
Non-US Warranty: 30 days parts and labor
Specifications
A needle bar stroke conversion mechanism

Looper thread twining prevention mechanism

Stitch type 3-needle top and bottom coverstitch

Max. sewing speed: 6.500rpm

Stitch length: 1.23.6mm (stitch length can be adjusted to 4.4mm)

Differential-feed ratio: 1:0.71:2

Needle gauge: 4.0mm Optional: 4.8mm, 5.6mm, 6.4mm

Needle: UY128GAS #9S#14S (standard#10S)

Lift of the presser foot: 5mm (with top and bottom coverstitch),

8mm(with bottom coverstitch)

Stitch pitch adjustment: By dial

Differential feed adjustment: By micro-adjustment mechanism

Lubrication: Automatic

Lubricating oil: JUKI Machine Oil 18 (equivalent to ISO VG18)

Feed dog inclination adjustment: Provided as standard

Micro-lifter: Provided as standard

Needle bar stroke converting function: Provided as standard

Silicon oil tank for needle tip

Needle thread: Provided as standard

Cartridge oil filter: Provided as standard

Weight of the machine: head 46kg

PDF Download on Juki MF-7500 Series

Please review our Freight LTL shipping Policies
Other Images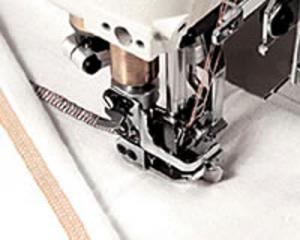 This machine has been developed through a thorough study of seam quality.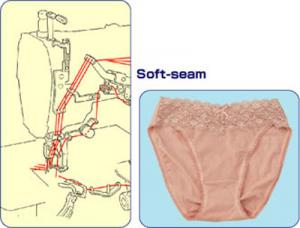 Soft Seam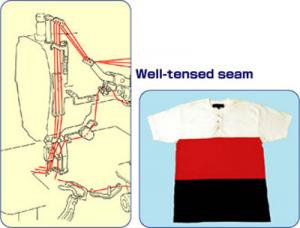 Well Tensed Seam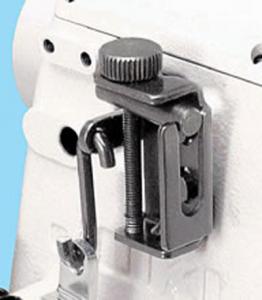 Micro-Lifter Mechanism Elastic material or delicate material can be sewn with the presser foot kept slightly raised. This effectively helps reduce the degree of slippage, warpage and damage of the material.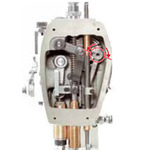 Needle Bar Stroke Conversion Mechanism By changing over the needle bar stroke, penetrating force of the needle as well as thread tension to fit heavy-weight materials (fleece, blankets) can be obtained. The needle bar stroke can be changed by adjusting the eccentric pin. (Changing of parts is not required. Factory-set at the time of delivery: 31mm; for sewing heavy-weight materials: 33mm)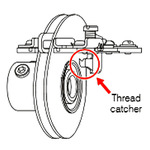 No Looper thread Twining: The rotating part of the looper thread cam shaft is covered to prevent the looper thread from twining around the looper thread cam shaft. A V-shaped thread catcher has been installed on the looper thread cam bracket to easily clamp the looper thread, which is likely to twine around the cam.