Vapamore's flagship steam cleaner, the MR-1000, is the pinnacle in commercial grade, professional steam cleaners
Introducing the Vapamore MR-1000 Commercial Steam Cleaning System
See all 7 Videos on Vapamore MR1000 Forza Commercial Floor Steam Cleaner
The MR-1000 Forza Commercial Steam Cleaning System is the flagship model steam cleaner from Vapamore. Designed with the latest advances in commercial grade, professional steam cleaning, this heavy-duty machine spent over two years in development. The engineers at Vapamore set out to design, from the ground up, the single greatest steam cleaner available—and they succeeded.

Performance, value, and durability were the three top priorities while developing the Forza. This machine features commercial grade steel construction, computer-controlled operation, Italian manufactured CEME® brand internal components, 90 psi steam output pressure, and much, much more. This machine is ETL certified with a lifetime warranty, and a massive spectrum of included accessories.

The MR-1000 Forza Commercial Steam Cleaning System from Vapamore™. Efficiency. Durability. Power.

270-280°F Continuous Steam Tip Temp

90 psi Steam Output Pressure

50 Accessories & Attachments

Italian Made CEME® Brand Components

Techflex® Nylon Braided Steam Hose

1700 Watt Heating Element

Continuous Flow, No Down Time

Specially Designed Stainless Steel Boiler

Computer Controlled Operation

Extra Long 25ft Power Cord

Cupholder!

The Vapamore MR-1000 Forza Instruction Manual (PDF)




US Warranty Lifetime warranty on defects in materials and workmanship.
Non-US Warranty: 30 days parts and labor
Specifications
Power Supply: 120v 60hz

Heating Element: 1700w

Steam Pressure: 6Bar / 90psi

Boiler Temp: 160C / 320°F

Tank Capacity: 4.2L / 1.1gal

Boiler Capacity: 3L / .8gal

Steam Time: Continuous

Heating Time: 9 Minutes

Steam Flow Rate: 40 gal / Min

Power Cord Length: 25 ft

Steam Hose Lenght: 8 ft

Weight: 45 lbs

Certification: ETL

Lifetime warranty

FREE MR-1000 FORZA TRAINING:

Learn use tips and techniques

Technical assistance

Avoid issues from misuse

Successful use for greater income

CALL 480-951-8900

For Free Telephone Training
Included Accessories
Steam Gun and Hose

Accessory Tool Adapter

2 x Jet Nozzle

2 x Detail Scraper

4 x Nylon Grout Brush

4 x Med. Nylon Brush

4 x Large Nylon Brush

4 x Small Brass Brush

4 x Large Brass Brush

4 x Large Stainless Steel Brush

4 x Cotton Cover

Large Elbow Adapter

Floor Head with Bristles

Floor Head with Smooth Surface

Triangle Corner Brush

2 x Extension Tubes

Smooth Surface Squeegee

Detail Jet Tool

Bed Bug / Fabric Tool

4 x Micro Fiber Floor Pad

Accessory Storage Bag

Funnel

Water Bottle & Holder
Other Images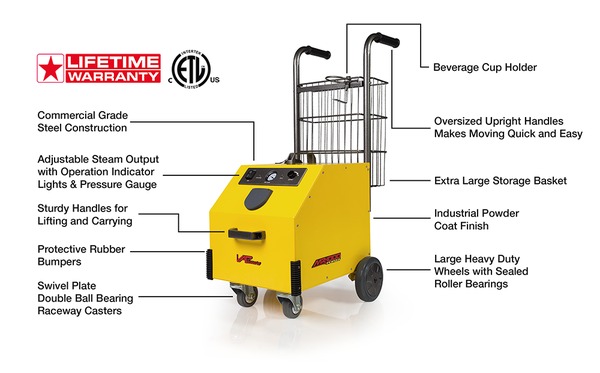 Vapamore MR1000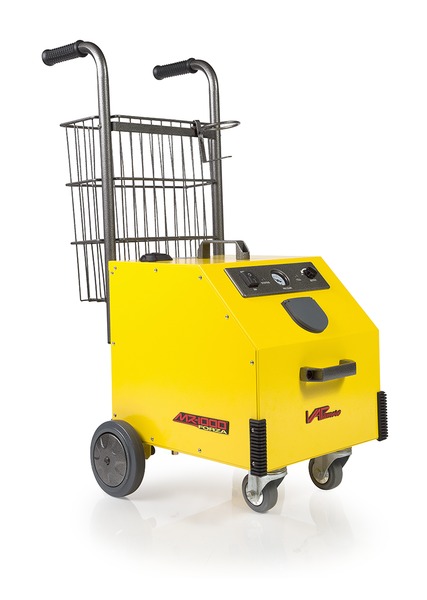 Forza Commercial Floor Steam Cleaner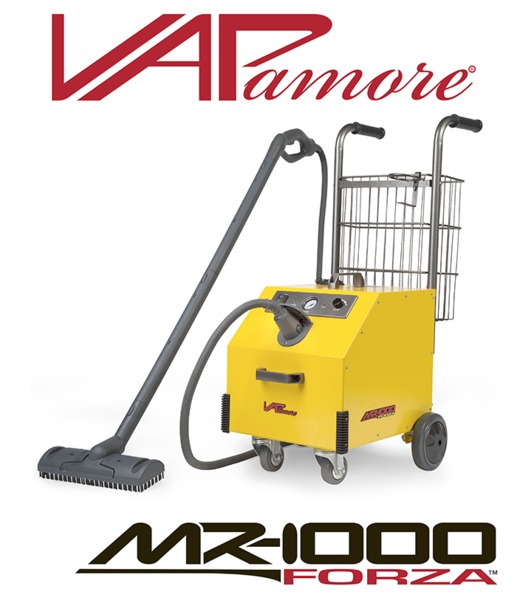 Technical Specifications: Power Supply: 120 V 60 Hz, Heating Element: 1700 W - 14 A, Steam Pressure: 90 PSI, Boiler Temperature: 320° F, Tank Capacity: 1.1 G, Boiler Capacity: 0.8 G, Steam Time: Continuous, Heating Time: 9 Minutes, Steam Flow: 40 Gal/Min, Power Cord Length: 25 ft, Steam Hose Length: 8 ft, Weight: 45 lb, Certification: ETL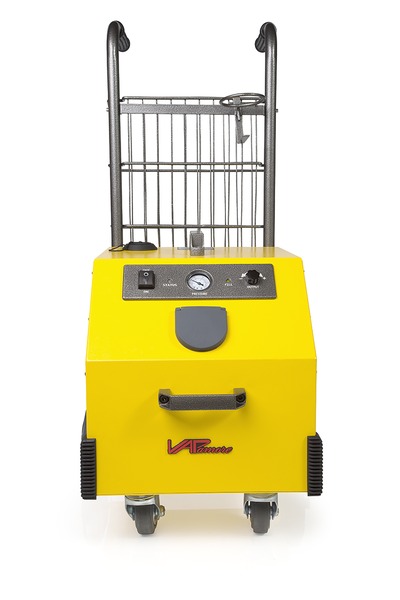 90PSI +50 Tools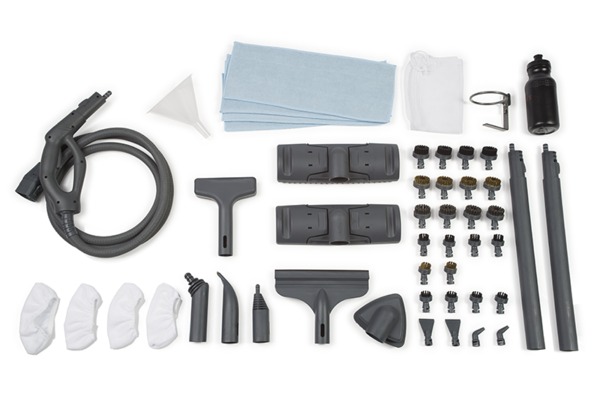 Includes: Steam Gun and Hose, Accessory Tool Adapter, 2 x Jet Nozzle, 4 x Detail Scraper, 4 x Nylon Grout Brush, 4 x Medium Nylon Brush, 4 x Large Nylon Brush, 4 x Small Brass Brush, 4 x Cotton Cover, 2 x Extension Tubes, 4 x Large Stainless Brush, 4 x Large Brass Brush, 4 x Micro Fiber Floor Pad, Large Elbow Adapter, Floor Head with Bristles, Floor Head Smooth Surface, Triangle Corner Brush, Smooth Surface Squeegee, Detail Jet Tool, Bed Bug / Fabric Tool, Accessory Storage Bag, Funnel, Water Bottle & Holder