*Missng flip up lid top cover NLA, which does not fit when the included SA562 King Spool Thread Stand is installed. .
*Financing Available** Synchrony Bank Fixed Payment No Interest Financing with approved credit! Click HERE to Apply Online for Synchrony Bank Credit Approval
Your sewing and embroidery journeys become one with the Baby Lock Unity. A sizeable, 7" x 12" embroidery hoop opens the door to larger embroidery designs. Plus, numerous innovative features powered by Baby Lock IQ Technology™ further enhance your creative journey. Precision-dedicated, IQ powered features, such as the Digital Dual-Feed System and the Sensor Pen make sewing and embroidery easier. Effortlessly blend your love of sewing and embroidery with the Baby Lock Unity.
NEEDLE BEAM FOR EMBROIDERY
The Needle Beam highlights the exact needle position on the fabric to ensure perfect design placement.
SENSOR PEN FOR SEWING
Use the Sensor Pen to tell your machine exactly where you want your needle and stitches positioned. You can use the pen to designate stitch width, placement, and a stopping point on your fabric.
SENSOR PEN FOR EMBROIDERY
Use the Sensor Pen to assign the design positioning and placement. Simply touch the fabric with the Sensor Pen and the Unity knows where to place the design.
GUIDE BEAM FOR SEWING
Pave your stitching path with a beam of light. The Guide Beam makes continuous stitching easy to keep straight.
DIGITAL DUAL-FEED SYSTEM
The new Digital Dual-Feed System makes it easy to achieve consistent stitches. Whether feeding a difficult fabric or multiple, thick layers the Digital Dual-Feed System will keep the fabric feeding evenly for complete control.
COLOR LCD TOUCH SCREEN
Clearly see the details of your designs, quickly set the correct stitch, and change your machine settings on the large, color LCD. This screen measures 7" diagonally and displays up to 260,000 colors so you will know what your designs and stitches really look like before you sew.
PUSH BUTTONS AND LARGE WORKSPACE
Convenient push-button features give you more freedom to focus on your project. Raise and lower the needle or presser foot, cut threads, reinforce stitches and thread your needle with the push of a button. Pair this with a large workspace (11.25" to the right of the needle) and you'll be ready for projects of all sizes.
NEVERMISS™ AUTOMATIC NEEDLE THREADER
The NeverMiss™ Automatic Needle Threader does exactly what it promises. It's never been this fast or easy - the Unity threads your needle with little more than the push of a button.
QUICK-SET, TOP-LOADING BOBBIN
When you're ready to sew, simply drop a bobbin in and go.
BABY LOCK IQ TECHNOLOGY™
Baby Lock IQ Technology is what makes Baby Lock machines so smart and efficient. IQ Technology works with the "brain" of your machine to help achieve exactly what you desire.
ERGONOMIC, HANDS-FREE PRESSER FOOT LIFT
Raise the presser foot by simply moving the attachable lever with your knee. This leaves both of your hands free for extra control on detailed stitches.
US Warranty 90 Days labor on defects in materials and workmanship.
Extended US Warranty: Extended Warranty Available
Non-US Warranty: 30 days parts and labor
Specifications
NUMBER OF HOOPS INCLUDED: 2

ON-SCREEN EDITING

ROTATION CAPABILITY

TOTAL NUMBER OF USB PORTS: 2

COMBINE DESIGNS

NUMBER OF USB TYPE A PORTS: 1

BUILT-IN DESIGNS: 266

NUMBER OF USB TYPE B PORTS: 1

BUILT-IN FONTS: 19

DESIGN DUPLICATION CAPABILITY

NUMBER OF NEEDLES: 1

DATA INPUT TYPES: .pes, .phc, .pec, .dst

EMBROIDERY PATTERN MEMORY

FRAME PATTERNS: 140

EMBROIDERY SPEED: 1050 SPM

MAXIMUM EMBROIDERY FIELD SIZE: 7" x 12"
Included Accessories
Sensor Pen and Holder
Touch pen (stylus)
USB cable
Knee lift
12 Presser feet
• Digital Dual-Feed System Foot
• Buttonhole
• Overcasting
• Monogramming
• Zipper
• Zigzag
• Blind stitch
• Button fitting
• Straight stitch foot
• Embroidery foot with LED pointer
• 1/4" Quilting foot with a guide
• Free-motion open toe quilting
Alternate bobbin case for use with pre-wound bobbins
Specialty bobbin case for bobbin work
Cord guide bobbin cover
Straight stitch needle plate
Soft cover for machine
Bobbins
Spool cap assortment
Seam ripper
Twin needle
Embroidery bobbin thread
Embroidery hoops and grids included
• 7" x 12" (180mm x 300mm)
• 5" x 7" (130mm x 180mm)

*Missng flip up lid top cover which does not fit when SA562 King Spool Thread Stand is installed on top.
Other Images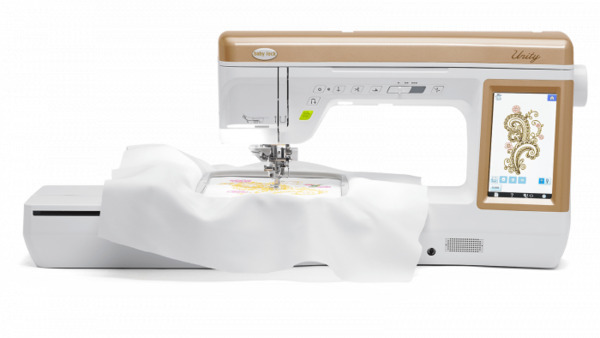 Babylock Unity BLTY TradeIn Sewing +7x12" Embroidery Machine USB, Laser Straight Stitch & Beam, Serviced w/Accessories +SA562 King Spool Thread Stand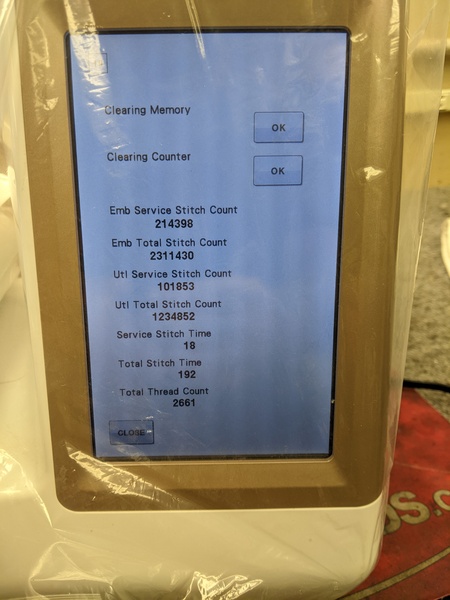 Stitch Count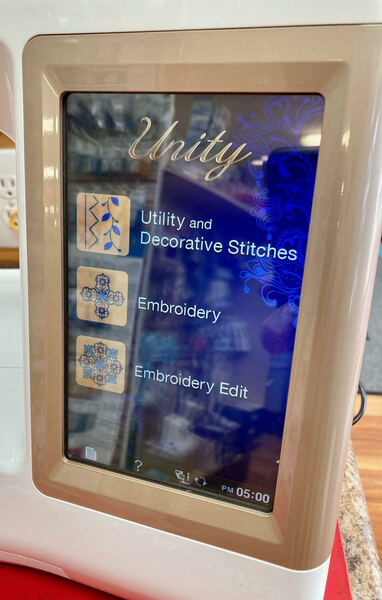 Babylock Unity BLTY screen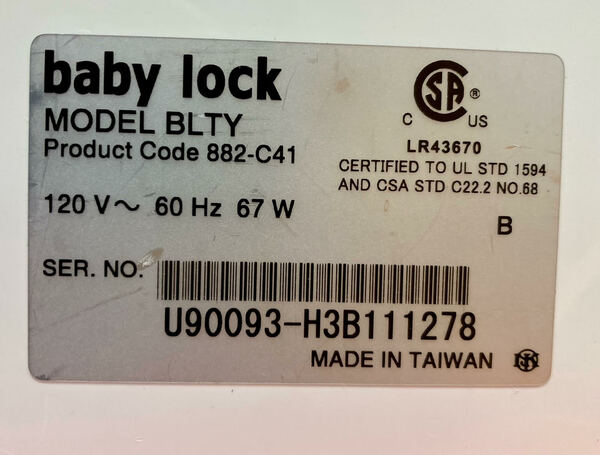 Babylock Unity BLTY serial number
Babylock Unity BLTY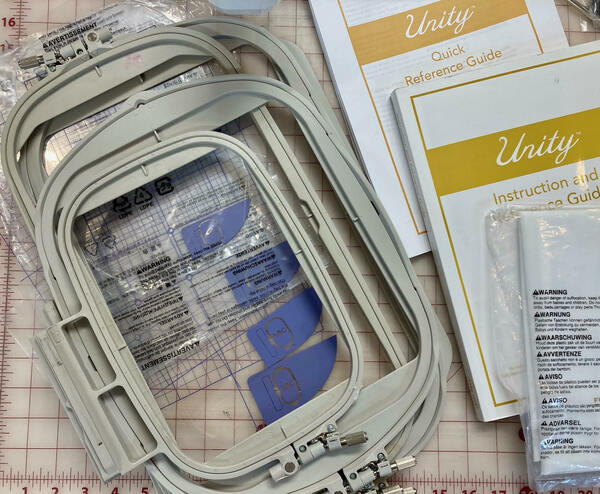 Babylock Unity BLTY included frames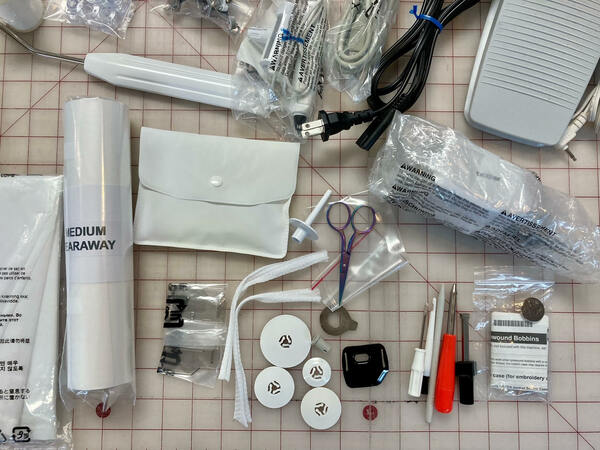 Babylock Unity BLTY included accessories