Stick and Tear (AKA: SIA | STICK IT ALL)

Float Your Fabric!

Non-Gumming, Stick and Tear (SIA & Stick-it-All) is a Pressure sensitive adhesive backed tear-away stabilizer that sticks to the back of our embroidery frames, allowing you to attach your fabric to it rather than hooping your fabric within 2 hoop frames.

Stick and Tear is required to hold the fabric in place on our hoops preventing distortion and shifting of the fabric.

In some cases no other stabilizer is required such as on caps, purses, and heavy weight fabrics.


Specifications
8.5 in x 20 foot roll | Stick and Tear (SIA & Stick-it-All)

If you don't want any stabilizer on the back of your embroidery when done, then you will want our Stick and Rinse Stabilizer!

If you have the Creative Feet Octi-Hoops, you will use 12" for the widest frame and the 8.5" for the smallest.
Other Images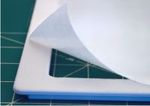 Creative Feet Stick and Tear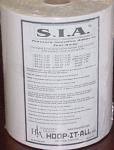 SIA Stick It All 8.5 in x 20 ft Roll

Stick and Tear 8.5 in x 20 ft Roll. Designed for use in embroidery hoops like the Octi-hoops and any embroidery hoop that requires stabilizer backing to use. Available in a wide variety of roll widths and lengths. Be sure to pull down the arrow to choose the size that works best for you.
Denise M, Berlin MD
great experience, will shop again for sure