Includes 9mm Presser Foot Lift, to 2.5 SPI Stitches Per Inch, to 10mm Stitch Length, KD Knocked Down Unassembled Power Stand and 3300SPM Motor, FREE 100 Organ DPx17, 135x17 Industrial Upholstery Sewing Machine Needles Box of 100 - Specify Size 20+ for #69-270 thread sizes.
For sewing light to heavy-weight materials such as leather, vinyl, upholstery, synthetics, canvas and various coated and laminated products.
Designed for stitching such products as auto, boat and furniture upholstery, tarpaulins, covers, sails, tents, camping trailer covers, awnings, umbrellas, tops, bags, luggage, handbags, travelware accessories, sports and camping equipment, wearing apparel, outdoor clothing, canvas shoes, slippers, orthopedic appliances etc.
Flat-bed style machine.

Can sew very heavy materials .

Low noise.

Easy maintenance.

Minimum difference in stitch length between forward and reverse feed.

Top and bottom feed system.

Foot alternating lift mechanism.

Available for sewing leather,syntetic leather,canvas,etc.
US Warranty 30 Days labor on defects in materials and workmanship.
Non-US Warranty: 30 days parts and labor
Specifications
Speed, Max. 3300 Stitches per minuet

Stitch Length, Max 2 1/2 stitches per inch

Needle System 135 x 17 / DPx17

Hook 10833

Clearence under foot 9 1/16" (14mm)

Bed Size 7" x 18 7/8" (178 x 478mm)

Stitch Type Straight Stitch Only (301)

Model : GEM 0818

Sewing materials :heavy weight

Needle stroke : 35mm

Stitch length : 0-8mm

Needle :DPx17 (#18-#24)

Sewing speed avg :2000 s.p.m

Height of presser foot :6/13mm

Measurments :575x255x530mm

Motor :clutch motor

Net weight :25.5/30 kg

Extra long stitch - 2 1/2" S.P.I. (10mm).

Large bobbin. Bobbin can be changed without removing article being sewn.

Thread release finger (for heavy thread).

Centralized arm lubrication.

Reservoir-oiled hook with micrometric control valve.

All gear driven hook mechanism.

Simple adjustment permit raising and lower of the center foot which allows for sewing different thickness of materials and thus assures positive stitching.

Walking feet, needles and other attachments interchangeable with most older walking foot models.

Needle plate, foot and feed dog can be changed for special operations.

Standard attachments easily installed.

Compound feed, walking foot mechanism insures even feeding of material.

Please review our Freight LTL Shipping Policies
Ships Ground Freight only.
Other Images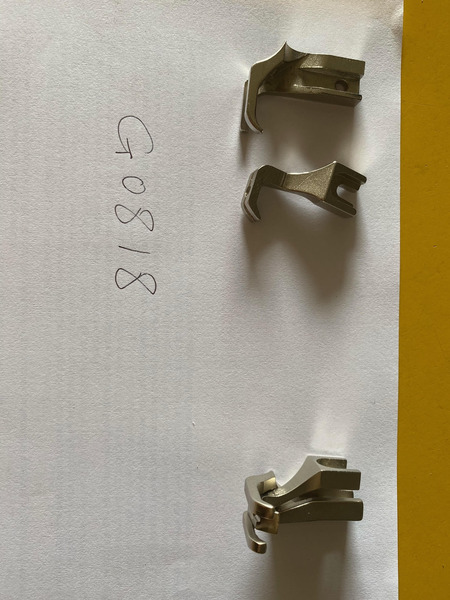 The G0818 is one kind of Heavy duty compound feeding machines, the standard working foot set as photo attached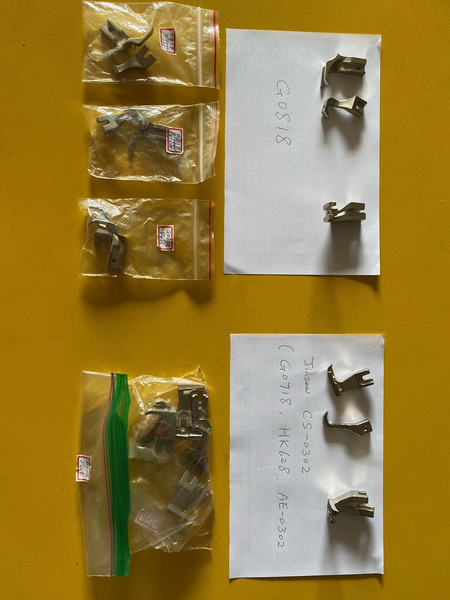 Now we don't have the G0818 compound feeding machines in Miami FL stock available, but still have the standard foot set and Zipper foot set (left or right) for G0818 in Miami FL stock available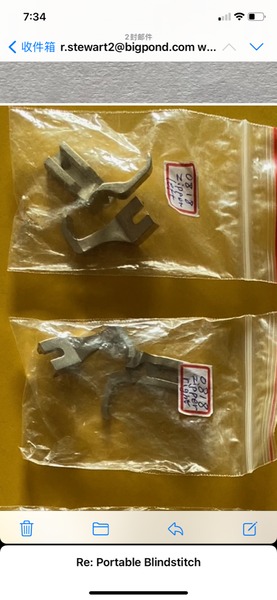 we only have one set of zipper feet left and one set zipper feet right at $30 each for G0818 machines in stock available as photo attached