Solid performance at an affordable price, the L460 offers quality features at a great price. From threading to stitching, you can count on a quality finish, without compromise.
The L460 comes complete with unique BERNINA features including the Free Hand System (FHS), Micro Thread Control (MTC), adjustable needle up/down options, and more! This machine is sure to be a favorite for sewing on knits and woven fabrics. Innovative features make BERNINA overlockers delightfully easy to use, ensuring professional quality and usability. The overlocker is the perfect companion to a sewing machine.
BERNINA L460 Key Features:
BERNINA Knee lifter FHS

BERNINA foot control for fine speed adjustments

Needle stop up / down

Kickback foot control

Stitch-by-stitch sewing

DC Motor

Up to 1500 stitches/minute max

Safety features with LED light when presser foot is raised or machine covers open

Large catch tray

Extension table included

BERNINA L460 DETAILS:

New BERNINA Free Hand System (FHS)

BERNINA foot control with needle up/down

Extension table

DC Motor

Micro Thread Control (MTC)

5-step adjustable presser foot pressure

1,500 stitches per minute

Serger Basics with Bernina's Sandra Swick



Bernina Overlockers at a Glance

Bernina Overlockers Workbook

Bernina L460 Mastery Workbook
US Warranty 5 Year Warranty
Non-US Warranty: 30 days parts and labor
Specifications
Sews, cuts and finishes seams in one operation for efficiency and with precision

Easy and comfortable to handle even for beginners

2-3-4 thread stitch formations provide the most flexibility in selecting the perfect stitch

Professional stitch quality each time

Excellent rolled hemming

Perfect for stretchy and woven fabrics

Ruffles and gathers light fabrics automatically with differential feed

Easy & ergonomic threading with the manual needle threader

Easy threading with built-in lower loooper threader

Two bright LED lights illuminate the sewing area as well as the looper threading area

Free-Hand System (FHS) for knee–operated presser-foot lift

Exact speed control - allows stitch by stitch sewing and top speed of up to 1500 stitches per minute

Slide-on table for more space

Needle auto-stop in up position

Click heel on foot pedal to quickly lower needle into work

Bernina L460 Serger Manual

Bernina L460 QuickStart Guide to Threading and Test Sewing

BERNINA overlocker/serger L 460: first steps, stitching preparationThe BERNINA overlocker/serger L 460 offers a wealth of creative possibilities. The machine allows you to sew, cut and trim all at the same time and in a single pass. Despite its professional equipment and wide range of features, the BERNINA L 460 is easy to operate and offers a high degree of sewing convenience and ease of use. In this first video, you can see how to set up the L 460's basic settings in a few very simple steps. Using these basic values, you will already be able to realise some of your projects. As a result, you will have the opportunity to start the first sewing project on your new BERNINA L 460 after only a few moments and a quick set up – a successful start.

BERNINA overlocker/serger L 460 / 450: threading and sewing, 4-thread overlockOverlock/serger sewing with 4 threads is easy with the BERNINA L 460 and L 450. You will even be impressed with your BERNINA overlock's excellent usability right from the threading stage: the accessory is always on hand in the hook cover, and coloured markers show you where to position the thread. As a result, all four threads can be threaded in a jiffy and your BERNINA is ready for your sewing project. The clever threading system saves you time and stress, as you can keep track of your project at all times and can start concentrating on your needlework after just a few simple steps. Easy operation, a high degree of sewing comfort and precision -- simply BERNINA.

Review

WHAT IS DIFFERENTIAL FEED? Bernina Blog February 13, 2019, by Jaime David

OVERLOCKER FOR BEGINNERS—AN INTRODUCTION TO SERGERS, April 4, 2020, Hayley Grzych Bernina We All Sew Blog
Included Accessories
BERNINA Presser Foot included (1)
Standard overlock presser foot

Upper looper converter

Seam guide

Set of needles

Tools and accessories stored in door

Trim catching tray

Dust cover
Other Images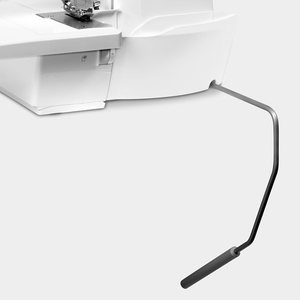 BERNINA Free Hand System FHS Knee Lever for Presser Foot and Tension Release.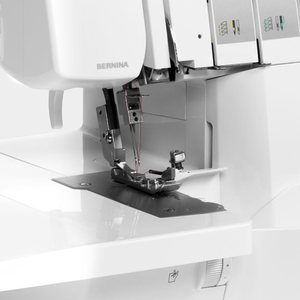 DC Motor gives more power and better speed control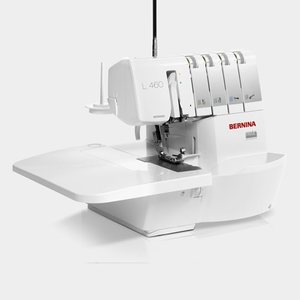 Slide On Table for More Work Space.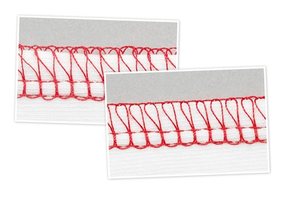 Micro Thread Control MTC. ONE STEP ADJUSTMENT FINE TUNES LOOPER STITCHES TO FIT THE CUT EDGE REDUCES TEST SEWOUTS LOOKING FOR THE PERFECT STITCH CREATES PROFESSIONAL SEAMS AND PERFECTLY FINISHED EDGES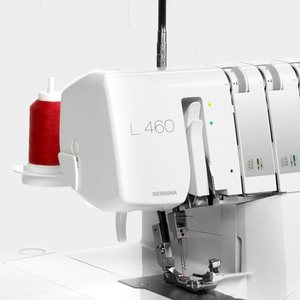 Easy Threading.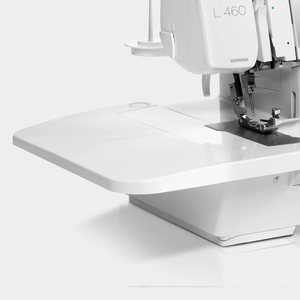 Brightly Lit Workspace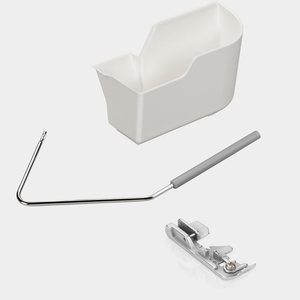 Waste bin for trimmings. Knee Lever. Presser Foot. Accessories are stored inside Looper Cover.
New Adjusting Tool for the
L450/L450 Available
Good news, we have now received the
final adjusting tool for the L450/L460.
We have made many changes to the
different looper and overall adjustments
to increase the overall performance of
the machine, and to eliminate skipping
stitches with certain fabrics, threads and
machine sewing settings.
Please compare the gauges next to each
other and see the different measurements.

Please dispose of the original gauge #
22850 and order the new gauge # 22948,
the tension calibration reset gauge #
22844. The service manual is available
on Infogate under US-65564-5 or
click here.
It is most important that all (original
and latest machines are being adjusted
using ONLY the new final gauge
22948.
Using the original gauge for any adjustments
causes major issues with current
machines and does not resolve skipping
issues with original machines