*Note:
*Requires Purchase of EMS Hoop Tech Dream T-Bar Gauge Clamp for the Dream Cap Frame- Please Specify Machine.
*Also requires the Brother Driver from the original PRCF3 Cap Equipment Box*.
For Brother PR600, PR620, PR650, PR650E, PR655E, Babylock EMP6, BMP6, Happy, Tajima, Toyota, SWF, Ricoma, ZSK
The override bracket is not sold separately. It comes with any Dream Frame (599733 & 599734) that is sold for the Brother PR & BabyLock machines.
Introducing the Hoop Tech "Dream Frame" Cap/Hat Hooping Frame
This is the next generation of EMS style cap frames. It was specially designed with the larger field embroidery machines in mind like Brother and Babylock.
New "DREAM FRAME" features include:
• Backing clips to hold your stabilizer in place during framing.
• Internal retaining fingers for proper bill alignment.
• A spring steel bill retainer that sets and holds the bill angle.
• View ports to use as alignment guides during framing.
• Lighter frame design (20% less weight) than the original.
• Extended saddle for easier installation on driver.
• Open design Top Clamp.
• Large sewing field
The stitch quality of the Dream Frame is even better than the original EMS style cap frame and it's easier to frame using the redesigned T-Bar Framing Gage Seen in the recommended accessories below:
DREAM FRAME demonstration by Hoop Tech Products:
Important Notes:

*The Dream T-Bar Gauge clamp is required to use this Cap Frame

*You must have an existing Cap Driver from the machine manufactuere to connect to your machines.

There is a metal cap that covers the machine's hoop sensor which tells the machine a Cap Frame is attached. For each sew out press the layout icon for trial run to ensure the needle will not hit the hoop while sewing.
NOTE: When using hoops on your Brother machine that are non-Brother hoops you may have to do a trial layout. Make sure the needle or foot will not hit the frame when it is sewing.
Click To Download PR Drive Modification Instructions
Other Images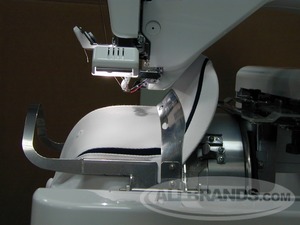 The innovative spring steel bill retainer holds the lower front of the cap and helps to eliminate flagging.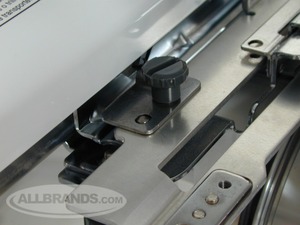 The existing Sewing Field Override bracket lets the PR owner take advantage of the larger sewing field available on the dream frame Hoop Tech includes the Override Bracket for Brother PR600 and Babylock PR6, BL EMP BMP Machines.Please be sure to do a trail layout to ensure that your needle does not hit the frame while sewing.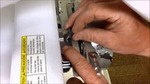 Overide clip installation on PR machine
Lynn P, Denham Springs LA
Very satisfied with the service I received as this was a replacement to a previous order that was ordered incorrectly. I had the pleasure of meeting Blaine and explaining my situation and Eugeny and Jenny have been most helpful in resolving my issue to my satisfaction. Thank you.