*Requires EMS Hoop Tech Dream T-Bar Gauge Clamp for the Dream Cap Frame Made in USA, Larger Height and Less Width Sewing Area than PR Cap Equipment, for Brother PR655, PR1000, PR1000E, and Babylock ENT10 BNT10 10 Needle Embroidery Machines.
Note: The override bracket is not sold separately. It comes with any Dream Frame (599733 & 599734) that is sold for the Brother PR & BabyLock machines.
Introducing the Hoop Tech "Dream Frame" Cap/Hat Hooping Frame
This is the next generation of EMS style cap frames. It was specially designed with the larger field embroidery machines in mind like Brother and Babylock.
New "DREAM FRAME" features include:
• Backing clips to hold your stabilizer in place during framing.
• Internal retaining fingers for proper bill alignment.
• A spring steel bill retainer that sets and holds the bill angle.
• View ports to use as alignment guides during framing.
• Lighter frame design (20% less weight) than the original.
• Extended saddle for easier installation on driver.
• Open design Top Clamp.
• Large sewing field
The stitch quality of the Dream Frame is even better than the original EMS style cap frame and it's easier to frame using the redesigned T-Bar Framing Gage Seen in Recommended accessories below:
DREAM FRAME demonstration by Hoop Tech Products:
Important Notes:

The Dream T-Bar Gauge clamp is required to use this Cap Frame.

Can be used with existing Brother/Babylock Driver. but it is recommended that you use the Dream T-Bar Gauge for optimum results.

There is a metal cap that covers the machine's hoop sensor which tells the machine a Cap Frame is attached. For each sew out press the layout icon for trial run to ensure the needle will not hit the hoop while sewing.
NOTE: When using hoops on your Brother machine that are non-Brother hoops you may have to do a trial layout. Make sure the needle or foot will not hit the frame when it is sewing.
Click To Download PR Drive Modification Instructions
Specifications
Stitch Area
Maximum height: Approximately up to 4"
Maximum width Approximately 5.5"- 6"

Note:Manufacturer does not recommend embroidering to the maximum sewing areas depending on the capabilities of your machine. Sewing too close to the top of the cap or too close to the bill could compromise the quality of your stitch. A realistic measurement of the stitch area would be somewhere between 3" to 3.5" tall and 5" to 5.5" wide without losing registration.

Override Installation Clip on PR Machines









Other Images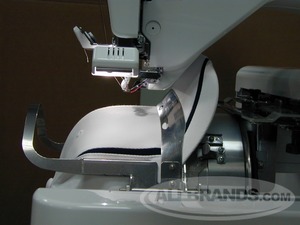 The innovative spring steel bill retainer holds the lower front of the cap and helps to eliminate flagging.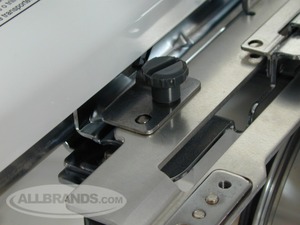 The existing Sewing Field Override bracket lets the PR owner take advantage of the larger sewing field available on the dream frame. Hoop Tech includes this override Bracket for Brother PR1000 and Babylock ENT BNT 10 Machines. Please be sure to do a trial layout before sewing to make sure the needle never hits the hoop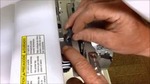 Overide installation on PR1000 machines