The Home Hobby Table offers a perfect platform to work on your crafting, sewing and quilting projects. It features a smooth, laminated working surface and stands firm on a sturdy metal frame with electro powder coated finish and a wood grain trim. Fitted with strong locking wheels, you can easily shift this portable hobby table from one room to another. You can also fold the sides for easy storage. This table stands at a comfortable height for your convenience.
Shipping weight 62 Lbs, Dimensions: 38x26x6" calculated from Chicago, Illinois to your zip or postal code delivery address *We do not ship Sullivans cabinets or tables outside of USA 48 States.
Completely supported 36" x 59 1/2" laminated work surface

Set at a comfortable 36" height

Sturdy, lightweight metal frame with locking casters

Folds into a compact size as shown.
US Warranty All parts will be received in good condition, and replacements are available upon receipt for any defective or missing parts.
Non-US Warranty: 30 days parts and labor
Other Images
Folded down for storage. Sullivans 12570 Home Hobby Craft Cutting Table 60x36x36"H on 6 Casters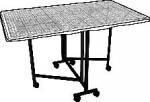 Shown with Optional Sullivans 12572 36x59" Heat Resistant Grid Ironing Table Cover with Drawstring . Iron sheets, draperies, and other large-scale items. A grid on the cover allows you to do quick measurements as you work.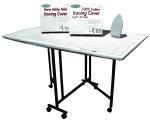 Turn your Home Hobby Table into the largest ironing surface in your house! This item is Heat Resistant Silicone Ironing Cover/Pad and visit here to see 100% Cotton Cover/Pad.
Diane T, Hammond LA
Very pleased with the selection offered at All Brands.

Ralph T, Parkersburg WV
The craft table was not as sturdy as expected.

Laura P, Fort Mohave CO
I am happy with my purchase and will in the future order from your company. The table is a little wobbley but in the reviews some mentioned this. With just using as a cutting table for my quilting needs, I feel it is going to work out wonderfully.

Laura P, Fort Mohave CO
I am happy with my purchase and will in the future order from your company. The table is a little wobbley but in the reviews some mentioned this. With just using as a cutting table for my quilting needs, I feel it is going to work out wonderfully.

Dorian L, Highlands Ranch CO
Dear Mr John Douthat, Recently I was considering purchasing a Sullivan's Home Hobby Table from allbrands.com. There were some details about the company's policy for returns that I needed to have clarified, so I called and spoke to Heather Clouatre. The information that I got from Heather satisfied me that allbrands would be a good company to purchase from. Heather was very helpful and courteous and she went the extra mile to give me whatever help I needed. When some parts were missing in my package, she got those parts sent off to me in short order. Then later she called me to make sure that I had received them. I was very impressed with the help I got from Heather and I feel that she deserves a raise. She was the single factor that made me want to purchase from your company and you certainly wouldn't want to let her get away. Sincerely, Dorian L. A happy customer

Dorian L, Highlands Ranch CO
Dear Mr John Douthat, Recently I was considering purchasing a Sullivan's Home Hobby Table from allbrands.com. There were some details about the company's policy for returns that I needed to have clarified, so I called and spoke to Heather Clouatre. The information that I got from Heather satisfied me that allbrands would be a good company to purchase from. Heather was very helpful and courteous and she went the extra mile to give me whatever help I needed. When some parts were missing in my package, she got those parts sent off to me in short order. Then later she called me to make sure that I had received them. I was very impressed with the help I got from Heather and I feel that she deserves a raise. She was the single factor that made me want to purchase from your company and you certainly wouldn't want to let her get away. Sincerely, Dorian L. A happy customer

Cynthia S, Ridgewood NJ
I also bought two machines from you--everything is great!

Linda Zimmer, USA
I was excited to have a cutting table so that I could quit stooping over the cardboard cutting board on a bed. My husband assembled the table without any problem. The size is adequate for the space that I use. The height is great. It's a great idea, that didn't make it. The table is not steady. It wants to fall over if I lean across to reach something. It was not worth the money as it is unstable and practically falling over. I use it propped up with an heavy ottoman wedged by the middle legs, or it would fall over. It is not engineered correctly and is junk as far as my experience goes--needs more bracing. The top is nicely done, but I'm looking for something else, two Wal-Mart bookcases and a cheap plywood door would be so much better. Please do something about the way this is engineered and quit taking people's money for this because it is not stable unless someone would want to use brackets and or extra legs and fasten it to a wall.

Alan, Alabama
Unbelievable customer service support!!! Amazing response and help!! Greatly appreciated the excellent communication and help!!! Thank you!

June Hansen, Arkansas
Bought mine at Hancock's Fabrics in Arkansas and was very unhappy with it. I ended up giving it away. Hancock's had put it together and I think they did it wrong so I couldn't get the legs braced right to make it solid for cutting. I loved the size of it and also the height.

Glenn, Arkansas
Very good thanks!

Deborah, Kentucky
My table arrived in a timely manner, well packed and pristine when it came out of the box. I am very pleased with the ease of ordering, product selection and price I paid. Thanks for a great experience!

Pamela, Florida
I am extremely happy with my recent purchases from AllBrands.com and will definitely buy from you again!

Sandy, Ontario, Canada
Thank you for such good service the hobby table arrived sooner than expected, the box was damaged but the table wasn't. I always hesitate ordering from the USA to Canada but your company was able to give me the total price including shipping and duty so there weren't any surprises on my visa. I will not hesitate to order again and would recommend this to a friend.

Rexanna, Washington
I like the height and the versatility. I am a bit disappointed in the sturdiness. Although, for what it is I am not sure how this could be rememdied... Thanks

Sheila, New York
Shipment was quick. Great company!

Sheila, New York
Shipment was quick. Great company!

Jeff, Virginia
Great job. Sewing table arrived quickly with all required hardware. We will use AllBrands in the future.

Rita, Florida
Thank you for following up. This kind of customer service isn't often seen anymore. The table I ordered is perfect for me and the price was right too. Thanks for shipping quickly, too! All the best.

Shirley, Canada
I am very pleased with the customer service and speed of delivery. The table is great very easy to put together and I am very pleased with it.

Gerald, Minnesota
Best price. Never had to talk to anyone. Just a couple of clicks and it was on its way. Thank you for a very painless experience.

Mark, Virginia
I've shopped your site in the past and was completely satisfied. Keep up the great work.

Geneva, Arizona
Would buy again!

Mary, Iowa
I will have no hesitation in ordering from AllBrands. You have been prompt and courteous. Thank you.

Carroll, Missouri
The directions for assembly weren't as clear as they could have been. We got the two side pieces reversed and had to take them off and put back on correctly. The directions made no mention that two sides were not the same and to be careful how you placed them. We are pleased with the cutting table.

Jan, Missouri
I was pleased with customer service, delivery too. So far I like the product.

Tess, Minnesota
The table was not as sturdy as I thought it would be but it will do.

Deborah, Washington
Fast delivery time/ I will use this company again.

Candice, California
Product was as described and service was fine along with the price being right.

Ina, New York
Quick Delivery

Charles, Illinois
Very pleased

Dianne, New Jersey
product was as advertised. Shipped promtly. Put together with relative ease. Very satisfied.

Customer Service, Sullivans
To attach the legs, turn the table upside down on the floor, position the legs and the clamps, and with a screwdriver, fasten clamps so that table is stable, making new holes if necessary. Do not overtighten the screws.

Daniel, Texas
Would recommend your site, and buy from you again.

Roberta, Florida
I love my table,Idon't have a lot of room and it's perfect when not in use. The only problem we had was putting it together,my husband had to drill some holes to meet the frame.I'mglad I found the sight and will use it again Thank you Mrs Roberta St.Clair

Della, New Jersey
Thanks to AllBrands for another large purchase that turned out great! First my wonderful sewing machine and now my cutting table. This is the continuation of a beautiful friendship! Thanks!

Edward, Texas
A part was missing one piece - I called Sullivan's and got great response - they found the order immediately and shipped the part in a day or so. Great customer service!

Carolyn, Maryland
I'm a Happy Camper!

Lee, New York
I love your company. I have bought many things from you and I have never ever been let down. thanks!!!!

Alissa, California
Very satisfied with purchase and service.

Jane, Mississippi
My first order from you was a great experience. I'm sure I will be ordering again. Thanks.

Michael G, Elizabeth City CA
Predrilled holes for hinges on the underside of the table top were inadequate resulting in stripped screw heads. No extra screws were provided so had to go to Lowes's to buy more.

Tonya L., LENOIR, NC
This is my second purchase with Allbrands and I must say I will be back. I have no complaints only praise for this company. If you stocked fabric you could be my one stop shopping store. Thank You, Tonya L