This lightweight compact ironing board is great for tabletop ironing.

It folds in half to allow for easy storage or traveling capability

Includes iron holder and folding legs

Perfect for sewing classes, dorm room or RV's, and other small areas

Available in Blue

Includes 6"x9" Iron Caddy

Sullivans Go Board Portable Ironing Board-12 Inch X32 Inch Product Description

This portable ironing board from Sullivans USA is perfect for those that travel or live in small apartments or dorm rooms. At just one foot wide and 32 inches long, the lightweight GO Board can stand right on your table or countertop for ultimate flexibility. It even features a fold-out iron caddy so you can rest your hot iron on a safe surface while ironing. And storage couldn?t be more efficient ? the legs fold and the iron caddy slides underneath the board, which then conveniently folds in half for super portability. Why try and cram a full size iron board into the car when you can practically slip this one under the seat! The GO Board is available in three colors and ships via UPS.
Sullivans 12944 Details

This lightweight compact ironing board is great for tabletop ironing. It folds in half to allow for

Post Tags: Sale, Best Price, Best Buy, Lowest Price, Review, Free Shipping
Specifications
The GO Board is a portable ironing board that is ideal for small spaces and traveling. This lightweight, compact ironing board can be used on a tabletop or countertop for ultimate flexibilty. It even features an iron holder so you can rest your hot iron on a safe surface while ironing. When it is completely unfolded it is 32 inches L x 12 in W x 8.5 in H and weights only 4 pounds. Storage could not be more effienct- the legs fold and the iron holder slides underneath the board, which then conveniently folds in half for super portabilty.

DIMENSIONS:

UNFOLDED: 32" L x 12" W x 8.5" H

FOLDED: 16" L x 12" W x 3" H

WEIGHT: 4 lbs
NOTE: Available only in Blue.
Other Images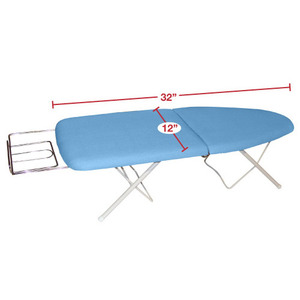 This lightweight compact ironing board is great for tabletop ironing. It folds in half to allow easy storage or traveling capability. Includes 6" x 9" Iron Caddy and folding legs. Perfect for sewing classes, dorm room, RV's and other small areas. One Go Board included in package.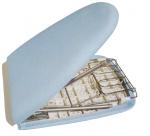 Legs fold under and iron rest slides in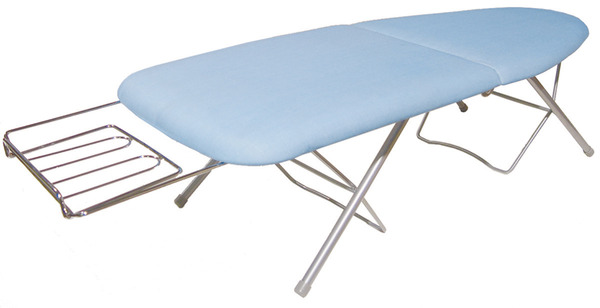 Includes extension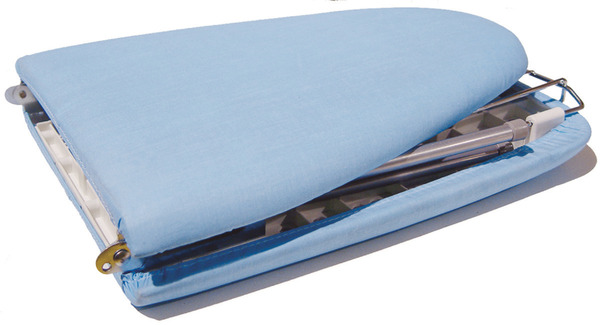 folds flat for storage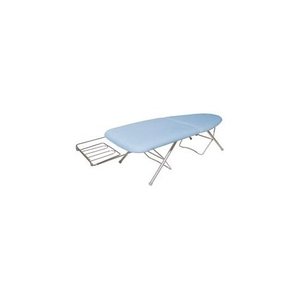 Sullivans Threads Go Board Portable Ironing Board Assorted Colors 12944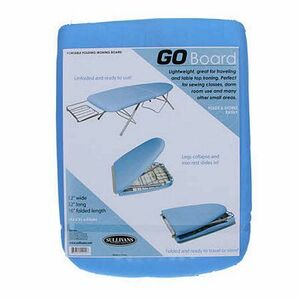 Sullivans 12944 GO Board Tabletop Folding Ironing Board 32x12" +Iron Rest
Gloria, New Mexico
I make quilts and needed a small ironing board by the sewing machine to press each seam as I sewed them together. This Go-Board fits on a table near the machine and works perfectly. I don't have to drag out the big ironing board and I can take the Go-Board to our quilting classes easily. Light weight and so easy to fold up-ready to go! I love it and thanks for a great product.

Edward, Washington
You guys had the best price on the web for the Sullivan's Go Board. Shipping was fast and it was packaged well. Keep up the good work!

Roberta, Texas
I found you through Google, as I was looking for a specific item. You had it, and I received it quicker than quick. Thank you.


Bundle & Save
Get additional savings when you purchase any of these items along with this product.