Trade-in Stock!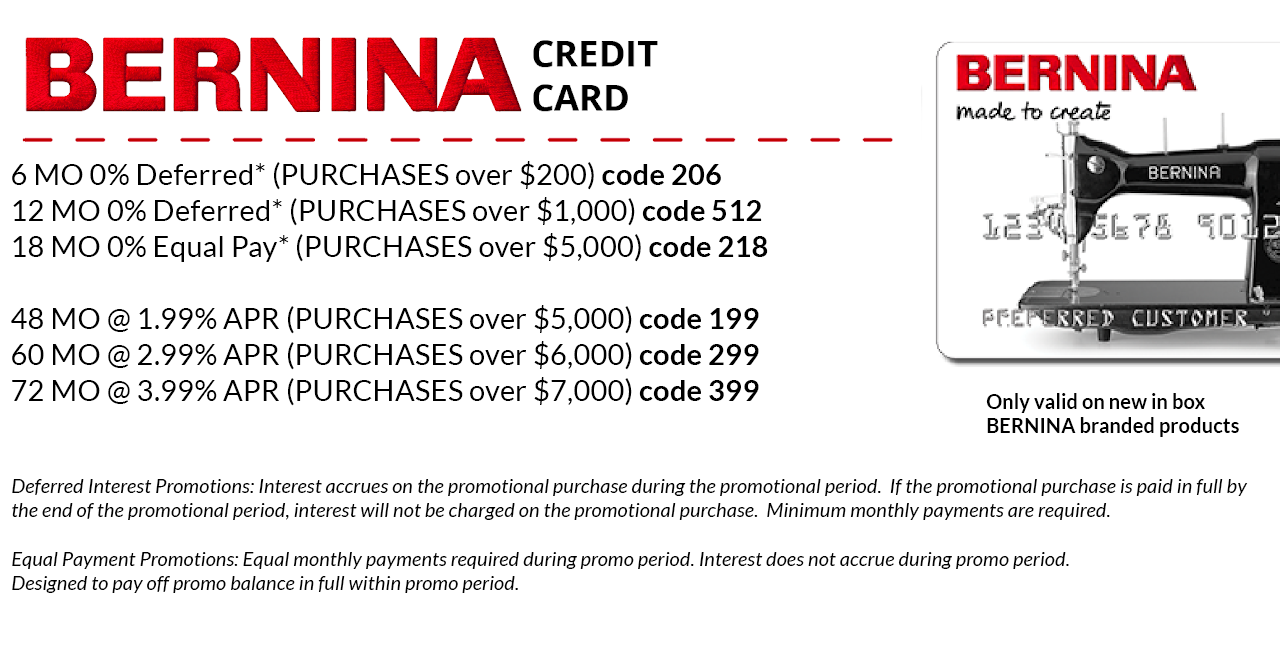 Click HERE to Apply Online.
Download the Bernina Sewing Workbook here
Download the Bernina Embroidery Workbook here
Compare Bernina machines here
Click here to view the Bernina comparison sheet
The BERNINA 790 is a sewing and embroidery combo machine with a 7-inch high-resolution color touch screen and programmable foot control, and comes standard with the BERNINA Stitch Regulator (BSR), which ensures stitches of the exact same length when free-motion sewing. The B 790 is also equipped with the one-of-a-kind Stitch Designer, which allows users to draw their own stitches on the touch screen and in one click, convert them into a stitch pattern. Additionally, it features 554 stitches, including newly designed sideways motion stitches, 270 embroidery designs, and eight embroidery alphabets. The B 790 also comes with the embroidery module that accommodates the Maxi Hoop for a large embroidery area.
MEET THE B 790
The B 790 does it all and with the legendary stitch quality and superior performance you only get from a BERNINA. Every project is an experience in sewing perfection with this top-of-the-line machine.
NEXT GENERATION TOP-OF-THE-LINE EQUIPPED WITH:
Stitch Designer

Programmable foot control

New BERNINA Adaptive Thread Tension for perfect stitch quality front and back

Newly designed stitches including sideways motion stitches

New embroidery designs built into the machine

Ability to import and export sewing stitches via USB

BERNINA Hook System for legendary stitch quality


KEY FEATURES

Sewing, quilting and embroidery combo machine

7.0" high resolution color touch screen

Large bobbin

10" to the right of the needle

Maximum sewing speed of 1,000 stitches per minute

BERNINA Dual Feed

BERNINA Stitch Regulator (BSR) included

BERNINA Free Hand System (FHS)

Large embroidery area that is Maxi Hoop compatible

9 mm stitch width

BERNINA 790: The best technology for sewing and embroidery.
Innovation marries creativity and you sew happily ever after. The BERNINA 790 combines innovative functions and features with plenty of space, high speeds and an extra-large embroidery module. Use the colour touchscreen to effortlessly access all the functions. Discover something new and create your own stitches with the Stitch Designer. Drag and drop to edit embroidery motifs directly on the touchscreen. The fast and quiet BERNINA Hook sews high-precision stitches up to 9 mm in width and with the integrated BERNINA Dual Feed even hard-to-manage and fine fabrics can be sewn easily for superb results.


With the launch of the 7 Series, BERNINA presented a world's first, the BERNINA 9 Hook (B 9 Hook). Combining the two best hook technologies.Since June 2014 BERNINA holds the US patent for the B9 Hook, rest of the world is pending. The new heart of the BERNINA machine features a novel, centrally-placed driver, which allows the B 9 Hook to run steady and quiet. The B 9 Hook sews high-precision stitches up to 9 mm in width with speeds up to a 1,000 stitches per minute. And the bobbin has 80 percent more thread capacity than our standard bobbins allowing you to sew longer without interruption. Finally, the B 9 Hook is made of high-quality materials that allow the thread to run smoothly at consistent tension.


Unboxing the Bernina B790. I love old machines, but definitely get excited with new technology. Bernina B790

How to Video Playlist Series on the Bernina 790 Plus Sewing and Embroidery Machine!

MAKE A STITCH SAMPLER BOOK by quilter Pat Holly

Is Your BERNINA Embroidery Module STILL IN THE BOX?!?! We are excited to announce all new BERNINA branded videos have been added to the existing Embroidery Essentials online course. Click here to learn more about this course: https://sewing-mastery.teachable.com/...​
US Warranty 90 Days labor on defects in materials and workmanship.
Non-US Warranty: 30 days parts and labor
Included Accessories
10 Presser Feet:
 Reverse Pattern Foot #1C
 Reverse Pattern Foot #1D
 Overlock Foot #2A
 Buttonhole Foot #3A
 Zipper Foot #4D
 Blindstitch Foot #5
 Jeans Foot #8D
 Open Embroidery Foot #20C
 Sideways Motion Foot #40C
 BERNINA Stitch Regulator #42

Additional Accessories:
 Instruction Manual
 Power Cord
 BERNINA Foot Control
 Free Hand System
 Slide-on Table with Seam Guide
 Soft Cover
 Accessory Wardrobe
 1 Pkg. Asst. Needles
 Height Compensation Tool
 Seam Guide Right
 Torx Screwdriver (Gray)
 Angular Torx Screwdriver
 Small Screwdriver
 Touch Screen Pen
 Straight/CutWork Stitch Plate
 Oiler
 6 Bobbins
 Seam Ripper
 Lint Brush
 2 Foam Pads
 3 Spool Caps

B790 PLUS EMBROIDERY:
1 Presser Foot:
 Drop-shaped Embroidery Foot #26
3 Embroidery Hoops
 Large Oval Hoop and Template
 Medium Hoop and Template
 Small Hoop and Template
Additional Embroidery Accessories
 2 Template Holder Clips
 Thread Net
 1 pkg Asst. Embroidery Needles
 USB Connecting Cable
Other Images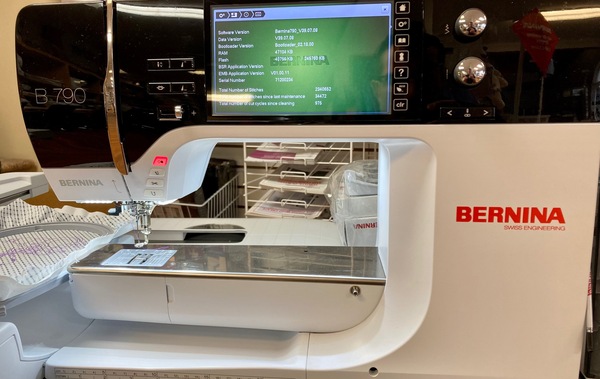 B790E Trade In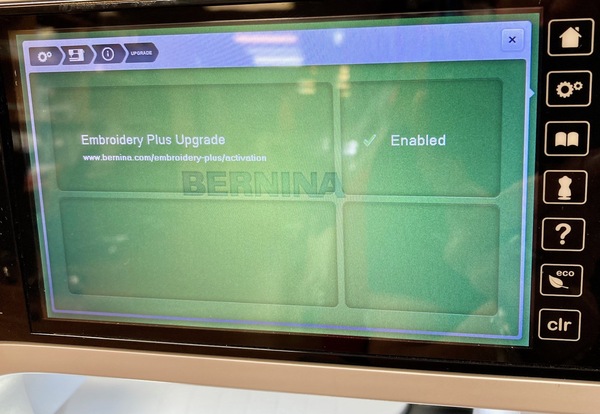 B790E Trade In Embroidery Plus Upgrade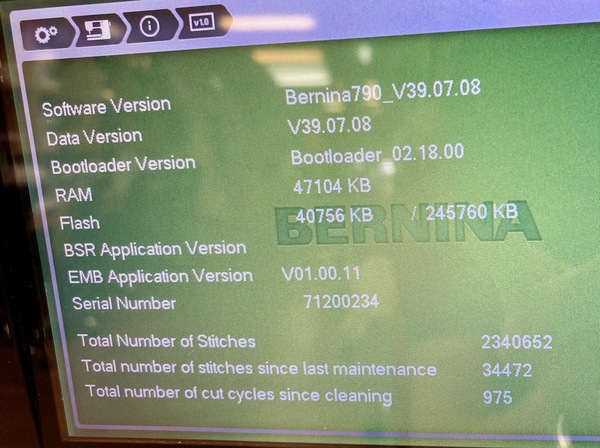 B790E Trade In Stitch Count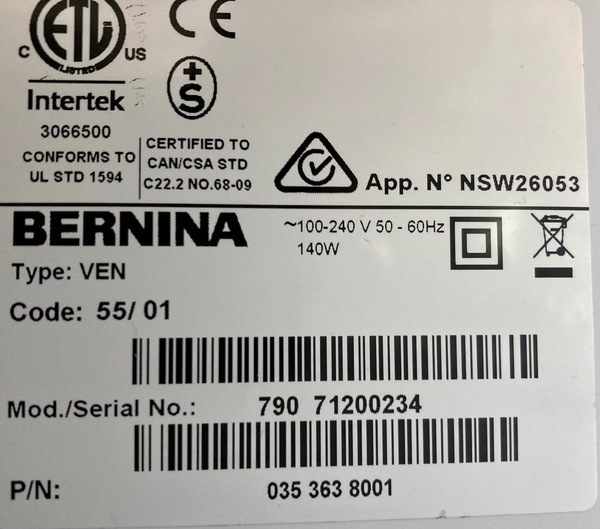 B790E Trade In Serial Number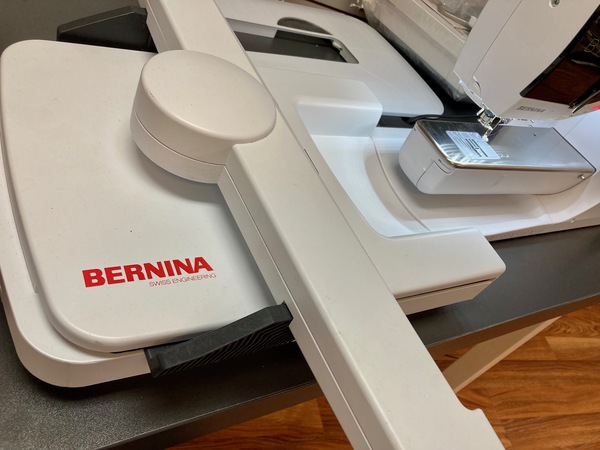 B790E Trade In Embroidery Module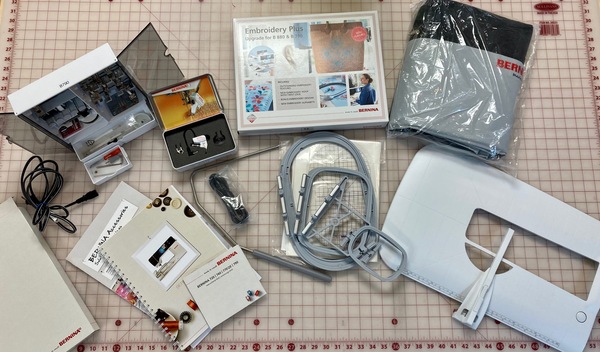 B790E Trade In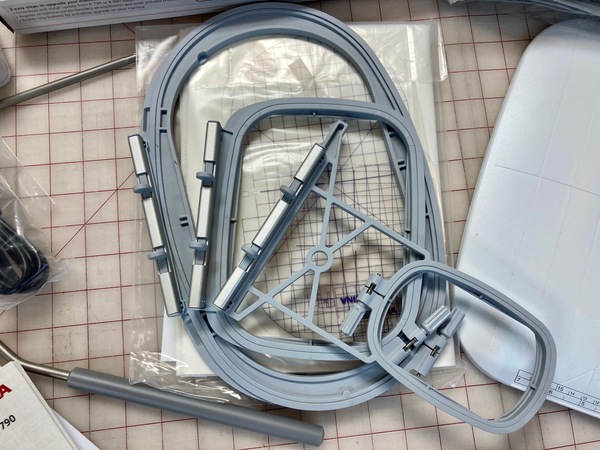 B790E Trade In Included Frames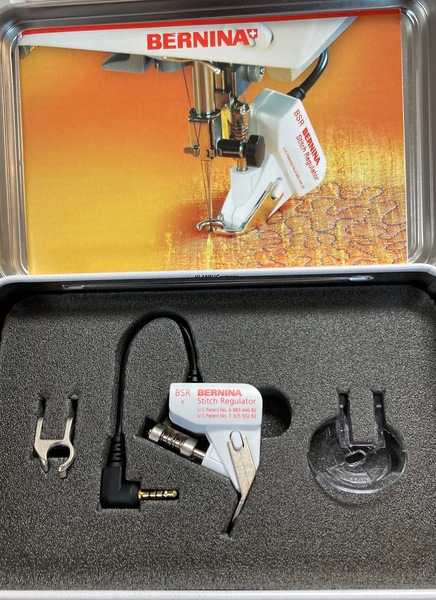 B790E Trade In BSR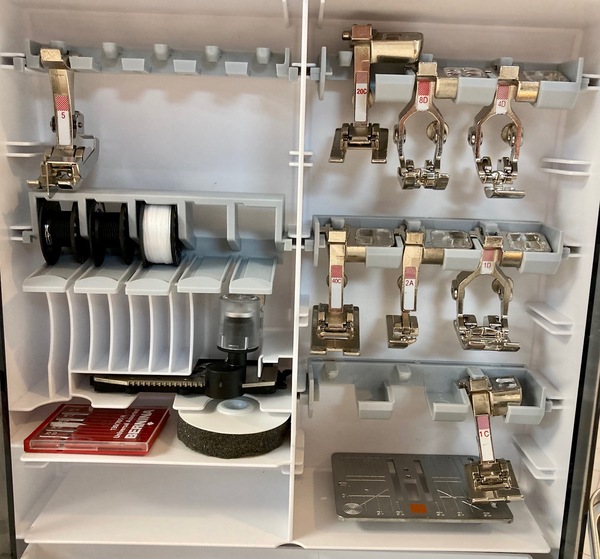 B790E Trade In Included Feet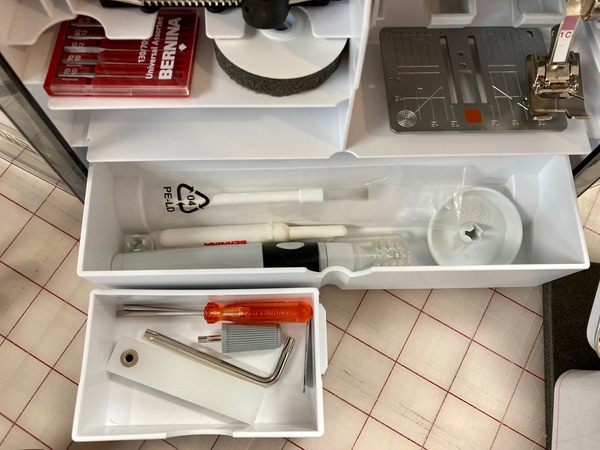 B790E Trade In Included Accessories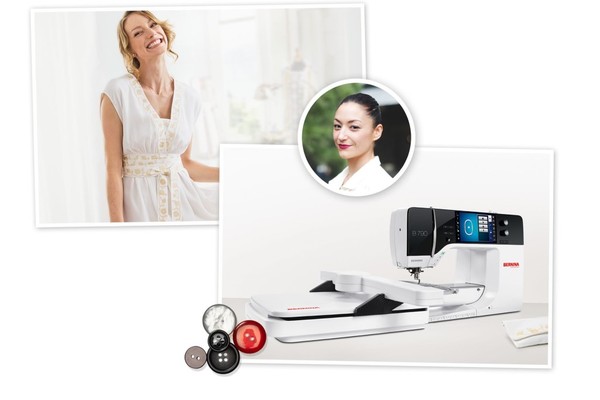 BERNINA 790 – the ideal sewing and embroidery machine for fashion designers. The BERNINA 790 is the ideal machine for sewing fine fabrics for Japanese-Swiss designer Kazu Huggler: "The BERNINA 790 lets you embroider designs over a particularly large area, and offers a range of luxury features. The Dual Feed is brilliant at feeding my silky fabrics." The daughter of a Japanese mother and Swiss father, Kazu Huggler belongs to a new generation of international couture fashion designers. She runs her studio and fashion label "KAZU" in Zurich. Her creations combine Japanese aesthetics and simplicity with Swiss quality. The first dress of her bridal fashion collection was created on a BERNINA 790.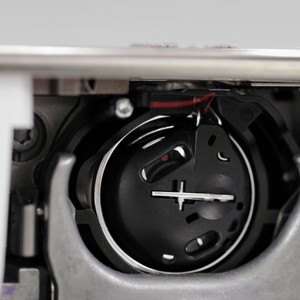 The BERNINA Hook. The heart of the BERNINA 7 Series features a novel, centrally placed driver, which allows the BERNINA Hook to run fast yet quietly. The BERNINA Hook sews high-precision stitches up to 9 mm in width with speeds up to 1,000 stitches per minute. The bobbin holds up to 70% more thread than standard bobbins allowing you to sew longer without interruption.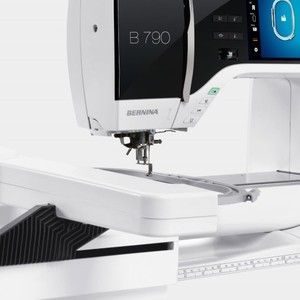 Extended Freearm for Grand Ideas. The BERNINA 7 Series includes a meticulously engineered extended freearm with 10 inches of space to the right of the needle. The BERNINA 790 not only provides plenty of space for large, beautiful sewing and embroidery projects - with its stitch width of 9 mm, it is also ideally suited for sewing decorative stitches. The extra-large embroidery module lets you stitch out maxi-sized motifs. And should your ambitions grow, th BERNINA 790 can be updated with a wealth of accessories.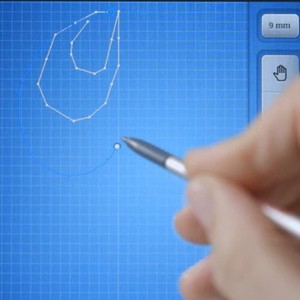 Create Your Own Stitches. The BERNINA 790 features a very special innovative function: the Stitch Designer. Create your own stitches by drawing your ideas right on the touch screen. With a click, the BERNINA 790 transforms your design into a stitch pattern. Or alter existing stitches as it takes your fancy. Save your very own stitch creations to steadily expand your stitch library.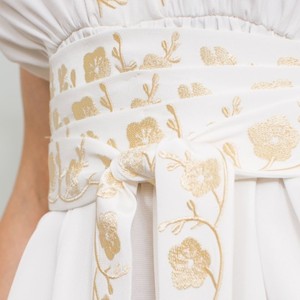 BERNINA Adaptive Thread Tension. The BERNINA Adaptive Thread Tension, a BERNINA innovation, provides ideal thread tension while sewing to achieve perfect stitch quality on both sides of the fabric. Once the tension is set according to the thread and fabric used, BERNINA Adaptive Thread Tension will constantly check the thread tension, adjusting it automatically when needed. The result is the finest stitching without pressing a button.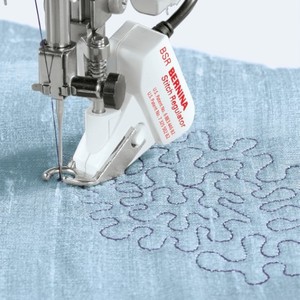 The BERNINA Stitch Regulator (BSR). The BERNINA 790 is equipped with the BSR function. The BSR foot assists you with free-motion sewing and quilting with a straight or zigzag stitch, ensuring stitches of the exact same length even at variable sewing speeds. Beginners quickly gain confidence with the BSR, while experienced quilters acquire additional self-assurance. The BSR foot comes in the standard accessories package of both the BERNINA 790.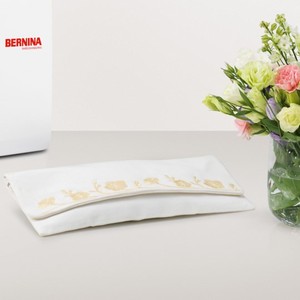 BERNINA Dual Feed. The innovative BERNINA Dual Feed tames hard-to-manage fabrics providing superb fabric feed and optimum visibility while sewing. Easy to engage when needed, the BERNINA Dual Feed tucks completely out of the way when it's not.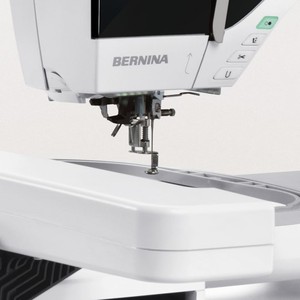 Semi-automatic needle threader. The BERNINA 790 responds to your needs. The presser foot automatically lowers at the start of a seam and lifts at the end. The machine will cut the thread for you at the end of your seam or color change. Also included is a practical extension table with ample space to hold your larger sewing projects.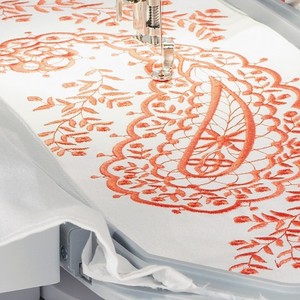 Beautiful Embroidery Is Simplicity Itself. The BERNINA 790 is our embroidery expert. Switch to embroidery mode directly via the touch screen. Embroidery mode lets you easily position, mirror, rotate and resize motifs. Design editing on the B 790 offers a wealth of additional options, letting you create curved lettering effects, alter stitch density, and combine decorative stitches or alphabets with embroidery designs. Complex combinations can even be resequenced according to color, and alternative color options can be reviewed before stitching out. The finished design can be saved directly on the machine or on a USB stick. The embroidery module comes as standard with the B 790.