Also Includes

INCLUDED: 0% APR Financing through Synchrony Financial OAC On Credit Approval

INCLUDED: In Store Instruction
Bernette B79 Best Embroidery Machine for Designs in 2022, According to Sewing Experts Recommended BY EMMA SEYMOUR, GOOD HOUSEKEEPING INSTITUTE
* Synchrony Bank Sewing & More Fixed Payments 0% No Interest Financing with approved credit!
Click HERE to Apply Online for Synchrony Bank Sewing and More Credit Card Approval to use for Online Checkout or in AllBrands stores
Sew Stimulating! 25% Off MSRP! Our most excellent, affordable sewing and embroidery machine,
* Synchrony Bank Sewing & More Fixed Payments 0% No Interest Financing with approved credit! Click HERE to Apply Online for Synchrony Bank Sewing and More Credit Card Approval to use for Online Checkout or in AllBrands stores
"We were able to sample the Bernette B79 machines. They are a beautifully soft mat finish with sleek soft black details. We were happy to see that Bernette has integrated the BERNINA navigation system, and touch screen! A few other of our favorite features are the large 6"x 10" embroidery area, included Bernina Toolbox Editing Software*, and the sizing of the machine. It has a 9" arm, but is not too large to move around your sewing room, or even to classes. The integrated dual feed is the icing on the cake! There is no other machine like it in this price range. Combine with our financing for a super affordable, super high tech Swiss Designed Sewing Quilting and Embroidery Machine!"
Barbara Chatelain Product Development Department - Allbrands.com
Our most excellent, affordable sewing and embroidery machine
The b79 is our top of line model. It offers everything a creator needs – this two-in-one machine combines all the sewing functions of the b77 with the embroidery perks of the b70 DECO. The b79 makes creating a unique and special handmade dress with delicate embroidered flower embellishments easy. Newbies, never fear, this machine is so simple to use, you'll become the maker you've always wanted to be in no time. This attractively priced sewing and embroidery, computerized machine is perfect for everyone. It's incredibly easy to use, offers a wide range of functions and lets you be your most creative.
Multi-function knobs for quick operation

Extensive sewing and embroidery area

500 stitches and endless possibilities with Stich Designer

Dual feed for fast, even fabric feed

Programmable foot control with back-kick function

Embroidery module with 3 hoops and embroidery hoop detection

5-inch color touchscreen for easy navigation

2 BERNINA Toolbox Editing software modules included


US Warranty 90 Days labor on defects in materials and workmanship.
Non-US Warranty: 30 days parts and labor
Specifications
Features:
Stitch width 7 mm
Hook system Drop-In
Sewing space right of the needle 230mm
Embroidery area 260 x 160mm
Stitch patterns 500
Embroidery designs 208
Buttonholes incl. eyelets 17 (1-step)
Sewing speed (stitches/minute) 1000
Embroidery speed (stitches/minute) 850
b70 DECO + b79 Tutorial – Prepare for embroidery (8/11)
In this tutorial video, you'll learn how to prepare your bernette 70 DECO or bernette 79 for embroidery. We'll show you how to attach the embroidery module to your bernette embroidery machine and how to remove it. With the b79 you also have to remove the presser foot and the sewing needle. Next, in the video, you'll see how to attach the Straight / CutWork stitch plate, mount the embroidery foot, and insert the embroidery needle. Then we continue with the hooping of the fabric in an embroidery hoop suitable for the design. From the correct positioning with the embroidery template to the closing of the quick-release device of the hoop, you will be shown exactly how to do each step.
b70 DECO + b79 Tutorial – Embroidering (9/11)
In the embroidery menu of your bernette 70 DECO or b79 you will find fonts and integrated embroidery designs. Other designs can be selected from a connected USB drive. The size of the embroidery, the required embroidery time and the number of colors are displayed on the screen of your bernette embroidery machine.
In the tutorial video, you'll see how to scale, move, and freely position a selected design. You will also be shown the next steps: select a suitable bobbin thread, switch to the stitch out screen, attach the embroidery hoop, and thread the first required color.
If desired, a basting stitch may be added around the embroidery design or along the hoop. Then you start the embroidery process. The embroidery speed can be adjusted via the slide speed control or the "maximum embroidery speed" in the display.
What do you need to do if your thread breaks or the bobbin is empty? In the video, you can see how to rethread and simply continue to embroider.
b70 DECO + b79 Tutorial – Combine embroidery motifs (10/11)
With your bernette 70 DECO or bernette 79 you can also combine several embroidery designs and embroidered lettering. Find out how to do it with this tutorial video.
Open the first embroidery design and then add more patterns or lettering. If the combined stitch pattern has become too large for the selected hoop, this will be indicated by a red border.
The embroidery designs can be individually selected and edited, for example, text can also be curved or the character spacing adjusted. Once you've edited and positioned all the motifs you want, you can save your design combination for later use.
Bernette B79 Instruction Manual (.pdf)
Bernette B79 Quick Start Guide(.pdf)
Download the Bernette B79 Mastery Workbook Here (.pdf)
Bernette All Sewing Model Comparison (.pdf)
Included Accessories with the Bernette b79 Sewing & Embroidery Machine:
Included Accessories
Contents:
Bobbin (3x)
Spool net
Selection of needles (2x)
Brush/ Seam ripper
Spool discs large (2x)
Spool disc middle (1x)
Spool discs small (2x)
Felt disc
Second spool pin
Seam guide
Screwdriver
Dust cover
Power cable
DC Motor
Foot control
Lubricator

Other Images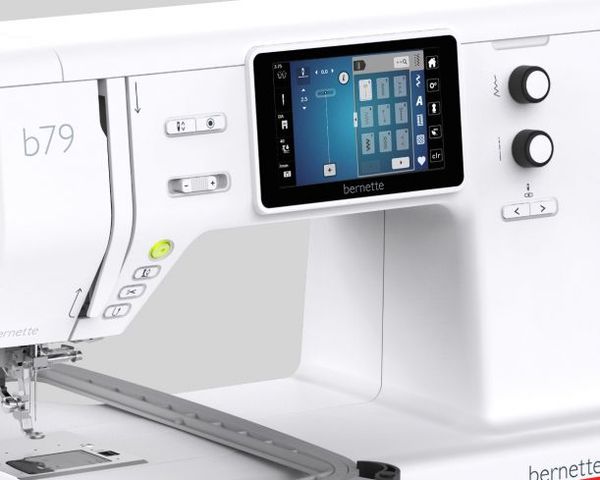 Easy and quick navigation with touchscreen and multi-function knobs Find the right stitch or embroidery design and optimize the thread tension by using the 5-inch color touch screen, which is optimally positioned in the center of the machine. Or quickly change the stich length or width or position your embroidery design via the multi-function knobs . Access the sewing or embroidery tutorials for tips on how to operate your machine or use the creative consultant for advice on the best stitch for your chosen fabric.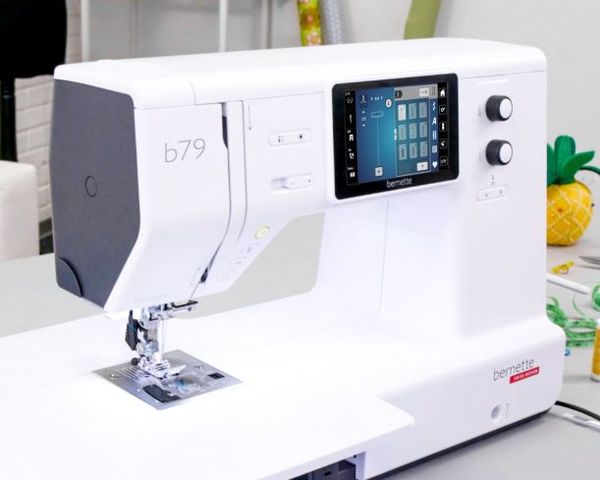 Bright and spacious for fast and accurate sewing You won't be left in the dark with the four bright LEDs lighting up the sewing area, which offers you 230 mm of space right of the needle. The slide-on freearm extension table gives you extra space and comfort for large sewing or quilting projects.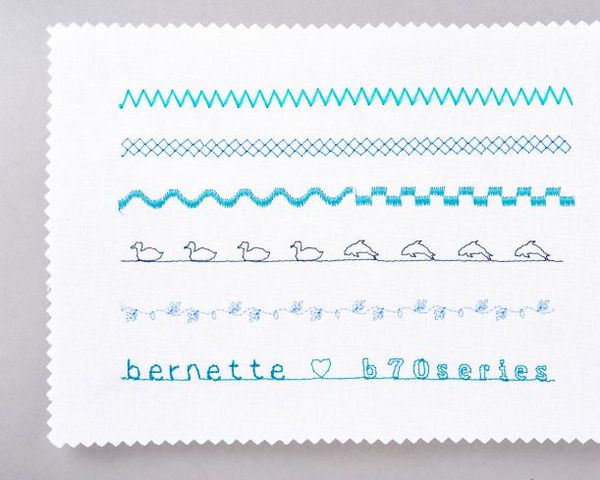 Decorative and quilting stitches for magical embellishments Of course, you can hem and zigzag stitch with the b79, sew stretchy t-shirt fabrics and even choose between 17 buttonholes. But there is much more than just the utility stitches: create truly exiting embellishments with 133 decorative and 35 quilting stitches. You want to modify included stitches or create your own ones? Everything is possible with the Stitch Designer. Your individual stitch settings are temporarily saved, and you can store them in your personal memory for future projects.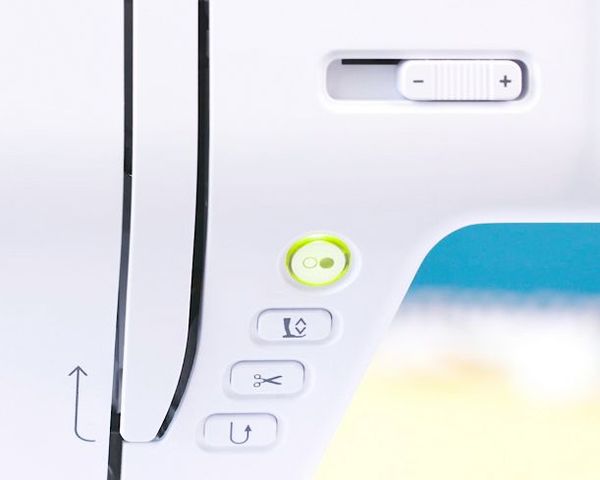 Tie-off function and automatic thread cutter With the automatic tie-off function you no longer have to stitch backwards to prevent the seam from unravelling. Simply press the tie-off button at the end of the seam. Next, the automatic thread cutter button, the threads are cut, and your seam is finished! You want it even faster? Program these functions for your foot control with back-kick function – tap your heel once, the seam is automatically finished, and the threads cut off!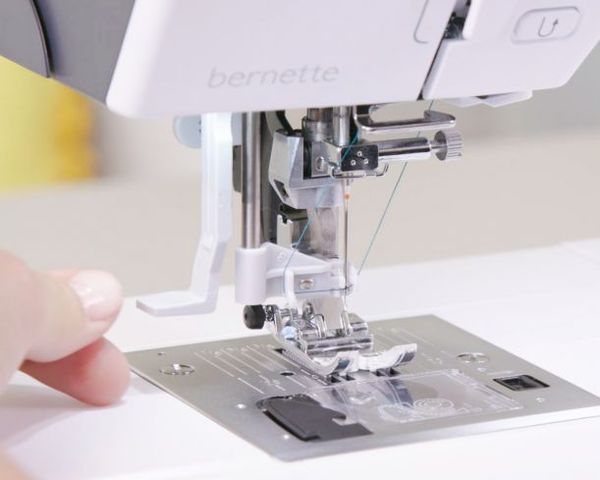 5-inch color touchscreen for easy navigation 2 BERNINA Toolbox software modules included Even more convenient sewing With the semi-automatic needle threader threading is a breeze – the presser foot is automatically lowered to the correct position and the additional thread cutter holds the thread in place. The knee lever for raising or lowering the presser foot will make your sewing even more comfortable, as your hands are free to guide the fabric. And the easy-to-engage, integrated Dual Feed makes sure that all kinds of materials are evenly fed from above and below.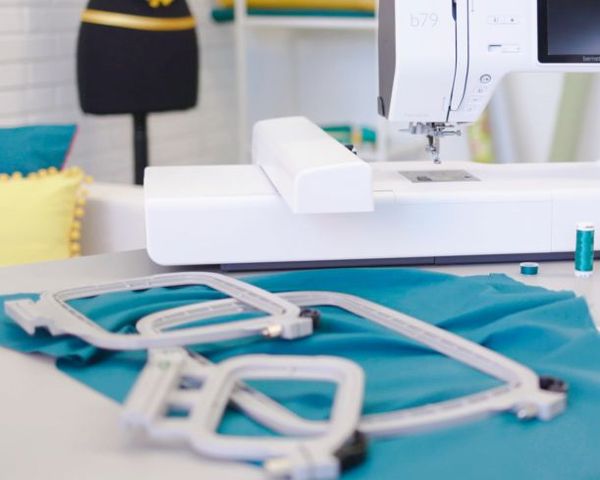 Embroidery module with three different-sized hoops and hoop detection With three hoops included, it is easy to find the right hoop for each size of your embroidery designs. You can embroider motifs with up to 260 x 160 mm without re-hooping. The hoops are easy to open and close with a quick release system . The automatic hoop detection ensures that you see the defined embroidery area of each hoop on the touch screen, so you can optimally adapt your embroidery design.
Creative possibilities with embroidery designs With 208 embroidery designs and 7 embroidery alphabets installed, a wide selection of motifs is at your fingertips. The motifs can be edited on the touch screen, so you can easily rotate, flip, or combine design elements. Want something truly yours? Upload your own embroidery motifs or motifs you edited and combined in your BERNINA Toolbox software via USB flash drive. The b79 is compatible with most embroidery design formats – no need to convert files in a software program anymore.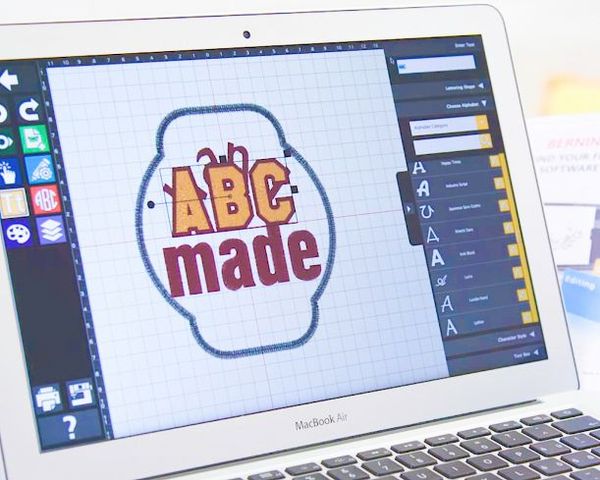 BERNINA Toolbox, the easy-to-use embroidery software Go creative with the Lettering and Editing modules and 300 additional embroidery designs and 100 additional fonts included. Each module has a large selection of embroidery motifs to download from the BERNINA Cloud. You can even edit the embroidery motifs directly in the cloud, using your tablet or laptop.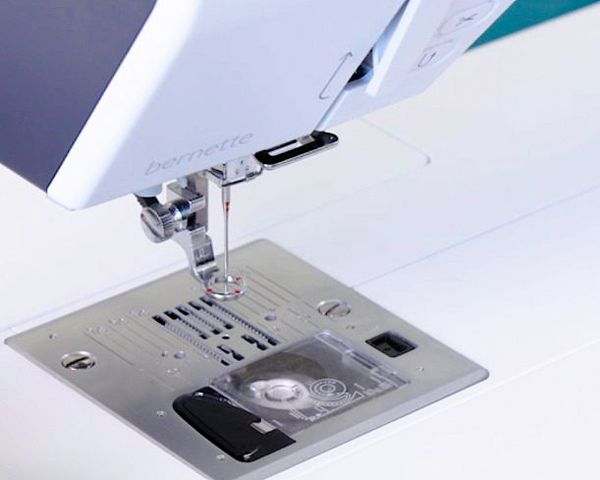 For best sewing and embroidery results With the 7 mm stitch plate, you can sew beautiful decorative stitches with a stitch width of up to 7 mm. Also, the straight stitch plate comes as standard accessory with the b79 – for impeccable embroidery results. Your machine automatically detects the stitch plate used, shows you all the compatible needles and automatically adapts the stitch width range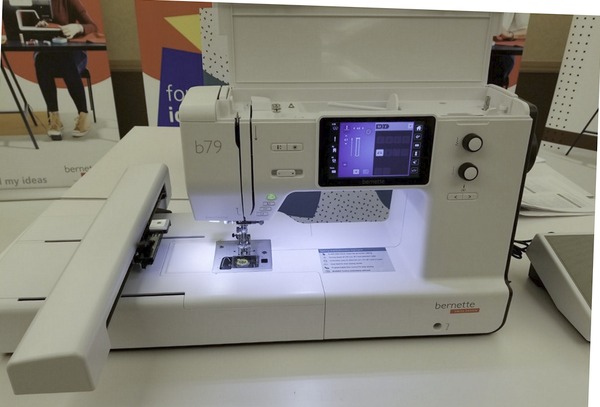 Introduced at the 2019 Bernina Dealer Convention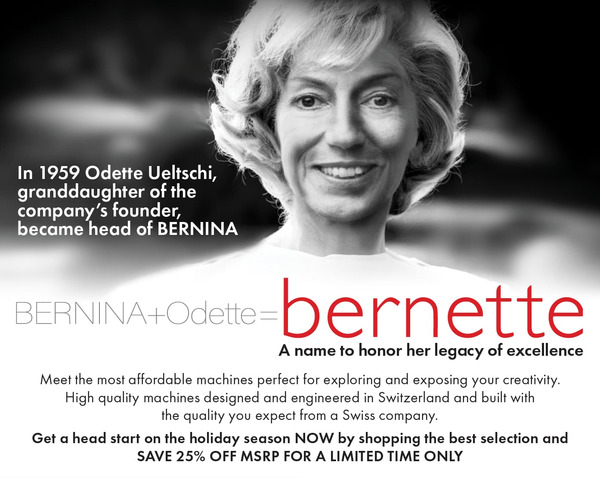 In 1959, Odette Ueltschi took over as head of BERNINA. Her legacy is reflected in the name of the bernette line of machines, which combines the first half of the brand name and the second half of Odette's name.

Since the 1980s, BERNINA has been turning out quality machines at an excellent cost as part of their bernette line.

Bernina Financing Available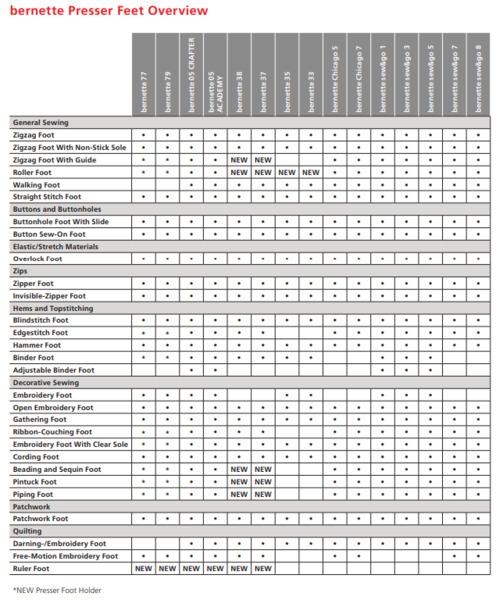 Bernette Compatible Presser foot Overview
~The B79 Module dimensions are about 19" x 19".
~The Large Bernina Embroidery Module Suitcase dimensions are 19" x 20.3