Bundle & Save
Get additional savings when you purchase any of these items along with this product.

* Synchrony Bank Sewing & More Fixed Payments 0% No Interest Financing with approved credit! Click HERE to Apply Online for Synchrony Bank Credit Approval
optional checkout with your Synchrony Sewing and More Card for 6 months 0% interest financing.
Check this Compatibility List for your brand and model sewing machine for the Optional Grace Speed Control Box for specific, not all, models of Juki, Brother, Babylock, Bernina, Elna, Janome, Pfaff, Viking, Singer*
Use the Q-zone Hoop-Frame to turn your home sewing machine into a full quilting system!
Why do we know you'll love the Hoop-Frame Quilt System?
It removes your need to push quilts around on a table and gives your machine the freedom of gliding over fabric with the ease and precision.

You can complete any size quilt on this frame, from crib, queen, king and larger.

You'll finish more quilts, faster than ever before.

The Q-Zone Hoop-Frame is perfect for cross-brand compatibility and made to work with many quilting machines, from domestics to longarms with up to a 19-inch throat space.

*Must add Optional Top Plate Carriage Platform and Handles if you are going to use any domestic portable home sewing machine that is not a longarm quilter like Grace Qnique 14+, 15R, Q19" or Brother DQLT15* If you have a Bernina with BSR Bernina Stitch Regulator, it will work on this frame to give stitch length and speed regulation.

The Q-Zone Hoop-Frame is perfect for cross-brand compatibility and made to work with many quilting machines, from domestics to longarms with up to a 19-inch throat space. The Hoop-Frame features a small, space-saving footprint, but can still be used for quilts of any size, even queen, king, or larger!

The Q-Zone Hoop-Frame is a whole new type of machine-quilting frame that easily manages fabric like a simple hoop. With its small space-saving form factor you can set it up in any room and still quilt even the largest projects! for Quilting Machines with up to 19 Inch Arm Space.

The Q-Zone Hoop Frame is a 4 ½ foot frame that will fit in any room and no quilt size is to large, you can quilt any size quilt using the Q-Zone Hoop Frame. This frame is perfect for those customers who don't have the room for a larger frame and is looking to use their domestic machine. They are already familiar with the sitting down process, so everything about this screams comfort. The Q-Zone Hoop Frame includes height adjustable legs so you can quilt standing or sitting.

Q-Zone Hoop Frame has steel square poles and, combined with the white quilt clips, gives the customer precise ratcheting. As a quilter they can grow with the frame because the arms can extend out in front to accommodate up to a 19" throat machine. The ability to have the customer start with their home/domestic machine and finish with a long arm on the same frame is not common. Customers who are looking to save money by using their own machine, and don't have space for a standard frame, will love the Q-Zone Hoop Frame.

Dimensions of the Q-Zone Hoop Frame:
54" length (left to right)
Expands 37" - 42.5" wide (front to back)
Adjusts 32.5" - 45.5" tall

Q-Zone Hoop-Frame Overview Video. See the Q-Zone Hoop-Frame from the Grace Company. Create the perfect quilting system with this space-saving frame and your own sewing or quilting machine! The Q-Zone Hoop-Frame is compatible with most any machine with up to a 19" throat space. it is by far the easiest way to start quilting on a frame. It's small enough to fit in a home, its incredibly budget friendly, and you don't have to buy a large quilting machine to go with it.

Quilt with your Sewing Machine on a Q-Zone Hoop Frame: American Patchwork & Quilting. Turn your domestic sewing machine into a long arm with a Q-Zone Hoop Frame from The Grace Company. It's an affordable and space-saving solution for your quilting.

Q-Zone Hoop Frame Review. National Quilters Circle. If you are someone who is interested in long arm quilting but have stayed away from it because of the cost of a long arm machine or the amount of space it will take up, the Q-Zone hoop frame from the Grace Company is a great solution. Using the Q-Zone Hoop Frame:
The Q-Zone hoop frame is a quilting frame that allows you to use your own sewing machine for free motion quilting. At four and a half feet, this frame is much smaller than a standard long arm quilting frame, making it easier to fit into your sewing room or any room in the house. Even given the smaller size of this frame, you can still quilt king size or larger quilts on this frame by adjusting the quit over the frame, rolling and clamping it in place and working in sections at a time. Another great feature of this frame is its cost saving benefit. Rather than having to buy both a frame and a machine with a standard long arm, you can get just the Q-Zone Hoop frame and use it with your standard sewing machine. This frame is compatible with most domestic and long arm sewing machines up to 19" and allows you to get comfortable using the frame and quilting in this style of quilting- which allows you to move the machine over the quilt, rather than moving the quilt under the machine, using a machine you are familiar with. You can simply clamp your machine onto the frame carriage so that it doesn't move, and then easily and effortlessly move it in any direction you want while you quilt.
Once you have finished quilting you can easily remove the machine from the frame carriage and get started on your next project or start learning new quilting tips and techniques.
US Warranty 5 year limited warranty on defects in materials and workmanship.
Non-US Warranty: 30 days parts and labor
Specifications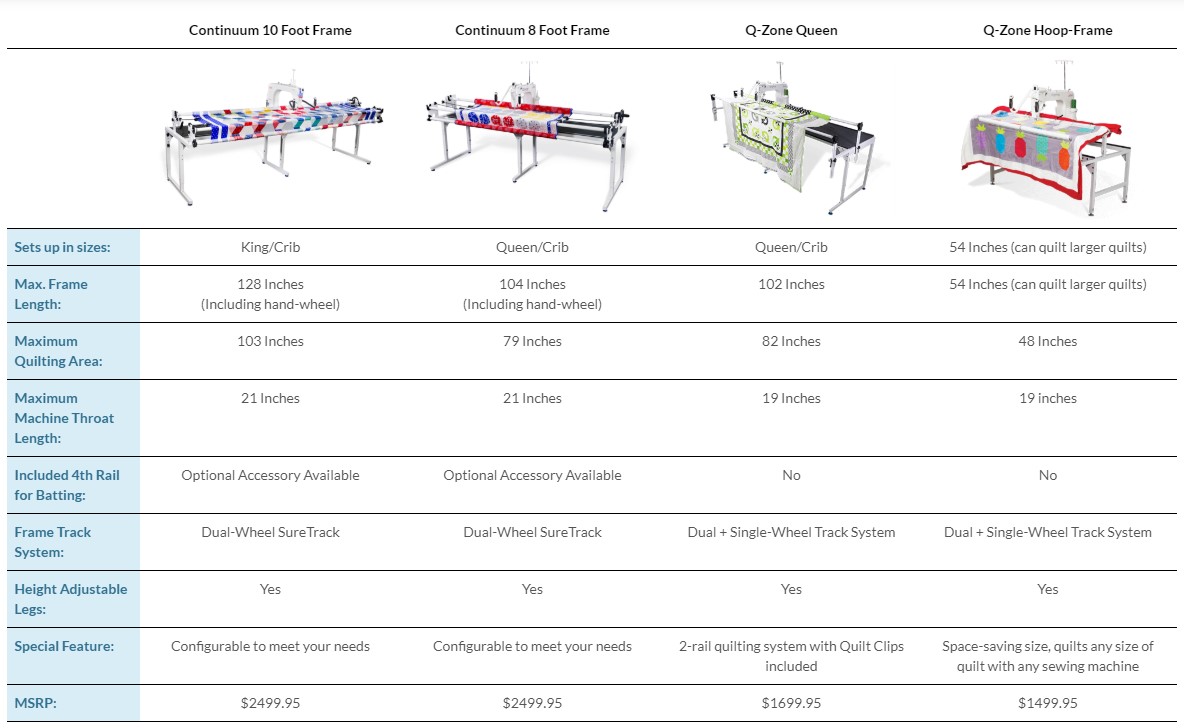 Becoming Familiar with the Q-Zone Hoop Frame
Nathan from The Grace Company and Barbara from Allbrands.com tell us about the new Q-Zone Hoop Frame from Grace.
-Work sitting or standing -Space-saving size
-Make quilts of any size -Budget-friendly
Quilt with your Sewing Machine on a Q-Zone Hoop Frame Video
Q-Zone Hoop-Frame Assembly Video
Q-Zone Hoop-Frame: How to attach fabric.
See how to attach your quilt fabric layers to the Q-Zone Hoop-Frame from the Grace Company.
Q-Zone Hoop-Frame
Assembly Instructions PDF.
Installing Fabrics on Q Zone Hoop Frame using Cloth Leaders.
Q-Zone Hoop-Frame
Table Accessory Optional Inserts Assembly Instructions
More Videos on Q Zone Hoop Frames

August 2020 Q Zone Hoop Frame Standard and PRO Demos with Home and Longarm Machines


Live Demo with Karla and Nathan at Grace

Other Images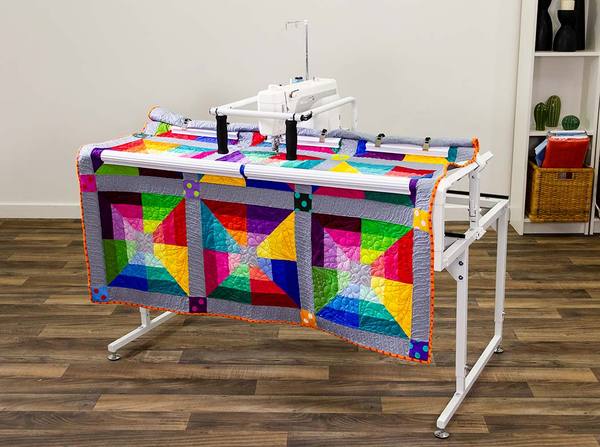 Get your Hoop-Frame Quilting System While Supplies Last!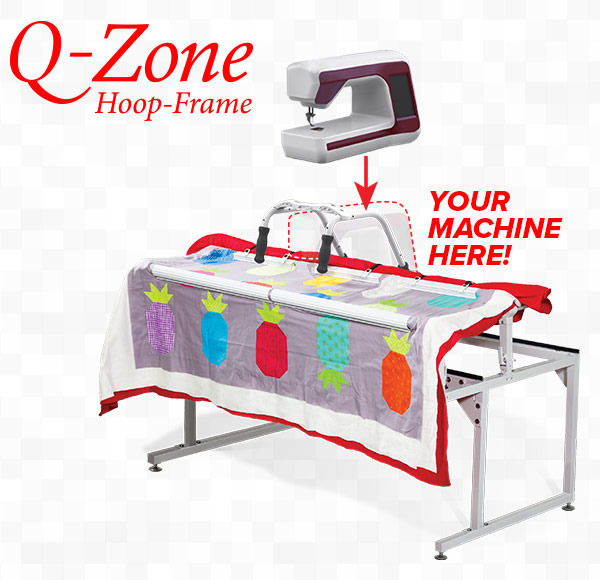 Grace Q Zone Hoop Frame 4.5'/54", Adjust Quilt Depth/Leg Height, 10 Clamps for Qnique 15/19, Brother DQLT, Home Sewing Machines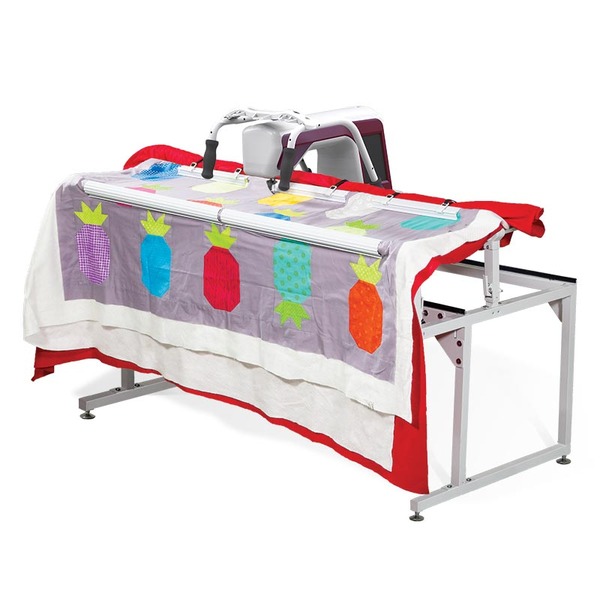 Grace Q-Zone Hoop Quilting Frame 4.5' Wide for Domestic Home Sewing Machines, Brother PQ, Juki TL,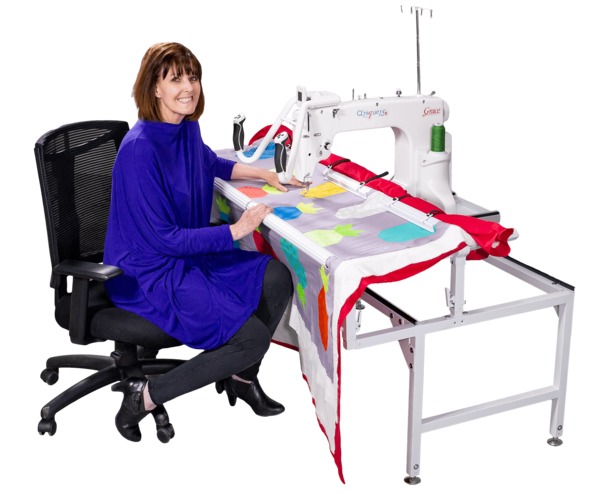 WORK SITTING OR STANDING. The Q-Zone Hoop-Frame can conveniently adjust to let you quilt in the way that is most comfortable to you. Quilt standing, or from your favorite chair. While sitting, the small footprint of the frame will let you still reach both ends with your quilting machine.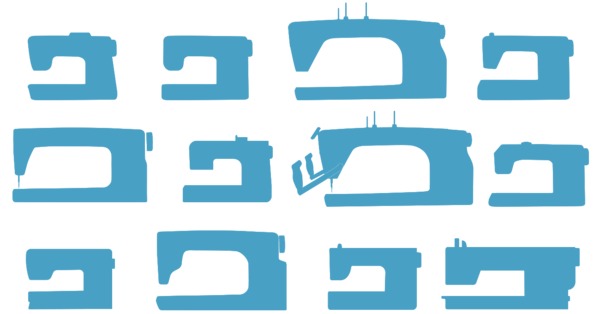 BUILD THE PERFECT QUILTING SYSTEM USING YOUR OWN MACHINE. The Q-Zone Hoop-Frame is perfect for cross-brand compatibility and made to work with many quilting machines, from domestics to longarms with up to a 19-inch throat space. See more detail about machine compatibility in the Maximum Home Quilting Machine Size section farther down. Perfect for quilting/sewing machines of any brand!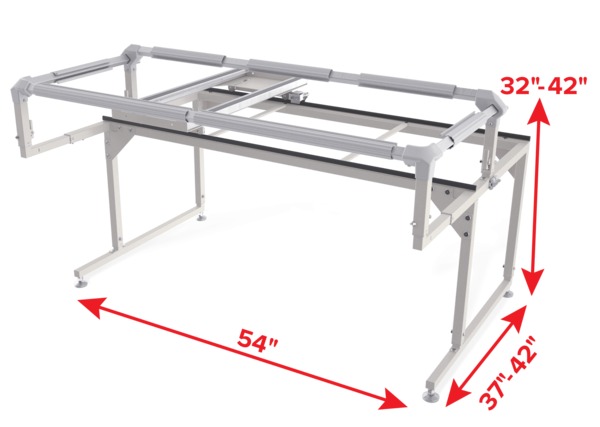 Q-ZONE HOOP-FRAME SIZE SPECIFICATIONS. Maximum Machine Throat Size 19 inches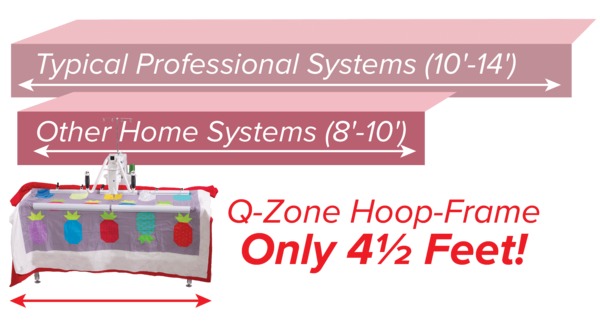 SMALLER FRAME, LARGER QUILTS! Now the size of your quilt is no longer limited by the width of the frame! The Q-Zone Hoop-Frame works similar to a large quilting hoop, letting you quilt one section at a time. Quilt as large as queen, king, and larger quilts, all on this space-saving 4½ foot frame, using the zone-to-zone quilting method.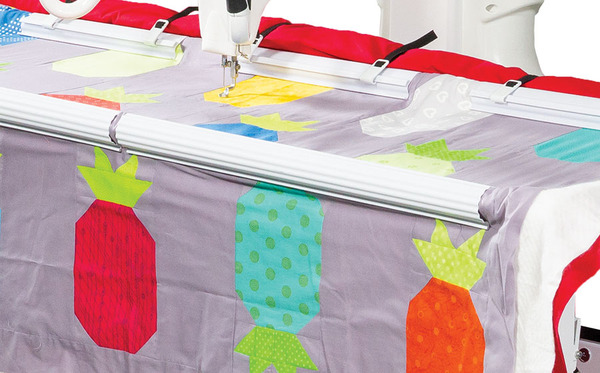 INCLUDED QUILT CLIPS For easiest ever fabric tension and control. Quilt Clips are the easiest and fastest way to control and adjust the layers of fabric on your quilting frame! They hold the fabric to the rails and can be rotated to adjust fabric tension.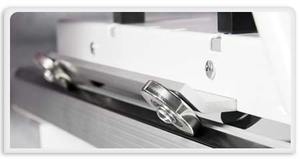 SMOOTH CARRIAGE SYSTEM The "G-Series" track and carriage system on the Hoop-Frame enhances quilting machine motion and precision.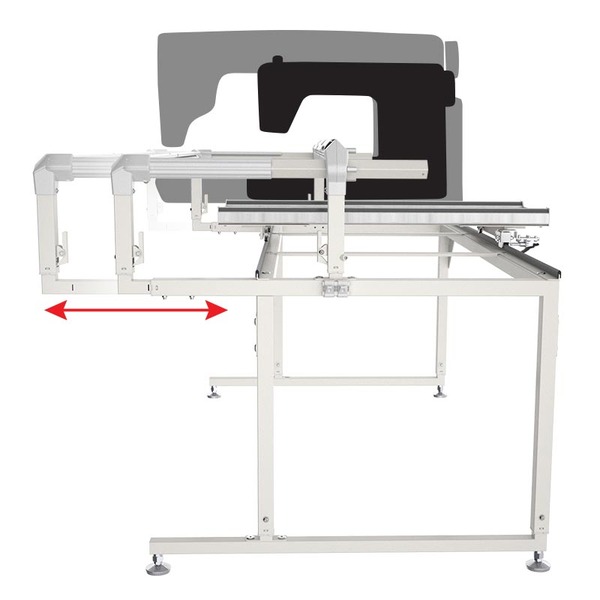 Adjust the working area of your quilting frame to give you the ideal comfortable reach. You can make it shorter for home sewing machines, or longer for midarm machines. The frame is compatible with machines with up to a 19 inch throat.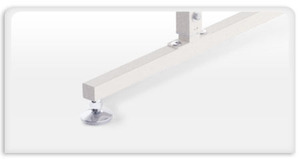 LEVELING FEET No matter what floor your frame is on, these feet are an easy way to make sure it's level and balanced.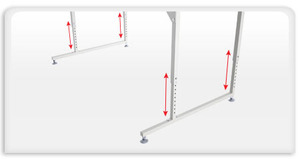 HEIGHT-ADJUSTABLE LEGS For attaching the fabric layers to the take-up rail, the Fabri-Fast™ slots and tubing make it easy, without the use of tacks, ties, or tape! Complete it with our time-saving cloth leaders to help you attach your fabric to your frame easily, and accurately.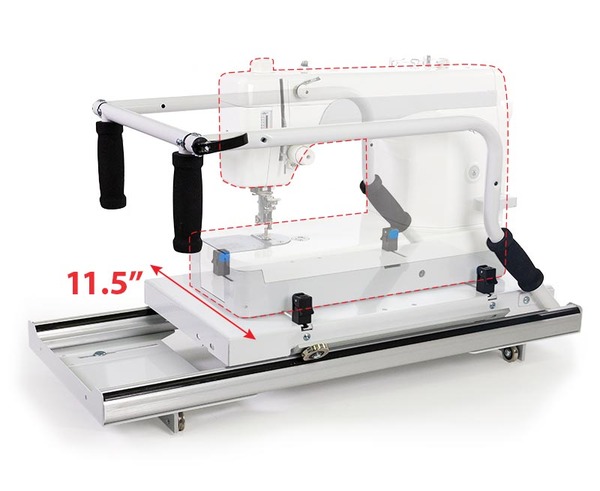 If you're planning on using any quilting machine besides the Q'nique quilting machines, you must make sure your machine fits in the area on the optional top-plate, between the handles Width: 9 Inches Height: 13 Inches (From the top of the head to the bottom.) Maximum Throat Length: 19 inches If you are planning on using a Q'nique 15 with your frame, you will not need the top-plate and handles. The Q'nique will sit directly on the bottom plate of the carriage.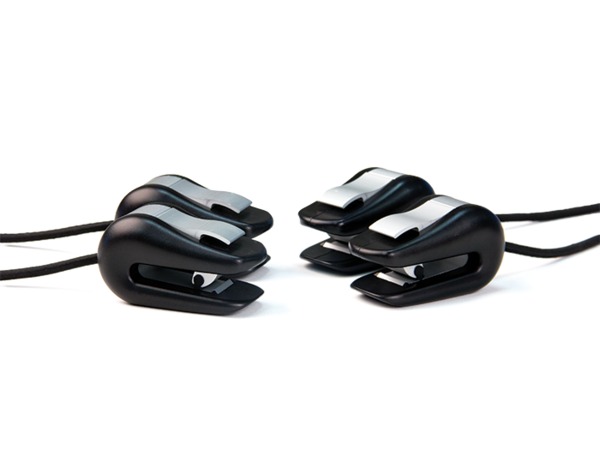 BUNGEE CLAMPS INCLUDED. For Perfect Side Tension. The Bungee Clamps provide excellent and even side tension at the edges of your quilt. These new and improved Grace Company Bungee Clamps have been designed with a sleek new profile to make attaching and removing them even easier!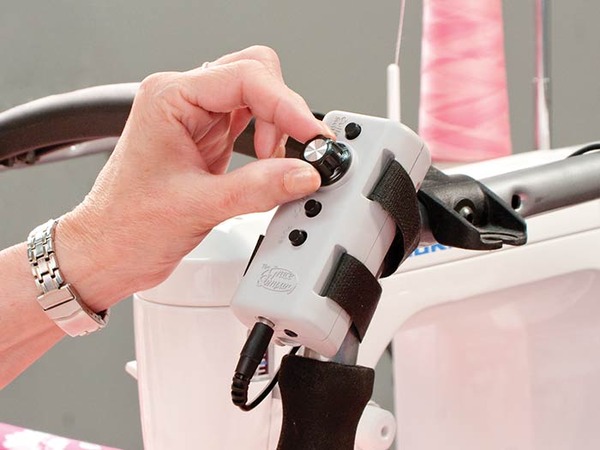 OPTIONAL SPEED CONTROL for Domestic Machines:. Quilting power at your fingertips. The Grace Speed Control is a foot pedal replacement. Use the dial to set the speed of your sewing machine as you quilt. It works with many sewing machines on the market. Check the compatibility list to see if it will work with your quilting or sewing machine!
Optional TABLE INSERTS Add a table-top surface to your Q-Zone for pantograph tracing and other uses from the back of your frame.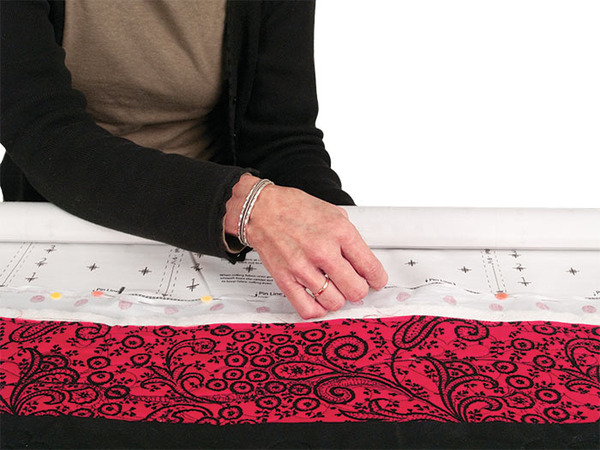 Optional CLOTH LEADERS A time-saving product to help you attach the fabric to your frame easily and accurately. Includes three king size cloth leaders printed with precise guide marks and pin lines. It includes a Velcro® attachment kit that is used to secure the cloth leaders to your frame.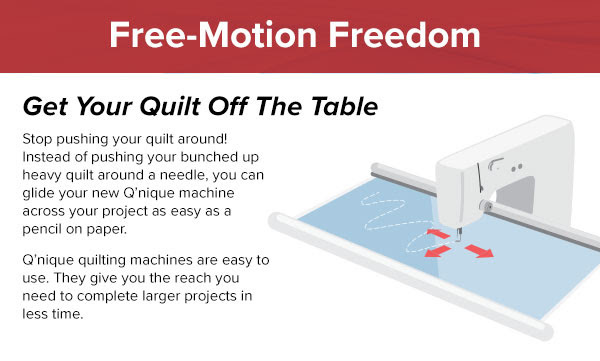 Get your quilt off the table and put it on a frame!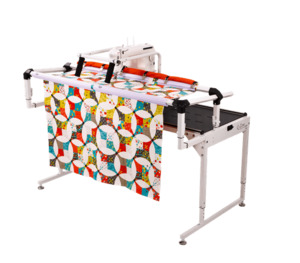 Fits the space of a desk Makes any size quilt Fits your machine. Machine not included.
Maria T, Bethesda MD
Love it, wish I knew about your company years ago! Customer service/ chat was spot on. Thank you !

Cathy G, Georgetown KY
I was pleasantly surprised at how quickly I received my frame! Everything was well packaged and complete. Thank you so much!