*Financing Available*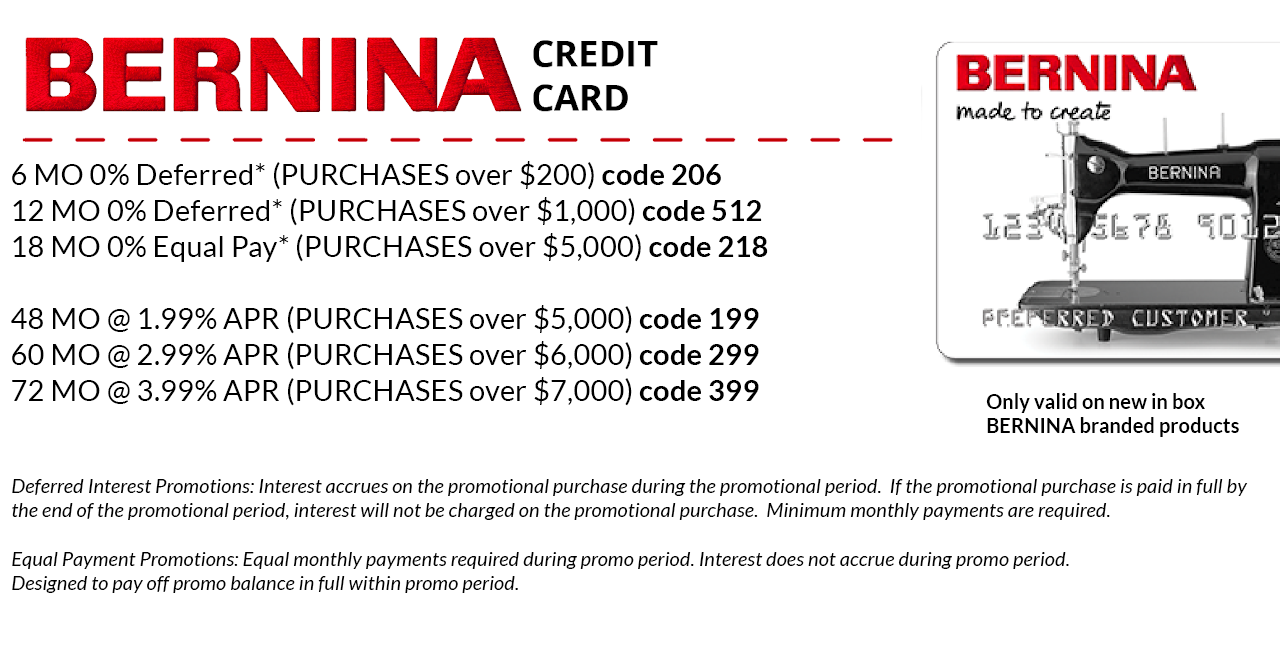 Click HERE to Apply Online.
Click here to download Bernina's app. View products, promotions, and new Accessory/Foot Organizer!
Download Bernina ARTlink 9 here
The B 570 QE, made especially for quilters, offers an extended work space, BERNINA Dual Feed, the BSR, 73 quilting stitches, the BERNINA Patchwork Foot # 97, an automatic thread cutter, 9.0 mm stitch width, 7 built-in embroidery alphabets, 250 built-in embroidery designs, 450 stitch patterns and an optional embroidery module with lite embroidery capabilities. Additionally, the B 570 QE has the Triple Stitch Function and Pattern Repeat x 99.
Is Your BERNINA Embroidery Module STILL IN THE BOX?!?!
We are excited to announce all new BERNINA branded videos have been added to the existing Embroidery Essentials online course. Click here to learn more about this course: https://sewing-mastery.teachable.com/...​
US Warranty 25 years head, 5 years electronics, 1 years labor
Non-US Warranty: 30 days parts and labor
Included Accessories
8 Presser Feet:
 Reverse Pattern Foot #1C
 Reverse Pattern Foot #1D
 Overlock Foot #2A
 Buttonhole Foot #3A
 Zipper Foot #4D
 Open Embroidery Foot #20C
 BERNINA Stitch Regulator #42
 Patchwork Foot #97

Additional Accessories:
 Instruction Manual
 Power Cord
 BERNINA Foot Control
 Free Hand System
 Slide-on Table (no guide)
 Soft Cover
 Accessory Wardrobe (magnetic and attachable)
 1 Pkg. Asst. Needles
 Height Compensation Tool
 Seam Guide Right
 Small Screwdriver
 Touch Screen Pen
 Oiler
 5 Bobbins (total)
 Seam Ripper
 Lint Brush
 2 Foam Pads
 3 Spool Caps


B570 QEE Embroidery:
1 Presser Foot:
 Drop-shaped Embroidery Foot #26
2 Embroidery Hoops
 Large Oval Hoop and Template
 Medium Hoop and Template
Additional Embroidery Accessories
 2 Template Holder Clips
 Thread Net
 1 pkg Asst. Embroidery Needles
 USB Connecting Cable