Ruler Foot Install Information and Procedures

Free Motion Ruler Work for Domestic Machines:
Quilting with Rulers on a Domestic Machine with a Ruler Foot designed to work on most makes, that comes in a High and Low Shank and is adjustable. The Westalee Ruler Foot, a true 1/2" round Foot, opens up your creative side by enabling you to stitch with the guidance of a Template, a wide variety of designs normally reserved for the Longarm Machine Quilters.

The Rulers / Templates shown below have been designed to suit your Domestic Machine.
The Low Shank group of machines only has a small clearance between the needle plate and the bottom of the presser foot rod, we have compensated for this and produced an extensive range of designs in 3mm clear cast acrylic.
The High Shank machines do have a little more clearance and this can vary from machine to machine, we recommend using a 4.5mm thick Ruler for all High Shank Domestic Sewing Machines.
If you already have a selection of 6mm or 1/4" templates, they will work from the front and to the sides only, do not attempt to use them from behind, you could damage your machine.

Template thickness, an explanation.
There have been some posts suggesting that there is no reason why you can not use 6mm or 1/4" longarm templates and rulers on your domestic sewing machines when using a ruler foot. Unfortunately this is not allways the case.

When we designed our Ruler foot for domestic sewing machines we spent over a year investigating the vast number of sewing machines available, as it was our intention to make our Ruler Foot fit as many machines as possible giving the ability to use rulers and templates to as many quilters we could.

We studied the height of the shanks, not only for identification of the foot required, High Shank, Low Shank, Medium Shank or High Shank Special. We also looked at the height of the shank from the needle plate, not all shanks are the same height from the needle plate some are much lower than others.

As the vast majority of DOMs are Low Shank and on most of these machines the lowest point of the shank, in the down position is below a 6mm template on a quilt sandwich. This will cause a 6mm template to collide with the shank.

The top photo shows a 3mm template as you can see there is space between the shank and the template, making it possible to move a Template around a Ruler Foot in any direction.

The bottom photo shows a 6mm template and it is obvious that the template is higher than the lowest point of the shank. This would make it extremely difficult to use most of the templates original designed for Longarm Quilting Machines.

The photos are showing a Husqvarna Designer, many Domestic Machines have shanks that will collide with 6mm templates.

We have been manufacturing 6 mm (1/4") Longarm templates for over 7 years, it would so easy just to supply the same template, however your Domestic Machine is not a Long Arm Machine. We wanted everyone to be able to use any of our templates, either inside or outside without any interference caused by the height of the shank.
Specifications
Domestic Quilting Ruler Foot allows you to free motion quilt on any domestic sewing machine. The style of foot varies depending on your machine: we currently have 4 different styles based on the 3500 different machines in the market today.
RULER FOOT SIZE:
If you do not know what shank your machine is, all you need to do is lower your foot and then measure the height of the center of the hole for the screw from the needle plate. Please always indicated machine make and model so we can confirm we are sending you the correct foot.
Westalee Ruler Foot for Domestic Machines. How to Install Ruler Foot Video:
Westalee Design manufacture more than 300 Rulers, Templates and Specialty Tools for Patchwork and Quilting, so who better placed to make a Ruler Foot for Domestic Sewing Machines. This video shows how to fit the new foot and talks about rulers. Domestic Machines have a small clearance between the Presser Foot Bar and the Needle Plate.
Want to see the Ruler Foot in action ?
The Development story is on our Blog.
Other Images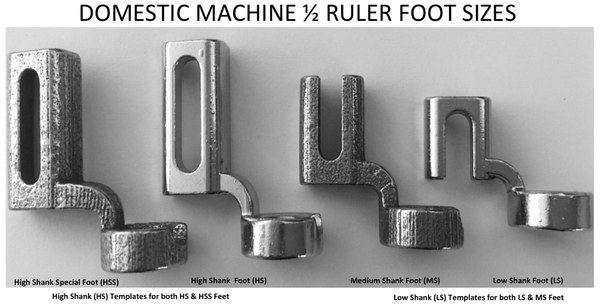 Westalee WF-FOOT- Ruler Foot Only without Templates, Specify Shank: LS MS HS HSS SN LA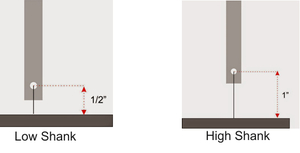 If you do not know what shank your machine is, all you need to do is lower your foot and then measure the height of the centre of the hole for the screw from the needle plate.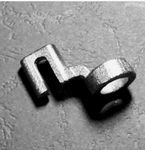 Low Shank Ruler Foot: 1/2" diameter round Ruler Foot to suit Low Shank Machines.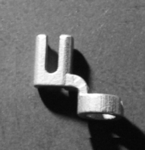 Medium Shank Ruler Foot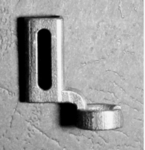 Medium Shank Ruler Foot: 1/2" round Ruler Foot to suit Low Shank Machines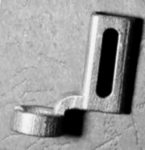 High Shank Special Ruler Foot for Brother PQ1500, Babylock Jane, Janome 1600P. Not available as a ruler foot only. Available with template for $49.99
Kenci L, Tucson AZ
I can always count on All Brands to give me the highest quality parts and customer service. Thank you for your continued support.

Cricket S, Sprintfield MA
You have just provided the most extraordinary customer service I've had in years. This is how customer service should be! Accordingly, I have placed the order. Thank you so much. Cricket S

Christina S, Cottreville MI
I was happy that I found your website, was looking for the free motion ruler foot and was satisfied to find it here. I have recommended you to many ladies looking for a foot to fit their machines, So easy to put in your machine model number and you find it for them. Thank you!

Barbara C, Schenectady NY
Great service.


GPC: Home & Garden › Household Appliance Accessories › Sewing Machine Accessories